[REPOST – This article was first published in October 19, 2017]
This year is a crucial year for our boy as it is his Primary School Leaving Examination (PSLE) year! To many families, this is one of the first and sometimes the most important exam their kids have to go through in Singapore. It is the same for us too. When we were looking for additional help in the form of maths tuition for him, we came across Learners Ed centre in Potong Pasir.
There are many tuition centres which offer maths tuition and being educators ourselves, we have our criteria on selecting the right one for our child. Below are the key criteria which we based our selection on:
• The teacher should be someone who has been trained as a NIE teacher previously with the relevant teaching experience in school and not a young University graduate/undergraduate who teaches tuition. This is especially important in Primary 5 and 6 where the child is going to sit for PSLE exam.
• The class should be small (not more than 8 students in a class) in order to have a more personal supervision.
• There are regular engagement and feedback between the teacher and parents.
• Provide exercise worksheets to practice which are relevant to the PSLE exam.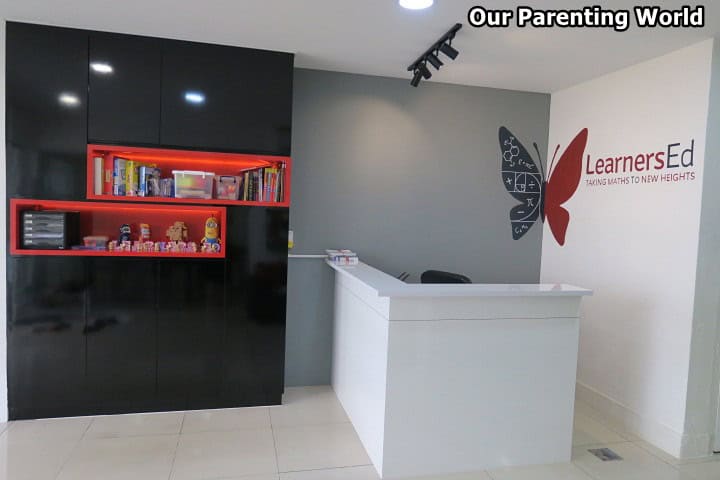 We signed him up for the PSLE Maths Preparation course at Learners Ed about 3 months before his actual PSLE exam. Parents with children who had been through the PSLE system would know that this is actually the last and the most crucial leg of the exam preparation as this is the time to find out where the child's weakness are in terms of his/her understanding of a specific topic and also to practice all the potential exam questions.
There are 4 subjects in the PSLE exam. The languages like English and Mother Tongue depend heavily on the daily usage of the language, reading books and conversational skills. For Science, the student would need to develop the interest on the subject and understand the various scientific concept tested in the exam.
However, to succeed in Maths, it requires a lot of practices and knowing how to apply a specific concept on each of the questions in order to answer them. Thus, having a suitable teacher matters a lot during the preparation for the PSLE Maths exam.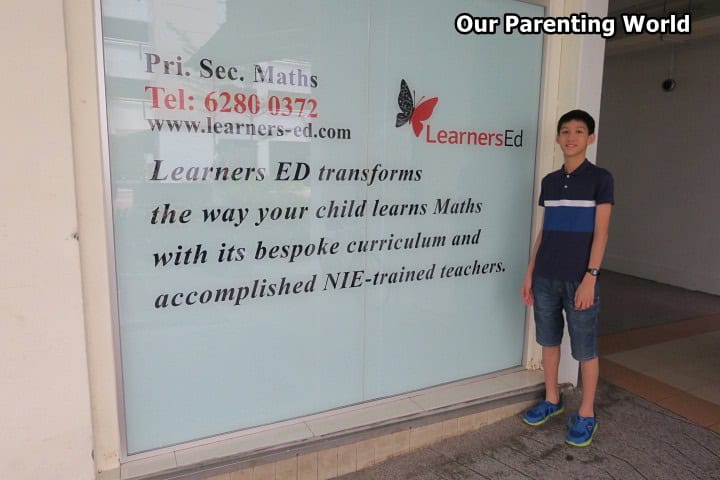 Prior to signing up our boy to the class, we had a meeting with his Maths teacher, Teacher Hannah at the centre. Teacher Hannah came across immediately as someone who has a lot of experience in guiding students to prepare for PSLE Maths exam. She is able to explain the changes in the Maths syllabus in the recent years and listed down what are the more important focus on the PSLE exam format currently. She is passionate and has a clear strategy on how to help the students tackle Paper 1 and Paper 2 for the PSLE Maths exam as the approach for each paper is quite different.
Paper 1 has 30 short questions and students are not allowed to use a calculator. Thus, they should be strong in their mental calculations and able to spot a certain trend for some of the tougher questions like questions on areas and fractions. When the lessons started, she was very encouraging and able to guide the students in tackling Paper 1 with ease.
Paper 2 has 18 questions and some of these questions are fairly long with many steps in between. Her approach was to ensure the child is able to understand which topic and concept that particular question was asking and each of the steps should be done clearly with proper workings in order not to lose marks.
After a few weeks of lessons, we had a one-to-one feedback with Teacher Hannah again on how our boy was doing. As the class is small, she is able to give personalised attention to the students and have a good understanding of each of the student's strengths and weaknesses.
Our boy's Maths results has also improved significantly after he had studied under Teacher Hannah. From being the weakest of his 4 subjects during his SA1, Maths has now become his strongest subject in his recent Primary 6 Preliminary Examination. He now has the confidence to tackle his coming PSLE exams.
Teacher Hannah also provides students with their centre's own worksheet booklet which we find it very useful for the students to practice. There is also regular homework which needs to be completed at home and for the teacher to go through the following week.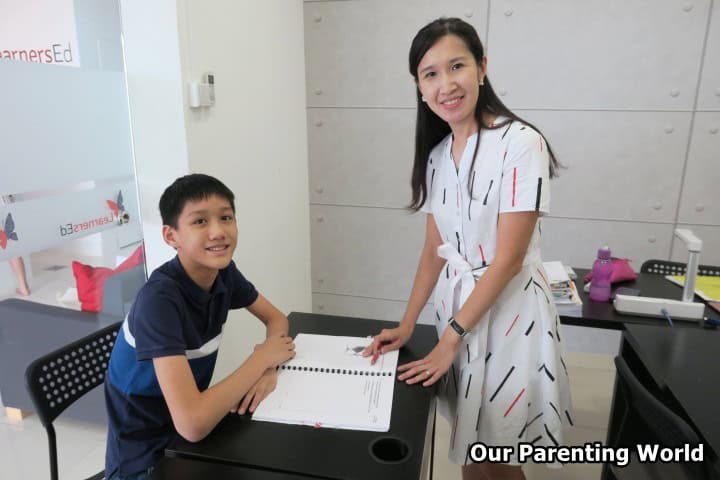 "I look forward to go to Teacher Hannah's class every week as she is able to explain complicated Maths concept in a way that we can understand easily. She also helped me identify where is my weak area and help me to work on them. She is very patient and a great help to my exam preparation", mentioned our boy. "I wish I know Teacher Hannah earlier so that she could help me to prepare my exams early".
"The centre provides useful notes for the students and using slideshows to explain complicated maths concept. They also provided very practical tips to tackle various exam topics. If the students have difficulty understanding a specific question, Teacher Hannah will patiently explain how to work out the solutions to us", added our boy.
 As parents, we are certainly impressed with Teacher Hannah and Learners Ed. Below are the top 5 reasons why Our Parenting World recommends Maths tuition at Learners Ed:
• The teachers are specialised in Maths and led by the very experienced Ms Hannah Low
• The course materials are relevant and useful for PSLE exam
• Passionate and engaging teachers who regularly meet parents and discuss on the student's progress
• The teachers are able to personalise their teaching according to each student due to the small class size
• The location is excellent, only 10 mins walk from Potong Pasir MRT station
For parents who are looking for Maths tuition to help your child prepare and excel in the PSLE exams, we would say Learners Ed is the right choice for your child. Remember, it is always good to start preparing for the PSLE exams earlier!
Learners Ed occasionally conducts workshops with specific content focus for different year levels. They will be conducting a Secondary 1 Head Start workshop that runs for 4 consecutive weeks (4 – 25 Nov 17). This workshop is for this year's PSLE students. Details can be found at https://learners-ed.com/events/.
Learners Ed Promotion and Free Trial Class for all levels from Primary 1 to Secondary 4:
From October 2017 to March 2018, readers get to enjoy a special discount – 20% off the first month (4 weeks) fees, applicable to all levels. Provide the Promo Code (OPW) during your sign up.
Readers also stand to enjoy a free trial class for all levels from Primary 1 to Secondary 4 that allows you to experience Learners Ed teaching. Call them to register at Tel: 6280 0372 / 9362 2041.
Address:
136 Potong Pasir Ave 3,
Block 136, #01-166,
Singapore 350136
Tel: 6280 0372 / 9362 2041
To find out more about Learners Ed (including their class schedule), please visit https://learners-ed.com/
Congratulations to all the students who have just completed their PSLE, it has been a challenging and stressful period for most families including us! We are now at a phrase to prepare one of our OPW kids who has just completed his PSLE this year for a new beginning to a brand new Secondary school. It is a big step for all Primary 6 children and a huge transition for them to move to Secondary schools.
Please stay tuned as we bring you to a new learning journey on how to transit and cope successfully in Secondary schools.