The skincare and bodycare centre, Bella Marie France (BMF) and scalp care specialist Svenson are both well-known beauty and hair treatment centres in Singapore. As Singapore progressed through its recovery journey after the Circuit Breaker, with the announcement of Phase 2, beauty and aesthetic treatment centres and clinics have been trying to get back on their feet since the government-mandated blanket ban on all non-urgent aesthetic treatments have been lifted. 
There have been an increased demand for self-care throughout the pandemic period, some clients are going for facial treatments to target their skin problems like skin irritation that arose from prolonged mask-wearing. Bella Marie France and Svenson have experienced a quick rebound in business, as clients wanted to seek treatments for areas where they have neglected during the lockdown. 
About Amy Quek, she has more than 35 years of experience in the beauty and bodycare industry, she has been passionate about the beauty industry at a young age and has not turned back since. She joined the company, Global Beauty International (GBI) in 1989 as a consultant and climbed up the ranks to become the first female CEO to helm the brand in 2018.
A hands-on boss, she has been playing a pivotal role in the growth and expansion of the brand both locally and regionally, before consolidating the business in 2017 by unifying the two iconic brands, body sculpting and wellness professional, Marie France Bodyline, and facial treatment centre, Bella Skin Care to form BMF. This pioneering beauty treatment empire has managed to withstand the test of time, undergoing a brand rejuvenation over the years to transform into a state-of-the-art Beauty Gym to grow with the clientele base, providing cutting-edge face and body treatments rooted in science for today's time-strapped cosmopolitan women.
Amy is happily married to the love of her life, she is a proud mother of three and blessed with two sons and a daughter aged 29, 18 and 25 respectively. Being a successful career woman, she is constantly improving and always willing to challenge herself, she has just obtained her Master of Business Studies with Murdoch University of Australia in June 2020. Amy also managed her family well, she is proud that her kids have stayed very sensible and prudent, despite their sheltered and privileged upbringing. She is also a strong advocate on the importance of education as she had to take the tougher and longer route to success. Her eldest son, who is married, is a civil service scholar and her daughter has just started her career path as a lawyer. Her youngest is still in school and is sitting for his International Baccalaureate examinations next year. Amy regularly gives back to the society whenever possible on both a personal and professional level and has always been known for her compassion, warmth and willingness to provide financial aid on a personal level to staff in medical need.
Our team catches up with Amy Quek, CEO of Global Beauty International where she shares about  how the pandemic has led to a stroke of inspiration to consider navigating the business differently, the treatments available at Bella Marie France and Svenson to help women meet their beauty needs, beauty and skincare tips and more, read on to find out more. 
Exclusive Interview with Amy Quek, CEO of Global Beauty International, who manages pioneering Skincare and Bodycare Treatment Centre, Bella Marie France and Scalp Care Centre, Svenson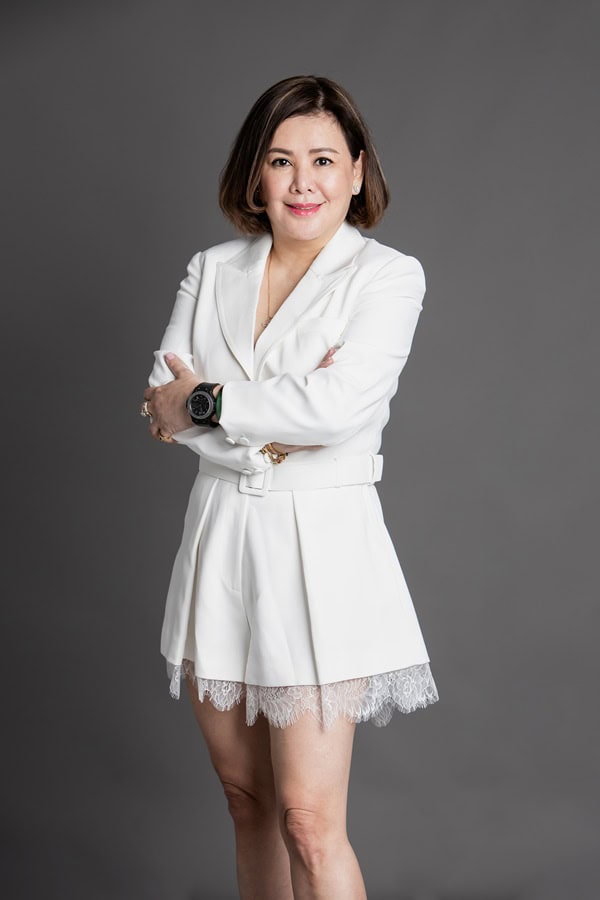 Image credit: Amy Quek
1. Most women faced a lifelong battle with trying to lose weight, what are the kind of body treatments available at Bella Marie France (BMF) that can help women to lose weight, sculpt and tone their problem areas to look better?
Amy Quek: BMF owns several advanced technologies that promote and assist with weight loss, which will be tailored to best suit the needs and choices for every individual. Our treatments aim to induce fat lipolysis which eliminates fat naturally through the body system without causing side effects or discomfort. Most importantly, the treatments do not interfere with one's lifestyle or habits and it is also especially time effective for women with very busy schedules.
The following are a few examples of fat burning treatments offered at BMF:
• I-Laser Sculpt Therapy – Soft Level Laser
• ProFreeze – Cryolipolysis
• Venus Supreme – Radio Frequency
• LipoVisceral Trim – Electromagnetic Wave
• Fat Blast 300TG – Contactless M Curve Radio Frequency
• Lipolysis Redus System – Fat Burn Solution with Advanced Transdermal Delivery System
To sculpt and tone, the treatments emphasise on achieving body curves and shape, where dress sizes and inches lost can be dramatic. The treatments work on reconstructing the underlying tissues, stimulate fibroblast and elastin production to improve skin laxity, and will be tailored to meet the requirements of the three body types which are Ectomorph, Endomorph and Mesomorph.
The following are a few examples of sculpt and tone treatments offered at BMF:
• Deep Anti-Cellulite Treatment – Body Polish, Anti-Cellulite Serum, Guam Mud Mask
• Pro Z-Waves – Acoustic Waves
• Vela Smooth – Lymphatic Drainage and Collagen Rebuilding
• Intelect Spot Slimming – Shock Waves
• Power Body Sculpt – Deep Fat Massage
2. Can you share with us more about the Venus Supreme treatment with Chi Massage? How does it work and how effective is the treatment?
Amy Quek: Venus Supreme treatment is the first and only FDA cleared device to utilize 4D™ Technology, combining Multi-Polar Radio Frequency (RF), Pulsed Electro Magnetic Fields (PEMF) and VariPulse™ technologies (VP) with Real Time Thermal Feedback ensuring a safe and pain-free experience with superior outcome.
Chi Massage is a technique that has been used in multiple cultures since ancient times. The massage treatment begins by palpating the belly which has been thought to promote health and wellness in many ways, including pain relief, stress relief, and overall improvement of the functioning of the digestive tract. Frequent sessions instil lifelong wellness that is beneficial to the body and the mind.
This unified treatment of the East (Chi Massage) and West (Venus Supreme) produces remarkable effects on both the fat bulges and shaping up. Venus Supreme brings about a sensation of lightness after the treatment because of the technology's highly acclaimed mechanisms designed to target fat deposits and cellulite. The Chi Massage's techniques are crafted to complement in the likes of a catalyst, encouraging increased metabolic reaction and natural elimination as a final touch in the session.
3. Another common problem faced among women nowadays is hair loss and thinning and is also affecting younger women, what are the treatments available at SVENSON that can help to address this issue?
Amy Quek: We would recommend the following two treatments:
1. Plasma Regen Therapy with Feminine Hairloss Control
Svenson Hair Center's Feminine Hair Loss Control is formulated with concentrated botanical actives to specifically treat female pattern hair loss caused by hormonal imbalance, nutrient deficiency or stress. This formulation helps to rejuvenate the hair roots and protects the scalp against stress and aging by stimulating generation of collagen and elastin. Complemented with Plasma Regen Therapy, the advanced technology effectively eliminates bacteria in hair follicles without damaging tissue, while encouraging cell renewal and effective absorption of formulas by increasing tissue permeability.
2. AP Hair Loss 4-6 Therapy
Scientifically formulated to address hair loss and thinning conditions, this treatment uses the most advanced ingredients and sophisticated technology. Featuring a patented cell-signalling technology known as Exosome Therapy, and active ingredients such as PDRN, polygonum multiflorum, and multi growth factor complex, this formulation works to awaken, boost and stimulate your hair stem cells to promote hair growth.
EXOSOME THERAPY
• Patented cell-signalling technology.
• Sends signals to the hair follicle stem cells to stimulate cell regeneration.
• Encourage a healthy hair growth cycle.
PDRN (Polydeoxyribonucleotides)
• Also known as salmon DNA, this potent bio-stimulator aids in cell repair when delivered to the scalp.
• Activate hair follicles to promote healthy hair growth.
POLYGONUM MULTIFLORUM EXTRACT (HE SHOU WU)
• Rejuvenate and reactivate hair growth by increasing the number and size of hair follicles.
MULTI GROWTH FACTOR COMPLEX
• A synergistic blend of biomimetic peptides engineered to stimulate growth factors.
• Helps to stimulate hair follicles, inhibits DHT formation to prevent hair loss.
4. Can you share more about the Follicells Growth Activator 55, how does it work and the effectiveness of the treatment?
Amy Quek: This ground breaking treatment uses a two-pronged approach: Suppressing DHT formation by 50% in hair follicle cells to prevent further hair fall, and stimulating healthy stem cells for thicker, denser hair growth. The result is an increase in hair stem cells by 70% in 12 weeks. It is formulated with a potent mix of 55 beneficial amino acids to reduce hair thinning and spur new growth.
The treatment also stimulates potential hair stem cells growth using a proprietary complex and vital nutrients essential for healthy hair growth. Potential benefits include:
• Extends hair growth lifespan
• Induces collagen production
• Strengthens the hair matrix
• Protects hair follicles from aging
5. How do you ensure the treatments offered at Bella Marie France's and SVENSON's competitiveness and effectiveness as compared to other salons offering similar services?
Amy Quek: Both BMF Bella Marie France and Svenson are pioneers in the beauty service industry in Southeast Asia, and as the times changed and our consumer base evolved, we have to ensure that we stay relevant through modernisation of the brand and reinforcing our competitive edge on delivering technology-driven treatments that deliver visible results. At BMF Bella Marie France and Svenson, we take pride in offering the latest and most innovative technologies to drive visible and effective results through our treatments.
6. This is a challenging year due to the pandemic, what are some of the key challenges that you have faced in your business and how will BMF and SVENSON reposition to take on the challenges in the new norm?
Amy Quek: We relied on our e-commerce platform https://shopebeauty.com/ during the Circuit Breaker in April till 18 June 2020 to ensure that our clients and other new customers continue to have access to our products round the clock. Growing our online presence both on social media and e-commerce had helped us pivot our business into a more digitalised and efficient operation model which helped to ensure business continuity for BMF Bella Marie France and Svenson Hair Center, and this was matched with great success. We've also made improvements to enhance price transparency and adopted a standardised approach in product development and supply, thus allowing us to stay competitive and pass on savings to our customers.
We also make an effort to stay in touch with our clients through phone calls and messages to check in on their wellbeing, and our team also sent them self-care packages during the Circuit Breaker period in Singapore to tide them through.
7. With the safe-distancing measures in place to limit further spread, what are the safety measures that have been implemented at your salons and how do you ensure the safety of your clients while maintaining personalised service levels and keeping the process efficient and effective?
Amy Quek: Now that the beauty industry has been allowed to resume operations in Phase 2, our priority has been the safety and wellbeing of our staff and customers. We have stepped up on social distancing measures and safe management practices across all treatment centers under BMF Bella Marie France and Svenson Hair Center. This includes regular bio-fogging with hospital-grade disinfectant, installation of safety shields, stringent deployment of staff protective gear and protocols, introducing staggered working hours to avoid overcrowding, and equipping our workplaces with a Safe Management Measure Protocol Handbook.
Frequent cleaning and sanitisation of rooms and equipment are also carried out. Virtual meetings are encouraged for our HQ-based employees and during the earlier stages of reopening, we implemented measures to reduce contact time between therapists and clients at our centres while still being able to deliver results with our technology-driven treatment processes.
8. Are there any sharing of good practices or protocols that have been adopted and further built-on? How has BMF forged on to be the first mover in the beauty service industry and share its experience and expertise to peers?
Amy Quek: Being a pioneer in the industry, there is a need for us to move with consumer trends and evolve with our consumer base. In addition to procuring the latest equipment for our technology-driven treatments, we also make sure to invest in our employees through training hours, providing them with opportunities to grow and improve as individuals and for the group as a whole. My commitment towards this has resulted in Svenson Hair Center being awarded with the Singapore Quality Class, a certification by Enterprise Singapore.
Besides developing good practices or protocols which benefit the business, we also look towards creating a positive impact on the society through volunteering and donation efforts. BMF Bella Marie France and Svenson Hair Center donated $40,873.74, which is from a percentage of our sales from July to August 2020, to Food From The Heart, a charity that reaches out to the less fortunate by alleviating hunger through a food distribution programme. Our operation and management teams also volunteered their time at Food From The Heart's warehouse to help pack food to be distributed to school children of low income families. And most recently, on 19 October, we started offering complimentary beauty treatments at our centers to our healthcare workers as a way to express our appreciation for their unwavering heroism. Corporate Social Responsibility is one of the cores of our business because we believe that blessings should be shared.
9. How has your company helped or empowered your employees, including your therapists, during this challenging time to continue to provide their expertise in this new norm with retraining and upgrading of skills?
Amy Quek: We provided training for all our therapists to help them become more digital savvy, so that they can participate in online training sessions to improve treatment delivery skills and customer service skills. Our consultants underwent training to refresh their knowledge on treatment technology and product formulations. To adapt to the new normal, we also ensured that they are well-equipped with skills to conduct phone calls with exceptional customer service.
On top of all, forging a strong bond between staff has always been one of our very important initiatives and this will be no different even in this new norm. During Mid Autumn Festival, we celebrated the occasion by gifting mooncakes to all our staff and for the upcoming Christmas festivities, we will also be gifting custom-designed MRT Ez-link cards with value to every employee along with Christmas cupcakes and bubble tea.
I do believe that our employees are the heart of our company, and we should invest the same time and effort that they have invested for us.
10. How do you see the future of the beauty and aesthetics industry transforming in this new normal in Singapore? What have you observed as the key trends or changes from the business perspective and the consumers' front?
Amy Quek: We're looking at more streamlined processes and definitely the development of our online e-commerce presence. By building our e-commerce presence, we are able to provide a 24/7 marketplace for current clients and prospective clients, and also introduce our products and offerings to a wider group of audiences.
There is also a need to adopt innovative technology to drive visible and effective results through our treatments. Hence, we plan to reinforce this competitive edge that GBIL has and is known for, by investing USD2 million to procure 40 units of the latest treatment equipment for the group.
11. What are your favourite beauty and skincare tips that you would like to share with our readers on looking good and taking care of themselves especially during this challenging times?
Amy Quek: During these unprecedented times, it is imperative that we take care of our body as many of us are experiencing a lot of stress, anxiety and fear while adjusting to the new norm. We've always known that stress affects skin health and have often heard this saying, "you are what you eat". Hence, it is valid to say that beauty stems from within and the first step to this, is eating right and not just a topical fix with beauty treatments. Eating right, being conscientious in our beauty routines plus visits to a beauty treatment center should go hand-in-hand.
To help manage stress, have great skin and hair, as well as maintain good overall health, it is important to evaluate your lifestyle as a whole and here are some foods to include:
• Vitamin C is an antioxidant that supports our immune system, protecting our bodies from harm caused by stress. Eat plenty of vitamin C rich food such as oranges, berries, bell peppers and broccoli. Besides that, its antioxidant properties help protect our hair from free radical damage and boost skin radiance.
• Fatty fish such as salmon and tuna are rich in Omega-3, which provides anti-inflammatory properties to help our body function effectively – especially the brain. It protects against inflammation in all parts of our body including skin and hair.
• Besides food, it is important to include regular physical activity, keep yourself hydrated and have sufficient sleep to combat stress, achieve glowing skin and prevent hair loss.
• Be sure to include a variety of food and have adequate water intake daily (at least 8 glasses).
A well-nourished body is the key to achieving beauty inside and out. It is also important to seek professional assistance to address your body, skin and hair concerns. At BMF Bella Marie France, we have a professional team of skin specialists, weight management experts, certified nutritionists and experienced therapists to guide and advise you along the way. Our skin care and body wellness treatments are driven by advance technology and backed by science to help you achieve your beauty goals. At Svenson Hair Center, our team of experienced Trichologists are able to diagnose and recommend the appropriate treatment for hair and scalp care. We use a holistic approach, combining botanical formulations and cutting-edge techniques to keep your hair and scalp condition healthy and strong.
12. Lastly, any coming promotions from BMF and SVENSON for the festive seasons that you would like to share? What's your vision for BMF and SVENSON in the next 5 to 10 years?
Amy Quek: We have prepared 2 festive promotions in December to pamper and ready yourself for the new year!
For BMF Bella Marie France, we have the Brilliant Turnaround System, which is designed to boost your skin's radiance and body's fat-burning ability in a single session at an affordable price of $58.00.
And for Svenson Hair Center, we have the 3-Step Hair Growth Therapy at an attractive price of $19, which includes the latest Matrix 1-3 Therapy, targeting alopecia conditions, that deep cleanses hair follicles and activates new stem cells for thicker, healthier hair growth.
With regards to short term goals for our business growth and expansion, for now, we are focusing our efforts on a successful entering of BMF Bella Marie France into the Indonesia market, which was delayed due to the pandemic. And in 2021, we want to do our part for the environment by moving towards eco-friendly product packaging. It's been estimated that about 120 billion units of non-recyclable packaging are produced by the global cosmetic industry yearly. With the rising awareness of this global issue, consumers are starting to look to businesses and brands that can lead the change and contribute responsibly.
Another interesting upcoming project would be the introduction of a collaboration between BMF Bella Marie France and Svenson Hair Center, where technology-driven hair care treatments will be offered in our BMF Bella Marie France centers as well. This range of treatments will be curated just for BMF Bella Marie France with the trichological expertise from the team at Svenson Hair Center.
But more than these, we also hope to tide over this pandemic safely, while also providing our clients with not only solutions to stress-induced skin, body and hair issues, but also a place to rest and unwind from the effects of this difficult time.
As for long term goals, since our inception in 1986, our philosophy has always been to curate precise regimes which are rooted in indisputable science, supported by cutting-edge equipments and applied by trusted experts. This approach has brought us much success and with the same intent, we intend to continue thriving in it for the long haul.
Thank you Amy Quek for taking our interview!
BMF Bella Marie France
About BMF Bella Marie France, the brand is a unification of Bella Skin Care and Marie France Bodyline, two of the industry's longstanding and best-known names in beauty services, with a combined experience of over 70 years. Positioned as a Beauty Gym with whole lot of goodness, this state-of-the-art centre promises a plethora of cutting-edge face and body treatments that gives you the freedom to pursue a curated and precise rejuvenation regime rooted in science.
The one-stop beauty spot for the face and body continues to cater to the modern, busy women by offering the latest treatments to bring out individual's beauty potential – one that is defined and fully embraces the beauty, body and beyond approach. Customers can be rest assured of the quality and professionalism as every step is digitised for advanced diagnostic, consultation and treatment processes that will help you to realise your best beauty potential and walk out rejuvenated with confidence.
For more information, please visit https://www.bellamariefrance.com.sg/
Svenson Hair Centre
About Svenson, a leading brand in research and development of hair and scalp care with 60 years of trichological expertise and knowledge. Svenson offers scientific diagnosis and effective solutions using the most advanced technologies to help you with your scalp and hair problems.

An International Affiliate (UK) of The Institute of Trichologists, Svenson is present across the Asia region, including Hong Kong, Singapore, Malaysia and Indonesia. The Institute of Trichologists is the foremost professional association for trichologists in the world. As the largest provider for trichology training in Europe, the institute has built a high standard in the Trichology industry worldwide for training and professional practices, in which Svenson strictly adheres to. 
Svenson offers cutting edge technology with time-tested techniques using scientific approach to address your hair problems. 
For more information, please visit https://www.svensonhair.com.sg/