Raymond Foong 冯剑斌 is currently hosting at CAPITAL 958 (城市频道) running the noon time show from Mondays to Fridays. CAPITAL 958 is a Mediacorp owned radio station based in Singapore, broadcasting contents in the Chinese language and it is the biggest Chinese language radio station in the country. Raymond is a well-known DJ, popular with radio listeners, he welcomes his second child (daughter) born in March 2021.
Our Parenting World Media editorial team speaks to Raymond where he shares more about parenthood, his work at CAPITAL 958 and more.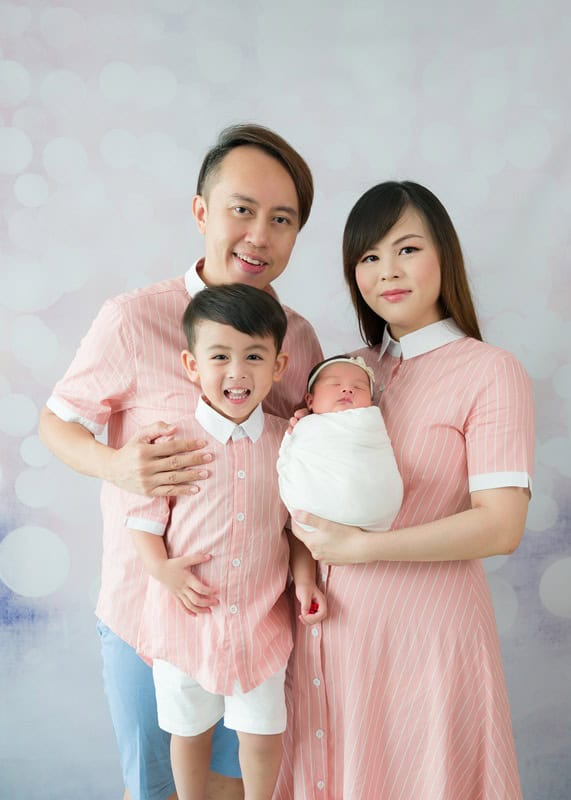 Exclusive Interview with CAPITAL 958 DJ Raymond Foong
1. Please share with us more about your background and what made you decide to be a radio deejay?
Raymond Foong: I currently host at Mediacorp CAPITAL 958, running the noon time show from Monday to Friday. Prior to that, I was a journalist, writer and columnist with the local national Chinese newspaper, after that, I progressed to Mediacorp TV as a current affair TV producer.
Besides on-air host at CAPITAL 958, I do voice narration and event hosting too. Not to limit myself, I venture to direct in video content and managed to inspire the station's visual content to another level.
As a technoid, I love gadgets. I like to find out about new tech and new trend and share with listeners in programme New Tech New Trend found in Melisten podcast.
I love music too. Always trying my means to promote local music and production.
Radio deejay has always been my dream since teenage. If you ask me, what kind of job am I willing to sacrifice for it? I would say it's my current job.
2. What is your typical daily schedule like?
Raymond Foong: The timebelt that I'm hosting is from 10am to 2pm on weekdays, so I would get up in the morning, wash up and have my breakfast before that. Afternoons are more varied but mostly it spent on clearing work emails, preparing for tomorrow, attending meetings, etc.
3. Congratulations on being a father to your second child! How do you share your parenting duties with your spouse?
Raymond Foong: I will listen to my wife's instructions on what she needed help with. She does a better task than me definitely and sometimes she just cannot accept that I took a long time to change the baby diaper and also still trying to differentiate between the baby swaddle and my son's towel. I do whatever I am tasked to eg. entertain the baby, carry the baby, buying necessities, bringing baby for medical appointment. If you were to ask, do we argue over babies matters, I would say we will work hand in hand and no time for argument, and willing to give in, as far as our babies are concern.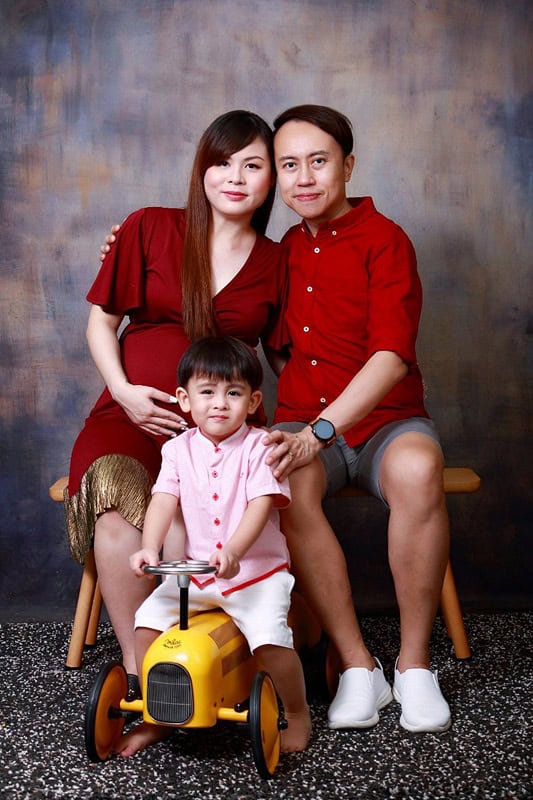 All images credit to Raymond Foong 冯剑斌
4. How do you prepare your older child for the new baby?
Raymond Foong: I had been prepping my older child for the new baby since my wife is pregnant. I will tell him to greet his sister at my wife tummy. He is aware of an additional member to the family and when our newborn arrived, he was pretty excited as he will have a new playmate and even tell me that items which are pink in colour is for his sister.
5. What are some of the useful parenting advices/tips that you have received and experienced that you would like to share with our Mummy and Daddy readers?
Raymond Foong: Not to buy too many toys! This is the common advice I had received, when they had too many toys they will not learn to treasure it. Do what you promise to your child as they will remember what you said, my 3.5 years old will remember that I told him 2 days back that we are flying kite over the weekend and keep reminding me if I had bought a kite! I will always do what I had promised or said to my child as this is important in building trust from them to parents since young.
6. What is it like to be a radio deejay for CAPITAL 958? What is the profile of your listeners like at CAPITAL 958?
Raymond Foong: As a news centric radio, we have to always keep ourselves in par with what is happening around us, both local and global. Thanks to technology, we get the latest news updates via mobile apps, these make us prepared to shape the topics for the next radio show. Self-check is important, whatever said on radio is irreversible, thus cannot be incorrect. Engage our listeners, probably majority of them are 40 year old and above, we encourage them to try watching us on Facebook live stream, or at least communicate with us via WhatsApp. Nevertheless, over these years of effort, we managed to engage more younger listeners, more can be done though, and we are working on it.
7. Can you share more about your work at CAPITAL 958 and what projects are you currently working on?
Raymond Foong: My daily routine at morning show explains well how a news radio DJ would be. We discuss and nail down on the next day topic after everyday shift; due to the pandemic, we would leave office and do the rest of work like liaise with guests and prepare questions at home. After which, will spend sometime to reply to fans' queries on social media. Will update myself with latest local and regional news after dinner, as well as global news the next day early morning before radio starts. Currently, we are working on a series of short video "就是这样说" (literately That's how it should be said) about the correct use of Chinese, particular words that sounds the same but in fact make big difference. This time we involved Mediacorp celebrities, to name a few, Hong Ling, He Ying Ying, Ayden Sng, etc.
8. How can one become a radio deejay in Singapore and what's your advice to someone who aspires to be a radio deejay?
Raymond Foong: Get the basic skills strengthened, ie vocal expression, in-depth understanding of the current affairs and trend. Be well prepared and opportunity knock on your door. In the future media industry, in addition to conventional radio and television, as well as digital media, possibly more platforms which probably still unknown now. Currently, our DJs take challenge of 360 all round attempts, experiment on various platforms. This is the trend of the future media and is irreversible. Djs do not limit yourself to only FM, that's the fundamental and we should do our very best for it, besides that should explore more on the live streaming, TV, social media, etc.
9. What are some of your favourite activities that you enjoyed doing with your family especially with your children?
Raymond Foong: My energetic 3-year-old boy likes outdoor activities. We make it a point to bring him to parks or sightseeing spot like Gardens by the Bay, MBS, Marina Barrage for a run, as well as to explore the place as he is never fail to get curious of surroundings. This is sometime I enjoy and treasure most.
10. Lastly, what's your next project and any upcoming shows that you would like to share with our readers?
Raymond Foong: More cross-platform new attempts. Currently we have been working with TV news and current affairs. In terms of programme planning, in addition to news content, the newly launched programme also cover entertainment and culture, such as singing, environmental protection, and dialect-related. This is not only broadcast on the radio, but also on Facebook live broadcasts and MELISTEN podcasts. It is a relatively my new attempts, and I hope everyone will like it.
Stay tuned for more fun and exciting projects!
Catch Raymond Foong on CAPITAL 958 at https://www.melisten.sg/radio/capital-958