Vernon A is one of the most utilised voices, having worked on thousands of voice-overs in Singapore and the region. He is best known for his partnership with Justin Ang, they form the award-winning duo, The Muttons. They are currently hosting Singapore's No. 1 Morning Drive Show – Muttons In The Morning, on CLASS 95. Vernon is a multitalented radio host and personality, bringing joy to listeners on his radio shows. 
Our Parenting World Media editorial team speaks to Vernon A where he shares about being a father of three boys, work-life balance, his work at CLASS 95 and more. 
Exclusive Interview with CLASS 95 DJ Vernon A
1. Please share with us more about your background and what made you decide to be a radio deejay?
Vernon A: I've wanted to be on radio since I was about 5. You see back then our only source of entertainment was radio, TV and magazines. I just naturally gravitated to radio because of music and the picture painted in your mind everytime the DJs spoke. So I was really lucky when the opportunity came and I've been enjoying every moment since.
2. What is your typical daily schedule like?
Vernon A: I wake up at 4 every Monday to Friday, leave the house by 5.15, start the show at 6 and that goes on till 10. After that it's into the production studio to bang out voice overs, production elements for our show and other production stuff. Then it's on to meetings and brainstorming sessions.
3. How do you juggle between work and family life?
Vernon A: It's not easy due to my younger ones, especially if they're both at home you really need both parents around. So, when I have to work, Jayne handles both and I really don't know how she does it because I think it would be disastrous if I tried.
We don't have a helper and I don't think we'll get one anytime soon, as long as we can handle it so wish us good luck ok!
4. How do you prepare your older children for the new baby?
Vernon A: Didn't really have to do much because Liam was still below 2 when Niall was born but during Jayne's pregnancy we kept referring to her tummy as "Didi" and baby so he'd hopefully understand that someone was coming. We also got him a nice gift and said it was from "Didi" when Niall was born.
5. What are some of the useful parenting advices/tips that you have received and experienced that you would like to share with our Mummy and Daddy readers, especially when you have children from less than 1 year old to teenager?
Vernon A: I guess the most important lesson I've learnt is to not sweat the small stuff. I think all parents have ideals, hopes and dreams for their children but the journey for every child is different so it's important to nurture, and not pressure the child. But of course that's just my opinion and I might not produce a family of doctors and lawyers but as long as they're happy, I'm happy.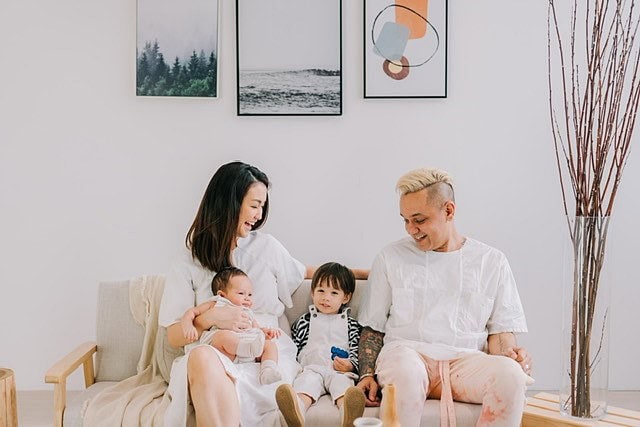 Vernon A with his wife Jayne Tham and children
All images credit to Vernon A
6. What are some of your favourite activities that you enjoyed doing with your family especially with your children?
Vernon A: My 2 year old Liam is really into cycling although I'm the one doing the cycling and he's the passenger. We also enjoy swimming and heading to the playground -the usual stuff.
7. What is it like to be a radio deejay for CLASS 95? What is the profile of your listeners like at CLASS 95?
Vernon A: Honestly, it has been a huge blessing for me. There is not one dull day at work even after all these years, and I am thankful for that. Not forgetting my work 'husband' Justin for the past 17 years that we've worked together! Our listeners come from a vast audience, from the young to the old, from the hip to the cool, we welcome all listeners on CLASS 95!
8. How can one become a radio deejay in Singapore and what's your advice to someone who aspires to be a radio deejay?
Vernon A: We're always looking for talent. So if you feel you have a talent for communication and a love for telling stories and being a companion as people go about their daily routines then radio could be the career for you. Just email the radio station you identify with the most, preferably with a demo and hopefully you get a call back.
9. Lastly, what's your next project and any upcoming shows that you would like to share with our readers?
Vernon A: We're always coming up with new ways to entertain listeners. We've got a new video segment called 'Kena Bluff' where one of us tells the truth and the other a lie and listeners have to guess which is telling the truth and which of us is lying to win a prize.
Catch Vernon A on Muttons In The Morning, CLASS 95 at https://www.melisten.sg/radio/class-95