Roses & Rhinos is a contemporary, print-led kidswear brand from Singapore. Its bold prints are designed by an international team and being a sustainable brand, it uses lightweight organic cotton and other eco-friendly fabrics to make their clothing easy and comfortable for children to wear especially for our warmer climate. 
Roses & Rhinos is founded by Daman Issar, a mother of three lovely children between the age of 8 to 11 years. She was originally from the UK with a fashion background and has worked with ASOS in the UK then Lazada and Zalora in Singapore before starting her own label, Roses & Rhinos. Coming from a supportive family, she is able to balance both work and family life. Daman's three children play an active role in the designs, colours and prints that go into the pieces and they work together to design generally unisex apparels made of organic cotton for kids aged 1-10. An important winning combination of their retail Philosophy that is, "Kids designing kid's clothing". 
Our Parenting World – OPW Media team is pleased to interview Daman Issar where she shared more with with us about Roses & Rhinos, their Fearless collection and more.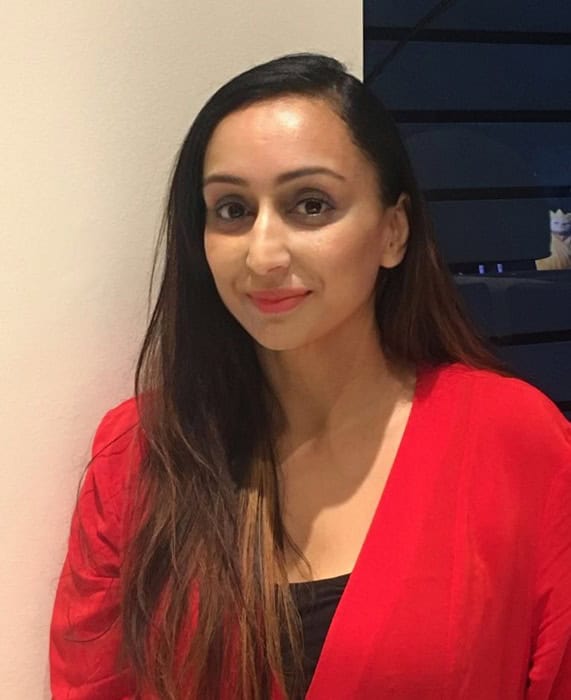 Exclusive Interview with Daman Issar, Founder and Creative of Roses & Rhinos
1. Please share with us more about your background and how did you get interested in children fashion?
I have worked in the retail industry for many years in buying and merchandising primarily through womenswear, for the likes of ASOS and Zalora, so it was a natural progression to move into a fashion business. Womenswear is a difficult market especially if you are a startup. Having kids myself, I knew that I wanted to move into this direction. My kids are older and I realised there weren't many stylish and comfortable options for kids aged 5-10. I really wanted to create clothes with bold and colorful prints for kids, as they are more fun and vibrant.
Our prints aren't the normal cutesy childlike prints you will find on many high street brands. We design our own prints that can be translated through the years. Thus, you will also find our prints on a developing line for women too which also feature our true DNA of comfortable and loose-fitting silhouettes, suitable for a day of play, or even to attend a party.
2. How did you come up with the name Roses & Rhinos, what does it mean and what is the inspiration behind the name?
When I started the business, it was primarily through graphic design t-shirts. My kids and I designed personalized animal tees and it was all about selling and giving portion of sales to WWF for endangered animals. Rhinos were an [super]important statement – and still are – as they are a critically endangered species. That's why we chose the rhino as part of our brand name. The addition of Roses gives our brand a softer side. Together, Roses & Rhinos defines what children can be like, as beautiful as a Rose but as tough as a Rhino.
3. What is the best thing about designing and creating your own clothes?
The best thing is seeing the creations come to life, be it at a photoshoot or on the streets when someone is wearing our clothes. A lot goes into the design process, from matching the colors to defining new shapes. I also taught myself how to use Adobe and Photoshop, built my own website, learnt how to do pattern cutting to name a few. Picking up these different skills has been a fun and interesting journey as well. Yes, we are a truly Mom Business!
4. What are the challenges that you faced in designing your own clothes and how do you overcome them?
We are not a trend driven business so that eliminates one of the big issues most businesses face, like worrying about what the trends for the next season will be. We use comfortable silhouettes in modern design and our in-house designed prints are printed on organic fabrics to ensure comfort and style.
The biggest challenge for me is working by myself and not having anyone to bounce off ideas with. The best way to overcome this is to use your resources around you. I am always asking my kids and their friends for advice and they play a big part in influencing my designs. Living in Singapore makes it easy to travel. Thus, I occasionally get inspired by the architecture and colors of Southeast Asia every time I get to take a trip. I also like to go online for some inspiration. Google and Pinterest are my go to websites!
5. Where do you get your inspiration for your designs?
Our brand Ethos is Bold and Fearless. Our inspirations are all about expression and art. My kids actually help me to design and think of some of prints that go into the collections. The Urban Warrior collection was inspired by some of the graffiti my kids and I saw in Bali during a family holiday. The kids really enjoyed interpreting the artworks they saw and got really inspired by them. It was interesting to see how the artists used the graffiti to tell their story, and how it made the ordinary come to life. They asked me if we could put it on clothes and sure enough we did!
It has been really fun understanding what they like and getting their opinions on my brand. Their opinions and feedback matter a lot to me. Roses & Rhinos has truly been improving everyday with their help.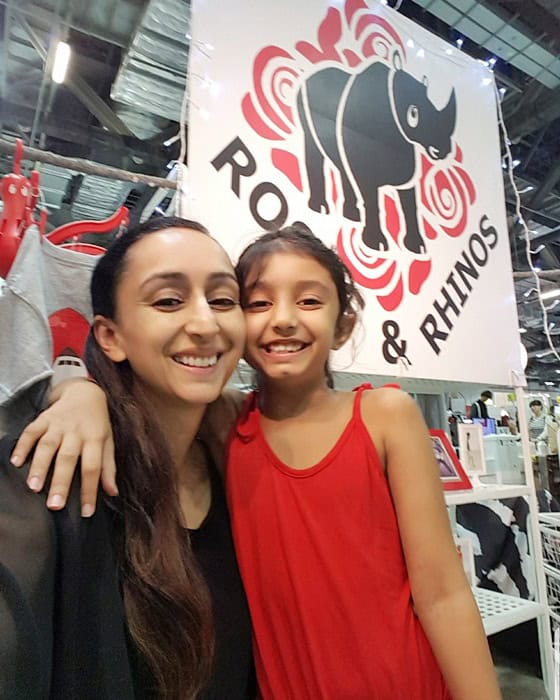 6. Can you share with us more about the Fearless collection?
The Roses & Rhinos brand philosophy is to help kids to do what they want when they want. Once you become fearless, life is limitless. Thus, the "FEARLESS KIDS" Logo is an anthem for the kids who don these clothes to stand out and be proud.
We want our kids who wear our clothes to have FUN and be FEARLESS.
7. What sets Roses & Rhinos from other children's wear labels?
When I first started Roses & Rhinos, I didn't want to dictate how kids clothing should be like. I really wanted to create a fun and dynamic brand for them. At Roses & Rhinos, there are no rules. Kids can choose to mix and match any of our clothing. I just want kids to have fun and create their own style!
Another important thing is being environmentally conscious. I wanted to set a good example for my kids. Thus, all our clothes are also made with lightweight organic cotton, good for the environment and for the comfort of our kids as well!
8. How do you juggle a hectic schedule of working and being a mother? How does your family support you?
It definitely hasn't been easy. I work whenever I can. So I really have to be productive and efficient with pockets of time that I have, whenever my kids are at school or out. I work early and late into the night. I'm glad that I'm really passionate about my job, so I see it less as a job but an integral part of who I am. That has really got me through the busiest periods!
My immediate family lives in the UK so being away from family support is tough but thankfully, my husband has been my pillar of support throughout. Over time, we have built an understanding on how to navigate through the many deadlines we both face together. I wouldn't have it any other way.
9. What's your advice to aspiring mumpreneurs and what's your best parenting advice to mothers juggling with work and family?
Make sure you always set your time aside for family. As much as you want your business to succeed, it is important to spend quality time with your loved ones as well. Don't prioritize one over than another! If you decide to work from home, make sure that you try to calf out a quiet place for you so you can focus on your business- it's essential for a peace of mind.
10. Lastly, do you have anything else that you would like to share with our readers about Roses & Rhinos and what's your vision for Roses & Rhinos in 5 years' time?
A lot of things have happened for Roses & Rhinos this year alone! We have attended global trade fairs in Florence and Paris, we have opened our pop up store at NomadX , which has our full range. Our commitment to sustainability has only grown stronger as well. Of course, we also hope that Roses & Rhinos continues to grow and expand into a global brand. We have a new range launching early in the new year, and there are also plans to expand on our women's "momma and me " range. I am only excited for what's ahead!
Thank you Daman Issar for taking our interview!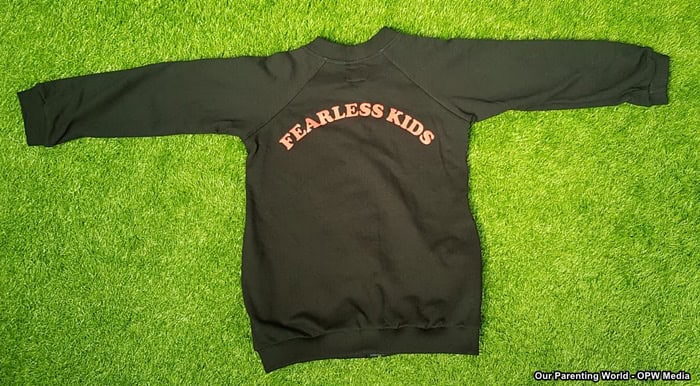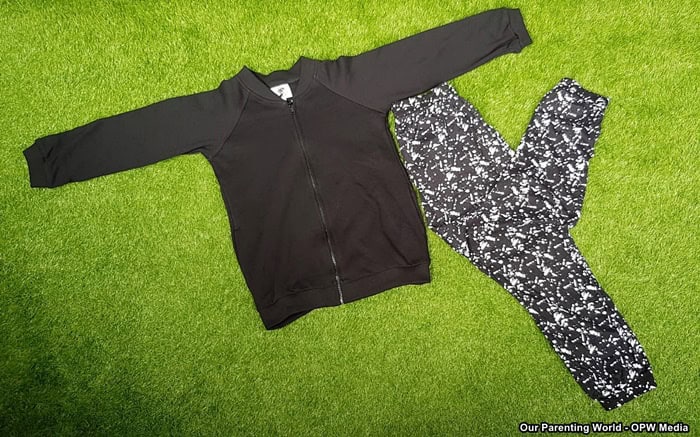 Fearless Track Jacket at SGD$46 (L) and Rain Cool Hareems- Unisex at SGD$38 (R)
Roses & Rhinos's Fearless Kids range offers key wardrobe staples with a twist that comes with comfortable fabrics, stretchable cottons and 'Fearless Kids' Logo on the back to stand out and be proud. 
The stylish jacket made with organic terry fabric comes with elasticated ribbed cuffs long sleeves that your child can wear it long to keep warm or roll up when needed. Pair the jacket with the cool Hareem trousers that is perfect for play for the complete look.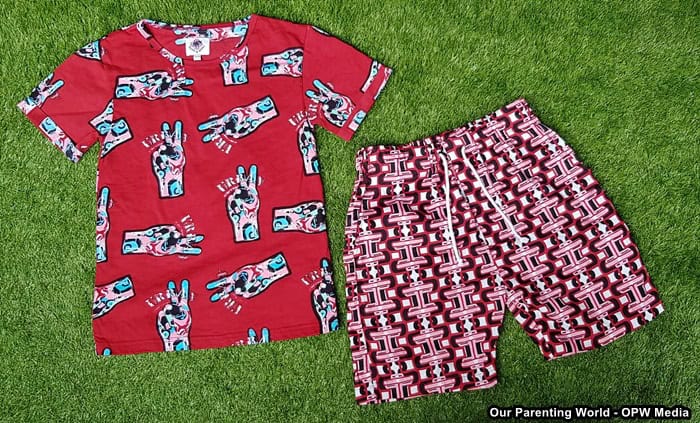 Hand T-Shirt Unisex at SGD$$34 (L) and Elliot Track Shorts- Unisex at SGD$36 (R)
Its classic and comfortable unisex T-Shirt comes with colourful print with roll half sleeves to give it a modern feel. You can pair off with a unisex track shorts that has elasticated drawstring waist and made with Organic terry fabric which is very comfortable to wear.
Its clothing are easy to wear and washable with cool machine temperature. 
Roses & Rhinos has a wide variety of children clothes that you can dress your child in lively and stylish staples: dresses, skirts, t-shirts, long-sleeve t-shirts, cardigans, hoodies, trousers, shorts and hareem pants. Made with lightweight 100% organic cotton, designed to be unisex with comfort in mind for one to ten year olds. To find out more and to purchase Roses & Rhinos's collection, please visit www.nomadx.sg and www.rosesandrhinos.com