Our Parenting World Interview Series: Exclusive Interview with Evon Söderlund, Founder & CEO of Huone Events Hotel
Huone is an events hotel concept from Finland which offers 11 different meeting rooms, some inspired by Kakslauttanen – the Artic Resort in Finland and old Clarke Quay from Singapore, Huone is Singapore's most creative meeting space, and it's here to disrupt the local events industry. 
Our Parenting World (OPW) team is pleased to catch up with Evon Söderlund (ES), Founder & CEO of Huone Events Hotel recently for an exclusive interview after attending the official launch of Huone, Singapore to share her thoughts with us. 
1) OPW: Congratulations on the launch of Huone in Singapore! Can you share with us a little more about your background?
ES: I am the Founder & CEO of the HUONE concept. 32 years old. Originally from Malaysia but have been living in Finland for 13 years now. I am an enterpreneur, a wife for 12 years and a mother to a 3 year old.
2) OPW: Can you tell us more about Huone and what makes you decide to set up Huone?
ES: I am an immigrant living in Finland for love and family. My career options were very limited for someone who couldn't speak fluent Finnish. I realised I have to create my own job instead of begging for one. Adding to that, I came up with the concept of HUONE while working towards my degree in Hospitality Management. When I graduated, I did not look for a job. Instead, I was looking for a suitable location and funding.
Today, HUONE is an events hotel concept that doesn't have any bedrooms. We are the first 'meeting rooms' only hotel that focus solely in creative rooms for business meetings and events.
3) OPW: What are the challenges that you faced while setting up Huone?
ES: HUONE is a concept that required quite a lot of start-up capital. More so than other start-ups due to the infrastucture we needed to build in the beginning. It was rough at the beginning as it was hard to secure funding for an idea that was hatched while a young lady was still in school.
Secondly, as we are in the people business, it is hard to look for good people to work for us. Especially in a world where serving people is not a respected career.
Jobs like waiters or cleaners are not the ones that the new millenialls are interested in, though it is a honorable job to give others a remarkable meeting experience.
Third, there were also a lot of naysayers telling you that your idea wouldn't work, and new challenges being thrown at us before we even solved the ones we had on our plates.
This career is very demanding, with both big and small challenges. There have been so many in the past 5 years that I've lost count of them and have learnt to roll with the punches.
4) OPW: What made you decide to set up Huone in Singapore and what can visitors in Singapore expect when they book their events at Huone?
ES: Singapore is the No.1 meeting city in the world for 6 consecutive years. I believe when disruptive idea like ours has proven itself in Finland, we must enter the biggest market to test things out – Singapore, where the demand for meetings and events is the largest.
Visitors can expect a new definition for meetings. Business meetings don't have to be boring and draining. Meetings can be productive, creative and enjoyable. Huone Singapore is definitely the place if you want to host an event or a meeting that is unforgettable.
5) OPW: What does running Huone involve and what's your typical day?
ES: Running HUONE involve all skills from bookkeeping to knowing your best spirits. Entrepreneurs today can no longer be specialists but instead, they have to be 'generalists'. We have to know everything. We have to know all aspects in our business, be it marketing or law policies.
I would go around and greet every one of my staff, and at the same time ensure that things are all in their right places. Then I'll grab a cup of coffee, boot up my computer to deal with everything such as company results, managing our suppliers, paying bills, control cash flow, emailing my shareholders, to giving speeches to schools. My everyday life is pretty much a roller coaster but a very fulfilling one.
6) OPW: You are truly an inspiration to many! What advice would you give to those who want to become an entrepreneur and start their own business?
ES: You have to first believe in youself because the world is filled with those who don't. Don't do it alone, share and bounce your ideas off others so your idea can evolve; you are not the smartest person in the world. Before you start, you must know 'why' you are doing this. The motivator has to be right, if it's purely about money, don't do it.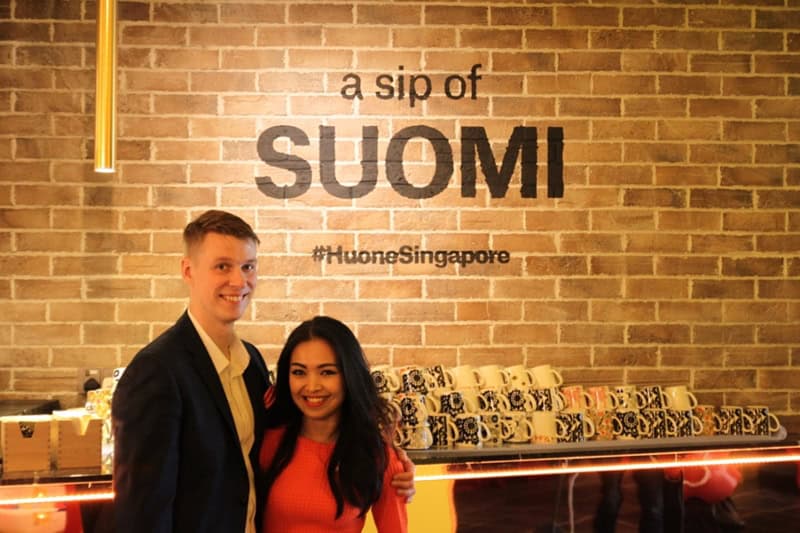 The lovely couple, Jussi (L) and Evon Soderlund (R)
7) OPW: How do you manage being a wife, a mother and CEO of Huone?
ES: I don't think I manage it well at the moment. Today, I lead 2 teams of 25 people in 2 countries. I wish I had more time for my son and my husband. Being away from home 100 days a year really isn't my definition of a good mother or wife. However, I try to remember and remind myself why I am doing this. I look at my 3 year old and I think I must be a good example to show him how one should pursue their dreams. I look at my husband who is proud of me and wants me to succeed and be happy.
I only live once and I don't want to live in regrets. That's said, I cook everyday at home, I spare at least 2 hours every evening to play with my son, we go on holidays at least 4 times a year and I devote my life find better balance. The harsh truth is, entrepreneurship is a lifestyle, and the biggest sacrifice we make is the time we lost from family and friends to our entrepreneurial life.
8) OPW: On a personal note, what's your favourite pastime and food?
ES: I love movies and I enjoy dancing and singing. In the autumn, in the weekends, you will always find me in the Finnish forest, picking blueberries, wild mushrooms and grilling sausages while enjoying a cup of coffee.
Being brought up by my grandmother I can cook since little. In this Helsinki apartment building, the only unit that smells like Asian food, you will find me cooking all my favourite Malaysian food from Nasi Goreng to Bak Kut Teh.
9) OPW: What's your favourite place to visit in Singapore?
ES: I love to walk along the Singapore River passing Robertson Quay, Clarke Quay and Boat Quay. There I see Singapore with its history as well as its glory now. So much must have happened through history to make this tiny country to where it is today. I admire those who made this country remarkable, from the hawker uncles to the policy makers in the parliament.
10) OPW: Lastly, what are your plans for the future and Huone?
ES: All of us have had enough of boring meetings. It is about time to reinvent this traditional meeting industry. We might not have the wealth to build big glorious hotel buildings but we can definitely challenge the culture of it by being different. I want to make a difference by bringing HUONE to all the major MICE cities. I would like to introduce our creative meeting space, the HUONE Events Hotel to the world, one city at a time.
Thank you Evon Söderlund for taking our interview!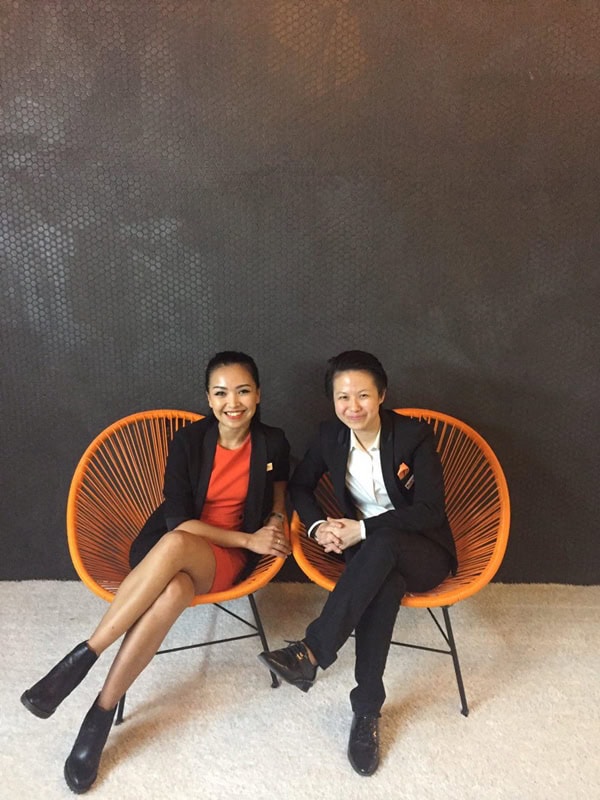 All the above images credit to Huone Events Hotel Singapore
Evon Söderlund, Founder and CEO of Huone Events Hotel (L) and Joewin Tan, CEO of Huone Singapore (R).
Please click HERE to read our Exclusive Interview with Joewin Tan, CEO of Huone Singapore.
Our Parenting World team would love to visit Huone at Finland and will share on this interesting and unique event hotel when we visit the place in Helsinki (Finland). In addition, to find out more about Huone Singapore, please go to https://www.huone.events/sg/