Celebrating Parenthood at Mediacorp! There are quite a few new parents among its deejays at Mediacorp. Congratulations to all the new parents! Our team speaks to Mike Kasem, GOLD 905, who became a first-time dad in June. His wife, Su-Ann Heng is also a part-time DJ on GOLD 905. The lovely couple welcomes a baby boy on June 25, 2020! 
Mike Kasem, the son of legendary American Top 40 presenter and radio personality Casey Kasem. Mike has carved out his own path, becoming a household name throughout Asia in the 90's as one of the original MTV VJ's. From there he went on to host America's funniest home videos in the US among many other stateside TV programs. Mike came to Singapore and started his Singapore radio career in 2011. He joined Mediacorp Radio's CLASS 95FM co-hosting with Jean Danker and later moved to GOLD 905 where he now hosts 'LIVE! With Mike Kasem, Vernetta Lopez & Gurmit Singh' on GOLD 905, 6-10 am.
You can catch Mike Kasem and his funny music videos on his Instagram @mikekasem (https://www.instagram.com/mikekasem/) and on YouTube: "The Kasems" (https://www.youtube.com/user/mikekasem). 'Live! with Mike, Vernetta and Gurmit' podcast: http://bit.ly/gold905-mikeverngurmit-djbio ​​​​​​​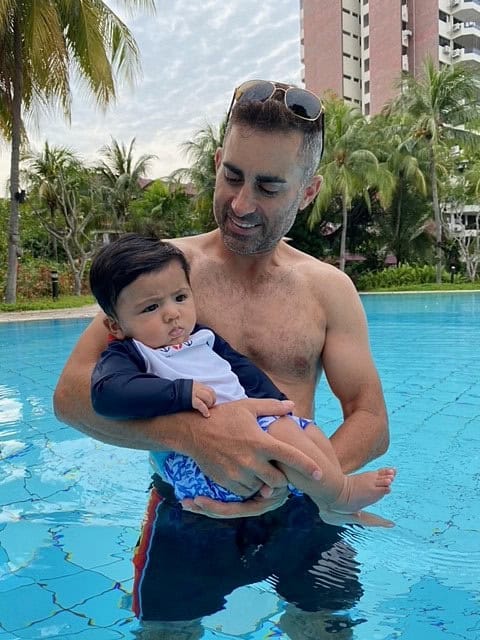 Mike Kasem with baby boy, Casey Patrick Kasem
Exclusive Interview with Mike Kasem, GOLD 905 Deejay
1. Please share with us more about your background and what made you decide to be a radio deejay? 
Mike: I have always been in the entertainment business, from MTV Asia to Americas Funniest Home Videos, it's what I know. When work was slowing down after 9/11 I decided to broaden my horizons and try radio. It's ridiculous I know, with my dad being a radio legend one would think I would have figured this out earlier. I truly did not believe I had what it took to sit in the booth and just talk off the top of my head. Ironically I believe I am a much better Jock than TV host. I hate being confined to the framework of a TV show, its like directing traffic. There is a lot to remember. Radio I just make it up lol. 
2. What is your typical daily schedule like?
Mike: I wake up at 4:30 quickly get ready and head out the door as quietly as possible. Then I come back in the house because I forgot my car key. Then I head downstairs and get to Mediacorp after 5 am. At which point I will realise I don't have my pass. Then I head to the front desk and fill out a bunch of info to get a temp pass. to be honest the average amount of time every morning I come back in the house after forgetting something is about 2 to 3. Then a 4 hour shift on Gold 905 from 6-10 am with Gurmit and Vernetta. after that we produce our trailer of "what you missed" for the morning. Then it will be photo shoots or TV shoots from time to time. If the rest of the day is free I will golf or sit on my computer writing music, performing and producing it right from home. Then shoot videos and edit. I truly love sitting at home on Pro tools and Final Cut Pro X with a nice glass of wine, just creating!
3. How do you support your wife during her pregnancy?
Mike: I'm the diaper daddy. I change the diaper when I'm home as well as put him to sleep. I try to be here for any help Su Ann needs. When I have Casey for 4 hours I really understand how much work she puts in day to day. Now I get it (full time job)! They weren't kidding!! She handles the nights so I can get a good night sleep before work and other than that I just do what I can.
4. Congratulations on being a father! What is it like being a father? How has fatherhood changed you?
Mike: Thank you for the congratulations :). Being a father is not what I imagined if I'm honest. My friends would say oh it's amazing once you have your own… I don't think I really understood that. I was worried about giving up so much of my golf and free time. Now I get it, but it's so deep and different than my previous understanding. Yes I'm tired and it's a handful, but you don't even think about what you could be doing otherwise. This is what you want to do! I have a responsibility now, to guide him and show him how to be humble, gracious, caring, loving to all things on earth, and to be financially responsible hahahaha. My parents had money but ironically never taught us how to save, invest and grow your capital. I learned this on my own and now I can pass it down with all the other wonderful lessons my dad and mom did impart upon me. 
5. How do you juggle work and family life especially now that you have a baby?
Mike:  I'm not gonna lie, juggling work and a baby is easy right now. We are some of the lucky few whom have jobs that are considered "necessary". Right now all I do is Gold 905 for 4 hours a day and then back home, there is no other work due to Covid. It's tragic as there are so many people in the world wondering how they are going to feed their families at this point so to me, I have it simple.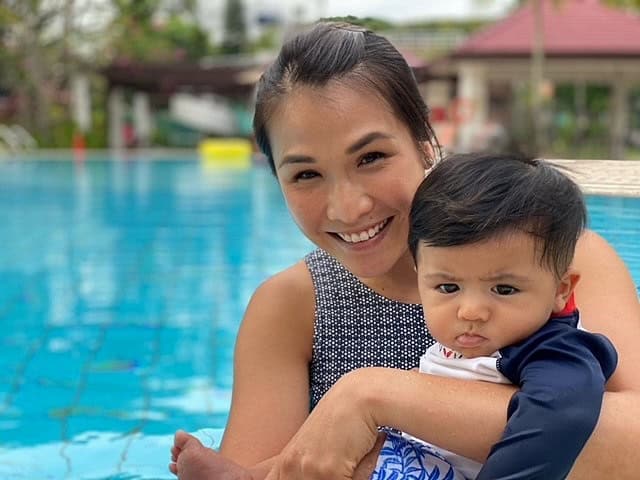 Su-Ann Heng with baby boy, Casey Patrick Kasem
6. What are some of the best parenting advices/tips that you have received and experienced that you would like to share with our mummy and daddy readers?
Mike: Hey new daddy's ! I'm still trying to figure this out as I write this. There is no easy way, just dive in head first and learn to swim. Change diapers, it is awesome to watch your child smile at you while you perform this task. Ask momma what she needs all the time! even though you can't really help much it is so appreciated. Giver mom some foot massages. Cut your golf to 1 a week lol. If she wants that new pram, just get it dude.. oh! and put a wet wipe over the groin while changing the diaper because he or she is gonna pee on you at some point!
7. What is it like to be a radio deejay for GOLD 905? As you had worked in US previously, what are some of the differences in being a radio deejay in Singapore compared to US?
Mike: Being a DJ on Gold905 has been an incredible experience. In 3 years I went from afternoon jock to evening jock to mornings and have been there ever since. Where I'm from, Morning drive is the most coveted position. If you are a morning jock you have made it, its the hardest time belt to get respect in. The competition is fierce yet you have the most fun if your successful. The difference is in the US it would take much longer to get that position. It just takes a bit of time to understand the rules and regulations as they are a bit different from Los Angeles radio.
8. Can you share more about your work at GOLD 905 and what projects are you currently working on?
Mike: Right now I believe we have the best line-up in Singapore radio, after us is Denise, Cat, Chris and then Mr X, don't think it gets much better than that. I'm so proud of the way Vernetta Lopez, Gurmit Singh and I have come together over the last 6 months to create something special. We have a connection that is tough to find. Our personalities really compliment each other and we just let anything go, no fear of mistakes on air as we just highlight it and make fun of each other in a hilariously positive way. We let anything go and then wait for the big boss to reign us in… It's the most fun I've had at work.
9. How can one become a radio deejay in Singapore and what's your advice to someone who aspires to be a radio deejay?
Mike: If you are serious about becoming a radio DJ, learn to use a DAW, whether it is pro tools, logic or cubase etc (I use pro tools) it is very important and the PD will ask if you know how to use it. Get a mic, plug it into your computer, pull songs off youtube or whatever site you can DL them from and put them into your DAW (digital audio workstation). Practice coming out of songs and into the next song smoothly. Just keep doing that creating your own content of stories from the day or around the world etc. Mix that in with artist stories and behind the music style content. DO NOT STOP PRACTICING THIS! You will get better and better I promise. That is how you get a job, when you are so smooth at this skill of (back sell a song , content , front sell a song) you WILL get a job. There really are not that many people who can do it. Some people on radio right now can't even pull this off. Good luck!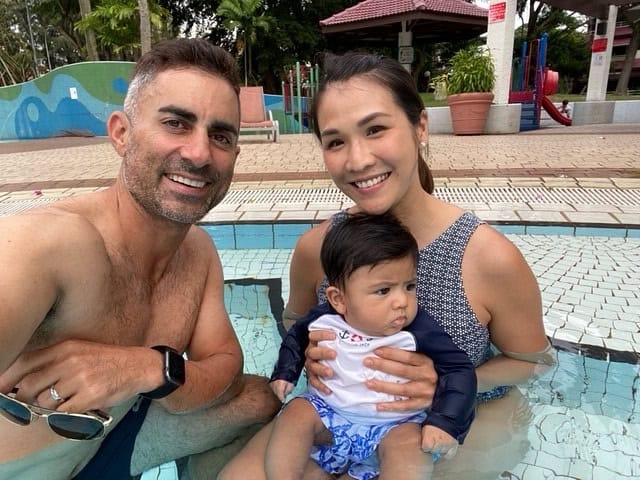 All the above images credit to Mike Kasem, Su-Ann Heng and Casey Patrick Kasem
10. Lastly, any interesting stories you would like to share about your baby boy and what are some of the favourite things that you like to do with him?
Mike: Casey is only 4 months old so not many stories. Sure he has pooped and pee'd on me :). My favourite time with Casey is Sunday morning when I get to see him wake up after a long nights sleep. You unzip that swaddle and his little hands come out and stretch up by his ears as he yawning and trying to open his eyes. He finally opens his eyes and smiles at me ear to ear. That…is the best!
Thank you Mike Kasem for taking our interview!
In addition, GOLD 905 has a brand new game, 'Supersonic' and there's $20,000 in cash to be given away! From Monday to Friday, all listeners have to do is listen to a snippet of a song that is sped up and be the first caller through to guess the song title correctly to win cash! If there's no winner, the amount will get snowballed! Check it out! 
Catch 'LIVE! With Mike Kasem, Vernetta Lopez & Gurmit Singh' on GOLD 905, 6-10 am!