Mr. Bottle is one of the most popular children magicians in Singapore, a highly acclaimed, accomplished magician and entertainer, he has appeared on National TV and periodicals such as The Straits Times, The New Paper and Friday Weekly. He has also marvelled audiences around Asia Pacific Region with his stunning performances!
We have seen many of Mr. Bottle's performances and thoroughly enjoyed watching them. Our Parenting World is honoured to be able to interview Mr. Bottle to find out more about his magical journey as an accomplished magician. 
Exclusive Interview with Mr. Bottle
1)  Mr. Bottle, please share with us on what made you develop your profession in the area of entertainment and how did you develop such an interest?
I was interested in magic since I was about 5 years old because I was amazed when my father did simple tricks. I wanted to learn magic then but it was difficult! There was no internet and hardly any publication on magic was sold in Singapore. At that time, there was David Copperfield's series on TV so I would record them and watch them over and over again! In fact, I am probably not the best candidate for magic because I was really shy. In school, my teachers will write in my report book that I was too 'quiet' in class consistently (at least until I was at least 14 years old).
The first magic book I found was from the library and it was in Chinese so I had to get my mum to translate it. I learned a few and 'performed' a simple matchbox magic (showed without speaking) in class when I was about 7-year-old.
The journey to learn magic difficult, luckily I was able to find some books in the library along the way latter. I would write down word for word, draw picture for picture, magic which I liked from the books so I would still remember them after I returned them. As you can see, my interest in magic never falter, I didn't give up despite the lack of resources!
My turning point when it was joined International Brotherhood of Magicians (IBM) Singapore Ring 115 at about 17 years old. There were a lot of magicians helping me and the meetings opened my eyes to so much more magic, from books, to videos to magic shops, than I ever knew.
I did quite a number of shows for the IBM and charity shows as well. A person, whom I volunteered together with at an old folks' home, engaged me to do a show at an RC event and that was my first paid show!
In Singapore, the biggest market in magic is children so I naturally went into it. I also thought it is easy, but I was wrong because if children don't like your performance, they will say it! But the more I performed for kids, the more I love it! I like the laughter I receive from the kids, I learnt so much from them when I talk to them!
When I was about 19 year old, when internet was still a relatively new thing, my interest in magic spurred me to set up "Singapore Magicians Network". www.magicians.com.sg . This was Singapore's first magic website providing listing of magicians, magic information, reviews, etc; and this opened doors for me! Not only did it get me shows, I also got to communicate with magicians from all over the world.
Doing children birthday parties was great for me, and being the businessman in me, I reacted to the demands of the market. I was getting requests for other related services like balloon sculpting, facepainting, games, etc. so I started to get part time staff to do those and partner up with peers in industry; I was probably the one of the first to provide an one-stop entertainment services in the market and was very successful. I created Mr Bottle's Kids Party (www.kidsparty.com.sg ) I also produced more shows like Science Shows infused in magic and was the first in Singapore. 
Image Credit: Mr. Bottle (Kien (Mr Bottle) with a photo of Mr. Bottle when he is performing in Shanghai Happy Valley)
2)  Mr. Bottle, can you share more with us on the story of how your father gave you the bottle of magic, how that inspired you to be what you are today and your turning points which has made you to become a well-known figure in Singapore as well as in the Asia Pacific region?
Here's the story: Once upon a time, there was a very shy child. So shy that he did not dare to talk to anyone in school.  
One day, his father bought a bottle of magic for him. "In it, is a potion that will make you grow brave and strong." Every morning, he would open the bottle for some magic. Day by day, he began to make more friends.
One day, he saw his good friend cornered by Billy, the big bully. Believing he chased Billy away.
Many years later, he discovered that the bottle was actually an empty bottle. Believing in the magic has changed his life. This child is none other than Mr Bottle the Magician, who believes that nothing is impossible.
Like the story, I always believe that "Nothing is Impossible" and I hope to inspire children to do the same! I had big dreams of becoming a magician when I was a kid, I wrote that down in my diary and here I am!
More than a decade ago, I went to a theme park in China which there was a magic festival and I dreamt of performing alongside these amazing magicians. About 5 years later, I got my offer to perform at that same theme park. Happy Valley! Thereafter, whenever a new Happy Valley opens in another city, I am the only Singaporean magician in their inaugural magic festival. I want to tell children that do not be afraid to dream, work hard towards it and you can do it. 
During SARS, it was a very difficult time, and coincidentally, my friend introduced a post-graduation entrepreneurship course at NTU so I signed up for it and got the scholarship. That is when I learnt about business scalability and hatched another big dream of making Mr Bottle's Kids Party a global company. Just about 4 years ago, someone believed in my ideas and now we have Mr Bottle in Taiwan. We are now doing a lot of celebrities' parties in Taiwan, for instance, for Dee Hsu (小S), Meggie Yu (郁芳) and Jordan Chan. 
3) Please tell us more about your shows and what are the most popular segment with parents/kids and some of the popular types of entertainment that are included in parties, based on all the engagements you have had?
For our company, magic is still very popular. We get quite a bit of enquiries for our science show because it is different from the usual and we are the only company which does the show this way with comedy, combining magic and science. I was a triple science student in my Junior college (I have straight As for 'A' levels J) so with the knowledge of entertaining children as well as my science background, I was able to produce this unique show.
We are also doing quite a few theme parties, especially in Taiwan.
Our category of entertainment has since expanded quite a bit because of my child-like curiosity and interest in many things and my constant strive to be different!
This can be seen in our latest project which is www.iwannabe.com.sg Children gets to experience different interesting jobs (a little like kidzania but more indepth and children experience these during parties and events.) The dinosaurs event at Tanglin Mall and Great World City is an upsize version of that. 
4)  How do you keep yourself updated on the latest trends to conduct your shows to suit the needs of kids and adults?
I create a lot of the magic concepts myself so rather than buying them off the shelves in magic shop, I will usually imagine new ideas and think of ways to achieve the effect.
I love to travel to see new things. One of my favourite places is the Hong Kong Toys Fairs; it is like a toys shop on steroids! It will take maybe 2-3 days to cover everything and I get to see the latest innovation. I still play with toys; now with children, I have more reason to buy them!
When I saw the dinosaurs kits at the HK toys fair some years back, I thought it was brilliant how the children can learn about them. My interest in dinosaurs just got bigger and bigger, so did my ideas! Tada, that is when I decided why I want to create a dinosaurs event!
I also like to read to get inspired. I am like a child who is interested in everything and anything new.
I used to travel to magic conventions but with 2 kids now, I travel only mostly for work. I still love to visit museum, festivals to see creative things all around us. 
5) Please share with us some interesting or enjoyable observations/encounters you have experienced while entertaining kids and adults?
One of funny incidents was when the father told the children that I would be doing a science show and the children went 'Oh no' (before the show started)! When the show was over, they were exclaiming that science is cool!
An interesting observation is that children about 9-10 years old will tell me that they know the secret, which most of the time, they don't or it is the wrong guess. However, they just want to show their peers they know something. They want to be cool in front of their friends. Of course, maybe it is okay since the guess is wrong, however, it is disruptive to the show when these are going-on all the time, and there may be people thinking that the guess is correct! I would usually have a response (depending what character the child is) like 'I know the secret too, keep it among ourselves ok?' OR 'Yes, exactly!'.
There were numerous times, young adults came up to ask me if I am Mr Bottle and say I entertained them when they were a kid! I am amazed that they still remember me! The most recent one was a family who booked me more than 8 years ago for their older daughter and she remembers me so they booked me for the younger brother.
Of course, there are lots more! I have been in the industry for 16 years already! 
6)  It's not an easy task to get the attention of kids and to keep them engaged for a certain period of time especially when you have kids of different personalities and interests at the same party. How do you manage them to ensure that they benefit the most from your shows and enjoy themselves?
Performing for children is truly an art! I have met very famous magicians who told me that they are afraid of performing for children. Children unlike adults tend not to be "nice" audiences who might still applaud out of politeness for mediocre entertainment.
You are right that every child has different personality; the more complicated part is to understand how the whole dynamics of the group works. I was interested in and read psychology so this definitely helps. For instance, I have to find out who is the 'leader' in the group. If that leader misbehaves, it can affect the whole group, so I have to ensure that I keep him under control at all times. For selection of volunteers, I may choose the personality and age group of the audience for certain acts to give my spectators the best reactions.
However, this is never 100% because the group behaviour can be different from the reaction on stage! I am still learning from every performance!
7)  What's your advice to parents who would like to engage party hosts, what they should look out for and what's the minimum budget required to conduct such parties?
Your choice of entertainment may make or break what could be a great, fun and memorable birthday party.
The internet has changed the way business works so it is so easy for anyone to promote himself. There are many who just picked up magic as a hobby and decided to earn some pocket money by promoting himself on the internet. This is to a point I have seen over-marketing or giving fake credentials to get jobs. (Eg. I have seen fake 5 stars reviews on Facebook,) Many parents may not savvy nor informed of the choice of entertainment.
Having a lousy entertainer is worse than not having one at all. Some parents may think they are saving say a hundred dollars by engaging a cheaper one, but in fact, they are losing that money which they are paying the entertainer because the children don't enjoy it at all! Imagine the forgettable memories for the children and guests.
Hence I feel the best bet is to engage a host or entertainer who:
Is reputable in the market

you have seen before and is good! (and your child likes him or her. Rapport is very important!)

ask around your friends who have personally booked them before for recommendations.

will recommend suitable entertainment for the age group of your children. There is a seldom one size fit all package.
In terms of budget, it really depends on the type of entertainment which they are booking. 
8)  Lastly, do you have anything else that you would like to share with our readers?
The next few years will be exciting for our brand and Mr Bottle. As you may know we have expanded into Taiwan (www.childrenparty.com.tw) and looking into other markets as well. We have produced a children theatre show in Taiwan based on the story of Mr Bottle to teach values and morals to kids. This is one area of motivating children, which I hope to expand on and incorporate more into my magic show.
I want to tell children that everything is possible if you believe in yourself!
Thank you Mr. Bottle for taking our interview!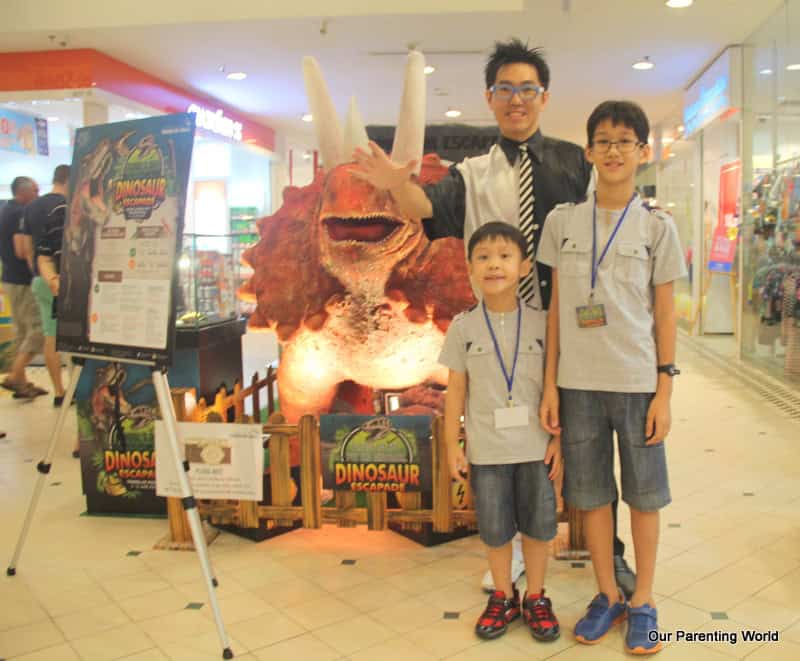 Please click HERE to read about Our Parenting World's earlier participation at Mr Bottle's fun and exciting School's Out! Join Dinosaur Escapade at Tanglin Mall specially created by Mr. Bottle and his team. 
Make your event a memorable success with Mr.Bottle's magic – guaranteed! To find out more about Mr. Bottle and his shows, please click HERE. 
Website: http://www.kidsparty.com.sg
Email: marketing@kidsparty.com.sg
Facebook: http://www.fb.com/mrbottleskidsparty