Bong Bong Friends is a first-to-market and the leading kids makeup brand in Korea. The products are organic, completely natural and made from food-grade ingredients like purple radishes and sweet potatoes.

Korean beauty label Bong Bong Friends is bringing its petite-sized arsenal of makeup and skincare goodies to Singapore! Some of Bong Bong Friends exciting and innovative products include cushion stamp blushers, sun cushion, colored lip balms, nail and ear stickers, kids sheet face masks and adorable Mom & Me nail stickers that are made from corn. Both moms and kids can have lots of fun and bonding time doing make up together and pampering each other.
Bong Bong Friends founded by Ms Min-Young Kim, was created to cultivate proper beauty habits and the right values for children while building the foundation of healthy skin. Our Parenting World – OPW Media team is pleased to be able to interview Ms Min-Young Kim, CEO of Younglab and Founder of Bong Bong Friends to share more with us about why she decided to set up a beauty brand that is targeted for kids and more. Read on to find out.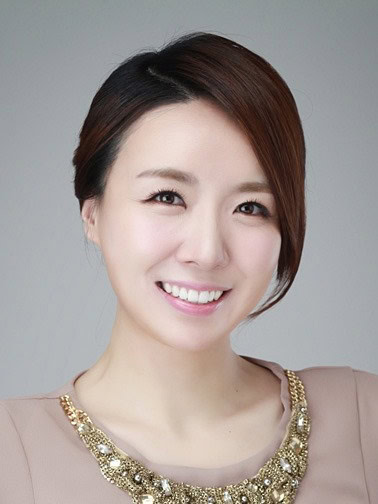 Exclusive Interview with Ms Min-Young Kim, CEO of Younglab and Founder of Bong Bong Friends
1. Please share with us more about your background and what made you decide to start a beauty brand targeted at kids?
Ms Min-Young Kim: I've seen Korean cosmetics grow at a high speed since 15 years ago while doing cosmetics planning in Korea. Also, many of them show their makeup on YouTube or SNS, making it easier for children to use cosmetics. In the meantime, my nephew used the lip cream that my friend brought from the kindergarten and had blisters on his lips. Seeing that children's skin was being damaged by chemicals, we started making Bongbong Friends by removing harmful substances and making cosmetics with natural pigments.
2. How did you come up with the name Bong Bong Friends, what does it mean and what is the inspiration behind the name?
Ms Min-Young Kim: "Bongbong" is a cute pronunciation and is the most comfortable letter for children to pronounce. When children are put on lipstick, the first thing that comes out of them is to make them look like lips when they pronounce the buds. Also, it has a sweet meaning and Bongbong Friends is a brand that reminded him/her of the cute lips of children.
3. What is the best thing about creating your own beauty products for kids?
Ms Min-Young Kim: The most important thing in making children's cosmetics is safety tailored to their skin. Safety includes both ingredients, formulations and how to use.
The product, when my nephew wore children's makeup and had blistered lips, was the result of the product because it was only a child's cosmetic on the outside and the ingredients and contents of the product were not studied at all. The softest skin areas of children should not use normal chemical pigments, nor should children's products contain saliva-soluble harmful substances. However, most children's cosmetics only care about their characters. Bongbong Friends doesn't advertise, but it is gaining huge popularity due to the safety of children's skin.
4. Can you share with us some of the interesting products of Bong Bong Friends, what's your best sellers and the benefits of using these products?
Ms Min-Young Kim: Nail Friends BongBong is the first product made at Bongbong Friends. It is the first children's nail polish made of a type that films the nail polish of a liquid and attaches it to even a minute breathing hole. The most harmful of cosmetics products are manicures and water-based manicures, but water-soluble products are very dangerous to children because they also dissolve in saliva. However, the nail-fransbong sticks like a play, as they make the annoying process of removing and applying all the harmful substances and drying them into a sticker type that children like. Also, it was the first time for a child to use red radish and purple sweet potato pigments for a child's lipstick stick color chestnut. Generally, I used red pigment to make lipstick, but I had a belief that I would never use chemical pigment. Coloring using vegetables was not easy, but the result was a huge success, and now it is a lip color chest used by pregnant women as well.
5. What's the importance of using natural skincare/makeup for kids and what would be the ideal age to start using the products?
Ms Min-Young Kim: Just as a newborn baby has poor skin immune system, the protective barrier of the skin is still weak after the age of three to four. Adults with good skin protection can use a variety of pigments or chemicals, but children cannot use products with strong irritation because of their weak skin barrier. Skin care should be made by using ingredients and products that protect skin barrier as much as possible, and make-up products should avoid using chemical pigments and allow users to use products that are easily erased with water or tissue other than products that are long-lasting. The younger you are, the more important it is to guide your mother to use the product well under her protection and observation.
6. Please share with us on what are some the challenges that you have faced to start a beauty brand and to create awareness on beauty products for kids? How do you overcome them?
Ms Min-Young Kim: There are people who are unconditionally opposed to children putting on makeup. In particular, parents of children vehemently welcome safe children's cosmetics, but those who have never raised children or older people oppose children's beauty products. Just as boys like car toys, girls like cosmetics. Bongbong Friends is by no means a brand that encourages children's makeup. Parents are interested in children's makeup, inform their children about what the proper beauty habits are, and encourage them to use cosmetics that are safe like play. This is for growing children's skin health. After a steady campaign, the eyes of Bongbong Franz are now much less visible.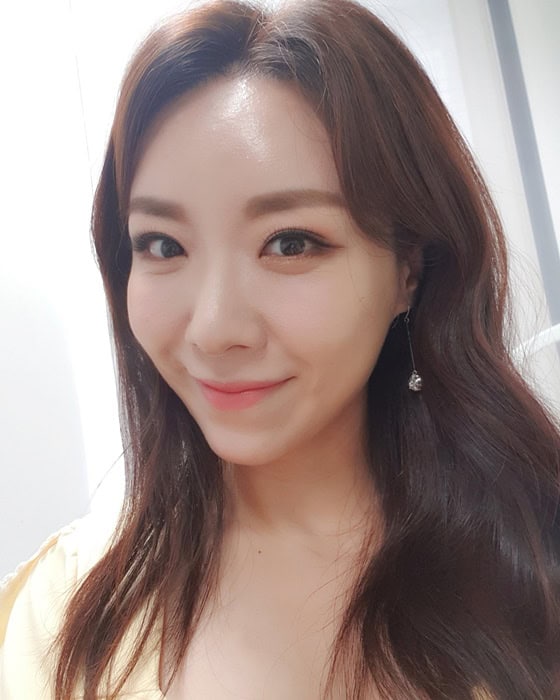 All the above images credited to Ms Min-Young Kim
7. What are some of the feedback that you have received on the products and your views on whether these products play a part in family bonding and creating self confidence in kids?
Ms Min-Young Kim: For example, nail-fransbong products are often attached by choosing designs with mom or dad. When explaining how to use the product, he tells me to be with my parents. Then, the child enjoys the Bongbong Friends with his parents as if playing, and the result is a beautiful nail or self-image. It's a small children's makeup, but it's not just a child who ends up playing alone, but a parent and a child form a bond that makes them feel loved, and they can gain more confidence with their beautiful self. Many mothers leave a postscript to their friends that their child is flattered and confident. Again, the role of children's cosmetics is not to make up, but to make themselves more loving.
8. How should parents educate their kids on beauty and skincare?
Ms Min-Young Kim: In order to educate children about beauty and skin care, parents should also have a good sense of beauty. But more important is communication with children. Because it is too difficult to know all the cosmetics ingredients, if a child wants a product, they can look for the ingredients of the product together and use samples, and if a parent and child share their beauty, the child will naturally think more about their skin and reduce the risk of skin damage with indiscreet products.
9. What are some of your favourite beauty, skincare and fashion tips that you would like to share with our readers who are busy working women and mothers on looking good and taking care of themselves?
Ms Min-Young Kim: As you get older, the most important thing is to keep your skin dry. Although Singapore has hot weather, its skin often becomes dry due to its excellent indoor air conditioning. Skin dryness is a shortcut to aging. I never darken my skin tone. Since foundation and fact sheet are the main culprits of thickening and drying skin, apply a tonic sun cushion to make skin perfect but bright. Then, cover only the spot with a concealer lightly. And if you pat the Bongbong Suncushion from time to time, it looks healthy and keeps your skin bright and dry. I recommend it because it takes a long time and makes skin look transparent.
10. What advice do you have for women out there who want to start their own business?
Ms Min-Young Kim: Any kind of business should start with its own business philosophy. Startups are not easy to succeed from the beginning, so they often follow when someone says it works, and when someone else does it, they follow. Then, since there is a case of being in place again, I hope that you will start with the will of the business to check the results after a set period of time.
11. Lastly, do you have anything else that you would like to share with our readers about Bong Bong Friends and what's your vision for Bong Bong Friends in 5 years' time?
Ms Min-Young Kim: Bongbong Friends is planning to grow into a family-type brand. It is currently researching cleansing products and is focusing on researching cosmetics ingredients. The components under research and development are not just good for children, but also for pregnant women and all adults with sensitive skin. It is Bongbong Friends' vision to make cosmetics that can be shared by children and parents, and it will strive to become a global brand with continuously reassuring ingredients.
Thank you Ms Min-Young Kim for taking our interview!
Here's the highlights of some of Bong Bong Friends' products as follows: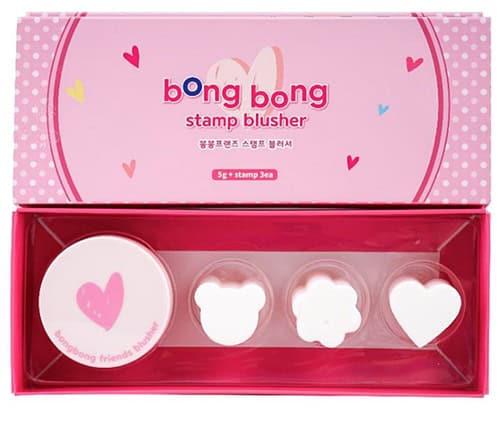 Bong Bong Friends Stamp Blusher $23
This blusher set consists of a mini-size pink blusher, three shapes of stamp and natural and soft sponge. Made from 100% natural latex that is highly durable, velvety soft and free from harmful additives that could harm young skin. Your kids can have lots of fun exercising their creativity and stamp away with the ultra adorable stamp blushers in the shape of a bear, flower and heart. Upon application, it delivers a natural, dewy flush on the face that is free from shimmer or sparkle.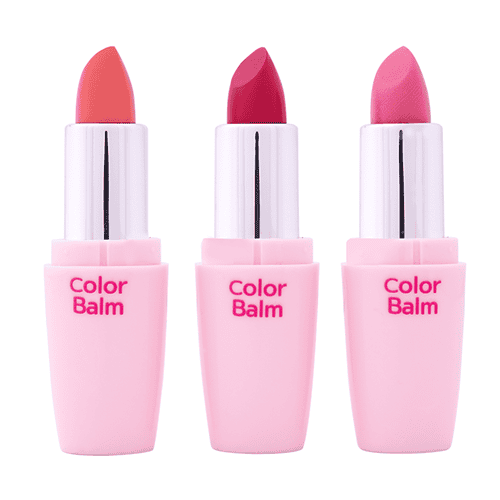 Bong Bong Friends Color Balm $21
This veggie-based, fragrance-free colour balm contains natural oil and shea butter that moisturizes the lips is safe to use and suitable for young children, pregnant mums and adults with sensitive skin. It comes in shades like Milky Pink, Rose Pink and Peach Orange with natural colours that is made from purple sweet potatoes and red radishes.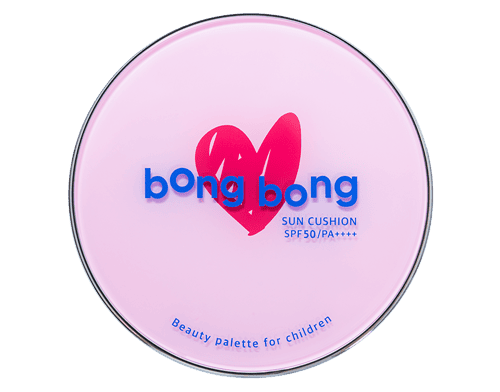 Bong Bong Friends Sun Cushion $31
This compact cushion comes with an adorable heart-shaped puff that makes applying sunscreen fun and easy for your kids. Packed with SPF50+ PA++++ and EWG-approved ingredients, this compact cushion protects skin against harmful UV rays and brightens your child's face. The antibacterial and antimicrobial rice cake puff will help to reduce the risk of bacteria transference onto their delicate skin. 
Nail Friends Bong Bong $17
This is the first of its kind non-toxic stickable nail wraps for young children that is ultra-adorable and fun for the kids to do a DIY manicure. The toxic-free nail stickers won't damage the nails and allow the nails to breathe. Moms and kids can have pampering session together, the nail stickers can be easily applied and removed with the glossy, shimmering luster staying intact for over 2 weeks. You can have a perfect manicure in minutes!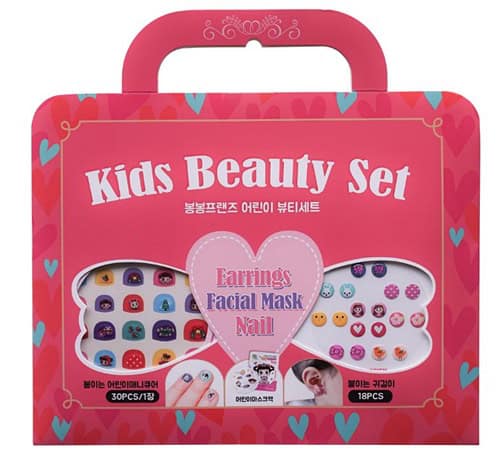 Kids Beauty Set $25
This is a perfect three-piece kit for your kids that includes 30 pieces of Nail Stickers Bong Bong, 18 pieces of Bong Bong Friends Attachable Earrings and the Bong Bong Friends Hello Jadoo! Mask Pack. A great way for your kids to experience and enter into the world of beauty! 
Bong Bong Friends is a clean, vegetable-based non-toxic makeup brand that uses the most natural and organic ingredients to give kids a quality introduction to creative makeup. Each product is EWG, SGS, CGMP and Nail Patent certified to ensure they are created in the safest and most sustainable manner. Bong Bong Friends is available exclusively at selected Guardian stores and online.