A number of Mediacorp deejays has become parents, congratulations to all the new parents! Our team speaks to the lovely first-time mother, Natasha Faisal from 987FM. She is the only parent at the station and has just came back from her maternity leave.  
Natasha is known for her vibrant spirit and a cheeky sense of humour, she packs just the right amount of energy on Lunchbox on every weekday from 10am – 2pm on 987FM. Natasha shares with us her joy of being a new mother, her motherhood journey and her work at 987FM and more.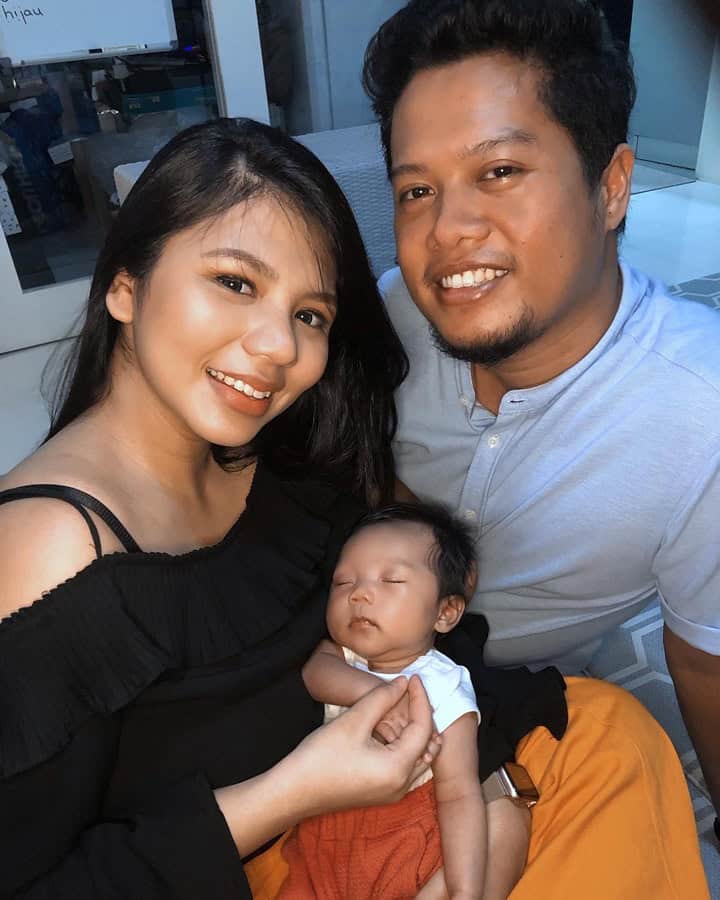 Exclusive Interview with Natasha Faisal, 987FM Deejay
1. Please share with us more about your background and what made you decide to be a radio deejay?
Natasha: I've always been chatty and enjoyed talking growing up to the point where my parents had to impose quiet time in my early years just to shut me up. I figured it'd be awesome if I can find a way to make money out of it haha! But on a more serious note, I knew I wanted to be in the industry one way or another. I have enjoyed research and reporting since I was young. I interned at a newsroom while I was in school pursuing journalism but found the environment too serious for my silly self so it's a dream come true to find a place in a contemporary hit radio station.
2. What is your typical daily schedule like?
Natasha: Now that I'm a mom, every minute of the day counts. I start as early as 5am to nurse my 4 month old before sorting out my own breakfast and get dressed. While baby continues to get more sleep, I use that time to prepare for my radio show. By 8.30am, baby Luna should be dressed and ready for the caregiver to take over as I head out for my 4 hour radio show. Work continues after the LIVE show – between artists interviews to production work, attending PR events and meetings or even replying emails during commutes – I try to wrap up by 7pm to dedicate my time to my family that includes cooking dinner every other day. I'll only have proper time to myself after Luna has her last feed around 11pm. I'll use what little time I have left to Netflix or get some house chores sorted.
3. Can you tell us more about your show "Lunchbox"?
Natasha: It should be everyone's hangout space during lunch time! 😃 It's also my own happy place every weekday afternoon 10am – 2pm for me to groove along to all the hits. I see my listeners as my best friends to share about anything under the sun – from the latest celebrity hook up/break up to household and cooking tips. It's also pretty established that I'm all about good food on the show. If I'm not recommending the latest yummy goodness, I'm getting my listeners to guess what I'm having for lunch to win dining experiences. 987 Lunchbox is also about supporting home based businesses, we'd love to hear if you've got a homegrown goodness to recommend.
It's all about food and music on the show – essentials in life!
4. As a mother, what do you think are the challenges of being parents of young children today? How do you handle the challenges?
Natasha: It's definitely a challenge to stay engaged and present in their development. With both us (parents) working, it has to be a conscious effort to set aside time and put in the work. It's convenient to turn on the TV or iPad and have the kids programme take over but there has to be some screen time management and get involved in what the kid is exposed to. 
For a long time, I've always been against the young ones having their own devices like I thought books and actual toys must be the only way to go. However times are changing, if I continue having this mindset of restricting my child from using iPads and the digital space, I'm doing a disservice to her and she's going to lag behind because everything is online now and she has to be on the same pace as other kids who in touch with all that's trending. So on my part, I hope to support and be able to supervise the content she's exposed to and to achieve that, time management is really important to achieve some work life balance for me to also focus on her development.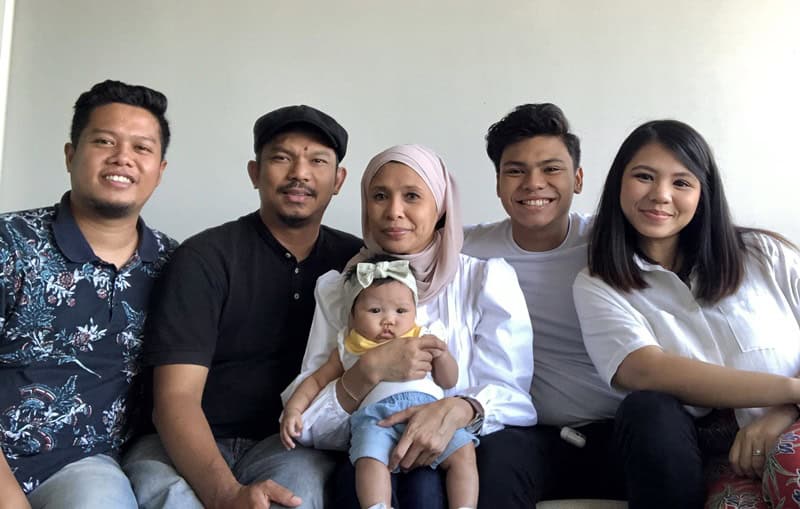 All the images credit to Natasha Faisal
5. How do you juggle and manage your work and family life? What do you like to do in your free time?
Natasha: I am really lucky to have great family support. I live really close to my own parents and
whenever a last minute gig or event comes up, they're always ready to render any sort of assistance. As for me, I learnt to prioritise and recognise when I need to put down my phone and get off work mode to focus on my family. I live by the following quote "Don't get so busy making a living that you forget to make a life". 
Any free time is luxurious to me. It's a big win to be able to have an early night. I'll then take my time to pamper my hair and skin then get on some aromatherapy, before cozying up in bed with a nice snack and catch up on some TV.
6. Any interesting stories that you would like to share about your child and what are some of your favourite and fun things that you like to do with your child?
Natasha: She has this grouchy, angsty look as her default face. I don't know if it's a 2020 baby thing haha. But when she smiles and laughs, man, it feels like my world has to stop for it because it's the most precious and beautiful thing I've ever seen and heard. 
She's also a really sleepy baby – my friends and family can attest to that. When she knocks out with a happy belly and a fresh nappy, nothing can bother her, not even an explosion outside I reckon.
My favourite thing to do with her is definitely bath and play time. She enjoys the water a lot. It's really cute to see her little legs kicking in the tub and she gets extra vocal laughing and babbling away whenever she's near water. We took her out swimming one time and she particularly enjoyed the mini fountain in the pool. Her mouth will automatically open with her small tongue sticking out. I think she wishes that fountain was made of mommy's milk.
7. What are some of the best parenting advice/tips that you have received and experienced that you would like to share with our mummy and daddy readers?
Natasha: Cut yourself some slack and be kind to yourself first. Embrace the chaos – from the messy home and delayed laundry to the bodily changes for mommies and of course the actual baby itself. Trust that things will get easier. Find your tribe of other new parents to exchange stories and tips where you will realise that you're not alone in this unique experience. Important for mommies and daddies to check in with one another to see how they're coping and offer care and assurance at the end of the day. And ultimately, love and cherish your baby every chance you get – take time to enjoy each growth milestone because they sure grow incredibly fast.
8. What is it like to be a radio deejay for 987FM? What is the profile of your listeners like at 987FM?
Natasha: It truly is the best job in the world. There's always something new and different to look forward to. I love that I'm able to connect and get personal with a national audience on the daily and it all comes full circle when the listeners reach out to me to tell me they enjoy guessing my lunch or that they remember and relate to a story I was sharing for instance. I'm fully aware that there are many passive listeners – the callers we get everyday makes up a small percentage of the rest who are also tuned in and I appreciate every single one of them. It's always fun to bring little joys to people's day by giving them a chance to win prizes or give them a chance to get closer to their favourite stars. It's all a really positive and safe space that has also helped me get through difficult times in my personal life.
Our listeners are the young and young at heart who are also not afraid to get vulnerable at times because we're only human. We got this infectious fire and energy to put out to the world so if you're game to come on board, welcome to the fam 😃
9. How can one become a radio deejay in Singapore and what's your advice to someone who aspires to be a radio deejay?
Natasha: There are many ways to get your foot in the door. I got in by joining a radio competition '987 Star' back in 2015. We work closely with schools namely all the polytechnics in SG
– you'll see us pop up in the space from time to time as part of industry sharing so keep a look out for that. Joining courses like Masscomm and CCAs / Interest Groups involving broadcast and radio can also allow you that opportunity to cross paths with people in the industry. Otherwise, if you've got a reel ready, you can always shoot your shot and direct it to the general email of respective stations.
My advice to anyone who aspires to be a radio DJ is to listen to as many radio programmes as you can. Don't limit yourself to just the stations in Singapore. Try Malaysian, UK and Australian radio. Get familiar with the different format and keep practising your own speech by recording yourself and building your own reel in order to recognise your potential and improve while you find a way to get your foot in the door.
10. Lastly, what are your favourite beauty and skin care tips that you would like to share with our mummy readers?
Natasha: Never neglect sunscreen and give your skin day offs to allow it to breathe free from makeup. As for beauty, I learnt to not stand too close to the mirror to put on makeup because then I'll get obsessed over the little details to get it perfect ie eyeliner ugh the bane of my existence! We are mommies, we don't have the luxury to put on makeup for a full hour every day so I always believe if it looks good from afar, it looks good enough hehe. 
Thank you Natasha Faisal for taking our interview!
In addition, listeners to 987 can participate in their radio game, you would need to guess where and what that week's deejay based on the picture clue posted on the 987 Facebook or Instagram page and stand to win up to $10,000 cash! From Monday to Friday, listeners can tune in for the cue to call and ask the deejay of the week a 'Yes/No' question in order to play. Clues will also be released progressively over the week to help players along. 
Catch Natasha Faisal on Lunchbox, every weekday from 10am – 2pm on 987FM!