Style Theory is Southeast Asia's largest online subscription-based designer fashion rental offering women the opportunity to build their infinite wardrobe in an affordable, convenient and sustainable manner. Featuring more than 50,000 high-quality designer pieces and more than 2,000 designer bags for its growing base of 130,000 over users, Style Theory is all set to be the future of fashion where renting is equivalent and or even better than buying. 
For shoppers, who prefer to see, touch, try out before renting can visit its store located at [email protected] ​#02-40/41​ spanning over 1,500 square foot space, providing over 300 apparel pieces consisting of casual everyday pieces, formal business outfits or occasion and weekend wear and over 30 classic, trendy, and seasonal designer bags all in one location. In addition, the store also serve as a collection and return point, thoroughly reducing processing time between each box as subscribers can enjoy the new outfits and bags right away, or choose their next selection on the app immediately upon return.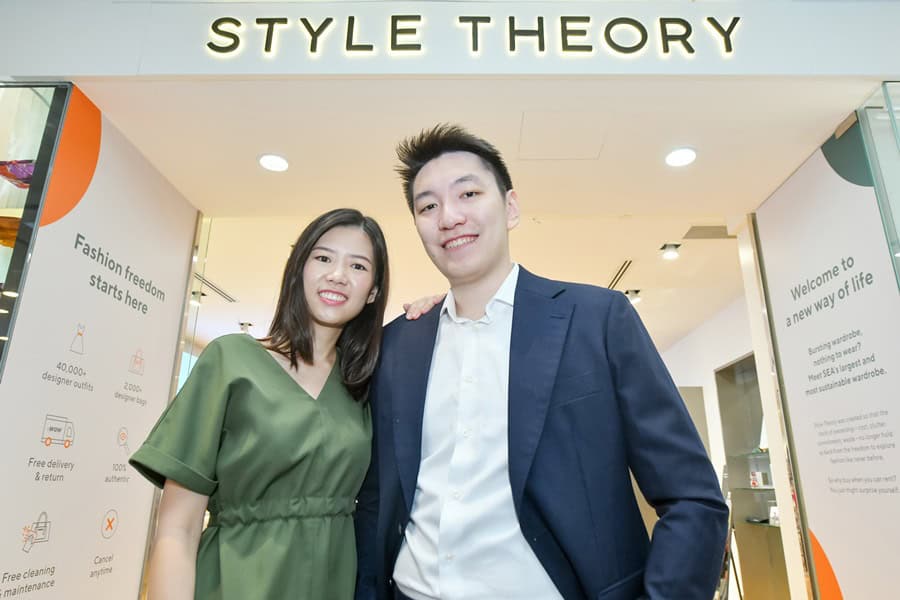 Style Theory's Co-founders, Raena Lim (L) and Chris Halim (R)
Style Theory is founded in Singapore in 2016 by Raena Lim and Chris Halim. The idea for Style Theory started when Raena realised how absurd it was to have a wardrobe full of clothes, but constantly feeling as if she had nothing to wear. Whenever she felt this way, she'd succumb to the temptation of purchasing clothes she didn't really need, which leads to a never-ending cycle of wanting more and buying into an unsustainable consumer culture. Speaking with her female friends made Chris, her co-founder and her realise how real this problem is and how so many women normalise this behaviour. Chris and Raena come from business and finance backgrounds, and entering a different industry meant they had to learn everything from the ground up to understand how the fashion industry works. Our Parenting World – OPW Media team (OPW) is pleased to be able to interview  Raena Lim (RL), Co-Founder of Style Theory to find out more.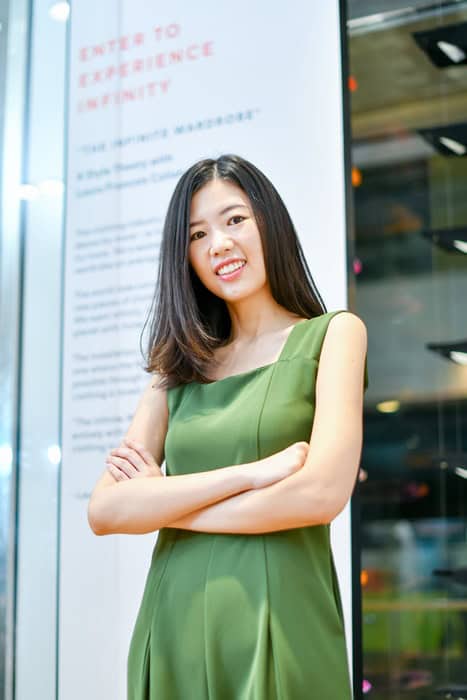 Exclusive Interview with Raena Lim, Co-Founder of Style Theory
1. Please share with us more about your background and what were you doing before setting up Style Theory?
RL:​ I'm Raena, co-founder of Style Theory. Prior to Style Theory, I come from a finance background. I worked in a nonprofit in Kenya, setting up microcredit financing loans, banking infrastructure, and financial curriculum to empower villages to break out of the poverty cycle. After my stint in Kenya, I moved to Goldman Sachs in Asia to set up operations in the Asia markets before setting up Style Theory to make a more direct impact to the causes I strongly believe in.
2. What inspired you to set up Style Theory and how did you start up your business?
RL: ​Style Theory was an idea we kept coming back to when our friends shared with us about the problem that we too found ourselves facing: owning bursting wardrobes full of clothes but having "nothing to wear." It was a common issue faced by so many, and we wanted to find a solution that fixes the unhealthy consumption habits and reduce the environmental impacts fashion has on others.
We created to solve the universal dilemma of staring down a bursting wardrobe yet feeling like she has nothing to wear. With smaller homes and tinier spaces, closet space should be reserved for clothes you truly utilise and love. We also wanted to support women to pursue their lifestyles without worrying about fashion. We wanted to offer a smart product through an Infinite Wardrobe shared by savvy users.
3. How do you create awareness for Style Theory and attract customers to try out rental fashion?
RL: With a society so used to buying new or anticipating the next sale season to shop, it took effort to share about renting as a new way of life. From digital marketing to working with content creators, we've shared about renting and the fashion revolution that Style Theory leads.
Our subscribers are our best advocates as they have tried, tested, and trusted that renting and sharing an Infinite Wardrobe is not only possible, but also liberating. It's through their testimonies that more have come to trust us and make that first step to be environmentally and financially savvier.
4. Where do you source your designer clothing and bags from?
RL: ​Our merchandising team does an amazing job sourcing for both; we do have great international partners and designers whom we work directly with, and we also attend trade shows at least twice a year. For luxury bags, we also have our consignment programme to contribute to our inventory.
5. Any future/ expansion plans for Style Theory?
RL: ​We are constantly listening to our community's feedback, and working to improve our service. In line with our aim to support our women through every stage of her life, we've introduced a slew of maternity and nursing apparel. We're also making strides in being even more environmentally conscious through service improvements like our garment folding bags, more self-collection and self-return locations, and our Lock&Go delivery service for unattended home deliveries.
6. Can you share with us more about your new store, what made you choose [email protected] as your first flagship offline retail store and what can customers look out for when they visit the new store?
RL: ​Our flagship store was an idea that we've always considered; bringing the Infinite Wardrobe from the cloud to an offline space to improve user engagement, increase face-time with our subscribers, offer styling services, and open a community space for our events. We've experimented with a few pop-up spaces before we were set on a flagship store retail concept and specifically at [email protected], where our users already are.
In the store, new users are able to browse the racks of designer apparel we've stocked to cover them for every occasion–for work, weekend, travel and events. We've also added our Designer Bags library in the store too for those who want to rent a designer bag to complete their outfit or for an upcoming occasion. They are able to try on in our fitting rooms and consult our stylists in the store.
We offer complimentary styling sessions for new users to understand their personal style and rent smarter. This service is by appointment only and we've seen a lot of interest by users in the past few months.
To translate our business concept into a physical space, we collaborated with social designer Laura Francois on an Infinite Wardrobe installation where we use clothing we've retired from our inventory to contribute to new artwork and it's a popular photo spot for visitors to the store!
We conduct monthly community events, as well as partner events, to encourage our users to find new styles to try on and acquire new skills or learn something new simultaneously in the store. Some of the popular events at the store are the craft sessions, bags maintenance know-how, community sharing and panel talks.
7. What were some of your challenges starting out and running Style Theory and how did you overcome them?
RL: ​It wasn't an easy start for the two of us to run a company at the scale we dreamt about. Both Chris and I had to constantly find vendors and partners who shared in our vision and wanted to be a part of it. From dry cleaners to third-party logistics partners, we wanted to give our subscribers the level of service we ourselves wanted to receive.
When it came to the peak season, our logistics partners were swamped and we couldn't just stand by so we personally delivered them door-to-door. Some of our subscribers have become friends through these challenges.
We've also built a team of people who believe in our mission and wanted to join us in leading the fashion revolution, and today we are operating several warehouses to service thousands of subscribers in Singapore and Indonesia, thanks to the team! We've come a long way since we brought logistics in-house with our own fleet and we're thankful to be able to deliver that level of service we've dreamt about from Day 1.
8. Managing inventory is often a challenge for most businesses. Do you have any advice to share?
RL: ​Data is at the heart of our business, so we've been able to learn fast from our inventory movements to know what our users want to rent, how we're organising the processes of returns to deliveries, and when we're falling behind. It's not easy to orchestrate hundreds of orders a day. We've found solutions to accommodate the growing inventory with RFID tagging and other tech solutions. With these capabilities, we are also able to service the offline store with its inventory size for users to "see now, rent now" off the racks.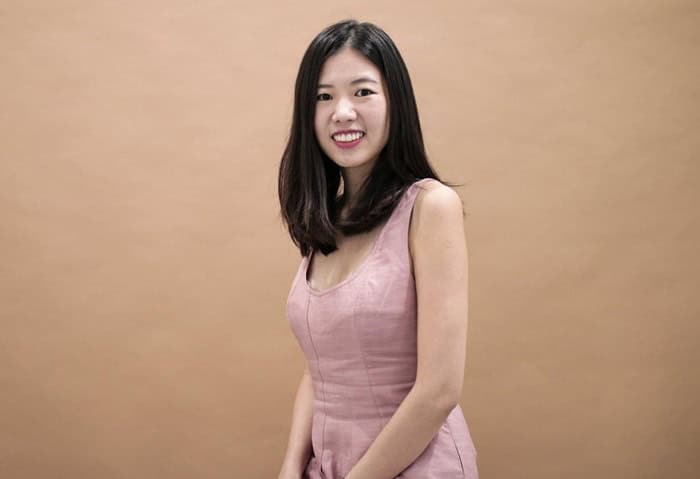 All the above images credited to Raena Lim and Style Theory
9. What advice do you have for women out there who want to start their own business?
RL: ​Find a support system and find your cause. For those who are considering starting your own business, I commend you! Entrepreneurship is not an easy road; we recall asking friends and family about the dilemma and pitching to them our idea to see if the market was ready for a fashion revolution. You have to brace yourself that not everything you hear will be rosy or encouraging. You have to find a support system of people who will be real with you. When you do, next you have to be willing to get your hands dirty and do the legwork of putting in the hours and sometimes, sleepless nights. I would say that during difficult times, it boils down to your vision or rather, your cause.
Knowing that we are redefining the industry was challenging yet exciting, and if we don't do it well, the sustainability movement in fashion will take a step back instead of a step forward. It's definitely encouraging when we see our vision come to life through the business and the movement.
10. Lastly, you have such a hectic schedule, what are some of your favourite beauty, skincare and fashion tips that you would like to share with our ladies' readers on looking good and taking care of themselves?
RL : ​Without much time on my hands, I like to keep it simple and minimal. I choose routines that are fuss-free, from multi-tasking skincare products to simply eating well. Having to travel between offices in Singapore and Indonesia, I like to travel light and would rather invest in skincare over make up. As for fashion, I rent from Style Theory; I like that the clothes arrive ready to wear and I can skip laundry or ironing chores and return it straight after!
Thank you Raena Lim for taking our interview!
To find out more about Style Theory, please visit its website at https://sg.styletheory.co/ and or visit its store at [email protected], 313 Orchard Rd, #02 – 40 / 41, Singapore 238895.