Gerald Wong is a well-known Radio DJ with Mediacorp's Symphony 924, the only 24-hour on-air radio station in Singapore and Southeast Asia devoted to classical music and the arts. Gerald will be welcoming his fourth child later this year. Our Parenting World Media editorial team speaks to Gerald where he will share more about parenthood, how he manages to juggle work and family life and life as a Radio DJ.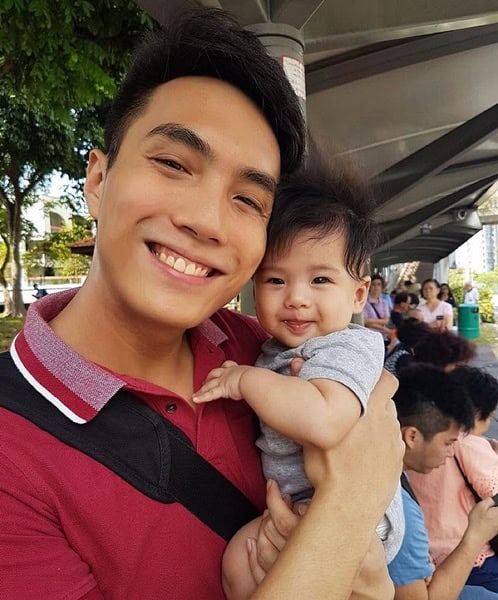 Exclusive Interview with Symphony 924 DJ Gerald Wong
1. Please share with us more about your background and what made you decide to be a radio deejay?
Gerald Wong: My radio journey started right from the time I left the army! I was actually deciding back then what I should do with my life (i.e. train to be a professional music teacher cos I did classical voice before or to explore something else) and eventually I decided on the latter and chanced upon a job advert looking for an evening drive time presenter on Symphony 924. At that point in time I was actually just applying for fun, sending in my voice recording and CV (Which practically had nothing on it other than my NS experience), cos I wanted to see what Mediacorp was like. Eventually, I met up with the station's Creative and Music director Andrew Lim who through the job interview saw some potential in my voice and I was offered the job right after the first meeting! I was rather taken aback by the decision because I did not have any experience in media/ radio broadcast but I am really thankful that I was given the opportunity nonetheless and am also thankful for all my wonderful colleagues who guided me along the way.
2. What is your typical daily schedule like?
Gerald Wong: Usually for radio DJs our daily schedules really differ from day to day, but for most of us, we would start off with planning and researching for our shows every day, (something we call show prep). We would also attend meetings if required and sometimes work on producing special programmes or even advertising trailers for clients of the station. We would of course present our shows and sometimes also host events (before COVID struck). As Symphony is a small station, we'd also help out with other back end work like liaising with partners of the station etc.
3. Congratulations on becoming a father to your fourth child later this year! How do you prepare for the birth of your fourth child?
Gerald Wong: Thank you very much! Well to be very honest, by the time you reach your 3rd or 4th child you wouldn't really feel the need to prepare too much haha. Not saying that we totally do not prepare for it, (we'd still get the basics prepared like preparing a bed for her, buying new milk bottles etc) but we wouldn't over-prepare like what we did with our first boy haha.
4. How do you juggle work and family life especially now that you have three children and expecting a new baby?
Gerald Wong: This is a very good question and I must say that my ability to balance both work and family is really all thanks to my wonderful wife. I was actually working full time as a radio producer/ presenter and studying full time in a university when my wife and I had our first child in 2017, and then in 2018 we had our second one when I was busy working on my final year dissertation. It wasn't easy, but my wife was really my pillar of support during that time and even now, always being there for me and the family. I wouldn't know what I'd do without her.
In addition to that, we are also very fortunate to have a lot of help from both our families, whereby they'd help us to take care of our children whenever we'd need some time to ourselves or when the both of us are busy with our work. The phrase "it takes a village to raise a child" (in our case 3 coming to 4 children) is really true especially in terms of manpower.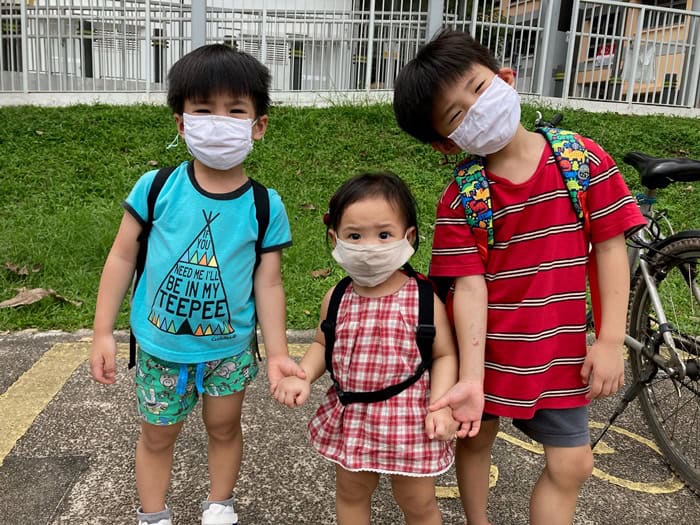 All images credit to Gerald Wong
5. How do you prepare your older children for the new baby?
Gerald Wong: We would constantly talk to them about their lil baby sister (currently in mommy's womb) and remind them that they'd have to help us to care for their baby sister. One other important thing that we'd do would be to get them to exchange gifts with each other when we bring their new baby sibling home from the hospital (i.e. we would buy something and tell them that their lil baby sister would like to give all of them a gift and we'd ask them to give their baby sister a gift in return). This is to foster a good relationship between the newborn baby and her siblings right from the start. 
6. What are some of the useful parenting advices/tips that you have received and experienced that you would like to share with our Mummy and Daddy readers?
Gerald Wong: Well I wouldn't call myself an expert on parenting because I am certainly still learning every single day, but one thing that I've learnt would be to always remain calm and patient. I am an impatient person by nature and would always want to get things done efficiently and in perfect order, but sometimes that is just really difficult to achieve especially with children. So with the help and the constant reminders given by my patient wife, I'm learning to let go a little and not be so uptight over small little things. I find that being patient and talking to your children calmly but firmly whenever they misbehave would always be more effective than shouting and screaming at them. I'm not there yet but I'm slowly and certainly getting there.
7. What is it like to be a radio deejay for Symphony 924? What is the profile of your listeners like at Symphony 924?
Gerald Wong: Being a radio deejay at Symphony 924 is quite different from being a DJ in other pop stations because we are primarily not a personality-based station. On Symphony, the most important factor would be the music, and as a presenter, our job is to be the linker between pieces being played on air. We play the role of being a friend or guide in the world of the arts and classical music. The profile of our listeners are also very different from other stations in that we have listeners who are students between the ages of 15-25 and we've also got working adults above the age of 30plus 40 listening to us.
8. Can you share more about your work at Symphony 924 and what projects are you currently working on?
Gerald Wong: Certainly! We're currently trying to make classical music more accessible to the masses and so we've just recently launched a duo podcast show created by me and my colleague Andrew Lim from the Breakfast Show! In this podcast, we talk about classical music in a very un-classy and funny way and explore some of the controversial topics surrounding it as well! Do support us by listening to it! You can find it either on the meLISTEN app, website or on the Spotify!
9. How can one become a radio deejay in Singapore and what's your advice to someone who aspires to be a radio deejay?
Gerald Wong: I would say it isn't easy to enter the industry given the fact that there are only a few radio stations in Singapore, but if you truly want to enter the radio industry do work towards it and keep your eye out for any available opportunities and just try to apply for it because just like in my case, you might just be able to get that job!
10. Lastly, what's your next project and any upcoming shows that you would like to share with our readers?
Gerald Wong: Well in line with the idea of wanting to make classical music and the arts accessible to the masses, Symphony will be launching a brand new project related that so do keep it tuned on the station or you can follow us on our FB page at facebook.com/symphony924 for updates on it!
Catch Gerald Wong on Symphony 924 at https://www.melisten.sg/radio/symphony-924