Lim Peifen 林佩芬 is a Radio Producer Presenter with YES 933, Singapore's number one Mandarin HIT music station. Peifen has been working at the station ever since she has graduated with a Bachelor of Communication Studies (Honors) from Wee Kim Wee School of Communication and Information at Nanyang Technological University. Peifen is a popular and multi-talented DJ who is into hosting, singing, acting and writing. She has been a familiar voice and personality to listeners who have grown with her over the years.
Our Parenting World Media editorial team speaks to Peifen where she shares about motherhood, she has given birth to her second child in October 2020, how she juggles between family and work, her work at YES 933 and more. 
Exclusive Interview with YES 933 DJ Lim Peifen 
1. Please share with us more about your background and what made you decide to be a radio deejay?
Lim Peifen: I grew up in a Mandarin speaking environment, and I listened to a lot of Chinese radio (95.8FM) when I was young. I suppose that had a big part in kindling my interest in the Chinese Language, and also laid the foundation for me. In my school years, my love for the language continued to grow, though my preference for music switched to the western scene and I started tuning in to 987 instead. I'm actually a very "rojak" person, if I can use the local noun that way. I love all kinds of music, was a fan of Oasis and Take That and Amei and Mayday, and I was influenced by both Chinese and English cultures. I dreamt of becoming a radio DJ, and I loved pretending to "host" my own radio shows. I'd introduce the next song and then press play on my cassette/CD player. LOL! The deciding moment came when I registered to take part in a DJ Hunt organized by YES 933 way back in the late 90s, when I was in JC. I didn't know about the competition, my classmates who listened to the station knew I liked Amei and asked if I was interested. In the spirit of fun, I went with them. And somehow, I came in first, signed a contract with the station, and now here I am, 20 years later. I'm still amazed by this journey!
2. What is your typical daily schedule like?
Lim Peifen: Get woken up by Jude at about 640-7am. Breakfast or a jog if time permits. Get Luke ready for school, see him to the door with his Dad, get ready for work, and off to work at about 930. Radio show is 10-12. Afternoons are more varied, sometimes I need to work, otherwise I'll be home with the boys. Depending on which day of the week, Luke enjoys his free play time or play dates, or goes for enrichment classes.
3. How do you manage to juggle a hectic work schedule, family life and with the responsibilities of motherhood?
Lim Peifen: It hasn't been easy to be honest and I'm still learning. I'm grateful to have my husband working from home and be around to help out much more, and we are both grateful for all the help that we have received on our parenthood journey. I try to remind myself to be fully committed to whatever I am doing. If I'm working, I do not let parenthood affect my work; if I am off work, I try to focus my time and attention fully on my family.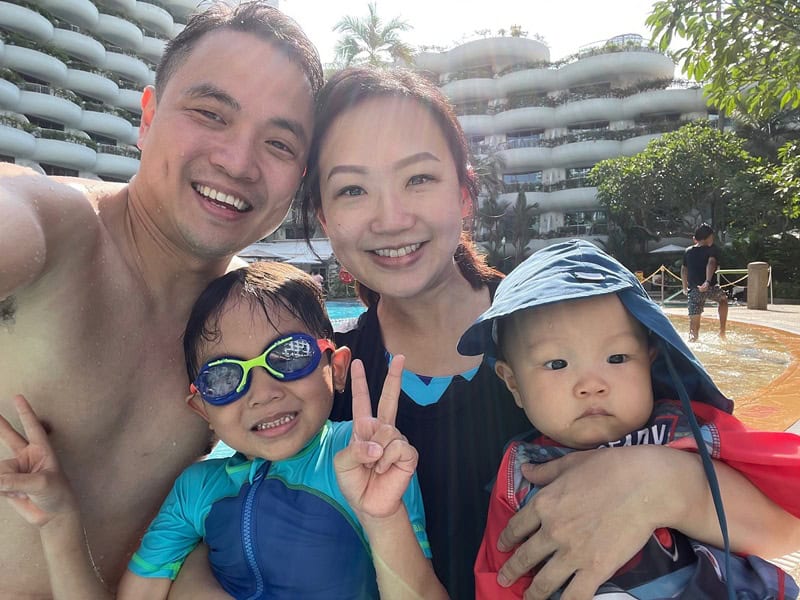 All images credit to Lim Peifen
 4. What is it like being a mother of two children? How has motherhood changed you?
Lim Peifen: It's same same but different from being the mother of one. Same in terms of the care and discipline that I give to them both. Different because I need to manage not only my relationship with them individually, but also my relationship with them together, and their relationship with each other. Motherhood has made me a lot more hardworking, because it is hard work! But it is also so wonderful and rewarding. I want to be a better person every day because of my children. Even when I falter, I find it easier now to find strength to bounce back.
5. What are some of the useful parenting advices/tips that you have received and experienced that you would like to share with our Mummy and Daddy readers?
Lim Peifen: I feel like I don't know enough to give advice, but I have experience to share. So, actually, the first tip that comes to mind when I see this question is, don't feel compelled to accept all advice. Advice are often given with good intentions, but a lot of times they are either irrelevant or stress-inducing – "She said this and that, why can't I do it too? Is there something wrong with me?"
I find myself automatically applying my mental filter when I hear someone say "You should…You shouldn't…with your boys." Parenting is personal, I do what I know is best for my kids. Of course, there are exceptions when advice can be really helpful. So what I've learnt to do is: filter out the less useful information, absorb the useful ones and adapt it to my own situation. I have a group of trusted mummy friends, long-time friends from school days, whom I go to specifically for parenting advice or a listening ear.
That being said, one little reminder I'd give all parents is "Don't take it too hard on yourself. There are no grades in parenting; it is not a job. It is life from here on, and there will always be good times and bad."
6. How do you prepare your first child, Luke for the new baby?
Lim Peifen: I didn't do much specifically to prepare Luke for a little brother. I told him that I was pregnant with Didi, and we started to call him Gege now and then. Instead of preparing him, we tried our best to include him in our preparation for the baby, we would share sonogram photos with him and tell him which stage of growth baby was at, let him feel my belly for baby movement, shop for baby stuff or prepare the nursery together. I talked to Luke about how the baby would behave, and made references to when he was a baby. I wanted him to feel included, not burdened, by Didi's arrival. I felt it could get stressful for him if we kept emphasizing that he was going to be a big brother; that things were going to change a great deal and we expected him to change as well.
7. What is it like to be a radio deejay for YES 933? What is the profile of your listeners like at YES 933?
Lim Peifen: It's a lot of fun! Our listeners are mainly people who love Chinese pop music and want to have a relaxing time tuning in. I'd say the age range is pretty wide, from babies to grandparents. Majority of our listeners would probably be young working adults and young parents from 25 to 34.
8. What's your advice to someone who aspires to be a radio deejay and or artiste?
Lim Peifen: I find that being a radio personality is very different from being a singer or actor. We don't act as someone else on the stage or screen, during our daily radio live shows, during those 3 to 4 hours, we are very much being ourselves. So, other than the basic requirement of being eloquent and coherent, I feel that the key to being a good radio DJ is knowing yourself and being comfortable with yourself. Develop your interests to the best you can, be the best of who you are.
9. What are some of your favourite beauty and skincare tips that you would like to share with our Mummies readers who are busy working women and mothers on looking good and taking care of themselves?
Lim Peifen: I think many mothers know more than me when it comes to beauty and skincare! Haha. For (lazy) me, the most important thing is to keep things simple: Cleanse, tone, moisturize. And choose good products that are developed using good ingredients. I've been using Cetaphil for a long time now, and I am happy with the condition of my skin. As for beauty, the same rules apply, keep things simple. Brows, lashes, cheeks and lips are the key components of a basic makeup look, and my go-to type of outfit in the wardrobe when I'm too tired to mix and match but still have to look presentable: the super-forgiving yet stylish-looking shirt-dress.
10. Lastly, what projects are you working on now at YES 933 and any upcoming projects/shows that you would like to share with our readers?
Lim Peifen: Other than my daily radio show Mondays-Fridays from 10am to 12 noon on YES933, I''ve recently completed a 10-episode Radio Drama together with my colleague Qijia. It's an original script about life before, during and after Circuit Breaker last year, and features an original theme song which I wrote. Many of the stories in this drama were inspired by real life experiences of our listeners. In addition, I''m working on an on-going series of podcasts called "成语最加芬" that features original stories about Chinese idioms written and narrated by me. My elder son Luke is the other main voice in the podcasts. It has been fun doing this with him, not only does he get to practice his spoken Mandarin and learn about Chinese idioms, he also learns more about my work! These and more exciting audio content are all available on meLISTEN app and website, Spotify, Google Podcasts and Apple Podcasts.
Catch Peifen on the weekday lunchtime radio show 午刻乐乐 from 10am – 12pm on YES 933 at https://www.melisten.sg/radio/yes-933