Our Parenting World team has recently shared about Suntec City's latest offerings. We have the opportunity to check out Suntec City's North Atrium where it has been transformed into the resplendent Bird Island – the cinematic home of Angry Birds.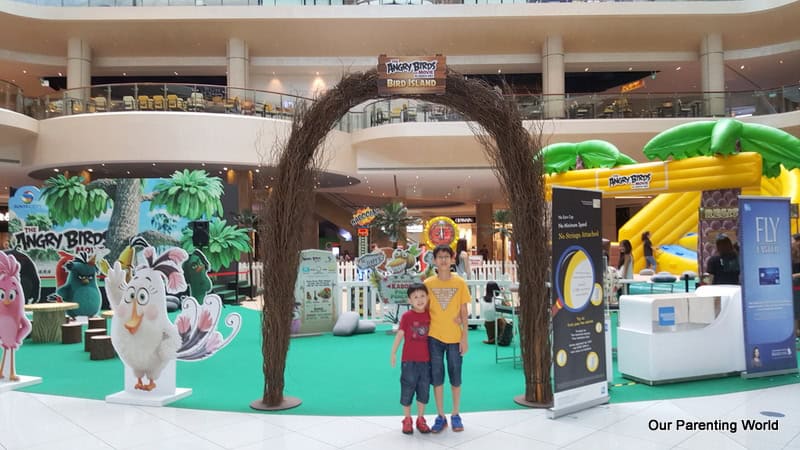 Welcome to the lively Bird Island!
This is where you can come up close to Angry Birds and the pigs complete with elaborate setting of grassy terrain, towering trees and sandy beaches that is from its animation environment in the movie.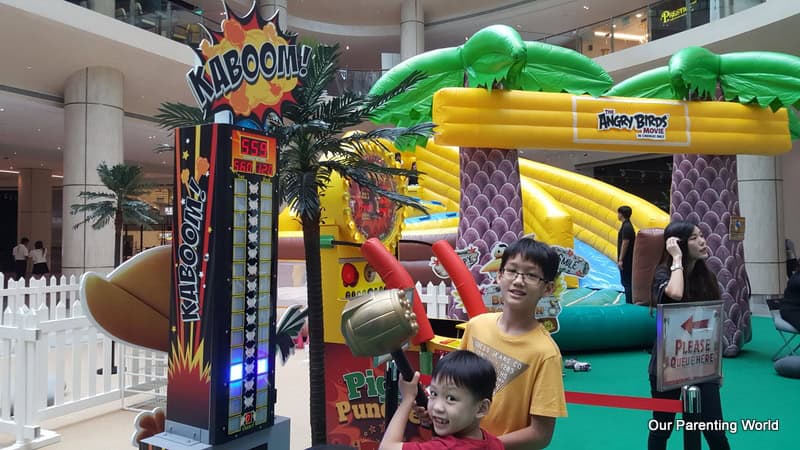 At the Bird Island, there are various game stations where you can have fun and it is also an anger management playground for you to take the stress out of your life.
First stop, we tried the Kaboom! Activity Station.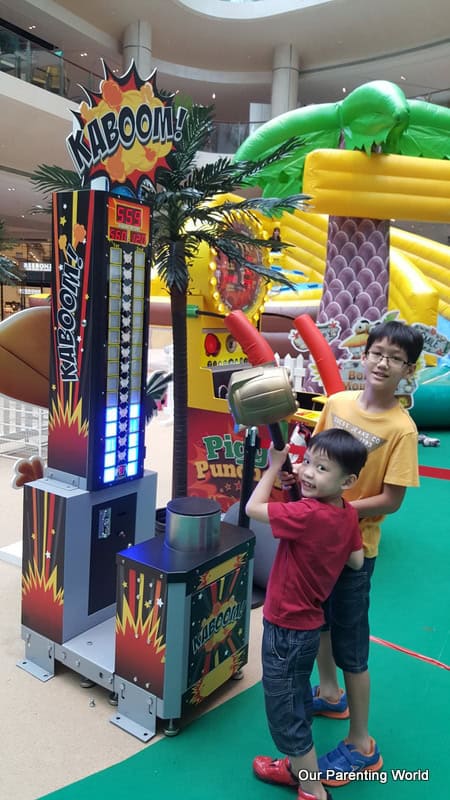 Use the hammer and hit harder to score points!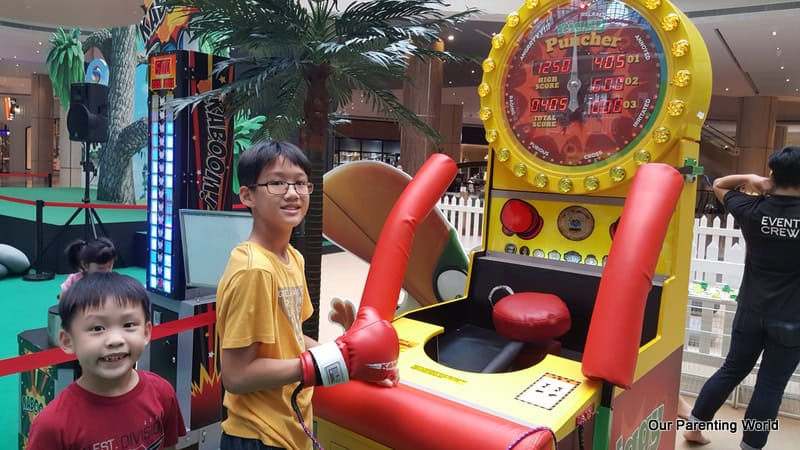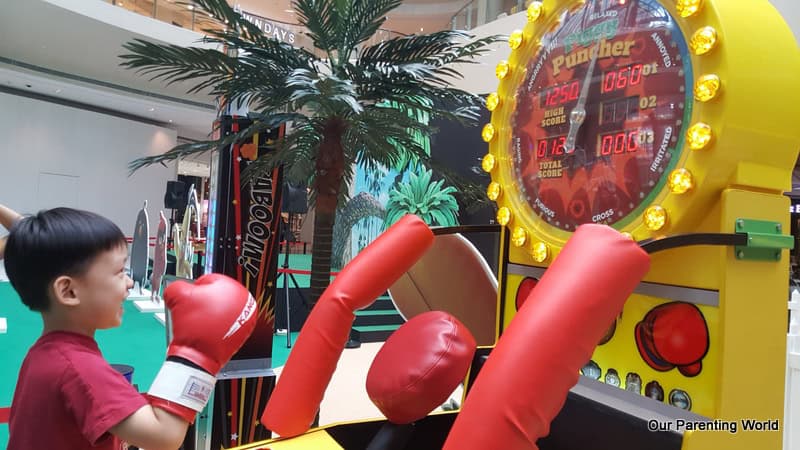 At Piggy Puncher, use your strength to hit specific target points. Punch your way! Aim, hit harder to get more points!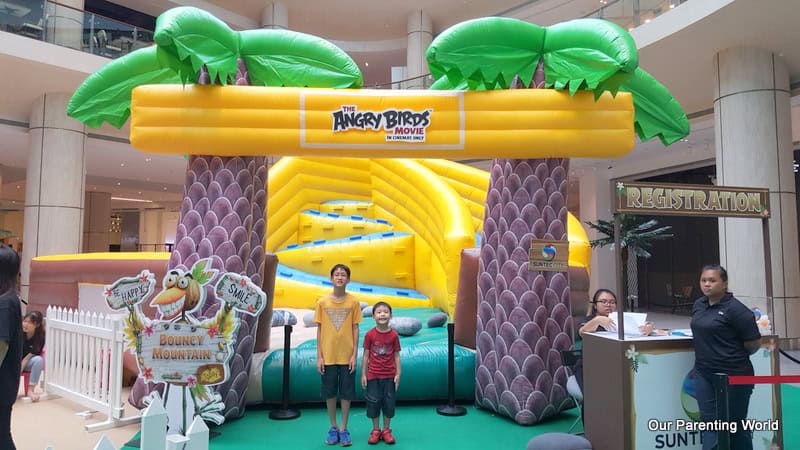 This is one of the highlights at Bird Island, the Bouncy Mountain. It is a special custom-designed bouncy inflatable resembling Mighty Eagle Mountain as depicted in The Angry Birds Movie.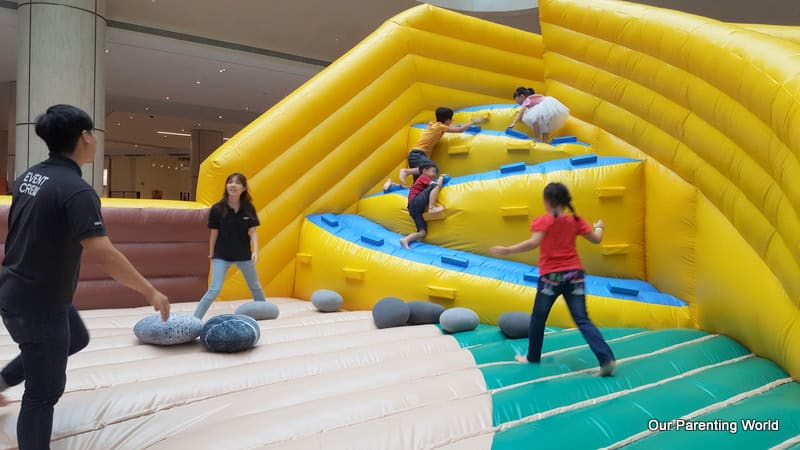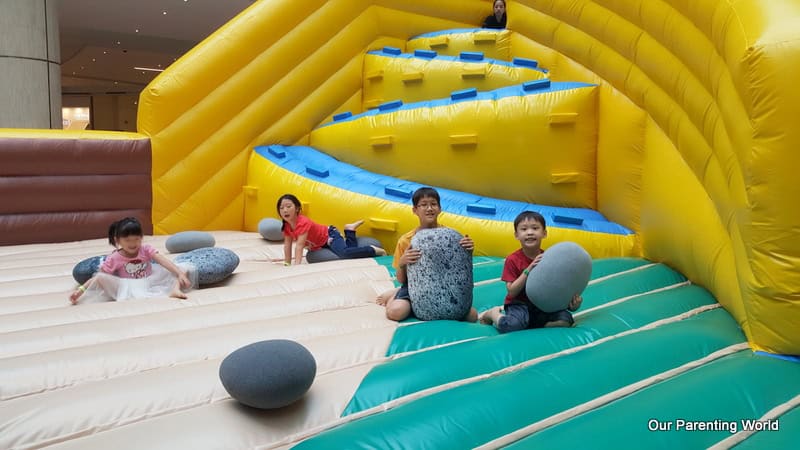 The Bouncy Mountain is at 4 metres tall with a slide feature. The kids have so much fun at the bouncy inflatable! .
Angry Birds Island at North Atrium
27 May – 26 June 2016
Bird Island features carnival-style games with attractive prizes to be won by high scorers, complete with a 4m high bouncy inflatable for the little ones to bounce to their hearts' content.
Three play passes are redeemable with a minimum spend of $50.
Venue: North Atrium
Time: 12PM – 8PM daily
Meet The Angry Birds
2 June – 12 June 2016
Photo opportunities abound when you meet* Red, Bomb and Chuck from The Angry Birds Movie!
One pass is redeemable with a minimum spend of $50
Venue: North Atrium
Thursdays & Fridays: 1PM & 7PM
Saturdays & Sundays: 1PM, 4PM & 7PM 
Terms and conditions:
Sign up as a Suntec Rewards member for redemptions. Maximum of 3 combined same-day receipts. Maximum of two redemptions of play passes per shopper per day. Maximum of one meet and greet pass redemption per shopper per day. Limited to 50 meet and greet passes per session. All redemptions are first come first served and whilst stocks last.
Come to Suntec City for a galore of shopping rewards, free air tickets, The Angry Birds movie-themed games, and meet-and-greet with The Angry Birds movie characters not to be missed! 
Discerning shoppers looking for more bang for their buck at this year's GSS can look forward to a different kind of shopping frenzy at Suntec City's Flock to Shop campaign. Created in collaboration with Rovio Entertainment and Sony Pictures, Flock to Shop is a shopping and entertainment extravaganza themed after The Angry Birds Movie, the big screen adaptation of the hugely popular mobile game. As we will find out why the birds are so angry in the 3D animated comedy, shoppers at Suntec City's Flock to Shop will discover a kind of GSS experience that is as rewarding as it is entertaining. 
Additional Information:
Suntec City's Flock to Shop will kick off on 27th May and end on 3rd July 2016. 
Flock to the City to Win!
5 Weekly Draws, 15 Winners, Complimentary Air Tickets to 8 Holiday Destinations and S$1,000 shopping vouchers
With a minimum spend of S$50, shoppers qualify for a chance to win air tickets to New York, London, Milan, Hong Kong, Bangkok, Taipei, Tokyo and Seoul, and up to one million Suntec Rewards points (worth S$1,000). Chances will be high with three winners selected every week. Qualifying period for the draw is 27th May to 3rd July.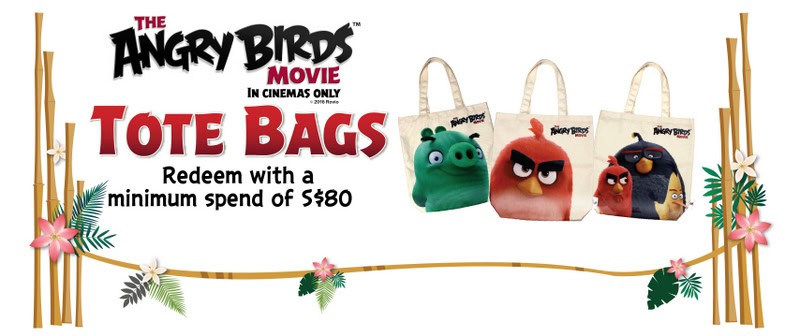 Bring Home Exclusive Souvenirs
The excitement doesn't have to stop when you leave the mall. Exclusive tote bags sporting the characters of The Angry Birds Movie are up for grabs for all shoppers. Redeemable with every S$80 spend, there are a total of three designs to be collected. Each limited edition tote bag will be released fortnightly. 
Meet Red, Chuck and Bomb
No movie-themed event is complete without meeting the "stars"! Making appearances at Suntec City's Bird Island is none other than Red, an angry bird with a temper, speedy Chuck and the volatile Bomb. All it takes is a minimum spend of S$50 for shoppers to get to take photos with the mascots. Limited to 50 passes per session. 
Dates: 2nd June to 12th June Thursday & Friday: 1pm & 7pm
Saturday & Sunday: 1pm, 4pm & 7pm (No sessions on Monday and Wednesday) Venue: Suntec City's North Atrium (Between Tower 1 and 2) 
Selfie with the Angry Birds
Missed a chance for a selfie with the mascots? Download the new Angry Birds Action mobile app and snap a selfie or a wefie with your favourite birds. The app creates an augmented reality experience, bringing the movie characters – Red, Chuck, Bomb and Terence – onto the phone screen for a photo opportunity. To activate the augmented reality function, shoppers have to scan dedicated Bird Codes located around the mall. Post your photos on Instagram, hashtag #SuntecAngryBirdsMovie and stand a chance to win 100,000 Suntec Rewards points worth S$100. The Angry Birds Action app is available for download in the App Store and Google Play. 
That's not all! Flock to Shop for More Rewards
Bargain hunting at Suntec City comes easy with the Flock to Shop shopping coupon booklet featuring a specially curated line-up of over 30 of the best deals offered by select retail stores at Suntec City. Discounts range from 1-for-1 honey thyme chicken dining deal from Marché Mövenpick, free child ticket for every adult ticket purchased at Alive Museum Singapore as well as S$50 off wellness treatments and complimentary all-day access to sauna, steam room and mineral pools at Calla Spa.
The irresistible range of deals doesn't end there – look out for up to 50% discounts, complimentary beauty products and cash vouchers from Lee Hwa Diamond Gallery, Giordano, Clarks, The Coffee
Bean & Tea Leaf, Andersen's of Denmark, The Manhattan Fish Market, Tony Roma's, Krispy
Kreme, The Prestige Eyebrow & Lash Specialist, Spa Infinity, REDS Hairdressing, GNC and more. Flock to Shop coupon booklet will be available to shoppers from 27th May onwards at all concierge counters.
Public may log on to http://sunteccity.com.sg for more information.
American Express ® Privileges
Member specials await American Express Card Members at Suntec City's Flock to Shop.
· A minimum spend of S$150 qualifies for 6 hours of complimentary parking and a S$5 Suntec City voucher.
· A minimum spend of S$60 qualifies for 2 hours of complimentary parking.
Participate in the American Express Shopping Festival at Suntec City. American Express Card Members who accumulate S$3,000 in spending from 28th May to 31st July can redeem an Aigner watch.
Membership Rewards
Suntec Rewards Members earn more during the GSS spending season with five times Suntec Rewards points on all purchases above S$20. Applicable across the whole campaign period from 27th May to 3rd July.
To enjoy Flock to Shop promotions and rewards, shoppers simply have to register as a Suntec Rewards Member.
Public may log on to www.sunteccity.com.sg for more information on Suntec City's Flock to Shop GSS.