Celebrate the most smurf-tacular Christmas at City Square Mall in partnership with Nickelodeon! This festive season, immerse yourself in the magical world of The Smurfs as City Square Mall undergoes a charming transformation into a winter wonderland inspired by Smurf Village, marking the 65th anniversary of the beloved Smurfs. Adorned with whimsical decorations and surrounded by hundreds of blue Smurfs, the mall promises an unforgettable experience for families and Smurfs enthusiasts alike. From November 17 to December 31, 2023, delight in the sight of an enchanting sea of adorable blue Smurfs and spot iconic characters such as Papa Smurf, Smurfette, and even Gargamel throughout City Square Mall!
Paint the mall blue this Christmas by dressing up in your best blue outfits and enjoy A Very Smurfy Christmas with fun-filled festive activities and do-good initiatives for the whole family through till the end of the year. Don't forget to also snap Insta-worthy pictures and make merry with the array of festive food options at City Square Mall!
Key highlights of the activities as follows: 
Limited-Edition Smurfs-themed Nickelodeon Gifts-with-Purchase and Shopping Rewards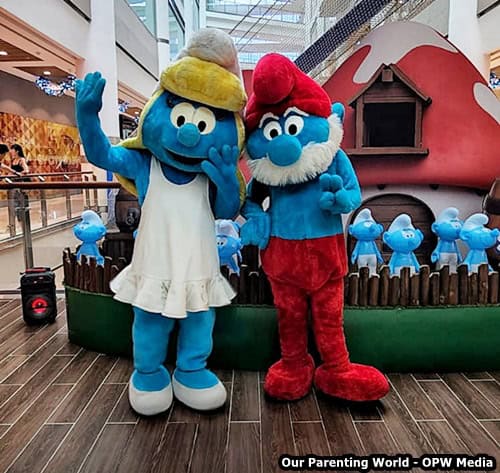 'Tis the Season to be Smurfy
Let it smurf, let it smurf, let it smurf! Be rewarded every time you shop for gifts at City Square Mall! Spend a minimum of $50 and redeem a Meet & Greet Pass* with the lovely Smurfette and Papa Smurf.
Date: 2, 3, 9, 10, 16 and 17 Dec 2023 (Saturdays and Sundays)
Time: 4pm and 7pm
Venue: Level 1, Atrium
*Meet & Greet passes redeemable 2 hours prior to each session. Limited to 40 passes per session, on a first-come, first-served basis.
Season of Rewards
Smurf up your gifts with a set of limited edition Smurfs-themed Nickelodeon Christmas wrappers available for redemption when you spend a minimum of $60. Comes with 2 designs per set.
Festive travelling is officially back in full swing! Pack in smurfy style with exclusive Smurfs-themed Nickelodeon Travel Cubes, redeemable when you spend a minimum of $150/$250 (Limited to 5,000 sets and 2 redemptions per shopper per day. $250 if inclusive of NTUC FairPrice, Q & M and/or Schools receipts.)
In addition, you can stand a chance to redeem a $10 CDL Gift Voucher and a $15 Merchant Voucher Bundle* with a minimum spending of $250/$350*. (Limited to the first 3,000 redemptions and 1 redemption per shopper per day. $350 if inclusive of NTUC FairPrice, Q & M and/or Schools receipts.)
Merry Moments Await
Christmas Marketplace
The Christmas Marketplace is proud to align with SG Cares Giving Week which is a cornerstone of the national SG Cares movement held annually from 1 to 7 December to celebrate the spirit of giving. Embark on an enchanting journey in a vibrant marketplace with exquisitely handcrafted treasures up for grabs, ranging from crochet, apparel, crystals, skincare vendors and more. Participating vendors will be selling their products in gift hampers and gift boxes, which are perfect for the season of giving.
As part of their efforts to give back, City Square Mall will also be allocating some booths to Enterprising Mums United (EMU) and other social enterprise organisations in support of SG Giving Week. EMU will be offering a holistic array of exclusive, unique and distinctive products and services which are mainly hand-crafted, and prices ranging from $2 to $100 and more. Come and celebrate the joy of Christmas and support both local artisans and meaningful causes during this festive period.
Date: 1 – 17 December 2023
Time: 10am to 10pm
Venue: Level 1, Atrium
Wrap Joy with LoveFAD
City Square Mall is also proud to announce a meaningful collaboration with Love for A Dollar (LoveFAD) to offer gift-wrapping services run by a team of volunteers. For just $2 per gift, shoppers not only receive beautifully wrapped Christmas presents but also be a donor to Care Community Services Society (CCSS). 100% of the proceeds will be donated to Care Community Services Society (CCSS) in support of non-profit organisations to raise funds and awareness.
Date: 15 – 24 December 2023
Time: 11am to 9.30pm
Venue: Level 2, Beside Customer Service Counter Jolly Jingles
Jolly Jingles
Get groovy this festive season and dance to the festive songs in acapella style by SMU's Chamber Choir.
Date: 16 – 17 December 2023
Time: 2pm and 7pm
Venue: Basement 1, Fountain Square
Spread the joy and gift of giving this festive season with all these curated events and activities. Find out more at https://www.citysquaremall.com.sg/