Are you ready to have mega fun? Timezone, the world's leading family entertainment centre, has launched its largest and most innovative entertainment venue at Orchard Xchange in Singapore. Located at Basement 1, above Orchard MRT station, this massive 22,000 sq-ft space will be the biggest social and entertainment hub in the Orchard Road vicinity, offering the newest and most exciting games and attractions, including bumper cars, social bowling, Virtual Reality (VR), and exclusive party rooms designed for socializing and celebrating.
Mr. Nesh Selva, General Manager, Timezone Singapore shared that "Timezone has been the preferred entertainment destination for families and friends to play and have fun together for over 45 years, with a footprint of more than 320 locations across the globe. In partnership with Stellar Lifestyle for our latest venue at Orchard Xchange, we are excited to introduce a new dimension of social entertainment in the heart of Orchard Road and bring world-class, vibrant leisure and entertainment experiences to consumers in the heart of the city."
In collaboration with Stellar Lifestyle, the business arm of SMRT Corporation Limited, the debut of Timezone Orchard Xchange marks a significant achievement for the company as it expands its reach in the region with an unprecedented concept within the SMRT network.
Mr. Tony Heng, President of Stellar Lifestyle shared that "We are thrilled to welcome Timezone to Orchard Xchange, which marks the first-ever entertainment facility within a MRT network. In today's rapidly evolving retail landscape, Stellar Lifestyle will continue to curate and enhance our retail mix that delivers innovative and exciting experiences to engage and delight our commuters. We are confident that Timezone Orchard Xchange will become a must-visit destination. The facility is a place where entertainment and leisure are seamlessly integrated to create a truly holistic and immersive experience for everyone."
Unique Attractions Tailored for Social Experiences
Timezone Orchard Xchange features exclusive games and attractions that cater to social bonding and entertainment. A one-of-a-kind experience awaits visitors, combining advanced technology, enjoyment, and camaraderie. Taking up prime zones at the newly opened venue such as the Arkadia VR arena, along with popular virtual reality games like King Kong Skull Island and Virtual Rabbids from across the globe. These VR games require team effort, mental agility, physical strength, flexibility, and quick-thinking. They are best experienced in social settings where players collaborate to overcome challenges.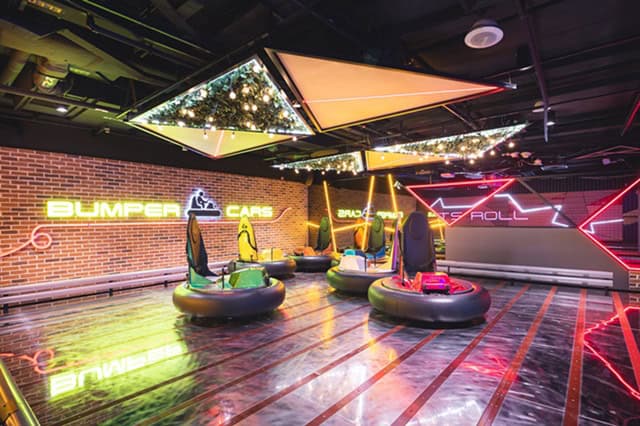 Bumper cars have remained a beloved attraction at amusement and theme parks for many generations, and they now hold a prominent spot at Timezone Orchard Xchange. These cars come equipped with safety features such as high backseats that protect riders' backs and necks, and they are capable of spinning 360 degrees, delivering an exhilarating adventure for individuals of all ages.
Bumper cars offer a distinct and enjoyable experience for families with young children, teenagers, and adults, making them an excellent way to bond and create special memories together. Visitors from across the globe can enjoy the exciting atmosphere and thrilling rides available at Timezone Orchard Xchange.
Timezone Orchard Xchange offers a cutting-edge thematic zone where visitors can indulge in eight lanes of bowling, featuring four social bowling lanes and four mini bowling lanes that are perfect for families, kids, or anyone looking for a relaxed game. The lanes are enhanced with interactive animations that are projected onto them, providing a distinct visual bowling encounter that is truly one-of-a-kind.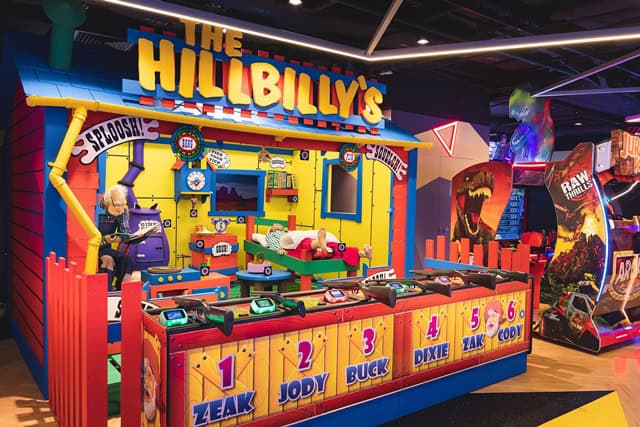 In addition to these feature zones, Timezone Orchard Xchange also presents cutting-edge arcade games that are developed by the world's best game makers like LAI, Bandai Namco, and SEGA. With over 160 games and attractions available, visitors can enjoy games such as The Hillbilly Shooting Gallery, driving zones, and a competition area that includes NBA Gametime Pro and Skee Ball Glow. The games are accessed using Timezone Powercards that utilize a proprietary Tap 'n' Play card reader technology, resulting in a seamless and hassle-free customer experience. Moreover, guests can anticipate a vast assortment of prizes like original branded merchandise and IP-licensed characters.
Enjoy Exclusive Experiences and Pop-Up Parties
In addition, the establishment features two completely furnished party rooms that are ideal for private parties, events, and celebrations. Those who reserve these rooms can bring their own catering and will be assigned a dedicated party host to streamline the planning of special occasions and celebrations for their loved ones. Timezone's Fun Package can be availed at a rate of SGD 55 per child, which includes 45 minutes of party area usage and 90 minutes of Timezone Play. The package also furnishes each child with 500 tickets and an exclusive 2,500 ticket for the birthday child that can be exchanged for prizes.
Since the opening of its first outlet in Perth, Australia in 1978, Timezone has grown to become the world's leading family entertainment centre with a footprint in more than 320 locations across the globe – and a presence in countries such as Australia, India, Indonesia, New Zealand, Philippines, Vietnam, and Singapore. In Singapore, Timezone launched its first outlet in 1996. Beyond its Timezone Orchard Xchange venue, the company has more than 15 locations across Singapore. Prior to the launch of Timezone Orchard Xchange, the entertainment centre launched Timezone Jurong Point on 2 September 2022.
Mr. Nesh Selva, General Manager, Timezone Singapore shared that "Beyond just games, Timezone is deeply committed to providing customers with a unique and fun experience that is built around social interaction and bonding. With our investments in cutting-edge technology, supersized location and dedication to creating places where people can connect and build meaningful relationships with each other – we have been able to successfully innovative, evolve and expand into the test of time."
Visit Timezone today and discover these amazing exclusive launch promotions:
● Buy SGD 60, get SGD 120
● Buy SGD 100, get SGD 200
● Buy SGD 200, get SGD 500
Reload through the Timezone Fun App and receive up to an additional 200 e-tickets, ensuring endless fun together at Timezone Orchard Xchange.
Get ready for an unforgettable time! Hurry, don't miss it! 
For more information, please visit www.timezonegames.com/en-sg
Images credit to Timezone Singapore