This November, Geneco ushers the festive celebration with an eco-friendly Christmas Lodge set up at Wisma Atria's Indoor Atrium at Level 1 as part of Wisma Atria's 'Once Upon a Christmas' holiday celebrations.
Shoppers can look forward to participate in a series of activities including sustainable crafting workshops, enjoy a cup of coffee brewed fresh on the house using sustainably sourced beans, try 'generating electricity' by cycling to light up an LED Christmas tree with its interactive installation and more. 
Burger+ – New Breakfast Menu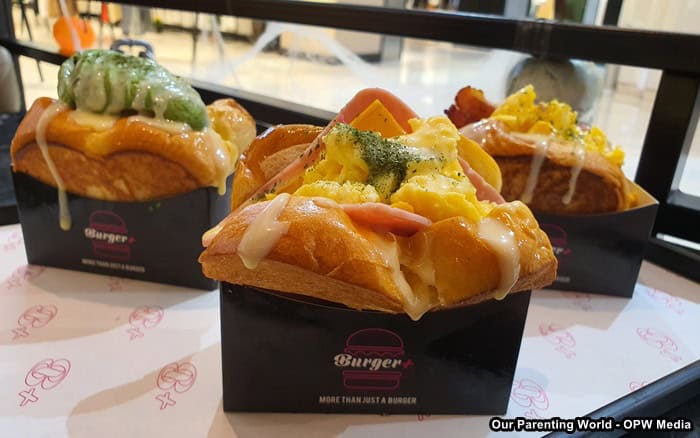 Our Parenting World – OPW Media team visited Geneco Christmas Lodge during the media preview and first up, we were treated to a sumptuous meal at Burger+. The Korean burger bistro, Burger+ is a new burger joint located at Wisma Atria, has launched their first breakfast and kids menu. Its four all-new breakfast items topped with delicious fillings and are wrapped with hot, fluffy brioche. Each of the breakfast set comes with a Freshly Brewed Americano.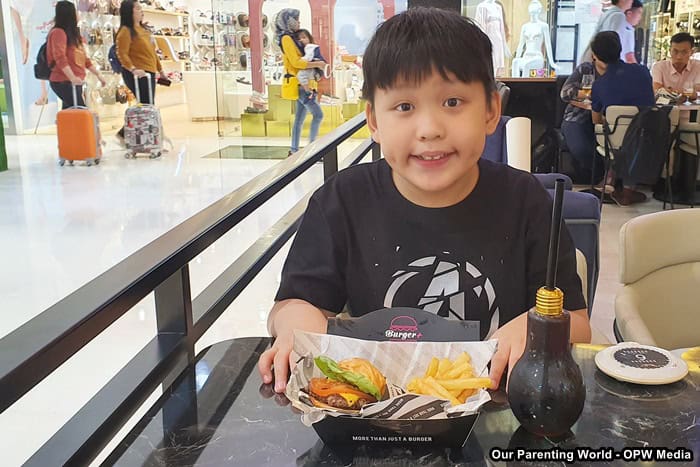 The new Kids Menu featuring new burgers that are Burger+'s signature burgers with sweet mayonnaise, without onions such as Kids Bulgogi Burger, Kids Cheese Burger, Kids Fish Burger and Kids Chicky Burger. 
The Burger+ Kids meal also includes fries and drink in a free lightbulb cup that will light up. Kid can bring it home after that and the set is for kids aged 10 years and below.
The Burger+ breakfast menu is available from 8am-5pm at Wisma Atria and the kids menu is available all day.
Burger+
Address: #01-37/38, Wisma Atria Shopping Centre
435 Orchard Road, Singapore 238877 
Opening Hours: 10:00 to 22:00 daily
Tel: +65 6694 1226
To find out more, please visit the following: 
Facebook: @BurgerPlusSG
Instagram: @BurgerPlusSG
Website: https://burgerplus.com.sg
Hashtag: #burgerplussg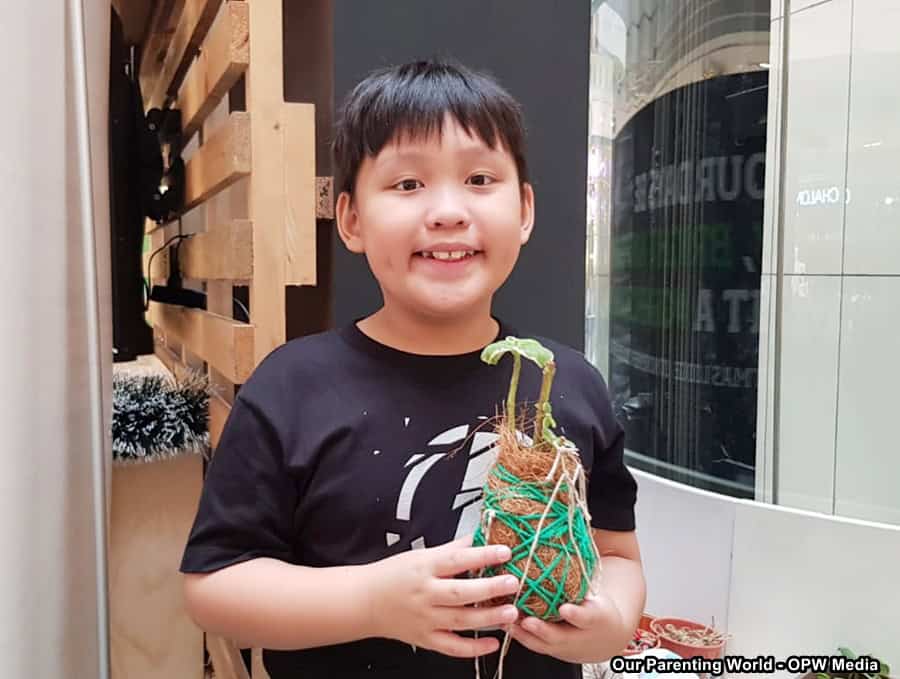 Geneco Christmas Lodge at Wisma Atria
Next up, we are excited to participate in Cocodama Workshop at the Geneco Christmas Lodge to get hands on making our very own Kokedama. 
Originally known as Kokedama and comes from Japan, 'koke' means moss and 'dama' means ball. The bonsai plants were grown in the moss-covered spherical balls that are made of soil. It is an interesting workshop where you can work with coconut coir and grow herbs on it. You can also convert them into a Christmas decorated sphere to spruce up your living spaces. 
Cocodama Workshop
Details:
18 pax per session at 45min per session
Complimentary. Exclusive for Geneco customers.
Dates: 8-10, 22-24 November
Timing: 11am, 2pm, 4pm
To register for the workshop, please visit https://get.geneco.sg/christmas-lodge
Other Activity Highlights include:
Seed Crafting Workshop
Don't discard, instead plant some with your Christmas cards! This holiday, kids can get their creative juices going and learn to make a holiday greeting card with specially made glue and hand-picked seeds. Look forward to the arrival of little seedlings once you plant the seeds from the cards after this Christmas.
Christmas Dancing Light Ornaments Workshop
Soldering for kids made possible at this workshop where children can learn the basic skills of repair and construction of electrical and electronic circuits as they create their very own ornaments. Light up your tree at home with a handmade Christmas dancing light ornament!
Festive T-shirts Coasters Workshop
Repurpose that old t-shirt and convert it to festive coasters this holiday season. Get crazy with your favourite colours and have a blast as kids can make these washable coasters while learning the importance of repurposing old items and upcycling them into something useful and sustainable.
Geneco has specially curated sustainable crafting workshops that will be conducted every Friday to Sunday from 8 November to 1 December 2019. To find out more and to sign up for the workshops, please go to https://get.geneco.sg/christmas-lodge-event-listing
Light Up the Tree with "Human Generated Electricity"
Light up a Christmas tree with the kinetic power generated through cycling and stand a chance to win some prizes! 
Here's how to take part: – Post a photo of yourself and the lighted tree on your IG. Tag @genecosg and #genecochristmas
Visit Geneco at Wisma Atria, Level 1 Atrium to find out more. 
Get Your Cup of Green Brew
Enjoy a free cup of warm coffee, freshly brewed on the house using sustainably sourced beans from 11am to 8pm daily. 
Bring your family and friends to Geneco Christmas Lodge at Wisma Atria to have fun and participate in a series of daily activities, workshops. Get crafty and make this holiday season a green one!
Geneco Christmas Lodge
Date: 7 November 2019 to 1 December 2019
Venue: Wisma Atria, Level 1 Atrium
Time: 11am to 8pm
To find out more and to register for the workshops, please visit its website at https://get.geneco.sg/christmas-lodge
Wisma Atria's 'Once Upon a Christmas' holiday celebrations.
In addition, join in and celebrate this festive season at Wisma Atria's 'Once Upon a Christmas' holiday celebrations with a fairytale-themed Christmas brought to life from 7 November – 25 December 2019.
Snap & Win
Take a picture with the in-mall Christmas décor, hashtag #wismaatria and stand to win attractive prizes! 3 winners will be selected weekly and will stand to win up to $50 of Burger+ vouchers each. Follow Instagram at @wismaatria to find out more!
For more information, please visit https://www.wismaonline.com/