Embark on a gastronomic journey of unparalleled magnificence at Jack's Place, where you can indulge in an extraordinary culinary experience like never before. Brace yourself for the grand arrival of the highly anticipated N.Z. Angus Tomahawk Steak, scheduled to make its debut on the 1st of June.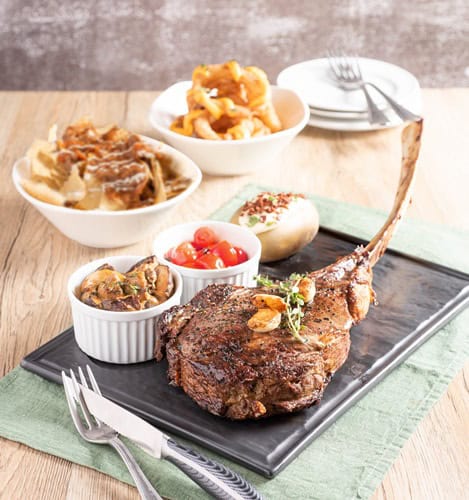 This culinary masterpiece is a sight to behold, with its striking resemblance to a tomahawk axe and is meticulously carved from the rib section of the steer, ensuring an exquisite combination of succulence and a decadent, buttery taste. The Tomahawk Steak is the epitome of sharing and a great choice for those who crave unforgettable dining moments with their loved ones. 
The delectable N.Z. Angus Tomahawk Steak ($128++ approximately 1 kg, serving 2 to 3 people), accompanied by pickled cherry tomatoes, sautéed mushrooms, and signature baked potato. With each succulent mouthful, experience a delightful fusion of luscious, buttery flavors and irresistibly tender meat. This exquisitely marbled masterpiece guarantees an unparalleled carnivorous feast, brimming with decadence and exquisite taste. Additionally, every order of the Tomahawk includes 2 complimentary appetizers: Cheesy Onion Rings (normally priced at $6++) and Loaded Nachos (normally priced at $10++).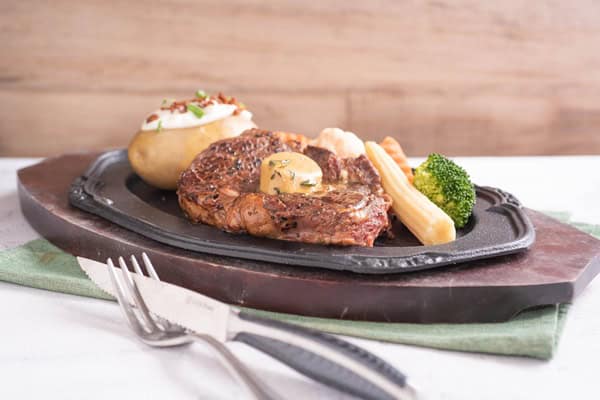 In addition to this exceptional masterpiece, Jack's Place is proud to unveil the N.Z. Ribeye Steak with Coffee Butter ($29.50++ /250g, $26.30++ /180g), redefining their beloved classic with a creative touch.
Accompanied by complimentary appetisers, a tempting array of starters, and refreshing beverages, this exclusive seasonal delight can only be savoured at Jack's Place and Eatzi Gourmet Steakhouse & Bistro restaurant during the months of June and July. Renowned for their unwavering dedication to excellence and unforgettable dining encounters, Jack's Place continues to be the go-to destination for outstanding sizzling steaks and mouthwatering cakes that never fail to delight families and friends alike.
Begin your gastronomic voyage with an array of mouthwatering appetisers, including the tantalising Loaded Nachos ($10++), the delightful Baked Oysters prepared in two distinct styles ($20++), the flavourful Cajun Chicken Skewers ($7.50++), and the irresistible Cheesy Onion Rings ($6++). Each of these carefully curated appetisers has been thoughtfully chosen to enhance the delectable flavours of the Tomahawk and Ribeye steaks. Moreover, when you order any of the promotional steaks, you can enjoy a 20% discount on these appetisers from the regular a la carte prices.
Additional Information:
The Beverage of the Month in June features Orange Watermelon Juice ($22.50++ /carafe, $14.00++ /½ carafe, $5.30++ /per glass) is a thirst quencher with a zesty twist, while July's Beverage of The Month is Apple Cucumber Cooler ($10++ / 2 glasses, $5.50++ /per glass) – a refreshing cooler that will tantalise your taste buds and leave you feeling revitalised. This invigorating beverage is a harmonious blend of bubbly soda, infused with the delightful combination of sweet and tangy flavours from apples and cucumbers. Wine of the Month (June & July) features wine from El Coto D.O.Ca Rioja Spain ($46.80++ /bottle, $33.80++ /½ carafe, $8.80++/per glass). The White Wine (Viura, Verdejo & Sauvignon Blanc) is a vibrant and refreshing white wine that captivates with its crisp acidity, luscious citrus flavours, and subtle floral undertones. On the other hand, the Crianza is a beautifully balanced red wine, showcasing the classic characteristics of the Tempranillo grape with its ripe dark fruit flavours, velvety texture, and well-integrated oak notes.
A Limited-Time Epicurean Adventure
Jack's Place is offering a chance for their customers to win $100 dining vouchers by participating in an exciting 'Tomahawk Steak Meal' contest from 1 June to 31 July. To enter, customers must order a N.Z. Angus Tomahawk Steak meal and share a photo of their experience on their own public Instagram or Facebook account with the hashtag #jacksplacesg or #eatzigourmetsteakhouse. Jack's Place will announce three lucky winners who will win $100 in dining vouchers each, on social media channels by 15 August 2023.
Don't miss out on this limited-time opportunity to embark on a meaty adventure. The N.Z. Angus Tomahawk Steak and N.Z Ribeye Steak with Coffee Butter is available exclusively for a limited time only, during the months of June and July. Revel in the extraordinary flavours and experience the pinnacle of gastronomic delight.

These offers are also applicable for diners at Eatzi Gourmet Steakhouse & Bistro restaurant, located at SAFRA Yishun.
For more information, please visit the following:
Website: www.jacksplace.com.sg
Facebook: www.facebook.com/jacks.place.restaurant
Instagram: @jacksplacesg
Official hashtag: #jacksplacesg