As parents, we are always on a look out for good quality products that are beneficial for the whole family.
When Human Nature approached us, we are delighted to know that its products are 100% no harmful chemicals brand of natural cosmetics. These premium products do not contain potentially harmful chemicals such as SLS/SLES, parabens, pthalates, or mineral oil.
Goodnews for parents, these natural products are not only effective but also affordable!
Human Nature products come with a heart, it is devoted to help provide livelihood for Gawad Kalinga residents and support Filipino farmers by sourcing natural raw material locally.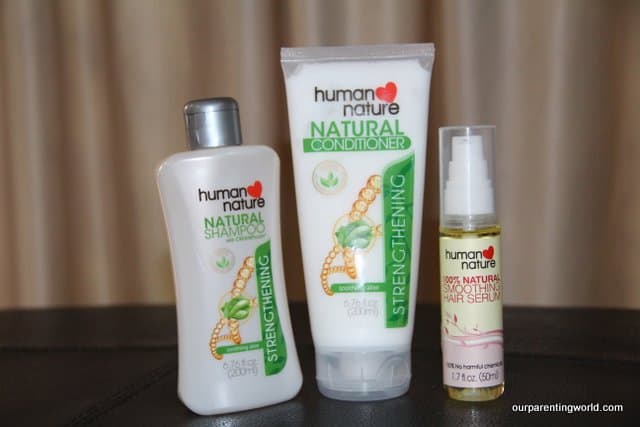 Let's first start with Human Nature Natural Shampoo and Conditioner for parents. The products help to reduce hair fall and thicken the hair after 4 weeks of continuous usage. 
Our verdict:
Upon applying the shampoo, it is easy to lather and after rinsing, our scalp and hair feels squeaky clean. It is important to choose a good shampoo that will remove the dirt and grime buildup and especially in Singapore's hot weather. We feel clean and fresh and the conditioner makes our hair feel soft and smooth. There is also a nice aloe scent on our hair.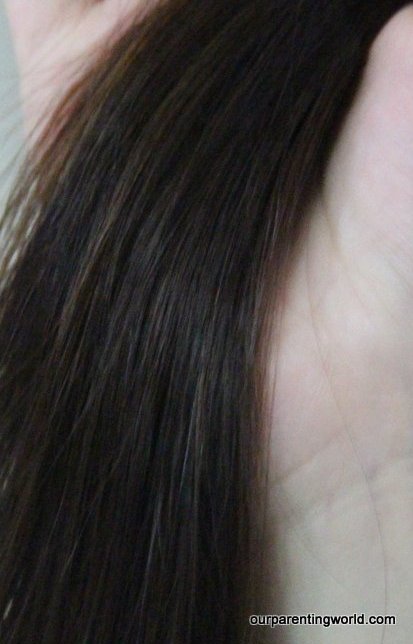 Mummy notices that after using the products continuously for more than four weeks, her hair seems to be stronger and less prone to breakage. 
To complete the whole hair wash and conditioning process, it is best to include hair serum to further protect your hair. We tried out 100% Natural Smoothing Hair Serum. It is made with a blend of nutrient-rich natural oils.
Our verdict:
After applying the serum, Mummy notices that her hair feels smooth, looks shiny and does not tangle.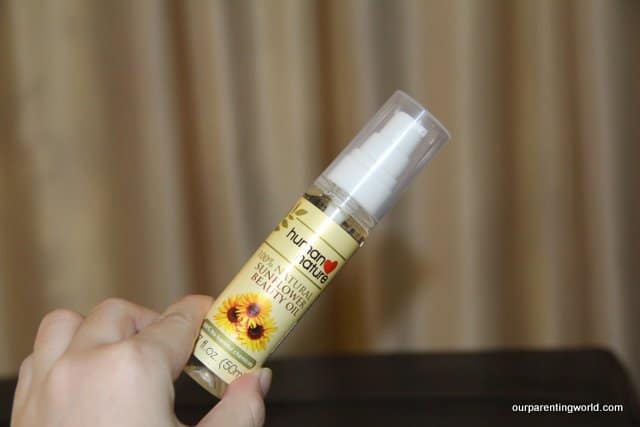 The 100% Natural Sunflower Beauty Oil is actually one of Mummy's favourite Human Nature products. It is 100% natural and consists of vitamins A, D & E that help to moisturize and nourish the skin to give it a healthy glow. It is actually Human Nature's premium and best-selling beauty oil. 
We read the product description that it is a multi-purpose oil that you can use it to lighten the dark area of your skin like dark eye circles, pimple marks or dark spots on the face or use it as a overall body moisturizer and even as a makeup remover. There are so many ways to use it depending on your needs.
Our verdict:
Mummy uses the beauty oil to help remove makeup. It is very important to keep the face clean and free from any impurities. Although it is called a beauty oil, it is actually very light and easy to glide along the face. It effectively remove all traces of makeup leaving the face silky smooth.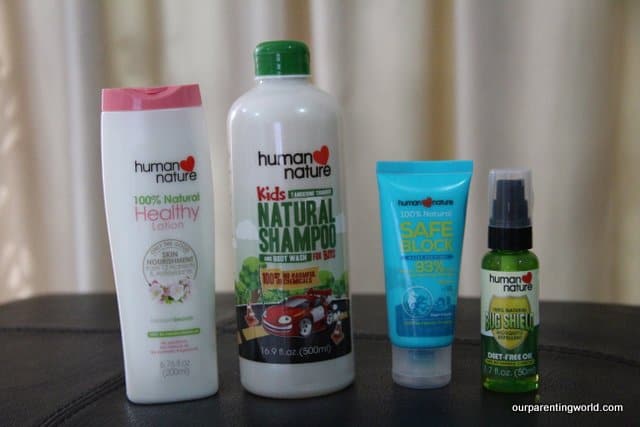 For our boys, we use the following Human Nature products, 100% Natural Healthy Lotion, Natural Kids Shampoo & Body Wash, Safeblock 100% Natural Sunscreen and 100% Natural Bug Shield Oil.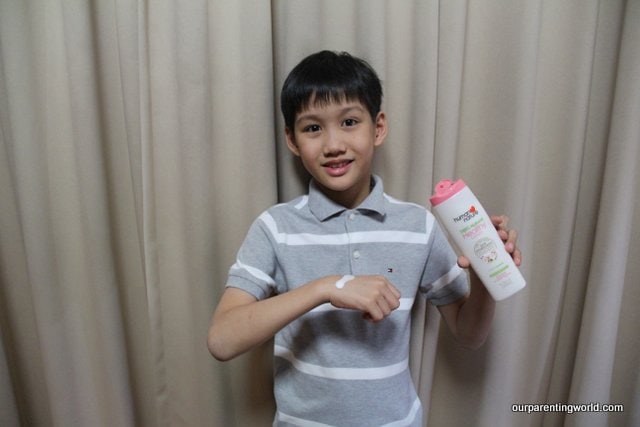 100% Natural Healthy Lotion, a daily all-nature skin lotion packed with 12 powerful nutrients and antioxidant. It comes with Powder Love, Blossom Beauty and Berry Bliss scents.
Our verdict:
We use the lotion on Gor Gor as he does a lot of outdoor activities. His skin is often very dry and it will get itchy, he will attempt to scratch it. Gor Gor uses the lotion to apply on his skin. The lotion absorbs fast and he doesn't feel itchy after applying the lotion on his body. It smells good and keeps his skin hydrated the whole day.
Kids Natural Shampoo & Body Wash is free from harmful chemicals and made of unique protein care system to keep your child's hair healthy and skin soft and supple. Parents can choose Yummy-scented Tangerine Thunder for boys and Ocean Apple for girls, it will be a hit for the kids!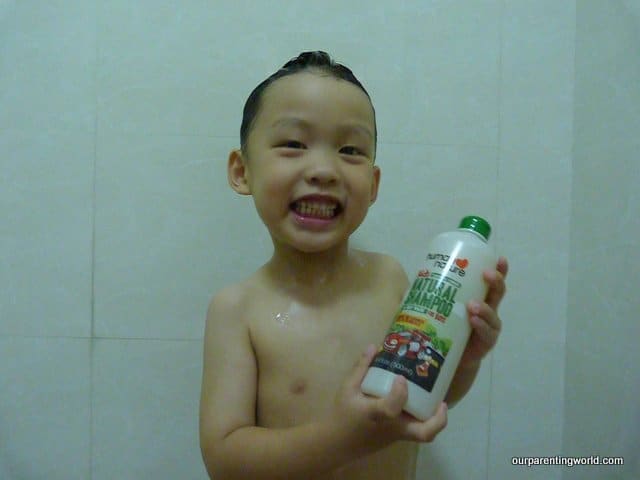 Our verdict:
When Di Di first saw the bottle, he likes the shiny red race car picture on the bottle. Cars are always his favourite and he enjoys using the shampoo & body wash. The wash lathes easily, it keeps him clean and feeling fresh. 
Mummy likes the results of the wash, Di Di's skin is so smooth and his hair is really soft. Mummy enjoys smelling and hugging Di Di after his bath. Di Di smells really good.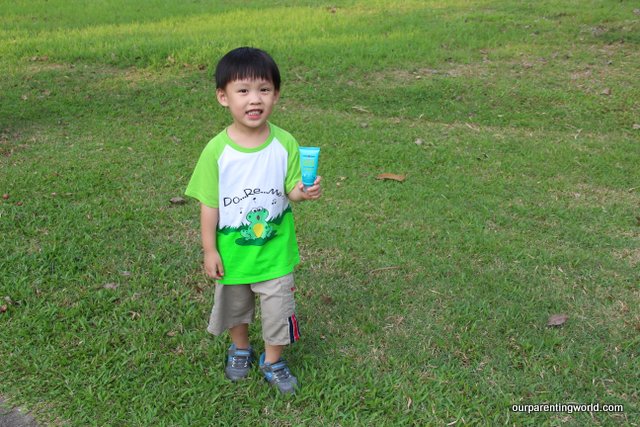 Safeblock 100% Natural Sunscreen protects the skin against aging UVA rays with PA+++ rated protection, blocks 93% of skin-burning UVB rays and it is environmentally friendly as it cares for coral reefs with only all-good, sea-safe natural ingredients. 
Our Verdict:
Our boys have a lot of outdoor activities and it is important to use sunblock to protect their skin against harmful sun rays. The lotion is easy to apply and best of all, it is water resistance good for the boys when they go for swimming.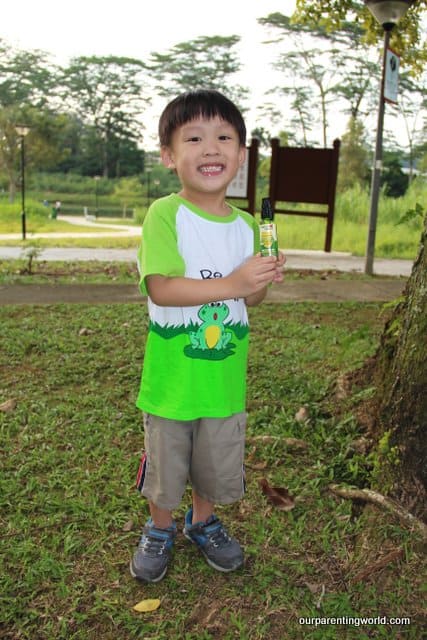 100% Natural Bug Shield DEET-Free Oil is infused with soy bean oil and eucalyptus oil for an added boost of protection and an even better scent!
Our Verdict:
Insect repellant is very important to us as our boys are particularly susceptible to mosquitoes bites. We are glad to be introduced to this product as it has effectively protects the boys from the nasty mosquitoes bites. It is gentle on their skin and non-irritating.
******
Thanks to Christine from Human Nature for introducing the fabulous healthy and natural products to us!
Christine is a lovely mother of 2 wonderful girls and she is a strong advocate for healthier and natural lifestyle. Try out Human Nature products, they are genuinely natural goods using fresh ingredients that are the best for you, your family and the environment. The products are chemical free and price-friendly. Human Nature aims to make a difference in our environment and improves the lives of Filipino farming communities. Please click HERE for more information.
Mummy's favourite is this