The Families for Life (FFL) Council will launch a series of online, interactive programming via their Facebook page (www.facebook.com/familiesforlife.sg/) every day for the month of April and May, to encourage families to engage each other more meaningfully while staying home.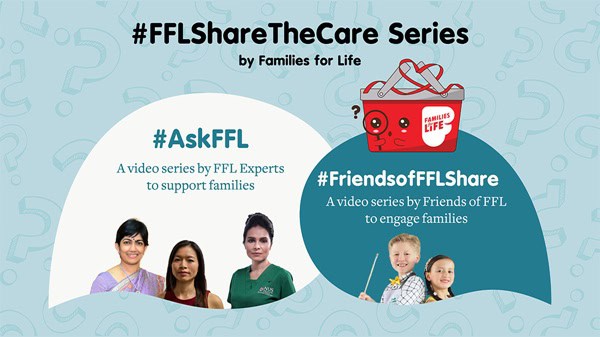 Image credit: Families for Life
The #ASKFFL series will feature practical advice from doctors and healthcare professionals on how to keep every member of the family, especially young children and the elderly, safe during this period. Some of these sessions will be conducted via FB Live, and parents will be able to pose questions on a wide range of topics including how to engage their children creatively, tips on nutrition and staying healthy. The first FB Live session by NUS Assistant Professor, Dr Shefaly Shorey, will cover practical tips for first-time parents of newborns. 
Another series in the line-up is the Family365 webinars for parents and families. FFL has converted some of our face-to-face programmes, such as from building resilience as a family in the face of COVID-19 to keeping romance alive in marriage, into online versions for parents to access from the comfort of their homes.
FFL is also inviting the public to come onboard its #FriendsofFFLShare series which will feature videos and content from them to be shared with others. For a start, #Friendsof FFLShare will have lots of fun activities for children in a Kids4Kids series, featuring a pair of 6- and 7-year old siblings, Zach and Sara Edwards, who will share tips on simple activities that children can do at home. Children will also be entertained through contests, interactive storytelling and art jamming. 
The #FFLShareTheCare Series is an initiative under the #FFLShareTheCare movement, a part of the #SGUnited efforts, to encourage families to bond with one another and other families to build a more resilient society.
For more information about #FFLShareTheCare Series, please visit the following:
FFL website (https://www.familiesforlife.sg/Pages/default.aspx)
Facebook page (https://www.facebook.com/familiesforlife.sg/)
#SGUnited #SGTogether #FFLShareTheCare #FamilyStaySafe