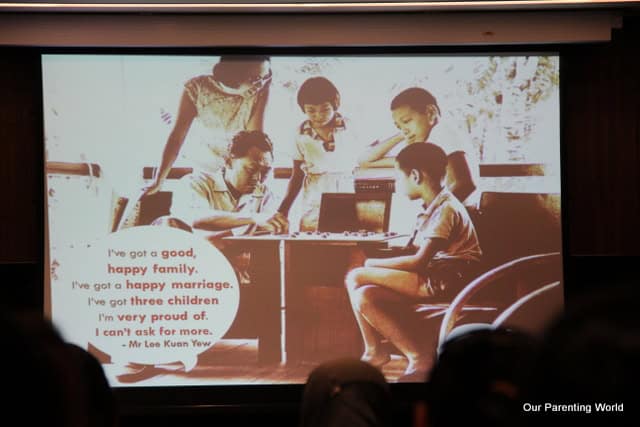 Our Parenting World was invited by Families for Life (FFL) to attend this year's Key Note Session of the popular Marriage Convention, titled "Growing Together, Staying Together", held at Suntec Convention Centre.
It was very appropriate for the convention to start by paying tribute to Singapore's Founding Father, Mr Lee Kuan Yew as it was a well-known fact that Mr and Mrs Lee's 60 years marriage was the model for all of us to follow. In his words "I've got a good, happy family. I've got a happy marriage. I've got three children I'm very proud of. I can't ask for more"
Marriage is like a seed of love sown by two people, and its resulting growth is a representation of the effort put into nurturing it. Just like the saying, "Marriage is a journey, not a destination." – it is an ongoing process that requires both parties to commit and keep working on it, or run the risk of drifting apart. This describes aptly what a marriage should be. It is a continuous effort by both parties to grow and make the marriage works. 
The opening speech by the Guest-of-Honour, Ms Low Yen Ling, Parliamentary Secretary, Ministry of Social and Family Development & Ministry of Culture, Community and Youth shared with the audience the importance of attending marriage preparation course for couples who intend to get married as the course would be able to help educate couples to navigate through the various challenges which may happen during their marriage.
Photos Credit: Families For Life (FFL)
This was followed by the keynote lecture on 'Cultivating a Collaborative Marriage – For Better & Forever!'. The lecture was delivered by the husband and wife team, Dr Sherod Miller and Dr Phyllis Miller. Dr Sherod Miller is a clinician in marriage and family therapy, an Assistant Professor of Sociology at Augsburg College in Minneapolis, and a faculty member in the Department of Medicine at the University of Minnesota. Dr. Phyllis Miller taught in the Student Development Centre at Augsburg College in Minneapolis, and was the instructional staff at the University of Minnesota. She has co-developed (with her husband, Dr. Sherod Miller) the Couple Communication and Core Communication (a program for individuals) Programs.
In this session, the speakers taught the audience the importance of collaborative marriage and not a one-sided marriage. Couples should take turn to lead and follow each other, and not letting one party lead and the other party follow. They also shared in more details some of the dimensions in this type of collaborative marriage.
Couples should also understand the different type of communication styles of their partners and learned to improve the quality of communications. During the course of marriage, there will always be issues of disagreement. In a healthy marriage, couples would learn how to communicate and manage these disagreements instead of resorting to anger and blackmail tactics which are undesirable.
It has been a very useful and practical session for the audience and the theme "Growing Together, Staying Together" is certainly very appropriate and relevant for couples who wants to build a strong and happy marriage. Every marriage couple will face a lot of challenges and as a couple, we must work together and make an effort in making our marriage works. A happy marriage itself is rewarding and will lead to happy and healthy family life. 
Families for Life
About Families for life (FFL) aims to promote strong and resilient families in a genuine and positive way. Through engaging Singaporeans about families and providing platforms for family bonding, FFL aims to inspire Singaporeans to renew their commitment to their families.
The Families for Life Council is headed by Mr. Ching Wei Hong, Chief Operating Officer, OCBC Bank.
Please visit www.familiesforlife.sg and www.facebook.com/familiesforlife.sg for more information.