{Advertorial}
Thinking of where to go for holidays with your family? Look no further, introducing Gold Coast which is a coastal city in south eastern Queensland on the east coast of Australia.
Gold Coast is Famous for Fun which is also its tag line! There is something for everyone from the active cheeky monkey, to the nature loving grandma and pop! Build a lifetime of memories for the entire family.
Here are some of the fun activities you and your family can participate in when you visit Gold Coast: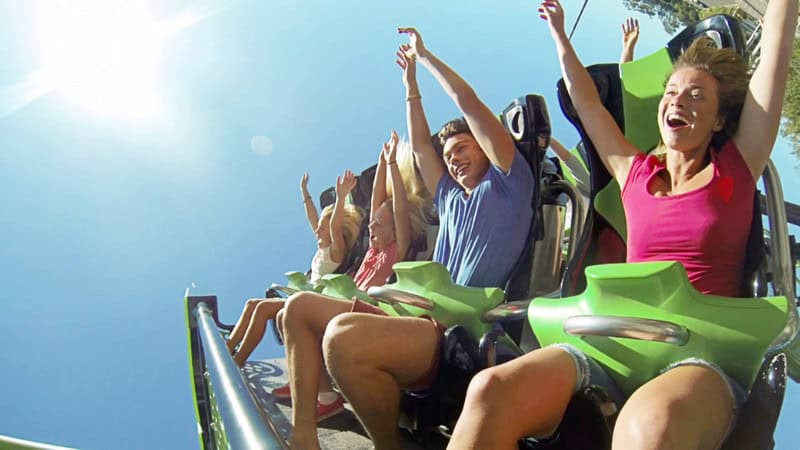 Theme parks – Good family bonding time in 1 space. Great way to spend the day!
Dreamworld
Gold Coast theme park is the perfect place to spend the day with family or friends. Dreamworld spans over 30 hectares and is filled with a variety of rides, shows and attractions. It is home to nine Thrill Rides which include the Tower of Terror – the world's tallest and fastest thrill ride, the Giant Drop – free fall from 38 storeys or 'The Claw' – 9 storey adrenalin rush! Enjoy Wiggles World, The Australian Wildlife Experience, Tiger Island, V8 Supercars Redline, Zombie Evolution – combat zone Alien vs Predator vs YOU and Flow Rider – surfing, skateboarding and bodyboarding.
Sea World
Make contact with marine life wonders like dolphins, seals, sharks and polar bears at Australia's SEA WORLD. Visit the amazing Shark Bay where you can come face-to-face with the most feared species of sharks in the world! Check out the new 4D animated 'Planet SOS' and experience the plight of our fragile planet and its changing environments. Visit Polar Bear Shores, watch the 1960's themed 'Water ski Wipe out' show, visit Cartoon Network Cartoon Beach, enjoy the rides and attractions at Sesame Street Beach.
Warner Bros. Movie World
Experience the magic and excitement of a world where EVERYONE'S A STAR – Warner Bros. Movie World! Experience a ride like no other with the Superman Escape – a thrilling rollercoaster where you travel 100km/h in just two seconds! Take adventure to the next dimension in the DreamWorks Shrek 4D Adventure.
Experience the thrill of rides like Lethal Weapon and Wild West Falls, the spine-tingling Scooby-Doo Spooky Coaster, or the fun of Looney Tunes Village. Star in your own Hi-5 music DVD! Warner Bros. Movie World is an exciting adventure just waiting for you!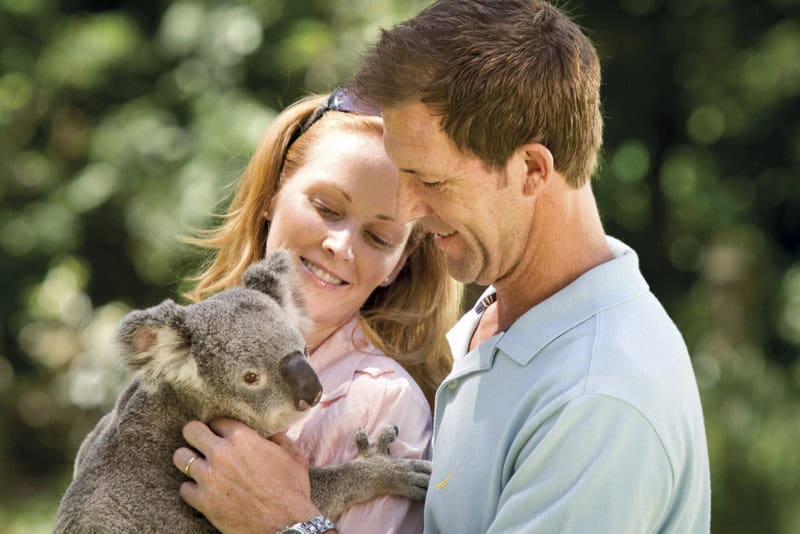 Currumbin Wildlife Sanctuary
If you would like to share Australia's Wildlife with your children, then you cannot miss Currumbin Wildlife Sanctuary. Spend an afternoon visiting the Platypus, feeding the kangaroos and even cuddle the nation's favourite animal – Koala!
Queensland is the only place in Australia where you can cuddle a Koala. For the daredevil dads, you can opt to zip over ponds of crocodiles with the ziplines. Currumbin is a must visit for parents who would like to infuse wildlife education with entertainment.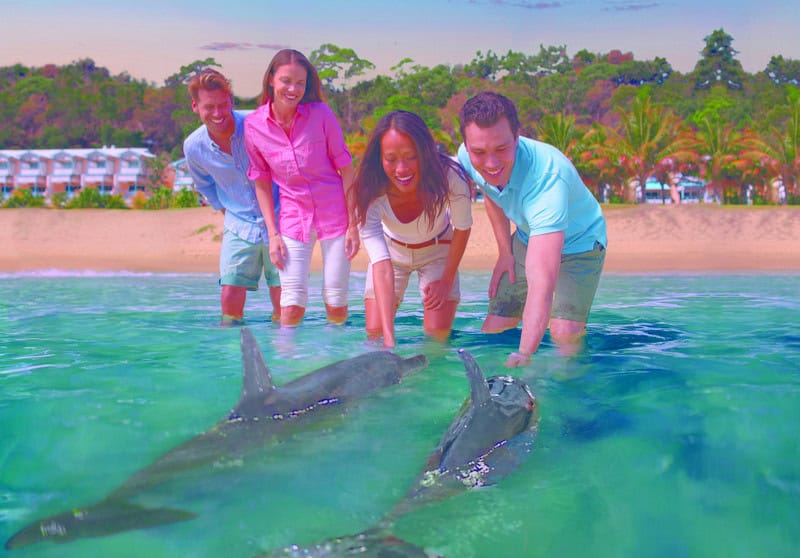 Tangalooma, Moreton Island
Experience the exhilaration of being at one with nature. Tangalooma has more than 80 ways to discover and connect with wildlife and the environment. A great getaway for families and couples, it is built for fun and famous for its wild dolphins. Enjoy a face-to-face encounter feeding wild dolphins! Everything is at your door. Adventure and relaxation await at any time of the day so, all you have to do is turn up and enjoy!
Skypoint
Do not make a trip to Gold Coast without dropping in Q1 Building which is one of Australia's highest tallest building. For brave daddies and mummies who are feeling adventurous you can scale Australia's external building climb which is 270 meters above sea level.
You can have your kids and elderly hang out at the observation deck where they can take in a 360 spectacular view of the Coast. Best time to visit: evening time for sunset!
The above are just some of the highlights of what you can do with your family while holidaying on the Gold Coast, for a full listing of the various activities and suggestions available, please click HERE.
In addition, you and your family can enjoy affordable fun while holidaying on the Gold Coast from food, to markets and free parks.
Here are some of the affordable fun activities that you can participate in:
UNLIMITED BUS AND TRAM RIDES G:Link GOExplore
For only AUD 10 a day (AUD5 for kids aged 5-14 inclusive), you get unlimited G:link tram and bus rides.
G:Link connects between 16 tram station from popular Surfer's Paradise to Broadbeach where you get to hang out with the locals. Maximise the value by hailing a bus ride to the theme parks or simply just take in the city by bus and tram hopping.
http://translink.com.au/goexplore
GO WALKING IN THE NATIONAL PARKS
Had enough of the beach? Then get a retreat in the national parks. Here's some of the favorites.
Burleigh Heads National Park – grab a coffee from Nook Espresso then head to the point and catch the magnificent sunrise before doing the 2.5 kilometre coastal walk around the headland to Tallebudgera Creek. About half-way back you'll come to Tumgun Lookout which offers awesome views over Palm Beach.
Springbrook National Park – Head to Natural Bridge Cave to see millions of glow worms make their homes. The feeling is as if you are gazing up at billions of stars in the night sky. Remember to bring a torch to shine for navigation, do not shine them at the worms!
Lamington National Park – many fantastic walking trails from short walks to all day hikes. Inject some thrill into the walk with O'Reilly's Tree Top Walk, 180 metres of boardwalk suspended 15 metres above the ground in a canopy of flowering and fruiting. This will have young kids shrilling in joy. And yes, it's free!
http://www.oreillys.com.au/activities-events/tree-top-walk
Thinking of doing some shopping? 
HANG OUT AT THE MARKETS
Be spoilt for choice on the Gold Coast for markets. There are so many craft, clothing, farmers markets, specialist markets and much more, you could potentially spend every weekend going to a different one! And they are all free to attend, and quite often there are free samples on offer or bargains.
Family Favourites include:
The Village Markets– every 1st & 3rd Sunday at Burleigh Heads State School. The original boutique fashion and lifestyle market plus live local music and food from around the world thanks to the lineup of food trucks.
Surfers Paradise Beachfront Markets

– every Wednesday, Friday & Sunday nights along the beach Esplanade at Surfers. You can find over 100 stalls here.

Night Quarter Market– The latest and biggest night market on the coast. Fondly dubbed as Gold Coast's Creative playground featuring micro-restaurants, emerging fashion designers / artists and a unique live music scene. You will be spoilt for choice with over 120 speciality food purveyors, designers, musicians and craftspeople within a shipping container city. Night Quarter Market opens every Friday and Saturday night from 4pm-10pm. 
Yummy food without breaking your bank! 
WAXY'S IRISH PUB
Waxy's Irish Pub is located in the heart of Surfers Paradise.
Waxy's provides pub menu options at the bargain price of $10, (only available Monday through Thursday, and Sunday). These are different every day but often include the usual pub food culprits like steak, pizza and chicken parmigiana. And if you think that's good value for money, then pop in to enjoy a $3 steak all-day! Served every Sunday.
http://www.waxysirishpub.com.au/#!restaurant/c1jo3
Hakataya Ramen Gold Coast
You'll find Hakataya Ramen on the Surfers Paradise Boulevard – just look for a long line of people waiting (seriously, that's how good it is). You're going to want to order the tonkotsu soup (pork bone broth), which is simmered for 39 hours. Too hot for soup? They also have some mind-blowing pork dumplings and musubi (rice balls) too. Ramen here starts from under $15.
For more information of what to do on the Gold Coast, please click HERE. 
With so many fun, interesting things to do on the Gold Coast, it is a good place to bring your whole family for an enjoyable vacation. Best of all, it is affordable too.
Good news! UOB Travel will be having a Australia Travel Fair from 26 to 30 January at Toa Payoh HDB Hub, East Wing, Level 20, where there will be many attractive Queensland holiday packages available for you to choose from. Don't miss it!

UOB Travel – Australia Travel Fair 
26 – 30 January 2016 
Toa Payoh HDB Hub, East Wing, Level 20
Visit www.uobtravel.com/queensland.uob for more details today!
Article brought to you by Tourism and Events Queensland & UOB Travel