Staycation in Singapore has become increasingly popular with locals over the years. Our Parenting World (OPW) team check out the beautiful Shangri-La Hotel at 22 Orange Grove Road.
Now there is no excuse not to make time for your family as Shangri-La Hotel has come up with an attractive new family-targeted staycation promotion that will be hard to resist. You can book the Family Stays for Free staycation at the Tower Wing's Horizon Grand Premier Room to have an enjoyable and relaxing time with your family!
Upon arriving at the hotel, we proceed to The Horizon Club where we were greeted by the warm and friendly staff who quickly helped to complete our hotel check-in. 
For guests staying at Tower Wing's Horizon Grand Premier Room, you will be able to enjoy personalised services like private check-in/check-out for your room with the option of late check-out on the day of departure and it is subject to availability. In addition, you will be able to enjoy exclusive privileges like having the access to The Horizon Club Lounge on Level 24 from 6am to 11pm daily. At the Club, you will be treated to a delightful spread of complimentary breakfast, afternoon tea, evening cocktails and canapes.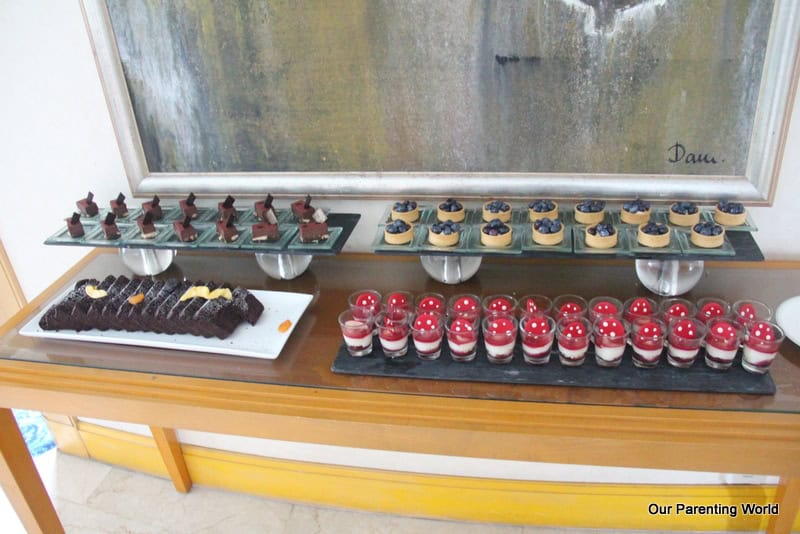 The Horizon Club offers a good spread and variety of cuisine to cater for all appetites. It also includes a wide selection of desserts too.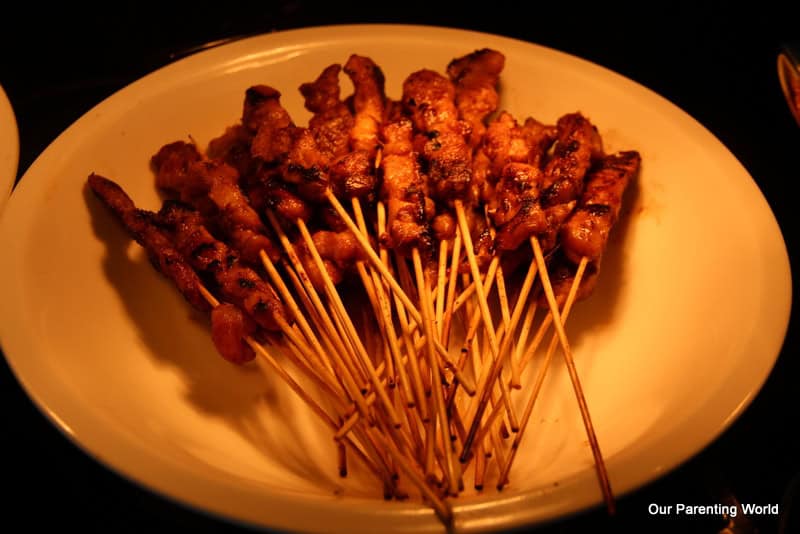 Some of the popular spread include the assorted Sushi with kikkoman, wasabi & pickled ginger and chicken satays.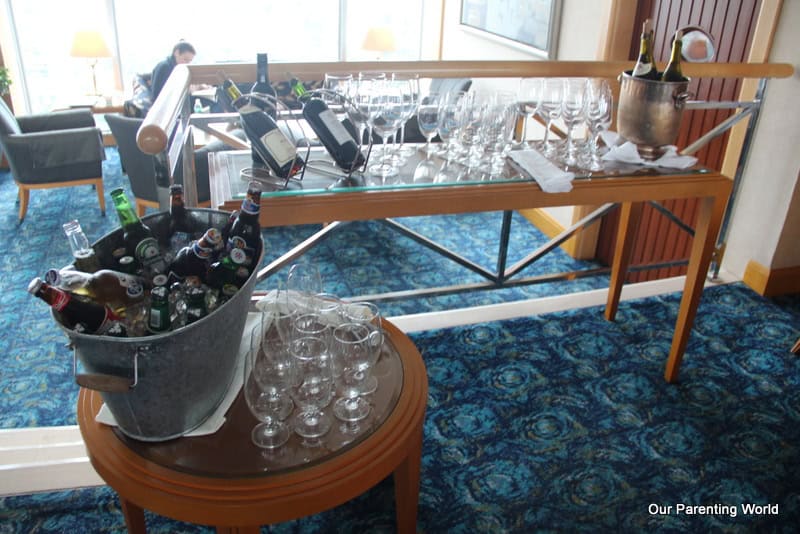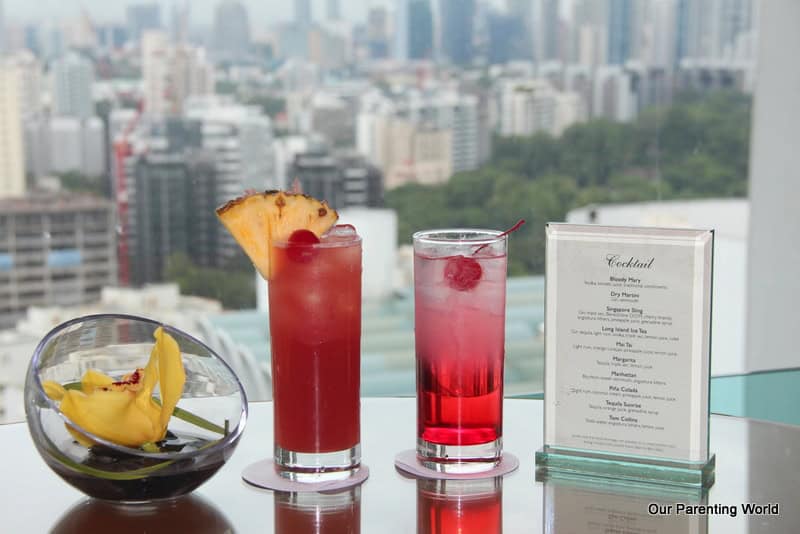 At the Club, guests will be able to enjoy beverages served all day and complimentary wine, cocktails and canapés are available from 5pm to 8pm daily. Please take note that for children below 12 years of age are welcome before 6pm.
Being a guest at The Horizon Club, you are entitled to suit pressing and shoe shine service, Wi-Fi and broadband Internet access, wide selection of newspapers and magazines, use of meeting room facilities for two hours per day and private work stations.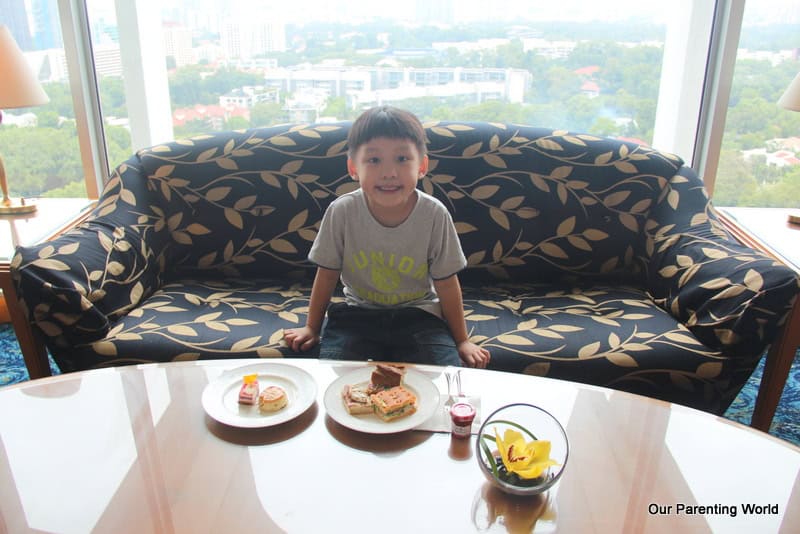 We enjoyed the good food and impeccable services over a stunning view at The Horizon Club.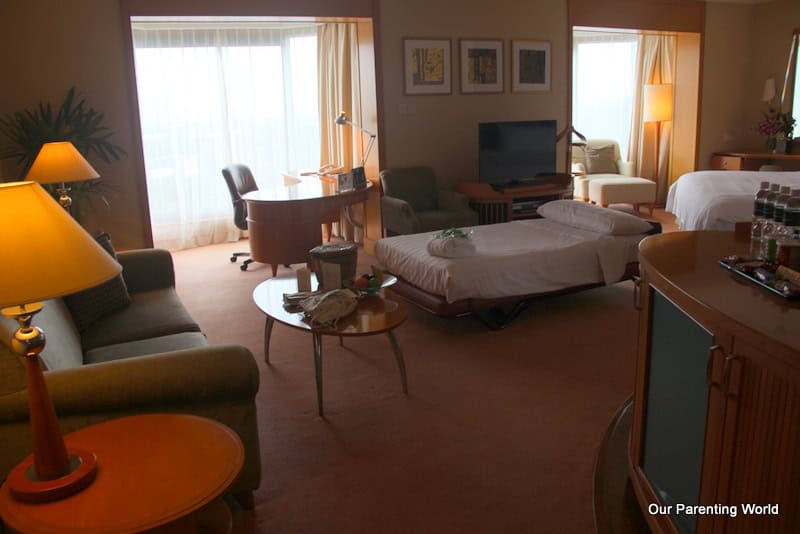 Horizon Club Grand Premier Rooms are located on levels 17 to 22 and when we check into our room, the children are jumping for joy! The room is so spacious, very cosy and beautiful!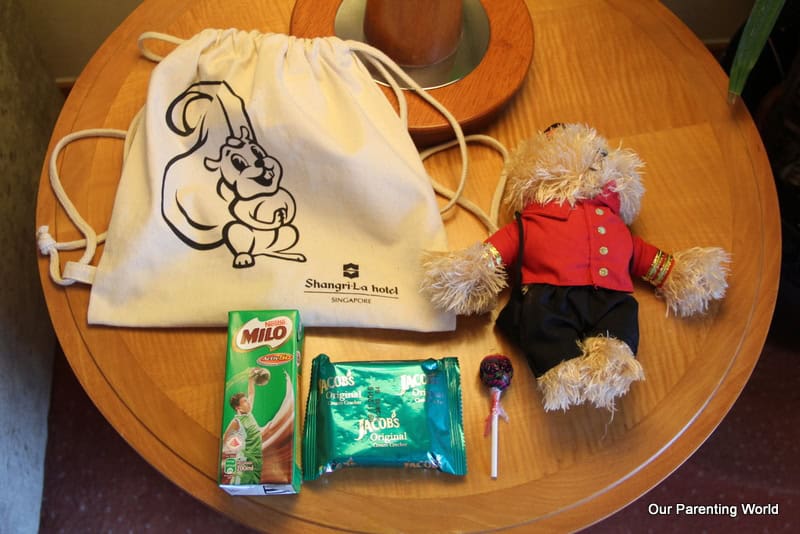 The boys are so happy to see that Shangri-La Hotel has prepared gift bags with goodies for the children. They love the bears and what a great way to remember their stay at the hotel!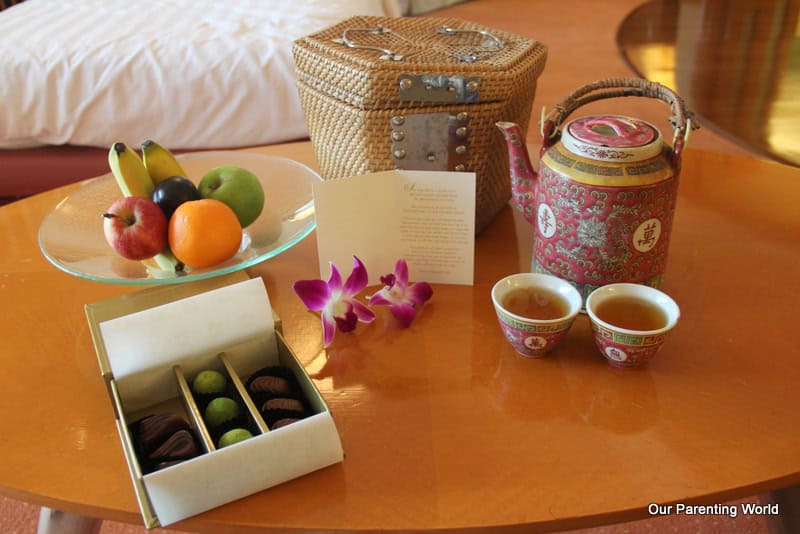 We are greeted with fruits, chocolates, a pot of warm jasmine tea and welcome note/letter from Shangri-La. We are certainly impressed and that is very thoughtful of Shangri-La in welcoming their guests and making our stay a comfortable and memorable one! 
Horizon Club Grand Premier Rooms are one of the largest executive level guest rooms available in the city at 72 square metres. Each of these rooms has five distinct areas which include lounge, breakfast area, a writing desk, sleeping quarters and a private dressing area that connect to a luxurious marbled bathroom.
Large comfortable seating area with sofa setting.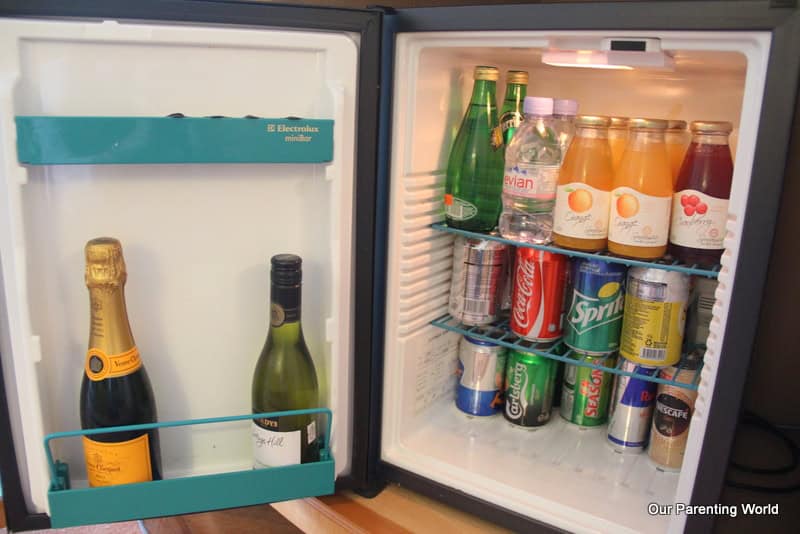 Complimentary coffee/tea making facilities including complimentary bottled water are available. Well-stocked mini-bar and please check the pricing of the items before consuming. 
You can do your work on the large, L-shaped executive writing desk that comes with built-in multi-plug connections and stationary set in the drawer.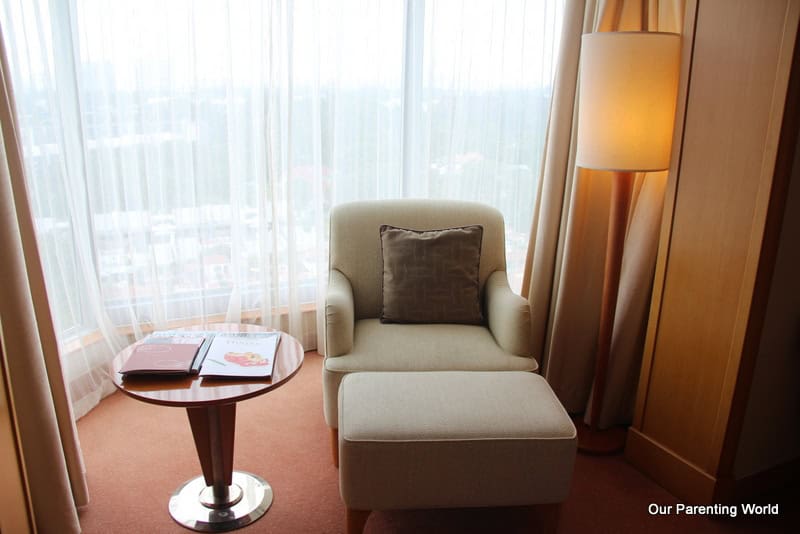 Each of the room is enhanced by two windowed alcoves that bring in plenty of natural light into the room. You can simply relax, read a magazine/book or just enjoy the beautiful breathtaking scenery.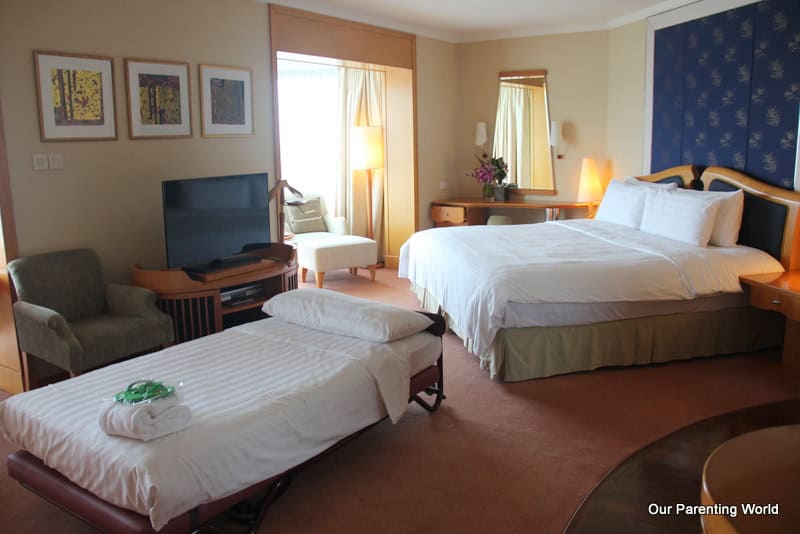 This is the sleeping area and if you have more family members, you can request for rollaway bed that are subject to availability.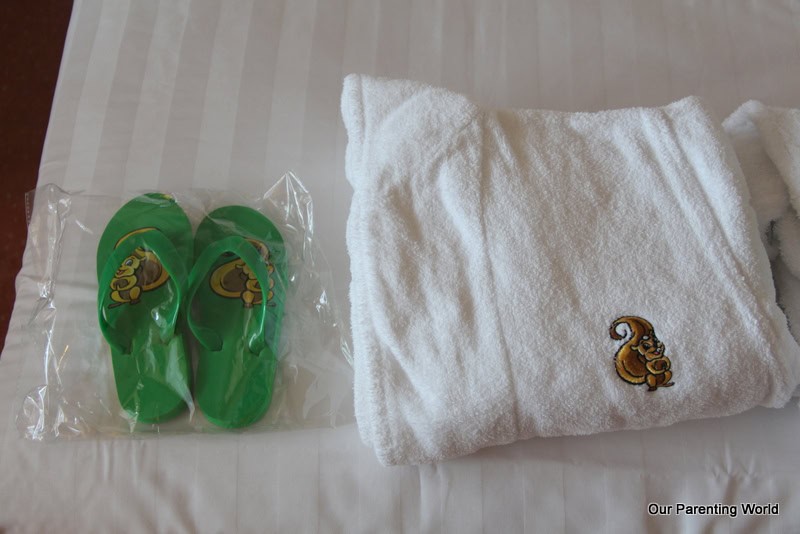 Our boy is so happy to see his bed that comes with his own set of bathrobe and slippers.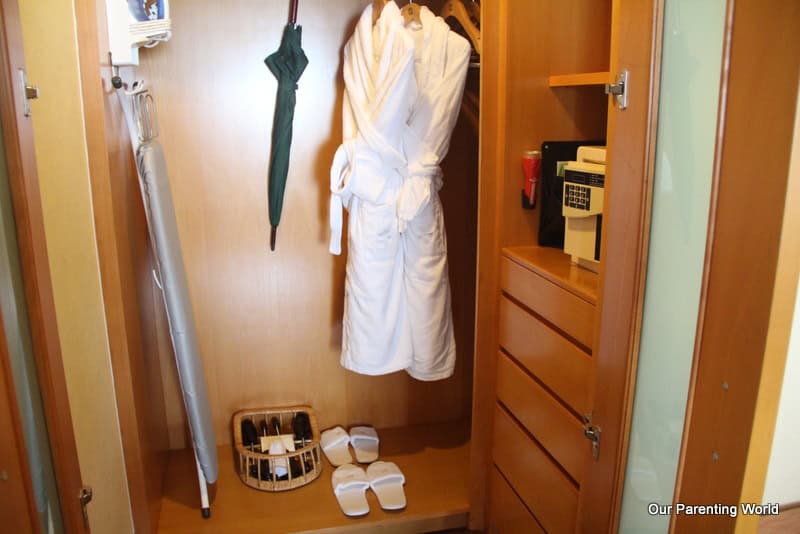 There is even a private dressing area with seating and generous wardrobe space to put our clothes and luggage. If you have valuables, there is a safe deposit box for you to put your precious items.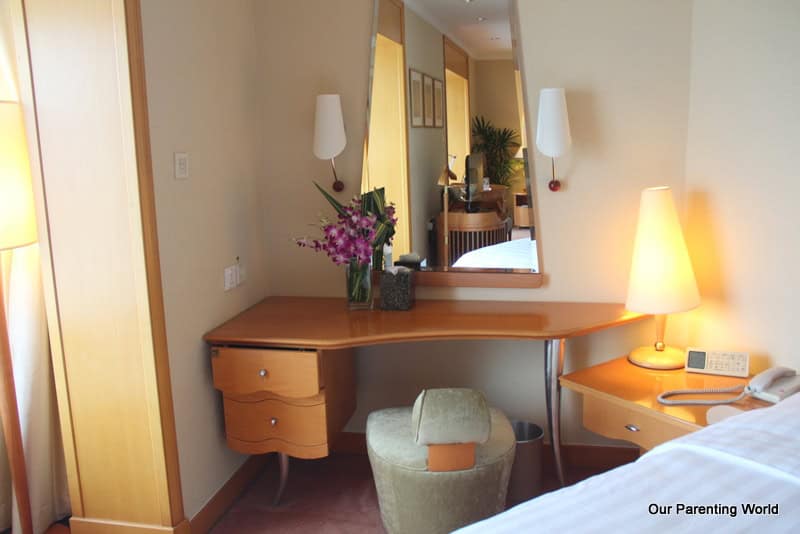 There is a nice dressing table for Mummy to use.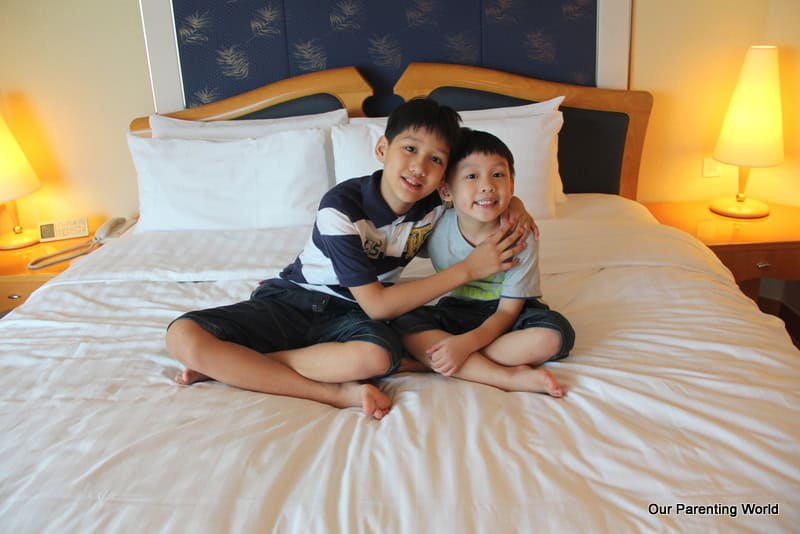 We love our room so much that we can stay in the room the whole day! It is so comfortable!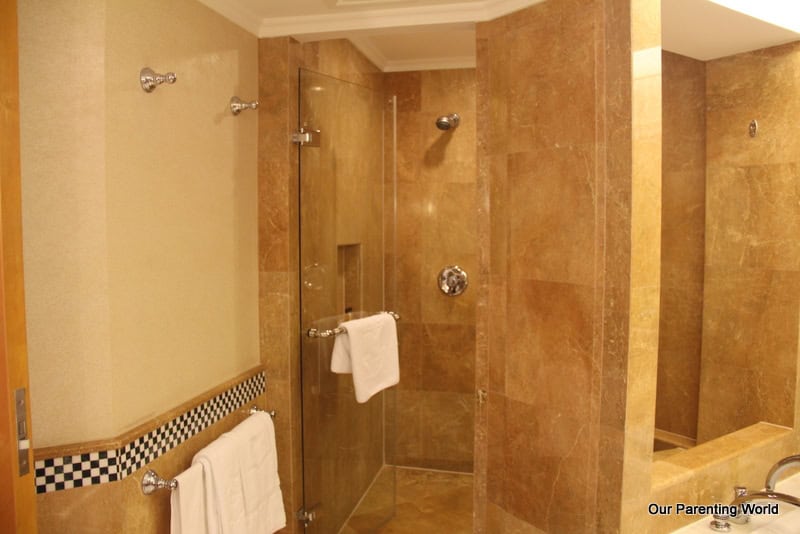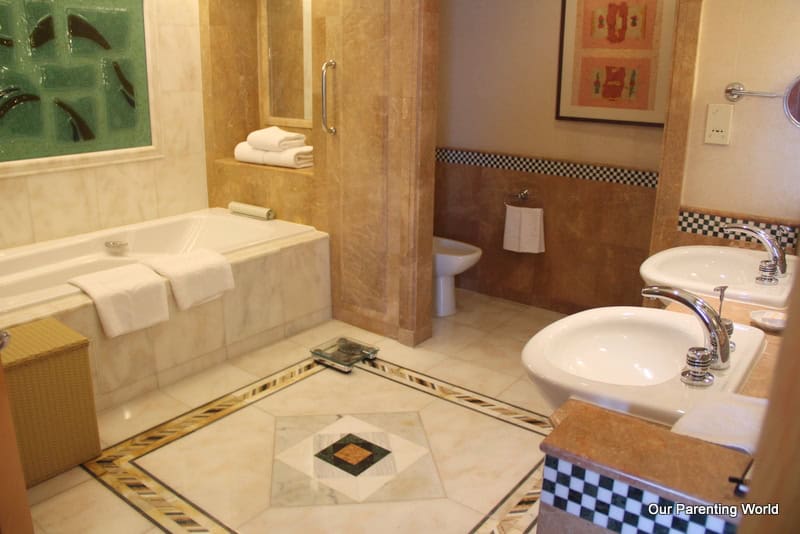 Horizon Club Grand Premier Room comes with a spacious luxurious marbled bathroom. It has a large bathtub and also a separate glass-enclosed shower.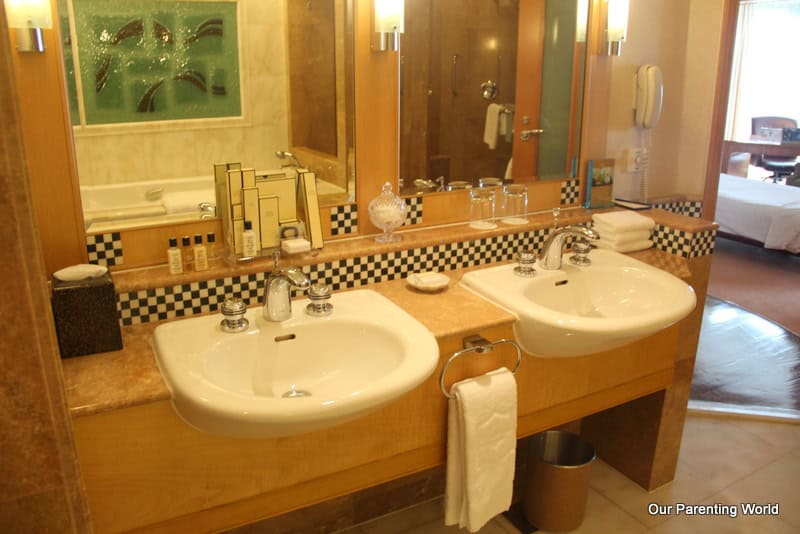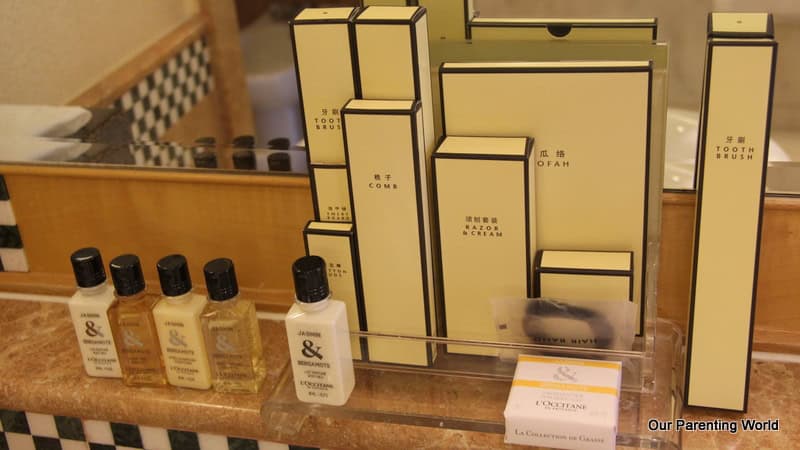 The bathroom is stocked with L'Occitane Jasmine bath toiletries and lots of soft and fresh towels. 
I am going to bathe now before I go to sleep.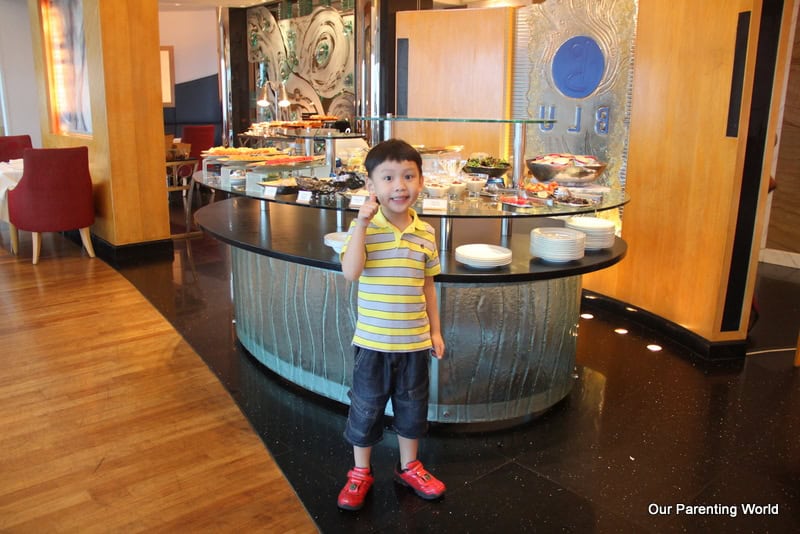 Rise and Shine! Good morning, the next day, we have breakfast at BLU. Daily breakfast at BLU is complimentary to The Horizon Club guests.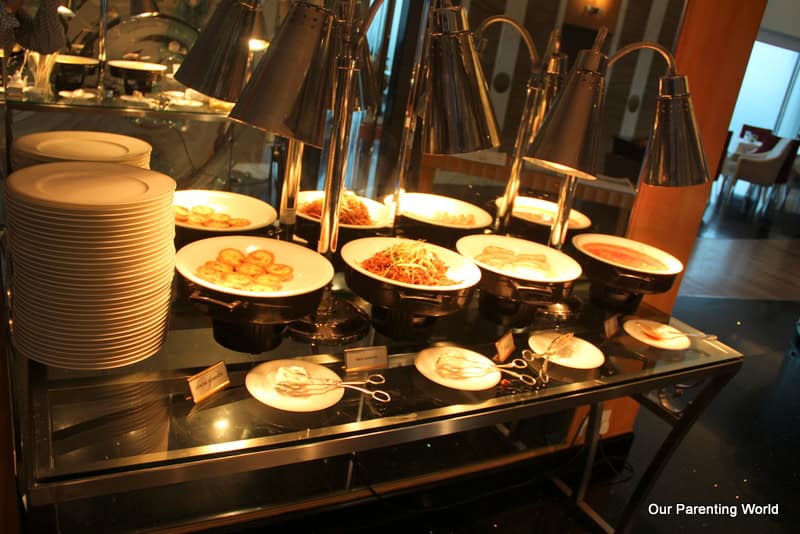 At BLU, diners will be pleased to know that it serves a wide variety of food from breads, pastries, cereals, salads, meats, noodles, sausages, yogurts, fresh fruits, juices and many more. Besides the buffet spread, you can also order a main course from the menu.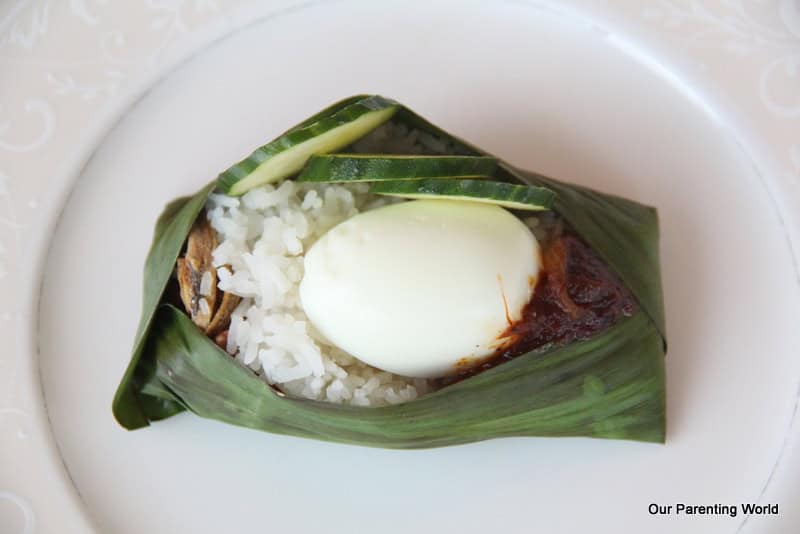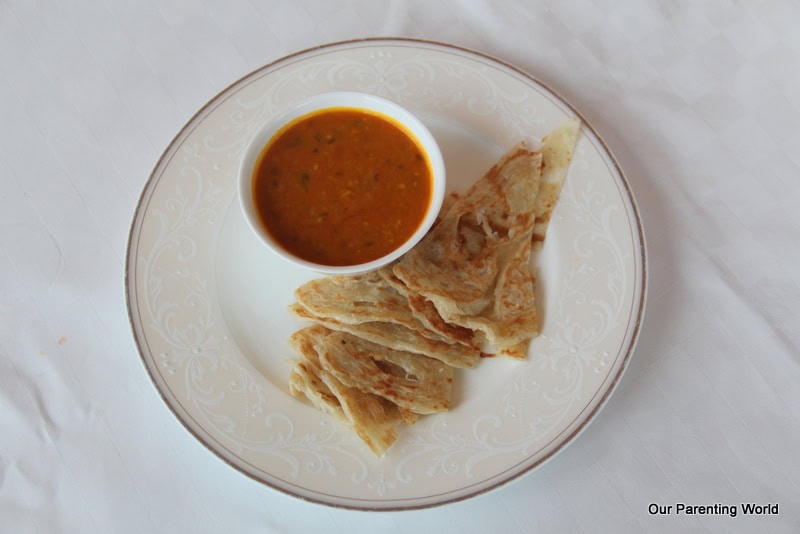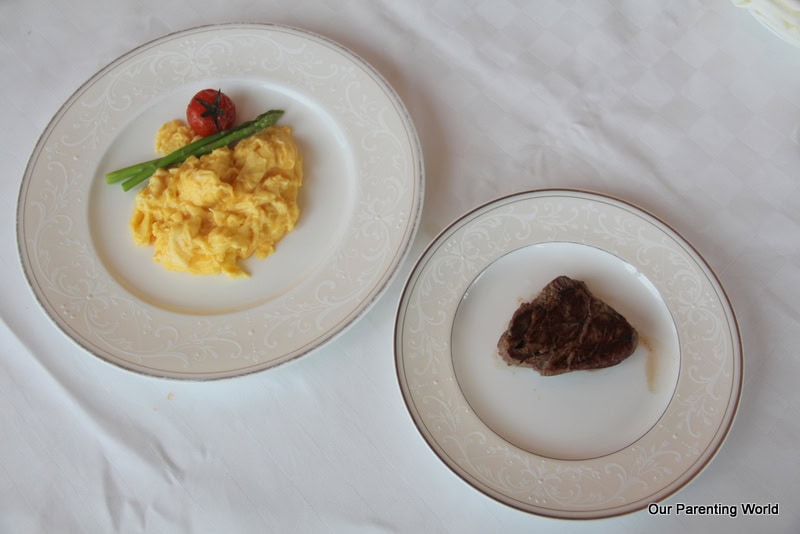 You can choose from localised dishes like nasi lemak, pratas to western dishes like steak, omelettes, waffles, pancakes and many more.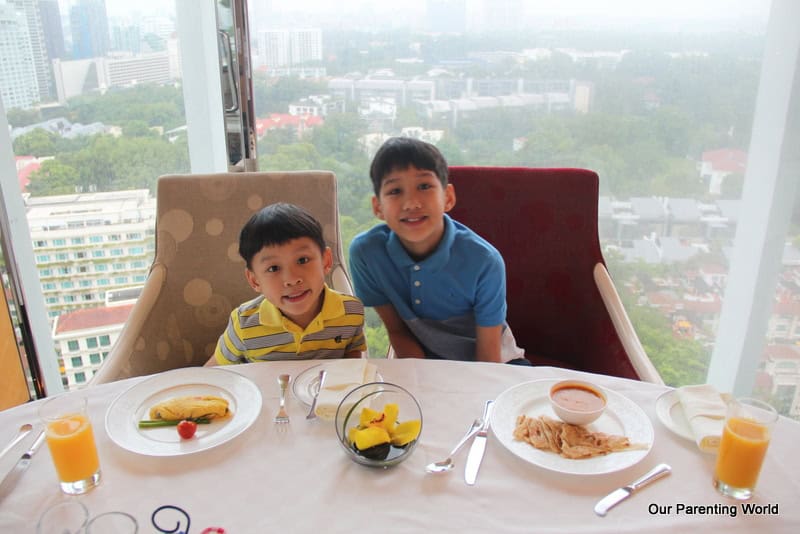 We enjoyed our delicious and hearty breakfast and the view at BLU is fabulous! Now we have the energy to kick-start our day!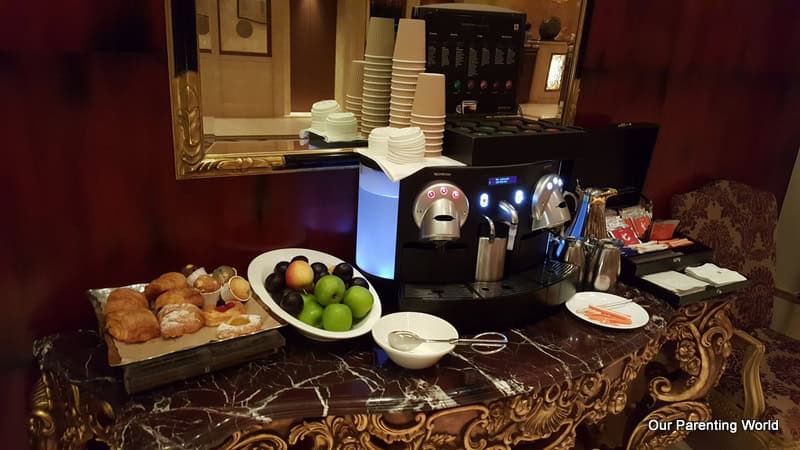 Shangri-La Hotel is very thoughtful with lovely touches like a small breakfast spread at the lobby for busy travellers and guests to have a quick bite and or takeaway.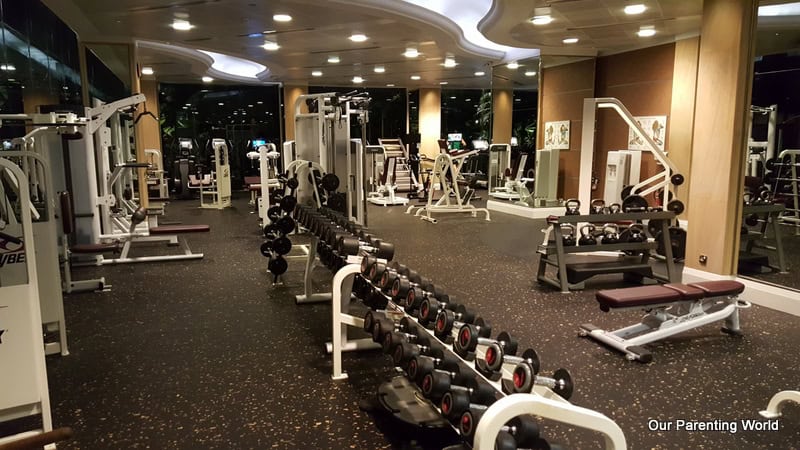 Eat too much or you prefer to sweat it out, head out to The Health Club at the hotel. It offers a wide range of fully equipped fitness facilities and a state-of-the-art gymnasium. There is a male and female changing rooms that come with a sauna, steam room, Jacuzzi and relaxation areas for all hotel guests and members.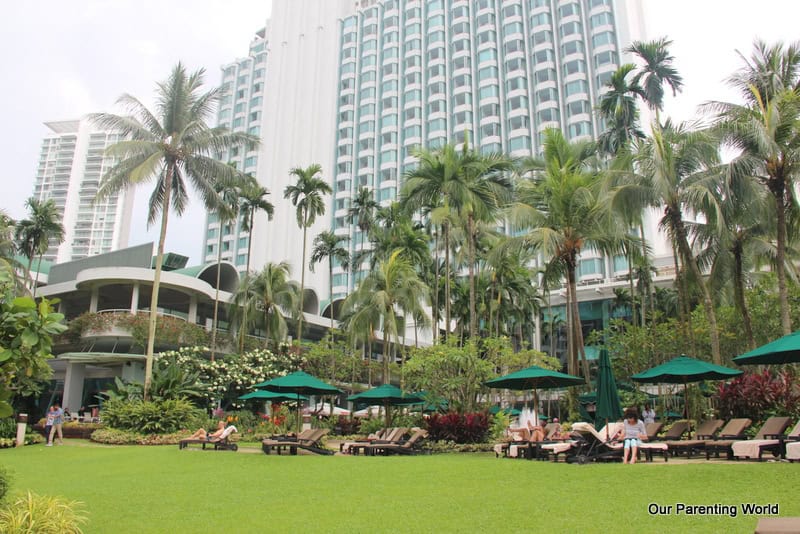 Shangri-La Hotel is set amidst 15 acres of lush greenery where you can relax and admire the acres of wonderfully landscaped gardens. Take a stroll through the gardens and chill-out at the poolside.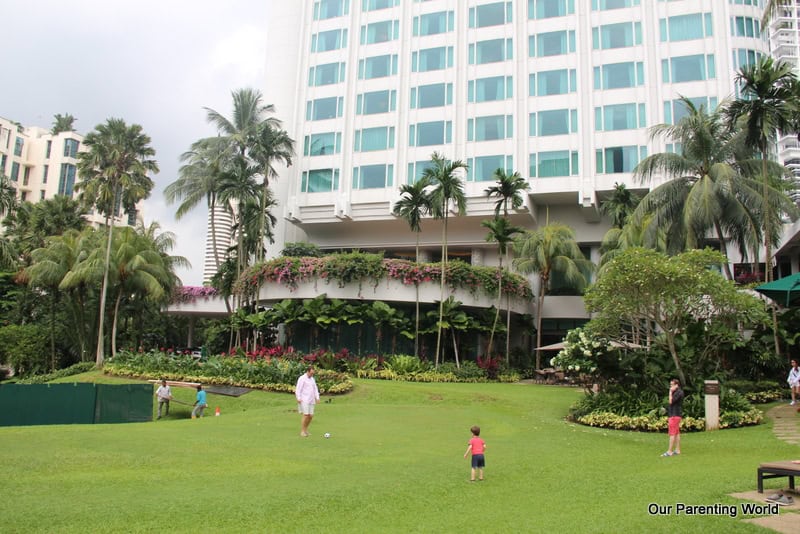 Families are seen playing football and the kids even spotted squirrels amidst the beautiful gardens.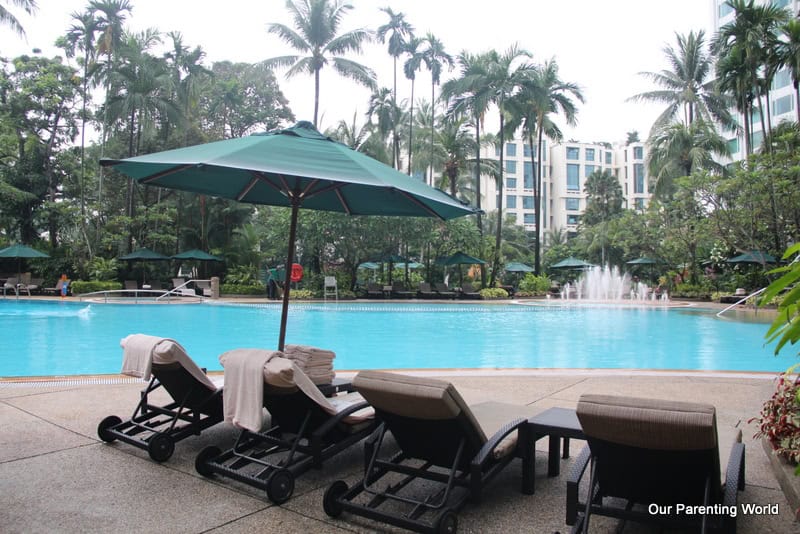 A must-visit is the outdoor pool that is surrounded by lush tropical landscaping at Shangri-La Hotel. This is the jewel of its garden resort. 
The pool area consists of a Jacuzzi, a children's play pool and graceful fountains.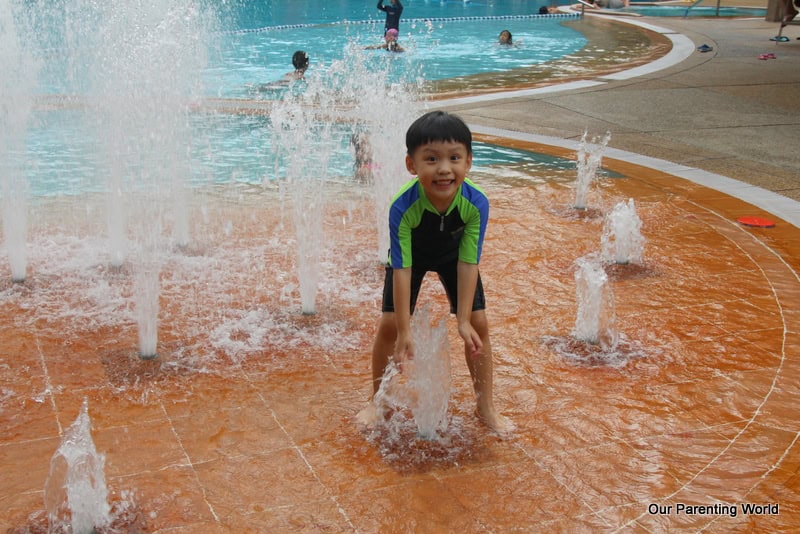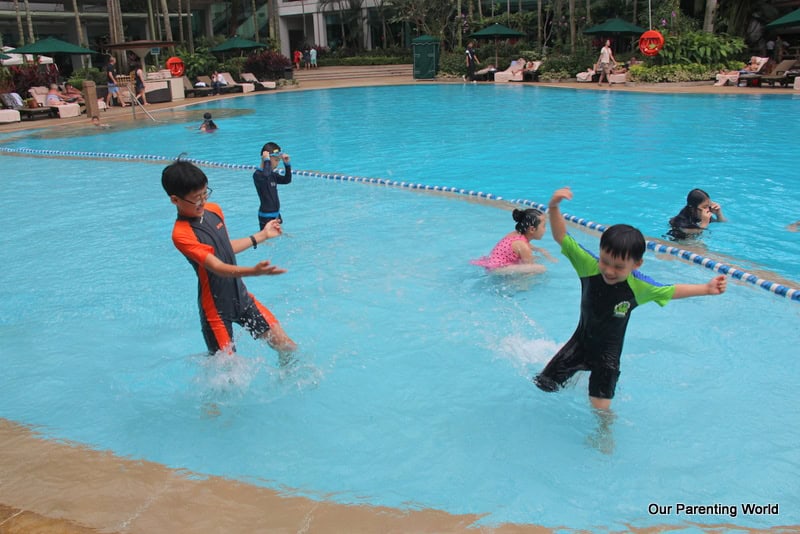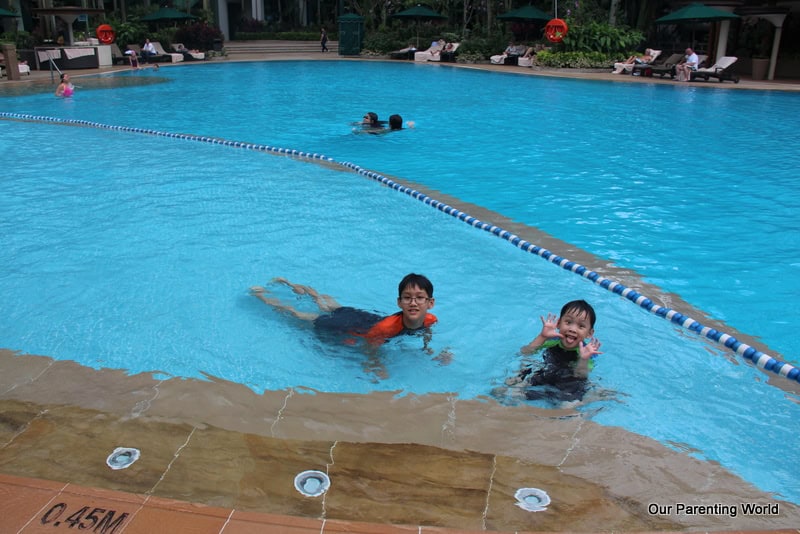 The boys have so much fun and they spend many happy moments playing and swimming at the pool.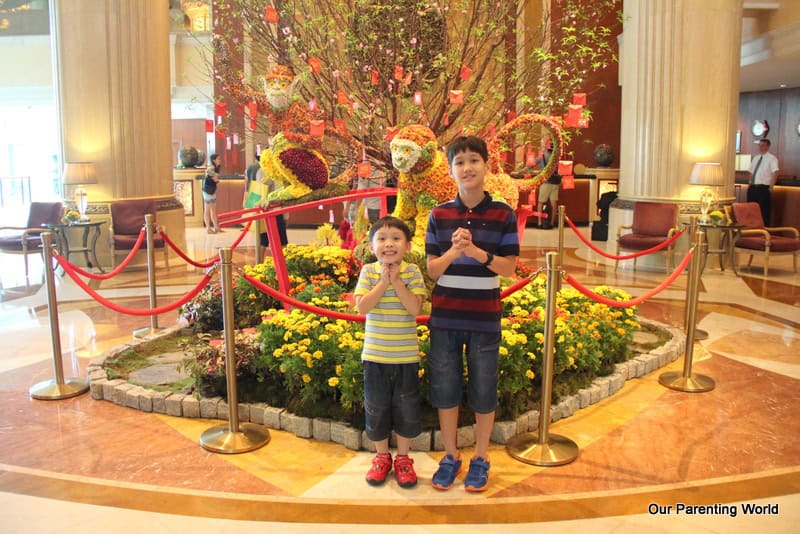 We have an enjoyable stay at Shangri-La Hotel. Thank you to the wonderful team at Shangri-La Hotel for extending the invitation to us, the warm hospitality and impeccable services! Here we would like to wish everyone a very Happy, Healthy and Prosperous Chinese New Year!
Shangri-La Hotel is consistently voted as one of the best hotels in the world. If you are looking for staycation in Singapore, Shangri-La Hotel Family Stays for Free staycation at the Tower Wing's Horizon Grand Premier Room, one of the largest club level rooms in the city at 72 square metres is certainly a perfect place for families to have an enjoyable and quality bonding time together.
What's more, this is value for money as your family get to stay for free and enjoy all the complimentary services including access to The Horizon Club where you can enjoy complimentary breakfast, afternoon tea, evening cocktails and canapes at the lounge. You can enjoy extra beds upon request and access to one of the largest ground level swimming pool facilities in Singapore with water play features for children. Save up to $150 with complimentary add-ons including a roll-away bed and breakfast for everyone. 
Privileges include:
· Complimentary breakfast for the family (up to one additional adult and two children under the age of 12 years old) at The Line offering an extensive variety of choice with 16 live theatre kitchens
· Late check-out at 6:00pm
· Complimentary extra bed upon request
· Complimentary welcome amenities for children under the age of 12.
· Access to expansive outdoor swimming pool and round-the-clock Health Club facilities
· Complimentary Wi-Fi and broadband Internet access
· Complimentary hourly guest shuttle bus to Orchard Road precinct
· Complimentary parking

Terms and Conditions
1. This offer is available for bookings made before 31 March 2016 for stays on Fridays and Saturdays before 29 May 2016 (excluding 16 to 18 February 2016).
2. Prior reservation is required and subject to availability.
3. Not valid in conjunction with other offers or promotions.
4. Price is subject to 10% service charge and government taxes, including GST.
Additional Information: 
Shangri-La Hotel Singapore
Address:  22 Orange Grove Road, Singapore 258350
Tel:  (65) 6737 3644
Fax:  (65) 6737 3257
Email:  [email protected]
Please click HERE to find out more about Shangri-La Hotel Singapore.