Goodnews! The beautiful Gardens by the Bay and Far East Organization have launched the Far East Organization Children's Garden. One more good reason to visit Singapore's well-loved Gardens by the Bay!
Our Parenting World, Gor Gor attended the launch of Far East Organization Children's Garden and he was so excited to explore this new place.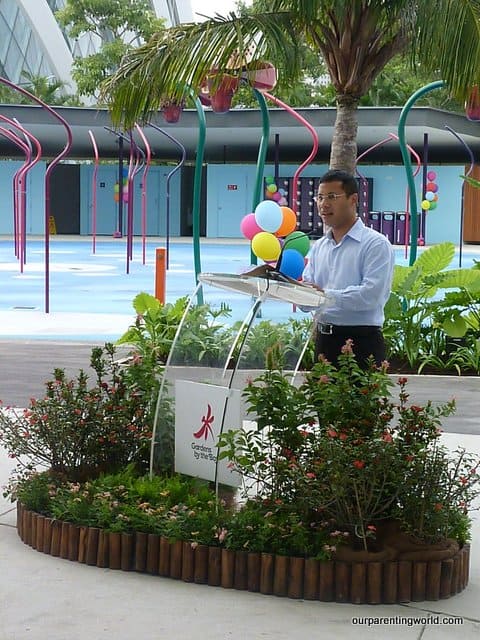 Minister of State for National Development, Mr Desmond Lee, is the Guest-of-Honour who graced and spoke at the official launch of Children's Garden.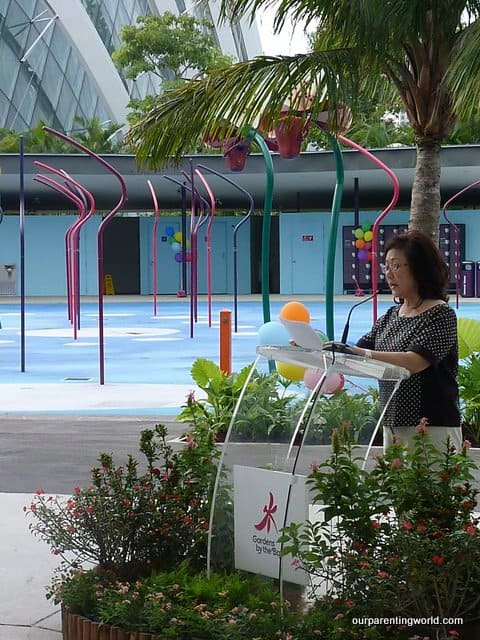 Executive Director of Far East Organization Mrs Dorothy Chan also spoke at the official launch of the Far East Organization Children's Garden.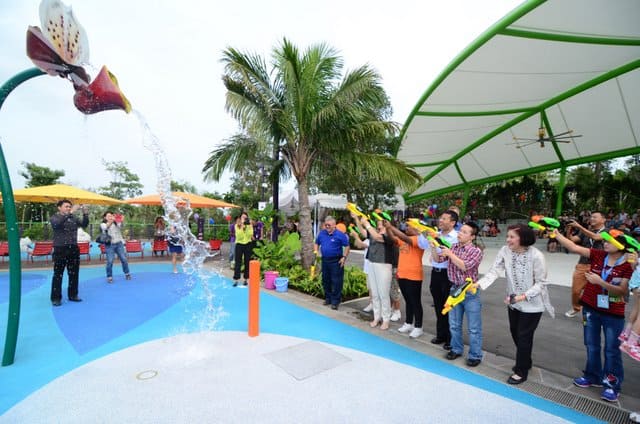 Chief Executive Officer of Gardens by the Bay Dr Kiat W. Tan, Minister of State Desmond Lee and Executive Director of Far East Organization Mrs Dorothy Chan preparing the launch of the Far East Organization Children's Garden.
The excitement began with a tour of the newly launched Children's Garden and let Gor Gor shown you around.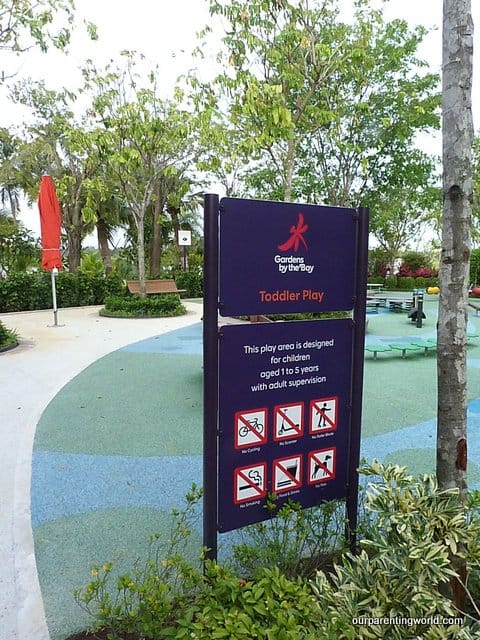 Toddler Play is suitable for children age 1 to 5 years old and there is a nearby cafeteria for families to take a bite, relax and watch their children having fun at the venue. 
Toddler Play Zone has fun equipment like a sway bridge and stepping springs. It helps to develop toddler's motor skills and keep the kids entertained.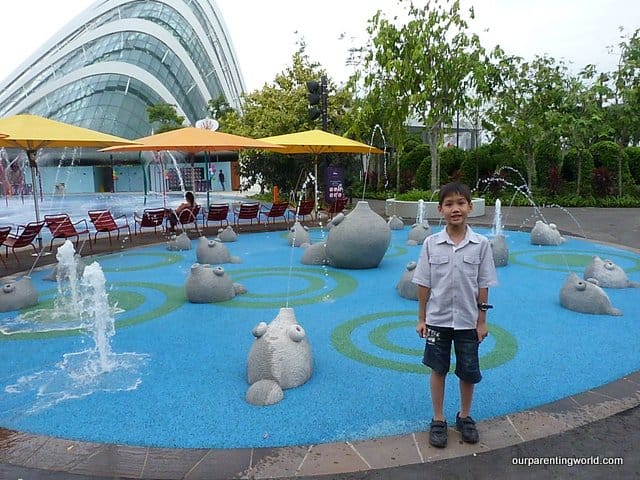 It also comprised of Fish Fountain featuring an interactive landscape of water tunnels and fish sculptures. Toddlers can climb on the sculpted backs of the fishes and having fun playing with a series of water jets. 
Water Play area is suitable for children 6 to 12 years old. 

Children will love this centrepiece water play which is programmable. The water play is linked to sensors that will detect the movement of children to create a corresponding sequence of water effects. Look at how much fun the kids have playing at the water play!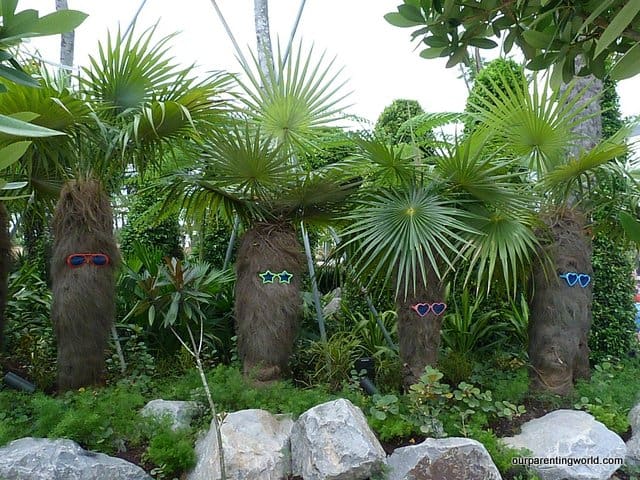 Children will like the lovable decorations at the Gardens.
The Rainforest Tree Houses is suitable for 6 to 12 years old. Kids will enjoy this place where they can explore and bring their jungle adventure to real. It is located within a dense canopy of trees, the two tree houses reach heights of 4 metres and 7.5 metres respectively, spanning a 130 metre-long forest trail. That is not all, there are more play equipment coming up.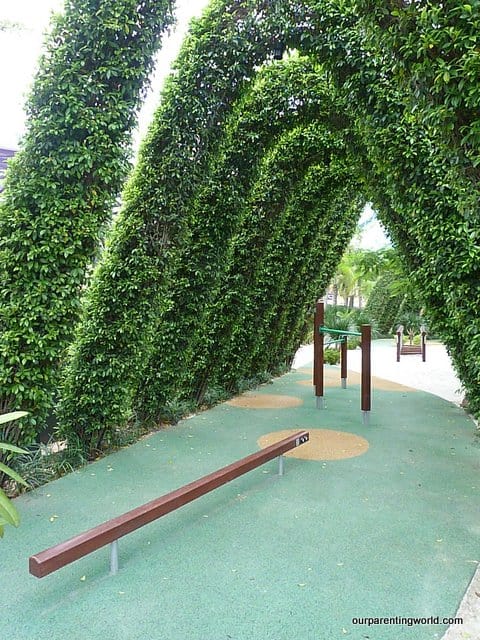 Wow, so many different types of play equipment for the kids to explore!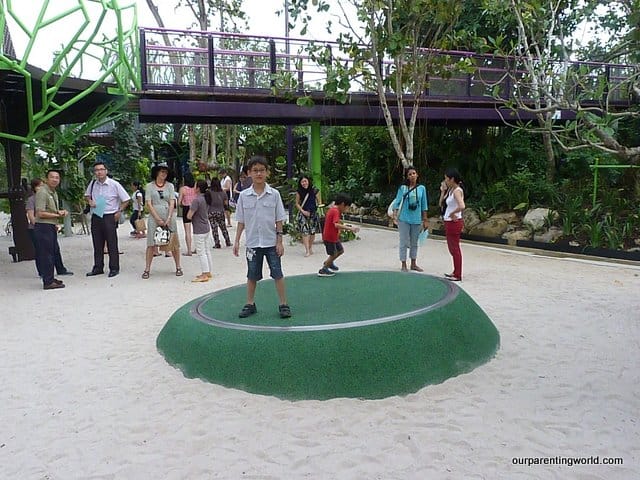 Gor Gor on the spinner bowl.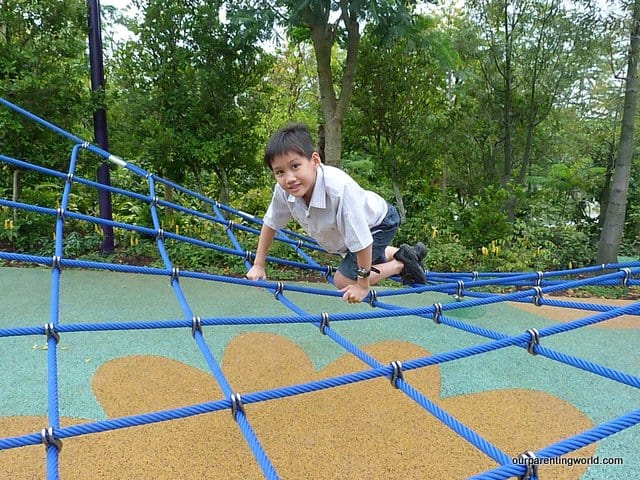 One of Gor Gor's favourites climbing the spider net.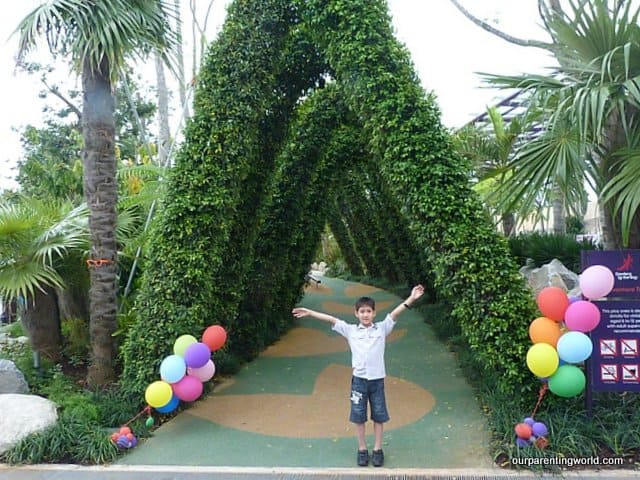 Our Parenting World and Gor Gor would like to thank the kind and lovely organisers and Gardens by the Bay for inviting us. We love the new Children's Garden and are very happy to have one more new place to visit in Singapore that is suitable for families to spend quality family time and having fun at the same time in a state of the art garden.
Additional information:
The 1-hectare play area located along the waterfront of Bay South Garden and is adjacent to the Cloud Forest conservatory. The play area is open to the public for free! 
Please remember to bring along your swimwear to enjoy the water play features. The playground is designed to enhance your child's physical and cognitive through sensory playtime elements. Come and enjoy the play area and have lots of fun!
Operating hours : 9:00 AM – 9:00 PM daily
Closed for maintenance every Monday, or the next working day if a public holiday falls on the Monday of that week.
Please click HERE for more information.