Flowers are often used as language of love to give to your special someone. Majority of the women love receiving flowers. Choosing the right florist and bouquet are important to ensure that the flowers will arrive fresh in good condition and on time to touch and impress your recipient. FARM Florist is set up by a group of experienced florists, each of them have been in this industry for 20 years. They have decided to come together to form a team that would change how flowers were to be sold in Singapore forever. FARM Florist allows customers to make an order within 5 minutes and have their flowers delivered fresh and expertly curated on the same day within 60 minutes at affordable price.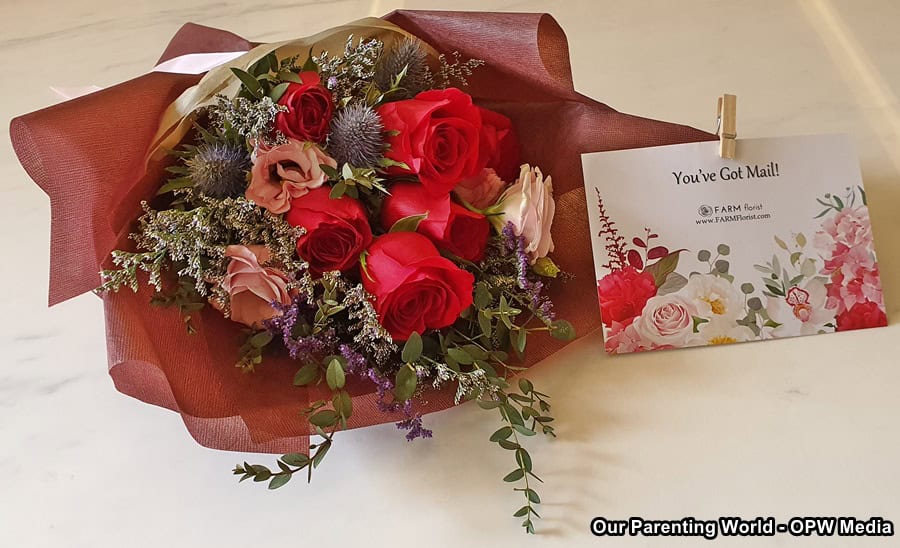 Thanks to the wonderful team at FARM Florist, we received a Surprise Bouquet from them! This beautiful, lovely bouquet of flowers are specially crafted and designed based on their florists' inspiration that meant to give your special someone a pleasant surprise when she received the flowers. It comes with a complimentary personalised printed card message.
Look at this impressive bouquet filled with gorgeous, bright red roses and lovely assorted fresh flowers. Receiving this Surprise Bouquet brightens up our day and we simply love it!
The Surprise bouquet is perfect for the clueless sender if you do not know what bouquet to choose, you can leave it to the expert hands of FARM Florist. This a freestyle bouquet designed and created by their florists using fresh flowers available for the day. The price ranges from $25 –$101, comes with free delivery and a complimentary printed card message. To find out more and to order, please visit https://farmflorist.com/product/surprise-bouquet/
Enjoy 10% off your next purchase:
In addition, use the Code 'LOVE10' to enjoy 10% off your next purchase.
Mother's Day is coming, why not gift your mother a beautiful bouquet of flowers from FARM Florist to show your love and appreciation to her! 
FARM Florist has flowers suitable for every occasion. To find out more, to order and view FARM Florist's extensive collection, please visit its website at https://farmflorist.com/