Farm Fresh, a subsidiary of The Holstein Milk Company Sdn Bhd was founded by entrepreneur Mr Loi Tuan Ee has grown to become the market leader in all-natural and fresh dairy products in Malaysia. Read our interview with Mr Loi Tuan Ee to find out more about Farm Fresh, his entrepreneurial journey, benefits of Farm Fresh milk and how Singaporeans can get the freshest milk possible from Farm Fresh. 
1. How did Farm Fresh grow to become Malaysia's No.1 fresh milk brand today?
Having been raised in a small town in Perak, I always had a deep respect and love for agriculture and Mother Nature and decided to set up Farm Fresh in 2007 with the intention to produce fresh and pure dairy.
The early years were difficult, we had to work tirelessly through trial and error to obtain the right cattle breed for Malaysia's tropical climate and build the most conducive environment for our 'ladies' to thrive and produce fresh, nutritious and tasty milk.
In just a decade since our establishment, our herd has grown from 60 cows to over 6,000 cows. Today, we are Malaysia's best-selling fresh milk brand and are loved by Malaysians for its local origins with five farms in Malaysia and one in Australia, as well as two world-class, purpose-built processing facilities in Malaysia and another facility in Australia.
2. How does Farm Fresh offer Singaporeans the freshest milk possible?
Our fresh milk is produced without any preservatives, colourings and stabilisers as well as bottled within 48 hours of milking. They are delivered to Singapore daily as freshly as possible from our farms in Johor (Kota Tinggi and Desaru), resulting in a taste that is 100% natural – just as nature intended.
3. The Farm Fresh Difference – what makes Farm Fresh milk unique?
We pay extra attention to the well-being of our herd to keep them healthy and happy – we believe that happy cows produce the tastiest milk. Besides feeding them a natural wholesome diet with our farm grown grass, we give our cows a brush spa and even pamper them with the occasional pedicure! We also play slow music to help them relax in some farms.
At Farm Fresh, we use all-natural processes to ensure the highest quality range of milks that are 100% natural, delicious and affordable. We believe that fresh milk is a blessing from nature, that is why we work so hard to keep the integrity as best as we can – none of our products contain any preservatives and colourings. At Farm Fresh, our core value is to make fresh milk as pure and natural as it can be.
4. Milk is a staple drink for many young children to get essential nutrients. What dairy products does Farm Fresh offer that are suitable for kids and what are the benefits?
Besides fresh milk which is a great alternative to formula milk, our chocolate and kurma milk are delicious and chock full of essential nutrients for kids to grow up strong and healthy. Packed with calcium and other important nutrients like potassium, vitamins and phosphorus, our fresh and flavoured milks help to support bone health and improves the immune system of a growing child, amongst many other benefits.
Enjoy our fresh and flavoured milks as a healthy beverage on its own, or as a complement to breakfast cereals and cooking/baking recipes.
5. What are the advantages of fresh milk as compared to formula milk?
There are many benefits of opting fresh milk for young children. Advantages includes:
• Easily digestible: Fresh milk contains more vitamins and minerals including whey proteins, making it easier to digest compared to formula milk and helps to reduce constipation
• No hidden sugars: Many ingredients contained within formula milk are in fact forms of sugar whereas fresh milk is a healthier choice that is all-natural with no added preservatives, colourings and stabilisers
• Affordable: Fresh milk is a more cost-effective choice and less than a quarter of the average cost of formula milk
• Tasty: Fresh milk has a superior flavour and contains more natural bioactive components, as some of the taste and nutrients are lost during the dehydration process of powdered milk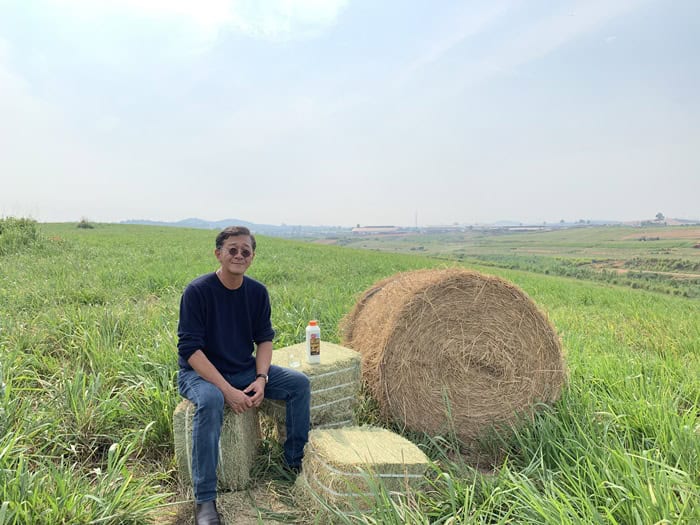 All images credit to Mr Loi Tuan Ee
6. Besides fresh milk, Farm Fresh offers a range of yogurt products. What are the USPs of Farm Fresh's yogurt range and their health benefits?
Our yogurt range is made using only the freshest milk with no preservatives and colourings added, and freshly packed at our plant in Johor. We offer a variety of yogurt drinks, natural and flavoured yogurts and Greek yogurts that boasts a probiotic count of over 50 billion.
Probiotics promote a healthy balance of gut bacteria amongst many other health benefits. Consuming probiotics promote healthy gut and improve bowel movements, along with helping to boost our immune system. Probiotics are also good for skin conditions such as eczema.
7. What is the preference for milk / dairy products by consumers dependent on?
Consumers are always on the lookout for not just delicious, but milk and dairy products that are all-natural, nutritious and affordable. At Farm Fresh, this is what we aim to provide – 100% pure fresh milk and dairy products with no added preservatives and colourings, delivered to retail outlets as freshly as possible.
8. What are the top three best-selling products in Singapore? Any new products that will be launched in Singapore soon?
Our fresh milk, fresh chocolate milk and yogurt drinks are the best-selling products in Singapore.
We have upcoming plans to introduce Henry Jones A2 Protein Organic Fresh Milk as well as a range of plant-based milks such as oat milk to cater to the global trend of alternative/non-dairy milks.
9. How has the current pandemic helped or affected Farm Fresh's business?
The pandemic has forced many of us to stay indoors and spend more time at home. While sales from cafes and restaurants have declined, we saw a strong growth in home consumption as consumers are purchasing groceries more often and leaning towards eating healthier foods during this period. Our year-over-year growth has shown an increase in 60% and we expect to continue to see a strong growth with our highly pandemic resilient business model.
10. Does Farm Fresh adopt sustainable farming practices? What are some of these methods?
Producing fresh and healthy dairy was our founding and core mission as a company. As we grow our business, we also see to it that our dairy is produced in a sustainable manner and have a positive impact for Mother Earth. Some of our sustainable farming practices include:
• Recycling solid and liquid waste
o Animal waste is a crucial source of nutrients for enhanced crop production and improved soil quality. Animal waste is treated and recycled as organic fertiliser to nourish our soil and irrigate our pastures to grow organic grass that becomes nutritious dairy feed
o This also helps us to lower our carbon footprint and reduce our reliance on chemical fertilisers
• Harvesting rainwater
o We have invested in new technologies that allow us to access rainwater and groundwater, while continuing to develop our pasture irrigation systems to ensure that this water is recycled and distributed to crops effectively within our farms
o Our rainwater harvesting systems also allow us to use the collected water for barn washing and flushing, thus reducing the use of municipal water
• Moving towards renewable energy
o Our future plan includes investing into building our first Biogas plant to transform animal waste into a vital source of power and renewable energy
o This will be complemented with a commercial-grade solar farm that will be a cost-friendly and environmentally-friendly means of meeting our power needs that leverages on the clean power of the sun instead of fossil fuels
11. Any exciting expansion plans in the pipeline?
We will continue to focus growing our business in Singapore and bring Singaporeans the freshest milk and dairy products possible. As always, Farm Fresh prioritises bringing its consumers healthy and nutritious products. We are currently working on creating a new nutritious milk product for children that is set to launch next year.
Farm Fresh products are available at all leading supermarkets in Singapore and online via Amazon and Redmart. Find out more about Farm Fresh at https://www.farmfresh.com.my/
Read our earlier article on Farm Fresh at https://ourparentingworld.com/from-farm-to-you-taste-share-the-freshness-that-farm-freshs-milk-has-to-offer/.