Farmers and Chefs is a brand-new casual restaurant that was recently opened in mid-July 2019. The cosy restaurant serves deliciously fresh and wholesome meals for the family at affordable prices. It places great emphasis on preparing a thoughtfully-created menu using the freshest ingredients and there is also a strictly no deep-frying rule. The menu features hearty breakfast eats, wholesome mains, satisfying lunch bowls and pasta dishes that are made from scratch and with lots of love without using flavour enhancers and artificial colouring so that the whole family can enjoy a healthy and delightful meal together with a peace of mind. It has a retail area where diners can purchase the one-of-a-kind wood and clay pieces consisting of ramekins, unique ornaments to an entire dining table, all its wooden pieces are made from specially treated chamcha wood from Thailand. The cafe uses only stainless-steel cups and cutlery and its plates and bowls are made with biodegradable rice husk. 
Highlights of some of the fabulous dishes at Farmers and Chefs as follows: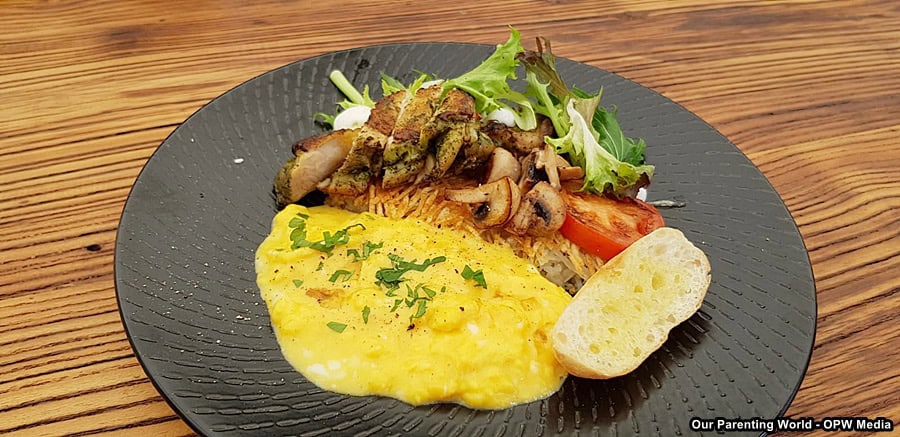 The Farmer's Breakfast ($10)
Breakfast is the most important meal of the day to give you the energy to jump-start your day. The Farmer's Breakfast is a sumptuous all in one meal consisting of tender sous vide herbed boneless chicken thigh slices with creamy scrambled eggs topped with clarified butter and sides consisting of sautéed button mushrooms, mixed greens tossed in a tangy house vinaigrette, grilled Roma tomatoes and crisp Rösti with a dollop of Farmer's Soy Mayonnaise™ and warm ciabatta served with Irish butter. This is one good breakfast meal to indulge in before you start the day.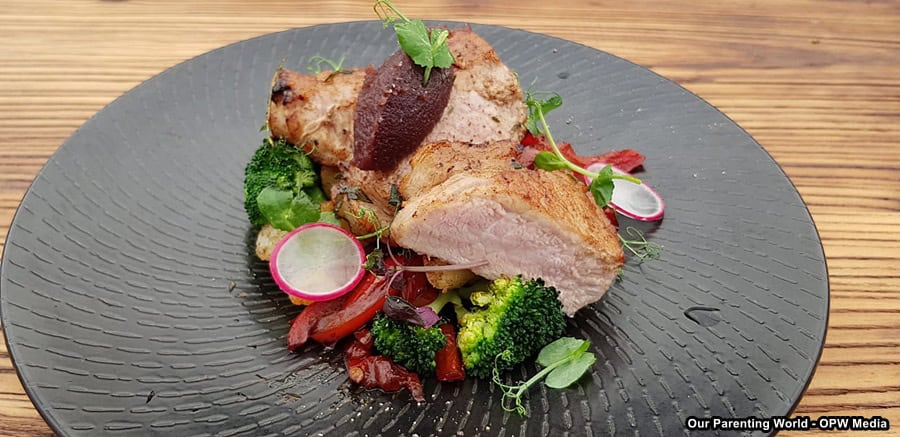 Kurobuta Pork Loin ($18)
Farmers and Chefs serves Wholesome Mains like Kurobuta Pork Loin which is highly recommended. If you are a meat lover, you will enjoy this marvellously pan-seared Kurobuta pork loin that is served with a house-made red wine apple compote. The Kurobuta pork meat is much more tender and superior to other types of pork. The meat is very flavourful and comes with sautéed potatoes, broccoli, soy sauce onion, and sweet-and-sour capsicum.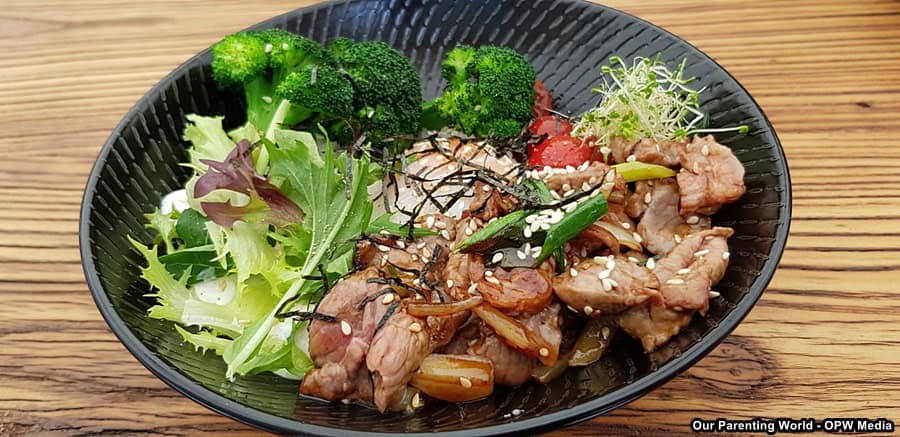 Yakiniku Beef Rice Bowl ($14) 
Lunch-goers visiting Farmers and Chefs can look forward to try out the must-have Lunch Bowls that are available from 12pm to 2pm daily. There are six satisfying proteins to choose from and each bowl is affordably priced from $10 to $14 which is great for busy professional looking for a fast and wholesome meal. We tried out the Yakiniku Beef Rice Bowl that comes with succulent slices of stir-fried striploin coated in a home-made yakiniku sauce on a bed of fluffy rice, broccoli, grilled cherry tomatoes. What's more, it is topped up with a perfectly cooked onsen egg. Simply heavenly! 
Other rice bowl options include Teriyaki Chicken ($10),  Yakiniku Pork ($11), Sour n Spicy Chicken ($10), Pan Seared Salmon with Special House Sauce ($12), and Kurobuta Pork ($13). 
Pasta Dishes  
Aglio Olio Pasta with Sautéed Prawns ($13)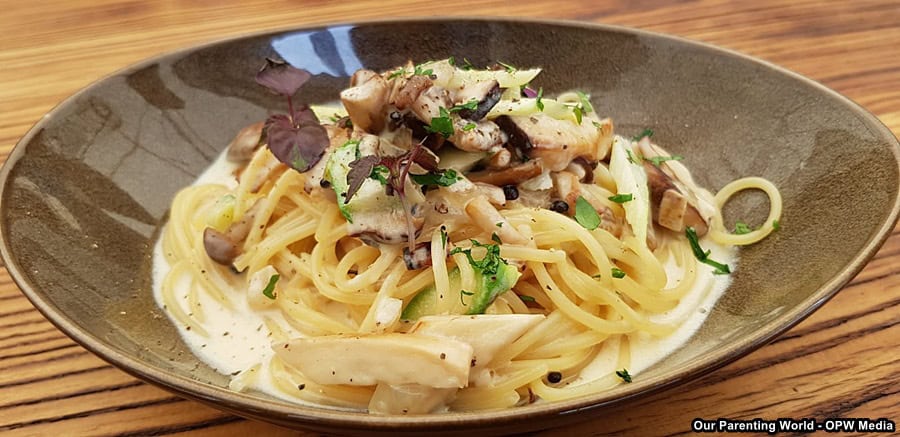 Truffle Mushroom Cream with Asparagus Pasta ($14)
If you love pasta, Farmers and Chefs is the place for you to try out its pasta dishes. The pasta dishes features al dente spaghetti tossed with two different types of chilli; dried and bird's eye, for a spicy kick. If you can't take spicy, you can select the non-spicy version and or for the children who can't take spicy food. We had Aglio Olio Pasta with Sautéed Prawns, the pasta is so springy and chewy and wonderfully cooked with fresh prawns. The other pasta dish that we tried is the ever-popular Truffle Mushroom Cream with Asparagus, we enjoyed the creamy texture of the pasta that has a rich flavour from the truffle.
Homemade Beverages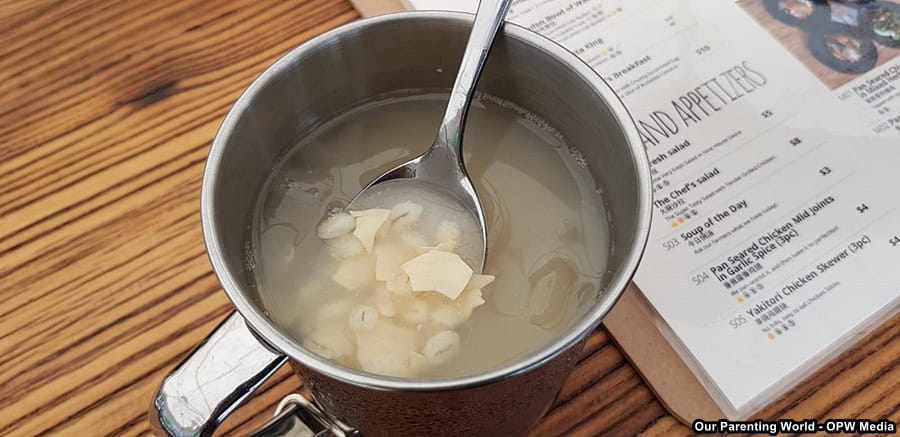 Chill out and cool down especially on a hot day with its refreshing homemade drinks that are served in a retro stainlesssteel cup. The homemade drinks are Chrysanthemum ($2) and Homemade Barley ($2) that is sweetened with rock sugar and comes with pieces of delicate beancurd skin.
The Secret Children's Menu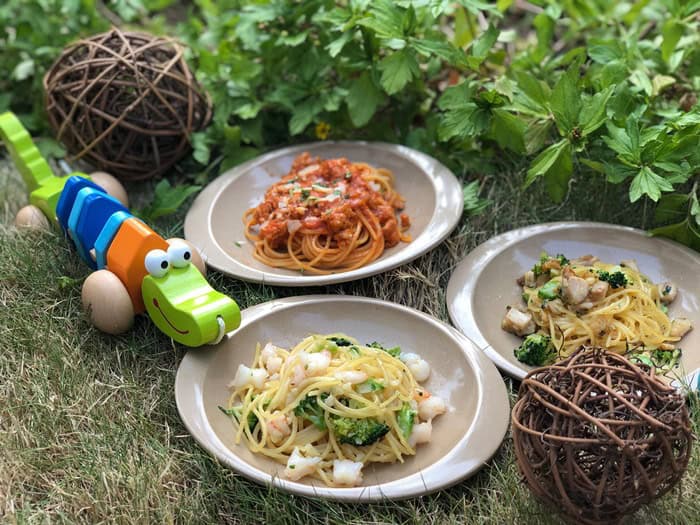 Image Credit to Farmers and Chefs
In addition, Farmers and Chefs, the family-friendly cafe places particular attention to well-planned children's meals and also cater to the little ones with special dietary needs.
The Secret Children's Menu, children can choose from the Little Breakfast menu that has a Mini Chicken Sandwich ($4) and Mini Prawn Sandwich ($5) made with egg- and dairy-free ciabatta. In particular the seafood sarnie features chopped avocado, house egg- and dairy-free mayonnaise and mashed potato.
The same pasta and main courses are available on the children's menu in kid-friendly sizes priced from $4 to $6. There is also a the Mix and Match (starting at $3) option for those who wish to customise their own dairy- or gluten-free meal.
Farmers and Chefs led the baby-led weaning (BLW) friendly; a movement that lets babies feed themselves solid foods from as early as six months onwards in a safe and supportive environment.
We enjoyed our meal at Farmers and Chefs! It is a comfortable and nicely decorated place with rustic wooden crafts and surrounded with greenery to bring your family to have a healthy, wholesome and delicious meal at pocket-friendly prices!
Additional Information: 
LeClare Preschool is located just next to Farmers and Chefs under the same management. LeClare Preschool was founded in 2014, targets children from two months to six years old, it adopts the Reggio Emilia approach to holistic learning. Its curriculum is centred on the premise that children can learn best through play, hands-on experiences in cooking, arts and crafts, language and music. To find out more about LeClare Preschool, please visit: http://leclare.edu.sg/
Farmers and Chefs
Address: 7 Shenton Way #01-04, Singapore Conference Hall Singapore
Telephone: (65) 6721 9398
Opening hour: 8am-8pm on weekdays, 9am-8pm on Saturdays and Closed on Sundays
To find out more, please visit its website at http://farmersandchefs.sg/