17 September 2013 marked the fascinating flowering of Amorphophallus 'John Tan' which is the first successful hybrid of the Corpse Flower (Amorphophallus titanum) at Gardens by the Bay.
We were very excited when we heard of this news! The hybrid is only on display in the "Cloud Forest" conservatory for a limited period of time.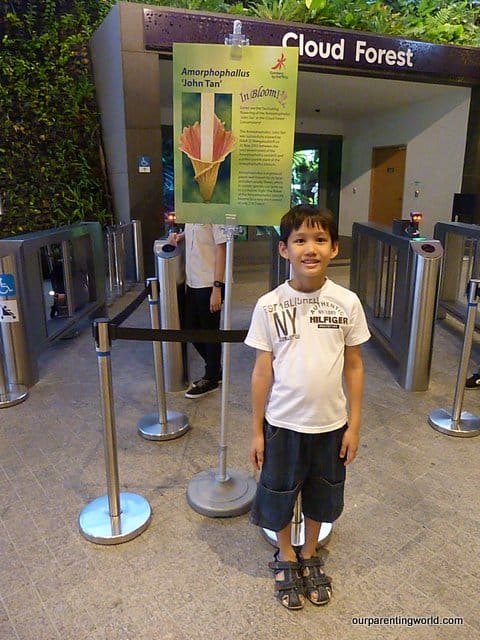 We were at the Cloud Forest conservatory and we can't wait to see this rare flower.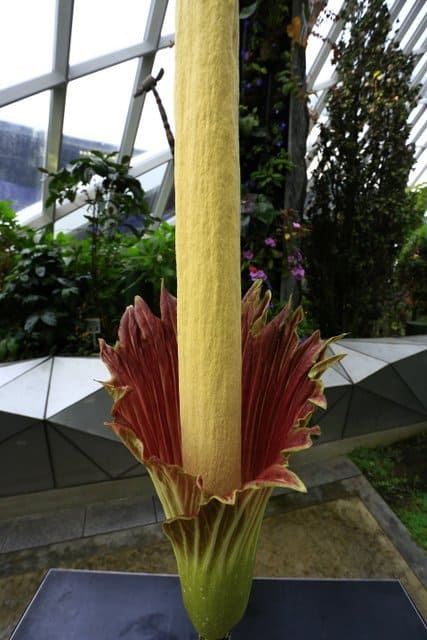 This is a picture of the flower blooming at its full glory during the day time.
The Amorphophallus, the hybrid is now at Gardens by the Bay. This is the first in Singapore, it measured 205 cm at time of flowering.
The hybrid is generously donated by Mr John Tan which is currently on display in the "Cloud Forest" cooled conservatory and its flower is estimated to last for about 2-3 days only.
More on the Amorphophallus:
· Amorphophallusis a genus of some 200 tropical and subtropical tuberous herbaceous plants from the Arum family (Araceae).
· The Amorphophallus 'John Tan' is a hybrid between the Amorphophallus titanum and the Amorphophallus variabilis. 
· The Amorphophallus titanum, also known as Corpse Flower, produces one of the largest flowers in the world that emits a foul smell similar to decaying meat. It originates from Sumatra, Indonesia. 
· The Amorphophallus variabilis, found in Indonesia and the Philippines, is reportedly a food source in Java. Its flower produces a durian-like smell to attract pollinators.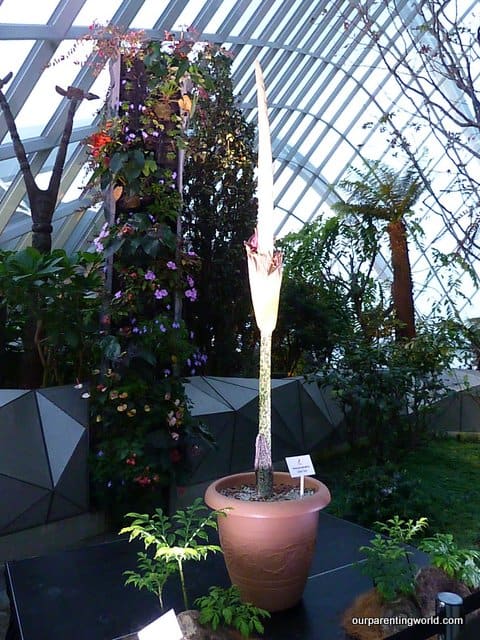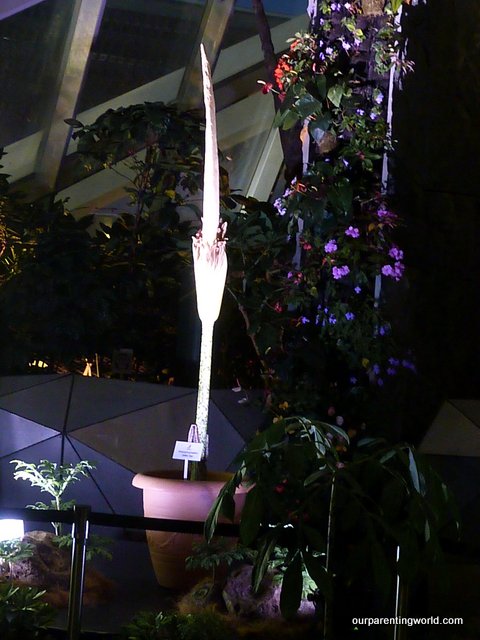 Look at the gorgeous Amorphophallus taken during the day and at night!
It looks so stunning and majestic with its height.
Our Parenting World would like to thank the kind and lovely organisers and Gardens by the Bay team for inviting us to witness this golden moment of the Amorphophallus.
Important information about Gardens by the Bay, Cloud Forest's operating hours as follows:
Opens 9:00 AM – 9:00 PM daily

Last ticket sale at 8:00 PM daily

Last admission at 8:30 PM daily
For more information, please click this link to visit its website.