Media Invite and Food Review: Feast on sumptuous Chinese New Year buffet at Plaza Brasserie at PARKROYAL on Beach Road  
Thinking of where to celebrate Chinese New Year? This coming Year of the Rooster, diners can look forward to celebrate the New Year at Plaza Brasserie, the all-day dining restaurant, which is well-known for its fusion of local, Asian and international flavours.
Our Parenting World team brings to you the highlights of the Chinese New Year dishes that will be served at Plaza Brasserie: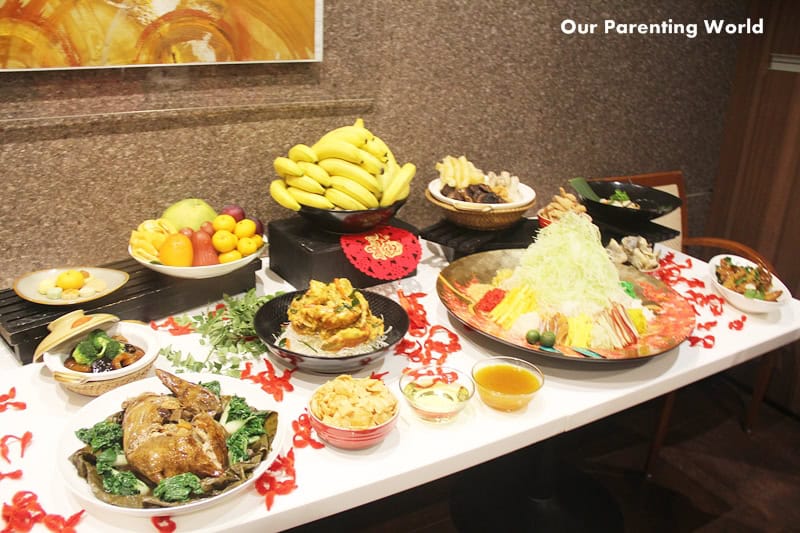 Diners will be delighted to know that Executive Chef Ken Ang who is renowned for his expertise in traditional roasting techniques that is unique to Cantonese cuisine will add on new dishes inspired by the Zodiac Horoscope of The Rooster from 16 January 2017 till 11 February 2017.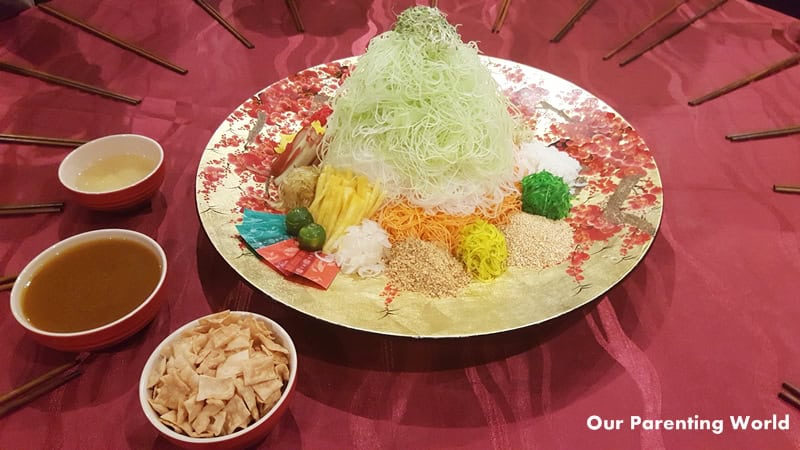 Prosperity Lo-Hei Yusheng with Deep-fried Salmon Skin & Deep-fried Chicken Skin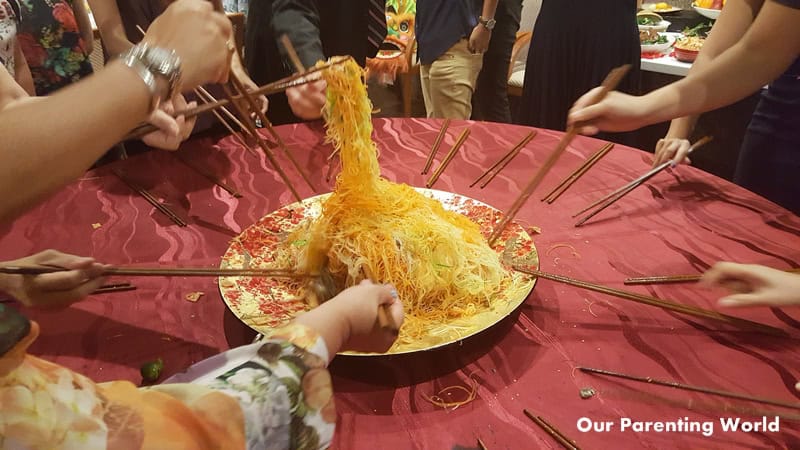 Yu Sheng is a very important dish for the Chinese New Year as it is considered a symbol for good luck, good health, prosperity and abundance. At Plaza Brasserie, Executive Chef Ken has crafted his masterful rendition of this auspicious dish with deep-fried salmon skin and as this is the Year of the Rooster, deep-fried chicken skin is also included which will increase the texture, crunchiness and add interesting flavours to the dish.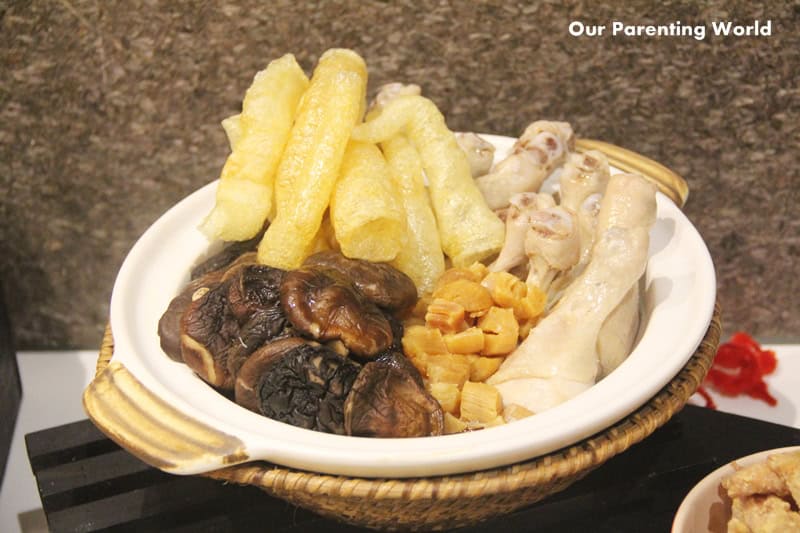 'Chicken' Jumps Over The Wall
This is a soup with a 'twist' by adding chicken drumstick for its significant meaning for the Year of the Rooster. This is a tasty, nutritious soup with a combination of chicken drumsticks, dried scallops, fish maw and mushrooms that we thoroughly enjoy and the chicken meat is very soft and tender. 
Braised Eight Treasures Boneless Duck
To us, this is a rare dish as we don't normally see this nowadays. If you like to eat duck meat, you have to try this!  The duck has been stuffed with 8 different ingredients and braised till it is full of flavour from all the ingredients and seasoning. The duck meat is so soft and moist. Needless to say, this dish is very aromatic and delicious!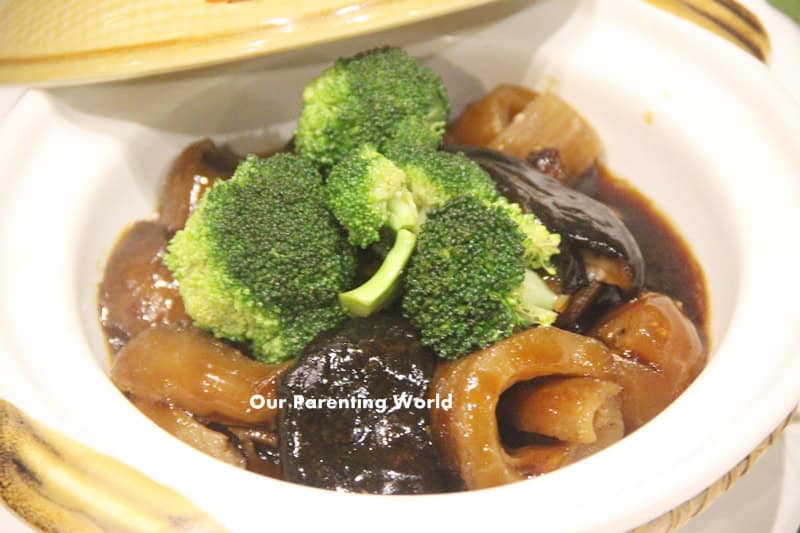 Sea Cucumber with Roasted Pork
The sea cucumber are in thick chunks and yet remains soft and easy to chew. It is accompanied with tasty and tender pieces of roast pork. This is a savoury dish that is good to go with rice.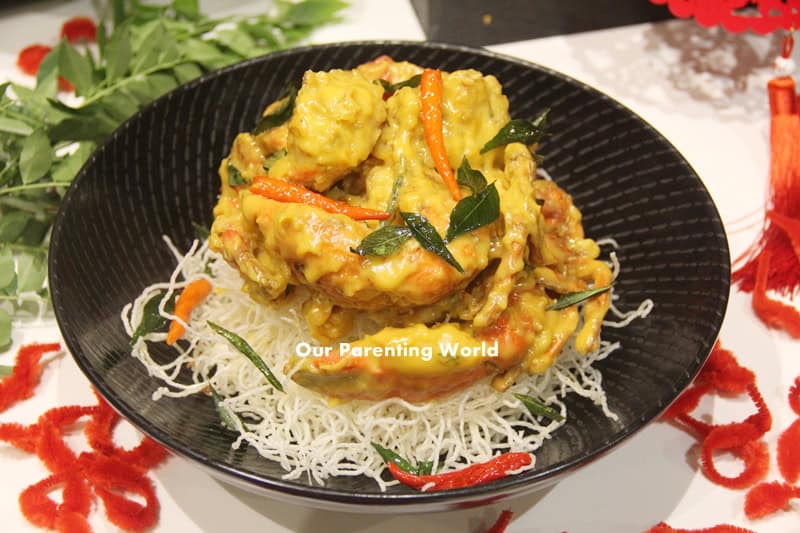 Salted Egg Crab 
Plaza Brasserie is popular for its crabs and for Chinese New Year, it is bringing in Salted Egg Crab.
Nowadays, the salted egg version is widely sought-after by diners. The crabs are coated with rich and golden yellowery sauce that is so tasty! Diners can enjoy these lip-smacking delicious crabs that makes the buffet so worth it.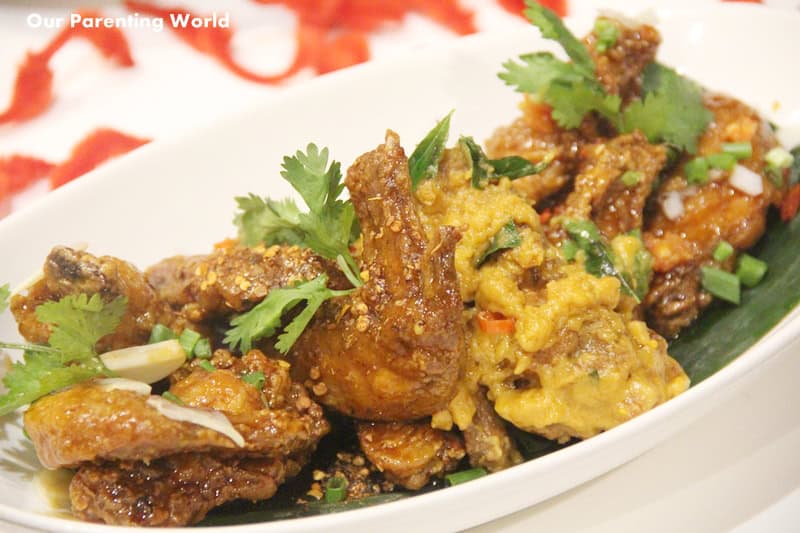 Wings of Fortune (Soya, Garlic, Spicy & Salted Egg)
This is an unique dish with different variation of chicken wings in four flavourful and savoury sauces like Soya, Garlic, Spicy & Salted Egg. This is definitely one of our favourites!
Fried Crab Meat Mee Sua
Crab lovers, don't miss this yummy thin noodles that is generously topped with fresh fried crab meat. Another way to indulge in crabs without having to dirty your fingers.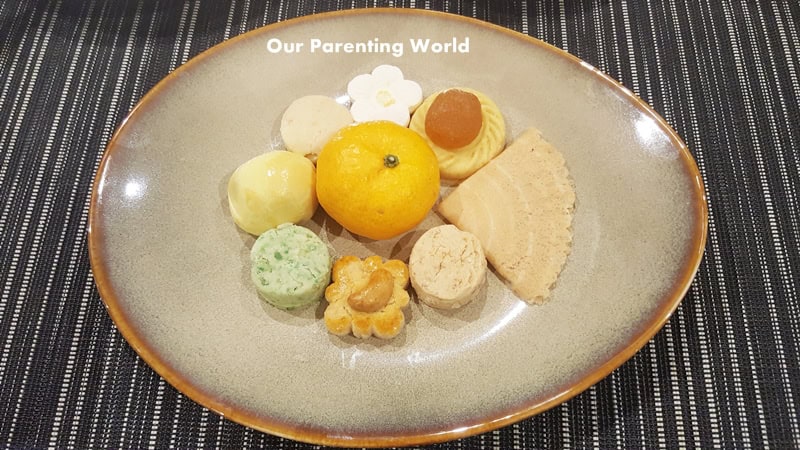 CNY Assorted Cookies
After a hearty meal, bond with your family members and friends with Chinese New Year desserts like assorted cookies over tea or coffee.
Welcome the Year of the Rooster at Plaza Brasserie where it served a wide variety of excellent cuisine that is suitable for everyone. In addition, to make your dining experiences more memorable, there will be a special appearance by "Cai Shen Ye" (God of Fortune) during dinner on Chinese New Year Eve and lunch on the first day of Chinese New Year.  "Cai Shen Ye" will be welcoming the diners and giving out chocolate gold coins. Evening diners will receive a New Year gift set which includes two oranges and a red packet on the eve and first day of Chinese New Year.
The Chinese New Year prosperity feast at Plaza Brasserie is available from 16 January 2017 to 11 February 2017 for lunch from 12.00pm to 2.30pm, and dinner from 6.00pm to 10.00pm. 
We are very impressed with the good food and services at Plaza Brasserie and it is certainly an excellent place to bring family and friends to celebrate Chinese New Year!
Pricing
Prosperity Feast
Lunch
Dinner

 

Adult
Child
Adult
Child

 

 

 

16 January to 11 February 2017 (excluding dates

$48

$29

$68

$41

 

below)

 

 

 

 

 

 

27 January 2017, Eve

$68

$41

$118

$71

 

28 and 29 February 2017, Day 1 and Day 2

$68

$41

$68

$41

 

Early Bird Savings l Enjoy 10% savings on buffets for CNY Eve, Day 1 and 2, valid with reservations and full payments made by 15 January 2017. Seats are subject to availability. 
Plaza Brasserie
PARKROYAL on Beach Road, Singapore 
Level One
7500 Beach Road, Singapore 199591 
For dining reservations or enquiries, please call at 6505 5710 or email [email protected]