Parenting-Talk is pleased to announce that SingTel F1 is bringing wholesome Family Fun over the weekend from 21-22 July 2012.
The details are as follows:
SingTel is having a roadshow which is power packed with lots of race-inspired experiential activities for everyone in the family – including crowd favourites from previous year's SingTel F1™ activities such as race-inspired fast feats (i.e the fastest person to suit up like a race car driver / the person who can mimic the sound of an F1™ engine longest)  and an exciting "first" this Formula 1 race season, where Singaporeans can look forward to an electric go-kart race experience for the first time in Singapore.
The electric go-kart race will culminate in an exciting showdown for the fastest drivers from the series of roadshows where the ultimate winner will win a pair of passes to an exclusive autograph session; a once-in-a-lifetime chance to meet the F1™ drivers in person.
Best of all, this roadshow is open to the public, admission is free, everyone is welcome to come and join in the fun!
The date, timing and location are stated in the picture below: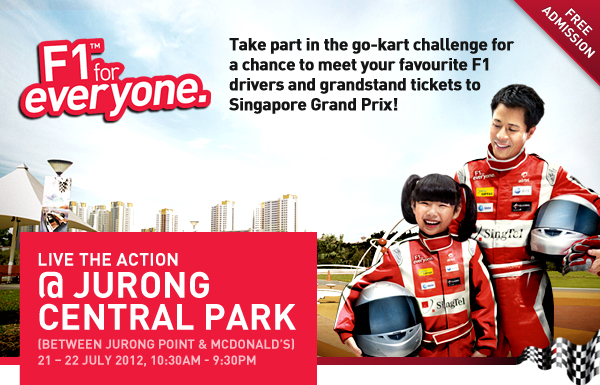 Have fun and all the best!