Photo Credit: Blackmores Singapore ( Nutrition for new mums and toddlers talk by Ms Chua Kay Tse)
Blackmores recently conducted a wellness workshop on the 23rd June 2018 that aims to provide new mums with nutrition and mental wellness tips for themselves and their young child (2 to 6 years old). The second workshop will take place on 30th June 2018.
The sessions are conducted by Ms Chua Kay Tse (Blackmores' in-house Naturopath, Health Educator, Nutritionist and Iridologist) and Ms Helen Clare Rozario, a certified mindfulness coach and new-mum, who will go through a series of mindful tools and activities to help participants understand and cope better with the stressors of parenting life.
Participants at the workshops can look forward to hear from experts on the following topics as follows:
Part 1: Nutrition for new mums and toddlers- talk by Ms Chua Kay Tse
Ms Chua shared on the following key messages: 
A child's health starts upon conception – mums should ensure that they consume the right nutrients such as DHA, omega-3 fatty acids, vitamin D and iron, during pregnancy.

It is important for new mums to ensure that they are getting their daily nutritional requirements since the nutrient content in breast milk is affected by the mum's nutritional status.

Breastfeeding is best, however, for mums who are unable to breastfeed, do look out for specific ingredients in infant formulas such as specialised fatty acids (oleic and palmitic fatty acid structure) that supports bone & digestive health and promotes fat absorption. Blackmores Toddler Milk Drink (for ages 12months and above) is a good option.

In a child's growing years, it is important to ensure that he/she has good gut health as it affects the child's digestive, immune and metabolic health.

Probiotics, otherwise known as "friendly bacteria" or "good bacteria" helps to maintain the natural balance of the gut, while prebiotics support the growth of probiotics. Blackmores Kids Probiotics Powder is a good option.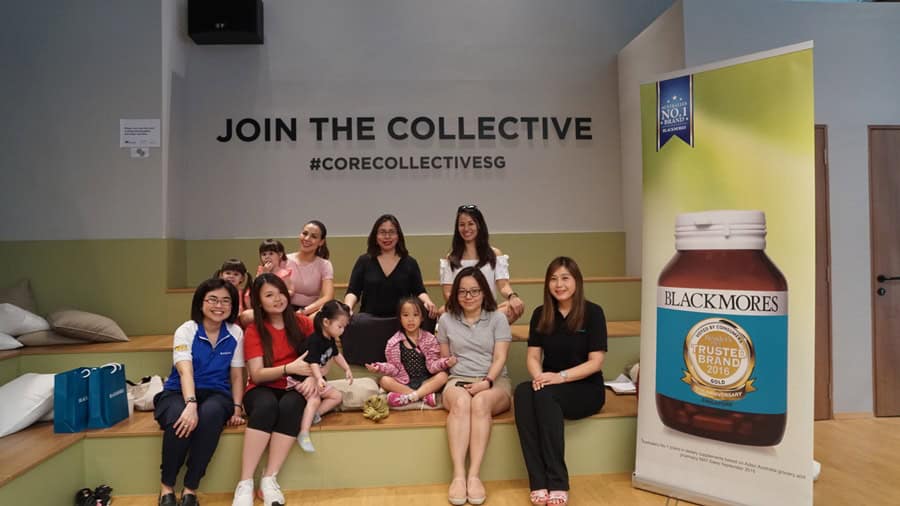 Photo Credit: Blackmores Singapore ( Mindful parenting talk by Ms Rozario at the middle together with the workshop participants on 23 June) 
Part 2: Mindful parenting- talk by Ms Rozario
She delivered the following key messages: 
Mindfulness is a powerful solution to monitor and maintain stress levels and distress during parenthood.

Mindful parenting provides an opportunity be more self-aware and present in children's lives.
Part 3: Mindful movements – conducted by Ms Rozario
In this 30-minute segment brought participants through a series of breathing exercise and mindful movements.

It was a cosy and relaxing session for mums and young kids as they learned to focus on their body and the environment through meditation.
To find out more about Blackmores, please visit https://www.blackmores.com.sg/