Feeling the Pantone 2021 Colours Of The Year?
Introducing some "ILLUMINATING" yellow products from The Body Shop that will brighten up your day and your shower routine! These banana treats are made from second-choice wonky bananas – The Body Shop doesn't care if the bananas they use are the "wrong" shape or size because they're as beautifully fruity as all the rest!
The Body Shop sources their bananas from Ecuador, where they are produced organically by expert farmers. Their long-standing relationship helps the local community and farmers compete against the big banana plantations. That's a big bunch of goodness.
BANANA BATH BLEND ($15.00, 250ml)
Give your bath time a boost with The Body Shop's fragrantly fruity, velvety Bath Blends. More than your average bubble bath, they've blended fruits and vegetables known for being rich in vitamins, antioxidants and minerals.
The Banana Bath Blend leaves dry skin feeling hydrated, nourished and comforted. Best of all, it leaves your skin looking healthier and scented like sweet bananas! Self-care never smelled so good.
Dermatologically tested

Enriched with coconut oil, avocado oil and banana puree made from second-choice wonky bananas

Made with 50% recycled plastic

100% recyclable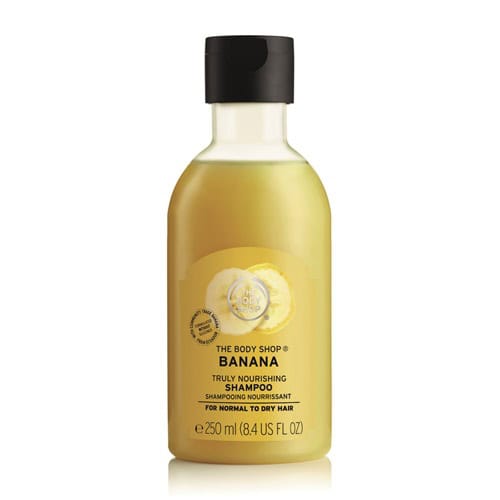 BANANA TRULY NOURISHING SHAMPOO AND CONDITIONER ($15.00, 250ml)
The Body Shop's delightfully creamy Banana Truly Nourishing Shampoo, teamed with the Conditioner and Hair Mask, helps normal to dry hair look glossy and feel oh-so soft. Why bananas you ask? Quite simple really, they're packed full of vitamins, minerals and natural oils.
The Banana Truly Nourishing Shampoo is enriched with organic banana puree. This luxuriously lathery hair-lover smells like jungle paradise. For best results, be sure to follow up with our Banana Truly Nourishing Conditioner. And to polish it off, pop our Banana Truly Nourishing Hair Mask on your barnet once or twice a week. Banana for hair and scalp has some serious smoothing, soothing and grooving potential.
Made with 88% ingredients of natural origin

Enriched with organic bananas from Ecuador

Vegetarian hair hero
Photos Credit: The Body Shop
BANANA TRULY NOURISHING HAIR MASK ($29.00, 240ml)
This tub of banana goodness gets deep down into hair, dishing out a replenishing banana-infused kiss-of-life to every strand when used with the Banana Truly Nourishing Shampoo and Conditioner. Helps to reduce frizziness and lift levels of shine to new heights, sans the weight of product in your hair.
Bananas are packed full of good stuff, with curves to be proud of – just like you, really. But seriously, they're rich in potassium, vitamins and a naturally sweet scent – combined in our Banana Hair Mask formula with other natural-origin ingredients it helps to give hair a healthy-looking shine and feel nourished from root-to-tip, helping soften your 'do at the same time. Dip into this once a week for best results!
Beyond banana beauty benefits, we know you care about how your lotions and potions are made. So you'll be pleased to know that this Nourishing Hair Mask is totally vegan, supporting the local ecosystem where bananas grow. We blend organic banana puree from Ecuador with Community Fair Trade Brazil nut oil from Peru to concoct our Banana Truly Nourishing Hair Mask.
The Body Shop Presents 2020 Christmas Gifts Collection
In addition, Christmas is round the corner and if you are thinking of what to get for your loved ones and friends, The Body Shop has got your covered with an extensive range of Christmas gifts collection, there is something for everyone!
Presenting The Body Shop 2020 Christmas Gifts Collection, more details at http://ourparentingworld.com/the-body-shop-presents-2020-christmas-gifts-collection/ and http://ourparentingworld.com/a-look-at-the-body-shops-full-christmas-2020-collection/
Thank you The Body Shop for the lovely and awesome Christmas gifts! Here's wishing everyone Merry Christmas and a Happy New Year!
The full Christmas collection and Advent Calendars are now available in all stores islandwide, and online on Shopee, Lazada, GrabMart and foodpanda shops. Check out the full Christmas catalogue here: https://tinyurl.com/TBSXmasCatalogue . Happy Christmas Shopping!