Festival of Biodiversity is into its fifth year is an annual celebration of the community efforts to conserve Singapore's natural heritage. Our Parenting World team visited Festival of Biodiversity today held at the Singapore Botanic Gardens, Eco Lake Lawn.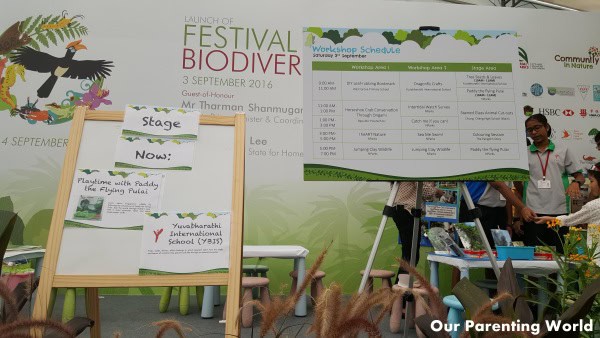 Check out the various activities, art and craft workshops and its schedules that you would like to participate at the stage area.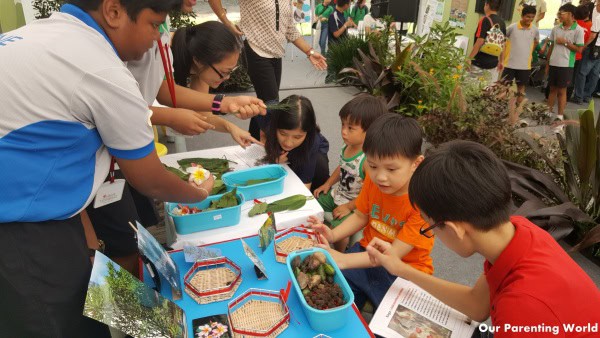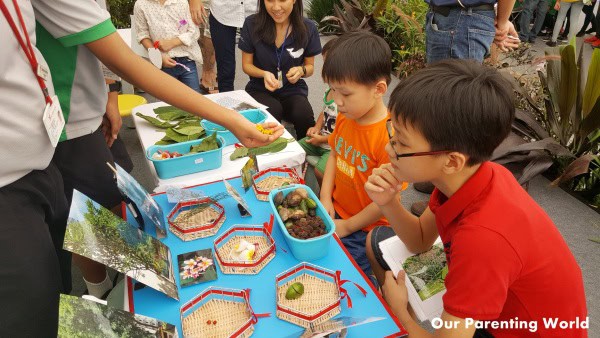 Festival of Biodiversity 2016's theme is on native species and the recovery efforts for rare flora and fauna. The festival is an educating, meaningful and with fun activities suitable for everyone to participate to learn and find out more about Singapore's natural heritage.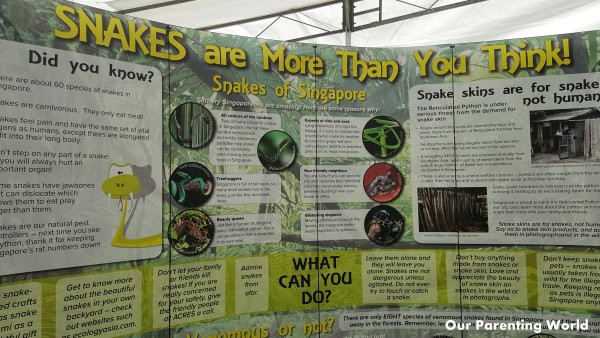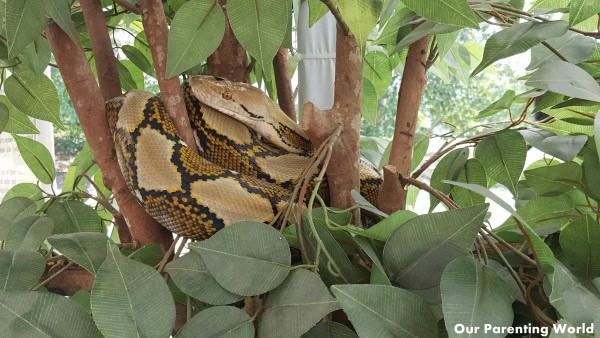 Learn more about the snakes in Singapore and its habitat. Come up close with a real snake, you can find out more by downloading the "Snakes of Singapore" app by WRS (Wildlife Reserves Singapore) and it is free! 
Photo taking with the real snake!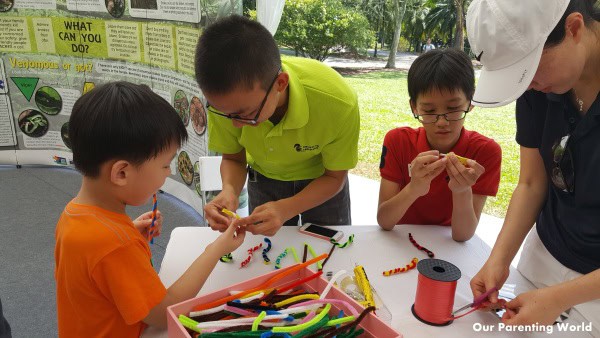 Can't get enough of snakes, children can have fun working on making a "snake" to bring home. 
Visitors can get to see some of the rare and endangered species' specimen like Johora Singaporensis which is Singapore's freshwater crab.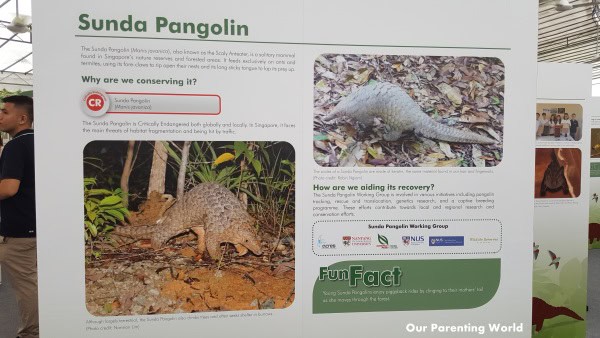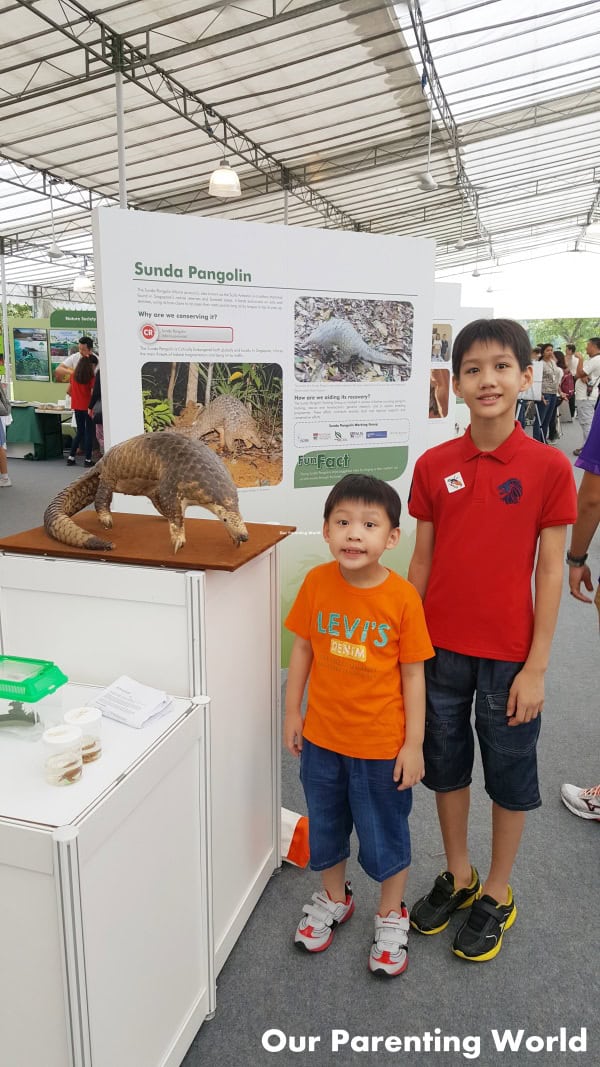 The Sunda pangolin known as the scaly anteater is also listed as "critically endangered" in Singapore, they can be found at Central Catchment Nature Reserve, Bukit Timah Nature Reserve, forested areas in Bukit Batok, the Western Catchment Area, and on the islands of Pulau Ubin and Pulau Tekong. They spent most of their lives in trees and they prefer to live in forested habitats and plantations.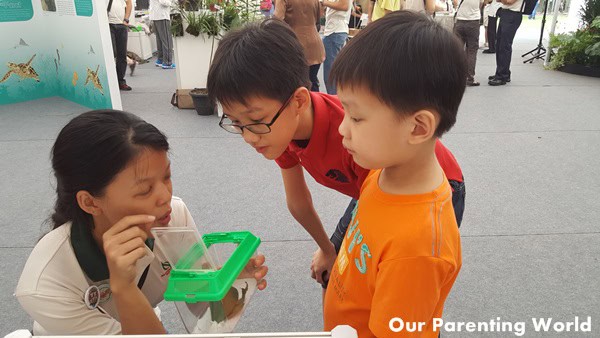 Explore and embark on an exciting learning journey to find out more about Singapore's rich biodiversity. There are more than 20 local nature groups at the festival. The friendly and knowledgeable helpers, experts, volunteers and students at each of the booth will be happy to share and answer your enquiries.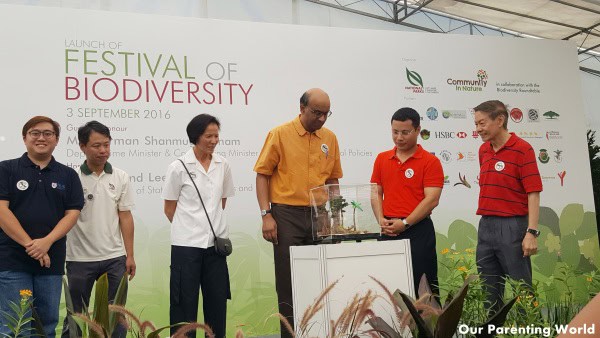 Festival of Biodiversity 2016 is hosted by Mr Desmond Lee (Senior Minister of State, Ministry of Home Affairs & Ministry of National Development Deputy Leader of the House) as he presented the opening speech and Mr Tharman Shanmugaratnam (Deputy Prime Minister & Coordinating Minister for Economic and Social Policies) launched the official opening of the Festival.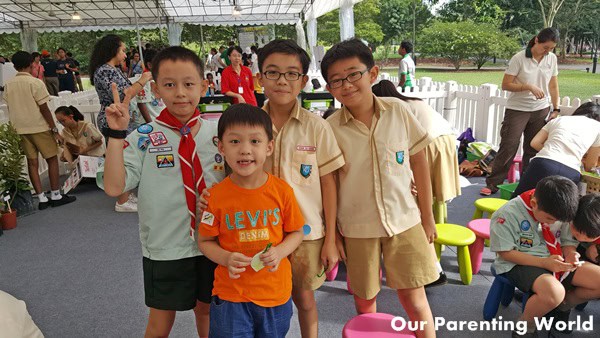 There are lots to do at the Festival, children can learn and make handicraft work like DIY Leaf-rubbing bookmark/postcard.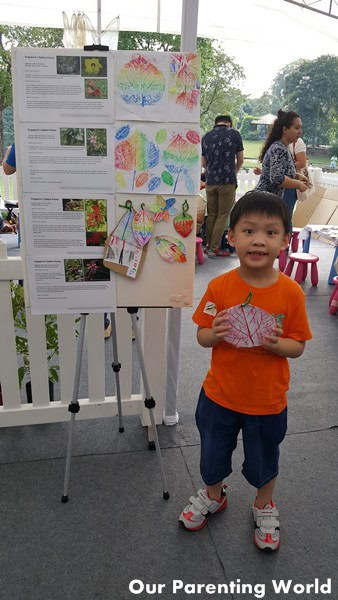 Through this activity, children will get to understand and find out more about Singapore's native plants.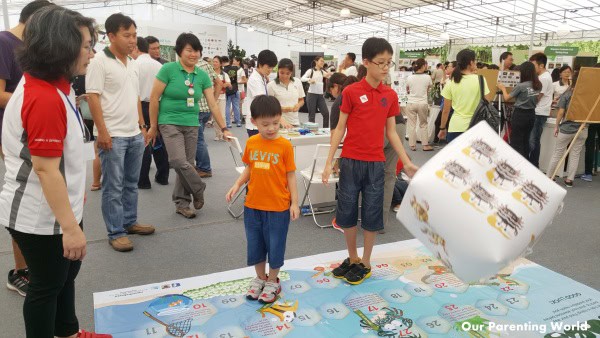 Turning Tides activity as above, through this activity, participants play with one another on on this huge board game. They can learn and understand how human activities can affect the sea creatures.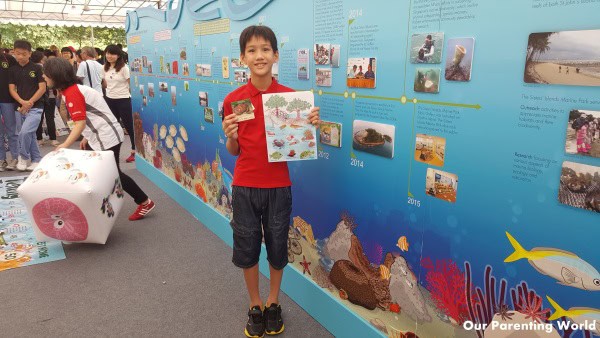 The winner will get to receive a prize after completing the activity.
Check out Festival of Biodiversity's wide array of activities and workshops from learning about sea creatures, making pigeon fans using paper plates, learn about native nocturnal animals, understand more about predator-prey relationships in the ecosystem, design your own pebbles to participating in various games. There are lots to do for everyone to spend an educational and fruitful time with your family and friends!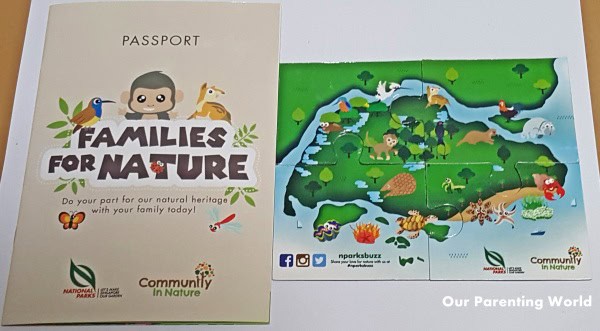 Families for Nature
In addition, NParks launched the new "Families for Nature", this is a new initiative which encourages families to experience nature and learn more about Singapore's biodiversity through exciting events and activities organised under the National Parks Board's Community in Nature (CIN) programme.
Take part in activities organised throughout the year with your family members! These activities fall into four categories – Nature Adventurer, Wildlife Guardian, CIN Ambassador and SGBioAtlas Contributor.
Participate in all four types of activities and collect unique stamps and puzzle pieces. Upon completion of each activity, you will also receive one of the four puzzle pieces. Collect all four pieces to form a map featuring Singapore's rich biodiversity.
To find out more and sign up for the Families for Nature initiative, please click HERE.
Don't miss this educating and interesting activities from Festival of Biodiversity 2016 where the whole family, friends and everyone can take part and spend a meaningful time together! Visit the exhibitions, booths, participate in the art & craft workshops and bring back a wealth of knowledge on Singapore's rich natural heritage and fun experiences. Most booths have souveniors like badges, bookmarks, stickers etc for you to bring back. Admission is free and children can enjoy free art and craft workshops to learn more about Singapore's biodiversity.
Join in the fun at the Singapore Botanical Gardens now! Hurry, tomorrow is the last day on the 4 September 2016 from 9am to 7pm. Visit Festival of Biodiversity today!
Festival of Biodiversity
Saturday, 3 September 2016
Sunday, 4 September 2016
Time : 9am – 7pm
Venue : Lawn next to Eco Lake (near Botanic Gardens MRT Station)

Did you know that Singapore is home to more than 400 species of marine fishes? Did you know that it also houses 250 species of hard corals, which is almost one third of the diversity found in the world? Come to the Festival of Biodiversity to explore and learn more about Singapore's rich biodiversity!
Get involved in the many exciting activities in store for you at the Festival, and find out how you can play a part in conserving Singapore's biodiversity. You will also be able to gain a deeper understanding and appreciation of Singapore's rich natural offerings, its benefits, and relevance to us in Singapore.
The yearly Festival of Biodiversity returns to the Singapore Botanic Gardens on 3 & 4 September at the Eco Lake Lawn to showcase Singapore's unique biodiversity.
Visitors will be able to participate in nature-inspired art and craft workshops, play life-sized board games while learning about our marine biodiversity, and embark on the "National Heritage Treasure Hunt". Find out more about NParks' species recovery efforts as well as on the Sisters' Islands Marine Park through informative panels. 
Festival of Biodiversity 2016
This year, the Festival of Biodiversity will be held at Singapore Botanic Gardens on 3 and 4 of September. Bring your family and friends, come and join the activities for a weekend of fun and learning! Check out the official website for more info on this year's festival :

 https://www.nparks.gov.sg/festivalofbiodiversity.