Christmas is just round the corner, being gourmet food lovers, Our Parenting World team sought out some of the best places to feast and celebrate this joyous festive season! We checked out AquaMarine, Marina Mandarin recently to find out what it has to offer for its festive delights and classic favourites at the restaurant.
Many would have heard of AquaMarine, Marina Mandarin, it is well-known to serve a stunning and wide variety of Asian and International cuisines. It showcases the diversity of food from around the world. AquaMarine has Halal certification for each and every food station. You can watch and observe its chefs display their skills in a glass-enclosed show kitchen. Indulge in good food at the modern, stylish and spacious restaurant.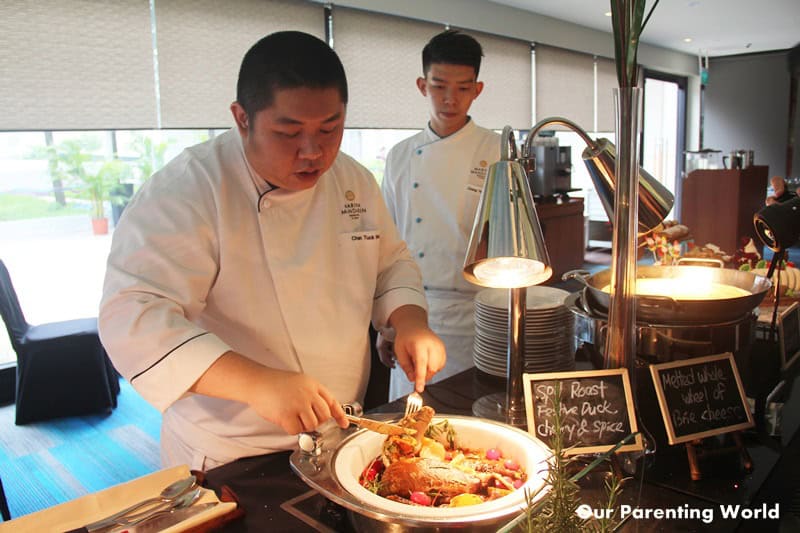 Featuring Marina Mandarin Executive Chef Tony Khoo and Chef Chan Tuck Wai new dishes for the festive season. Diners can look forward to indulge in the following cuisines: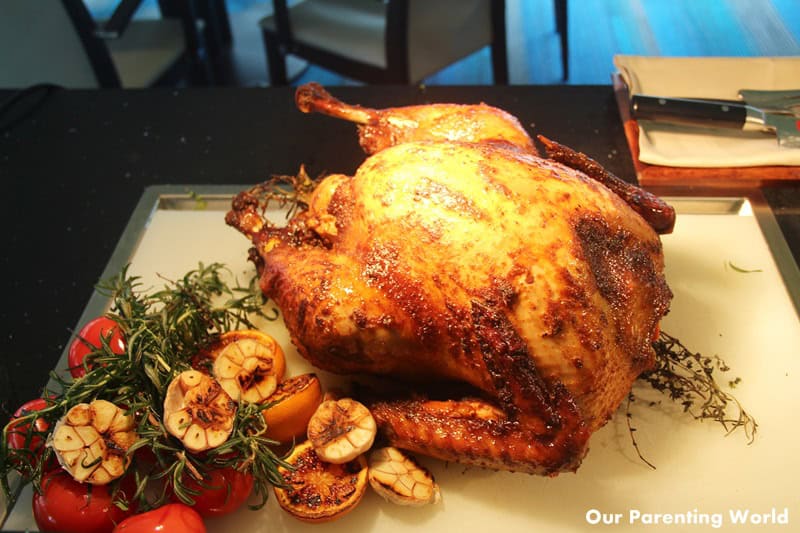 Festive Turkey Roasted with Cinnamon and Orange, Blueberry Compote, Stuffing and Giblet Sauce (Carving)
Turkey is usually the star of the show for Christmas! This turkey has been roasted till golden brown, very juicy and bursting with flavour.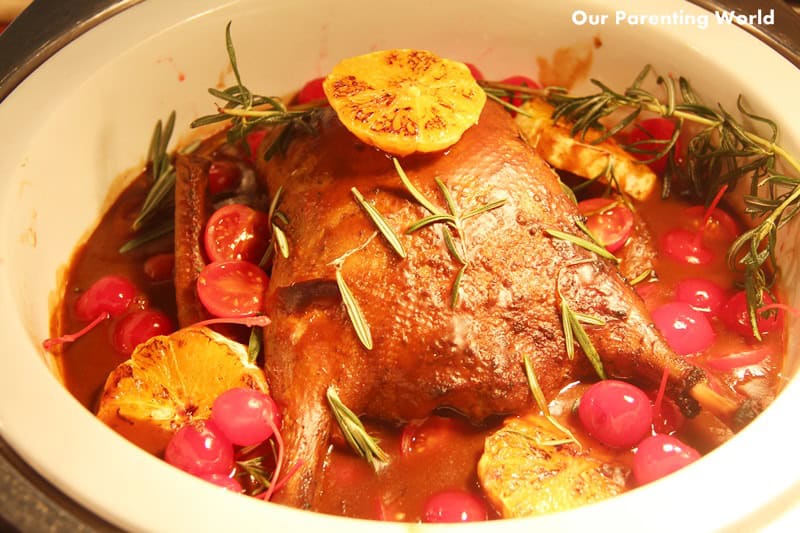 Spit Roast Festive Duck, Cherry and Spice (Carving)
If you like to eat duck meat, you will love this dish! The duck meat is so tasty, moist and very tender. Smells good as it is infused with aromatic spices and cherries. 
Melted Whole Wheel of Brie Cheese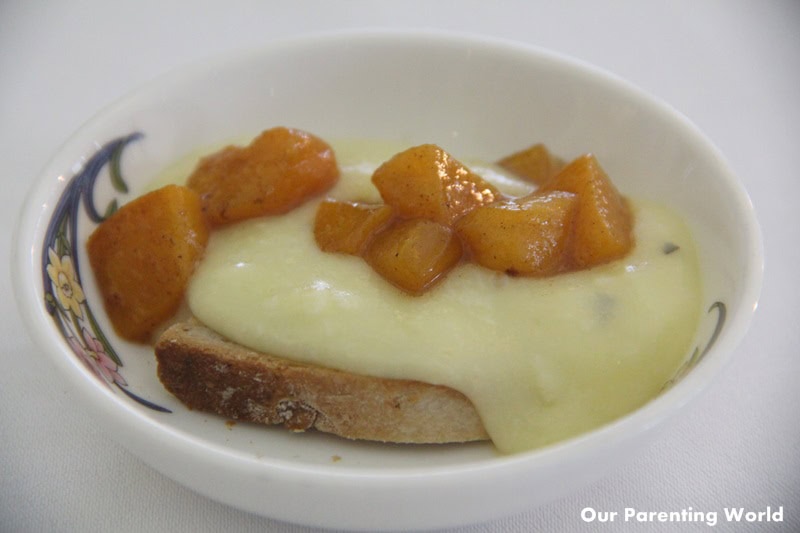 Melted Whole Wheel of Brie Cheese, Sous Vide Apricot, Rosemary, Walnut Bread
Brie, named after Brie, a province in France where it was originated, is a soft cow's milk cheese. It is reputed to be the "The Queen of Cheeses". Dip the melted, oozing cheese over a piece of walnut bread and sprinkled with Sous Vide Apricot, so creamy and simply irresistible!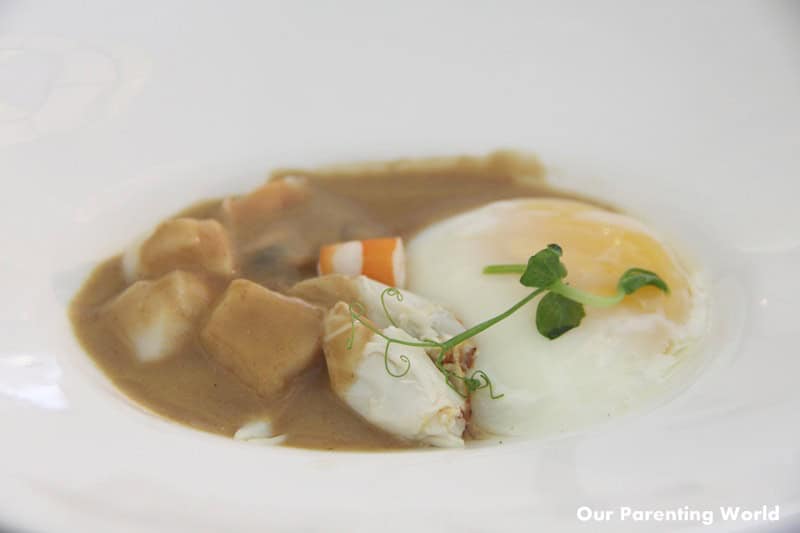 Sous Vide Organic Egg with Seafood Fricassee, Crustacean Emulsion
This is a hearty and nutritious broth that's packed with nutrients and ingredients like organic egg and seafood. It is appetising and very tasty!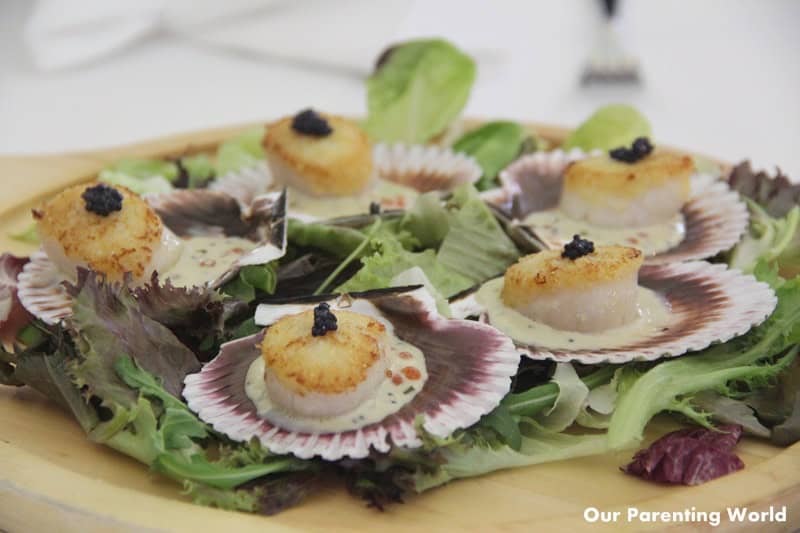 Citrus Crusted Hokkaido Scallop with Caviar Sauce
The plating of this dish looks as good as it tastes. The Hokkaido Scallop is famous for its tender, sweet and creamy taste. The scallop topped with Caviar sauce is visually pleasing and delicious!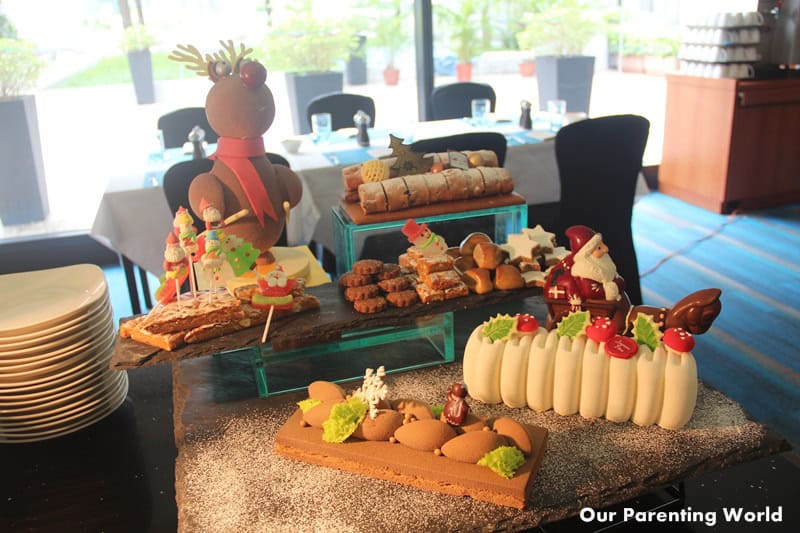 A good way to end a fulfilling and delicious meal is definitely the desserts. At AquaMarine, Marina Mandarin, diners can indulge in an array of Log cakes, festive sweets to savoury delights for the Christmas seasons.  
Visit AquaMarine, Marina Mandarin and indulge in its Festive Offerings during this joyous Christmas season! 
AquaMarine
Address:
6 Raffles Boulevard, Level 4, Marina Mandarin, Marina Mandarin, 039594
Additional Information:
Festive Season Feasting Buffet
1 – 30 Dec 2016 (does not include Christmas eve and Christmas day)
Indulge in lavish dishes for your tasting and celebratory feasting with our Festive Turkey with Cranberry Compote and Giblet Sauce and highlights such as Hay Smoked 150 days grain-fed Angus Beef, 45 degree Sous Vide Salmon with Passionfruit Emulsion and sweet galore of desserts from Durian Yule Log Cake, Ricotta Mascarpone Yule Log Cake, Stollen, Christmas Rich Fruit Cake and Panettone. 
Daily Buffet Lunch – $60++ per person
Weekday Buffet Dinner – $70++ per person
Weekend Buffet Dinner – $80++ per person
Reservations at 6845 1111
www.marinamandarin.com.sg/dining
Christmas Eve and Christmas Day Buffet
24 and 25 December 2016
A festive Christmas filled with warmth, gratifying varieties of festive dishes that is rich, luscious and piquant and satisfy your senses.
Look forward to Christmas Turkey glazed with Maple Syrup and Beaurre Noisette, 300 days grain-fed Angus Beef Wellington and Citrus Crusted Hokkaido Scallop with Caviar Sauce.  And to complete the festive dining, the desserts spread will sweeten your yuletide buffet, from Lychee Raspberry Yule Log Cake, Mix Mince Pies, Stollen and more Christmas sweet fare.
Christmas Eve
Buffet Lunch – $68++ per person
Buffet Dinner – $118++ per person
Christmas Day
Buffet Lunch – $88++ per person
Buffet Dinner – $98++ per person
Reservations at 6845 1111
www.marinamandarin.com.sg/dining 
To find out more about the dining options for this festive season at Marina Mandarin, please click HERE.