During the Vesak Day long weekend, Mummy and Daddy brought Gor Gor to Malaysia to visit his paternal grandparents and also to enjoy some nice Malaysian food. Our first stop after arriving in Kuala Lumpur was to go to Green View Restaurant for their famous "Sang Har Mee" (Big Prawn noodle).
This is the best "Sang Har Mee" in Kuala Lumpur. The restaurant is also famous for their crab dishes. We recommend to order the salted egg yolk crab which is the best crab dishes there.
Their address is Jalan 19/3, Petaling Jaya, Selangor. It is right opposite "Lisa De Inn" Hotel in Petaling Jaya, next to the former "Rothman's Roundabout" which is now converted to traffic light due to heavy traffic in that area.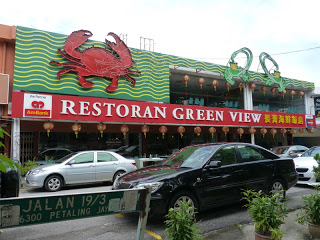 The view outside the restaurant. See the big crab signboard!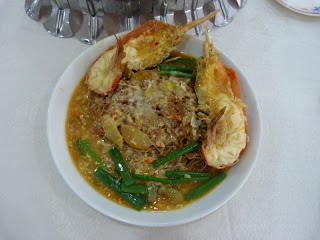 Their famous "Sang Har Mee". It tastes better than what it looks like in the picture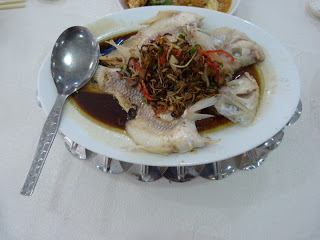 We ordered a steam fish which is quite ordinary among the other nice dishes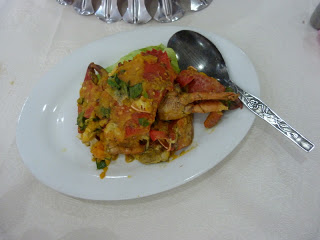 This is their salted egg yolk crab. A lot of salted egg yolk!
After lunch, we proceeded to Ipoh, which is about 2 and half hours drive and Gor Gor was looking forward to meet his cousins again.
Gor Gor with Auntie YP and his three cousins.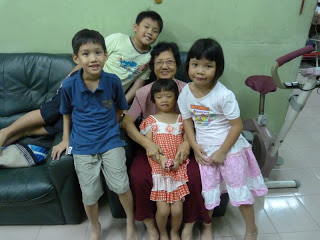 Gor Gor with Grandma and his cousins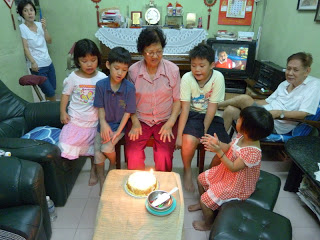 Celebrating Grandma's birthday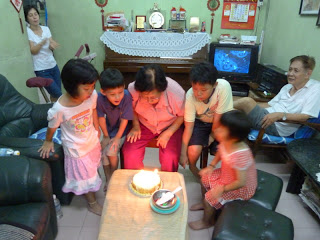 Grandma, can we blow the candles together?
After birthday celebration, we went out to have supper, and Ipoh is well known for its beansprout chicken ("Ngar choi kai"). This is one of the most well known coffeeshop in Ipoh for this dish. It is located at: Jalan Raja Muda Aziz, right in the town centre, walking distance from Excelsior Hotel.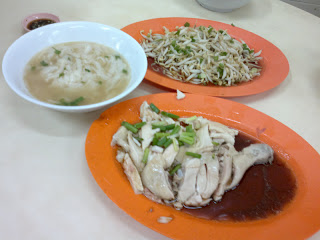 The beansprout is very crunchy, the noodle are so soft and silky and the chicken tastes good too!
The next morning, we went out for breakfast with Gor Gor's cousins and their parents at the Green Town area. There are many coffeeshops open for breakfast, selling traditional Malaysian breakfast like curry noodle, fried kuay teow, chee cheong fun etc.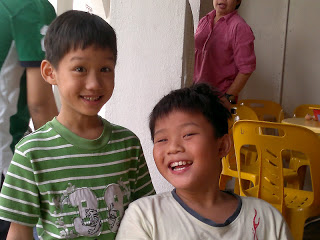 Ah, both of them have big smiles, because they are looking at the delicious food. They can't wait to eat the food.
After lunch, we continue our food journey back to Kuala Lumpur. If you like traditional coffee shop with toast bread, this is the best in Kuala Lumpur. Yut Kee Coffee shop has been around for decades and it is located at : 35 Jalan Dang Wangi (within walking distance from the back of Sheraton Hotel). Other than the dishes we ordered here, the other recommended dishes are "Roti babi" (Pork bread) and butter cake.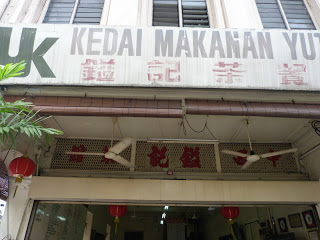 The coffeeshop looks old from outside
But it is very crowded, especially on weekends, it is closed on Monday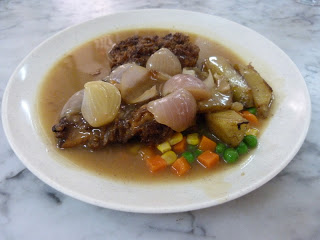 The Hainanese pork chop is one of their popular dishes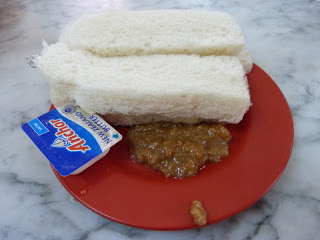 Their popular toast bread sold out that afternoon, so we have to settle for steam bread  which is also  nice. Their Kaya is fabulous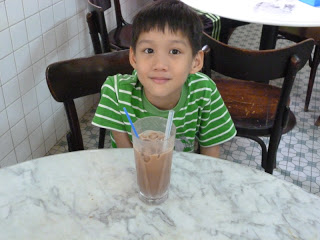 Gor Gor smiling sweetly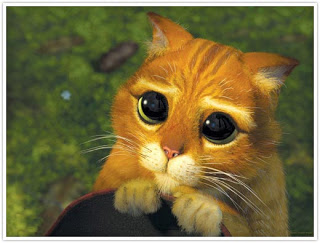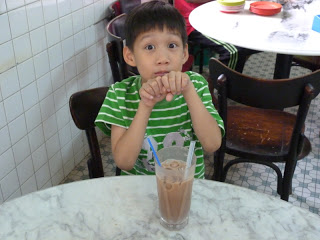 Look mummy, do you think I look like Puss the Cat?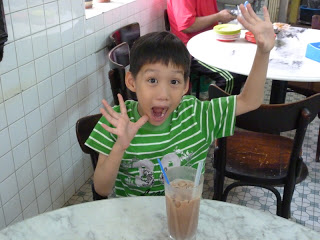 Daddy, can you buy me a bigger cup of drink?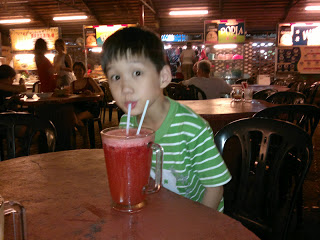 Sure, here you are, the biggest cup of water melon juice!
Daddy brought the family to Taman Megah hawker centre at night where Gor Gor gets to drink the biggest cup of water melon juice in the above picture. This is one of the largest hawker centre in Petaling Jaya and opens up to late at night. You can even shop at the pasar malam on Sunday night besides the hawker centre.