The name of the musical, Forever Young reminds us of the hit song from the German rock group Alphaville's 1984 debut album of the same name.
Forever young
I want to be forever young
Do you really want to live forever?
Forever young … 
This is the theme for this great musical presented by Sing'theatre and directed by our local talented and funny man, Hossan Leong who also acts in the musical. This funny jukebox musical was originally written by the Swiss playwright Erik Gedeon and now locally adapted by "Mr Miyagi" (Benjamin Lee).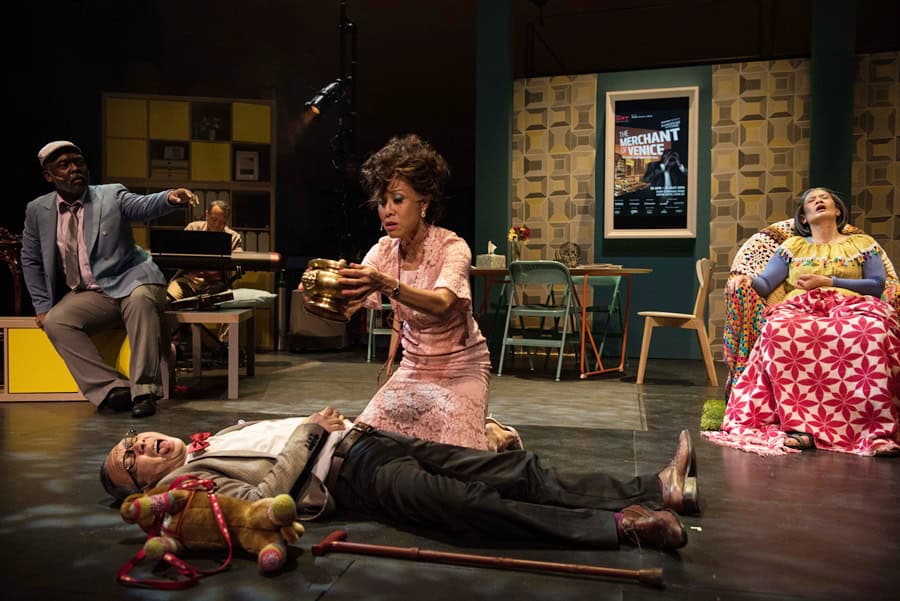 Theatre fans can now look forward to another fantastic production by Sing'theatre. In celebration of its 10th anniversary, Sing'theatre presents  Forever Young featuring an all-star cast of Hossan Leong, Karen Tan, Julian Wong, Tan Kheng Hua, Candice De Rozario, Suhaimi Yusof, Ebi Shankara. 
The story is set 50 years in the future, in the year of 2067 when a group of formerly very popular local actors and performers have grown very old and now staying in a boring nursing home cared by a no-nonsense nurse called "Sister Sara", acted by Candice De Rozario.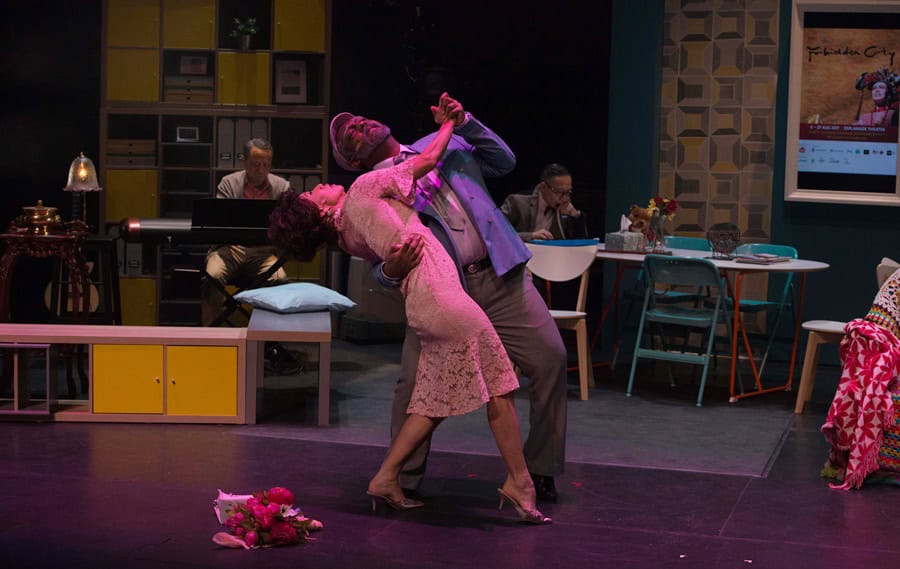 Forever Young brings on stage some of the best local theatre performers in Singapore. Our Parenting World team is a big fan of many of them who have acted in various local musicals. Tan Kheng Hua who is well known as "Margaret" in Phua Chu Kang Pte Ltd Televsion drama previously and the Producer of this year's hit musical "Tropicana the Musical" is Margaret Lim in this story, a former diva who still relishes on the attention she used to get on stage. Playing opposite her is Ramesh Chandran, performed by Ebi Shankara (who also acted in Tropicana the Musical recently) provides the much needed attention to Margaret for her to continue enjoying her imaginary stage attention.
We noticed some of the comedy musicals this year must have Suhaimi Yusof, including "Detention Katong" and "The Noose & Kakis 2: My PSLE is better than Yours". In "Forever Young", Suhaimi is Adam Aziz, a former TV personality, likely referring to the more handsome and more successful current Malay TV actor Aaron Aziz, who now has to use walking frame in the year 2067. Together with the other equally funny and excellent casts, Karen Tan, Julian Wong and Hossan Leong, the performers belt out many modified versions of Rock and Roll and Pop classics ranging from "I love Rock and Roll", "Sweet Dreams" to John Lennon's 'Imagine". The songs are "modified" because they incorporated many local themes and issues affecting their lives in the nursing home.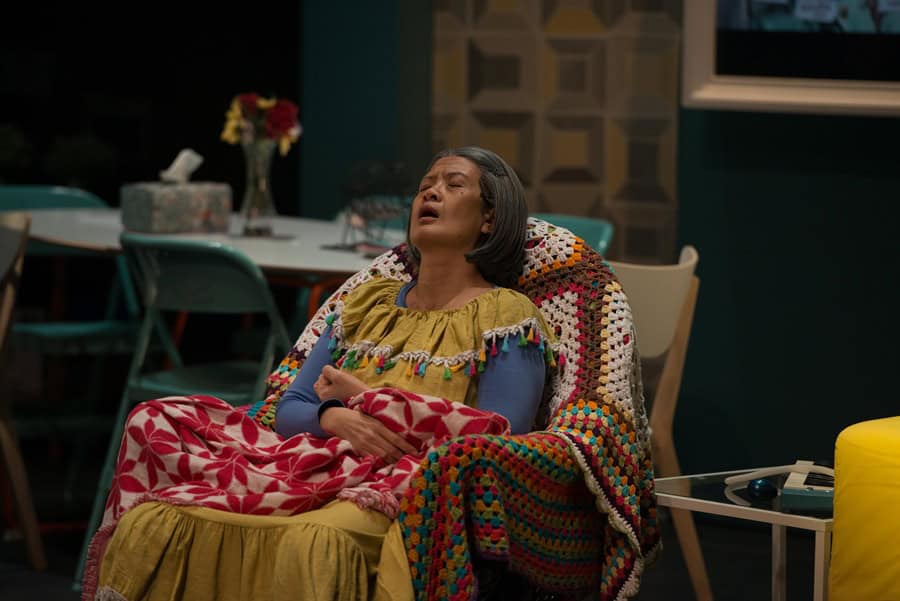 Other than the ever green "Forever Young" song, our other favourite song is "Barbie Doll" sang by Karen Tan as "Tan Hwee Neo", who brilliantly performed her old age role so well and at the same time demonstrating her Parkinson syndrome with the involuntary movement of her limbs with perfection.
The musical also makes reference to other great names no longer with them anymore like "Jake Neo" (refers to the popular local movie Director and Producer, Jack Neo) who is now ashes in an urn in the nursing home accidentally spilled on the floor by some of them.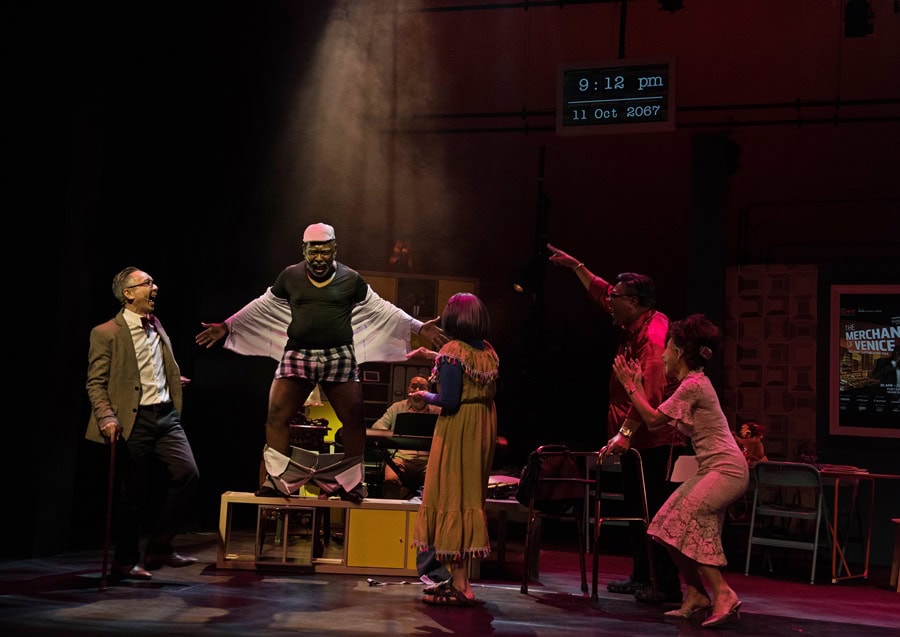 Although this 90-minutes musical brings non-stop laughter to the stage, it also tells us a subtle reality of life, in 50 years from today, in the year 2067, if we are still alive, many of us will likely be living in nursing home like them. With our rapidly aging population and small family units, the reality is many of us in the audience will likely grow old in the nursing home. The musical brings home to the point that even though physically we maybe old, but we should continue to live and enjoy one day to the next as if we are forever young.
At the end of the musical, we heard many of the audience left humming to the rhythm of Alphaville's "Forever Young". 
Forever Yong, a funny and heartwarming musical that will make you sing-along with the cast as you reflect on the meaning of growing old and living a full life!
Our Parenting World catches up with Nathalie Ribette and Tan Kheng Hua to share with us more about the comedy musical, Forever Yong and more.
To read about our interview with Nathalie Ribette, Founder and Artistic & Executive Director of Sing'theatre, please visit: 
http://ourparentingworld.com/singtheatre-presents-forever-young-and-exclusive-interview-with-founder-and-artistic-executive-director-nathalie-ribette/
To read about our interview with Tan Kheng Hua, please visit 
http://ourparentingworld.com/singtheatre-presents-forever-young-and-exclusive-interview-with-tan-kheng-hua/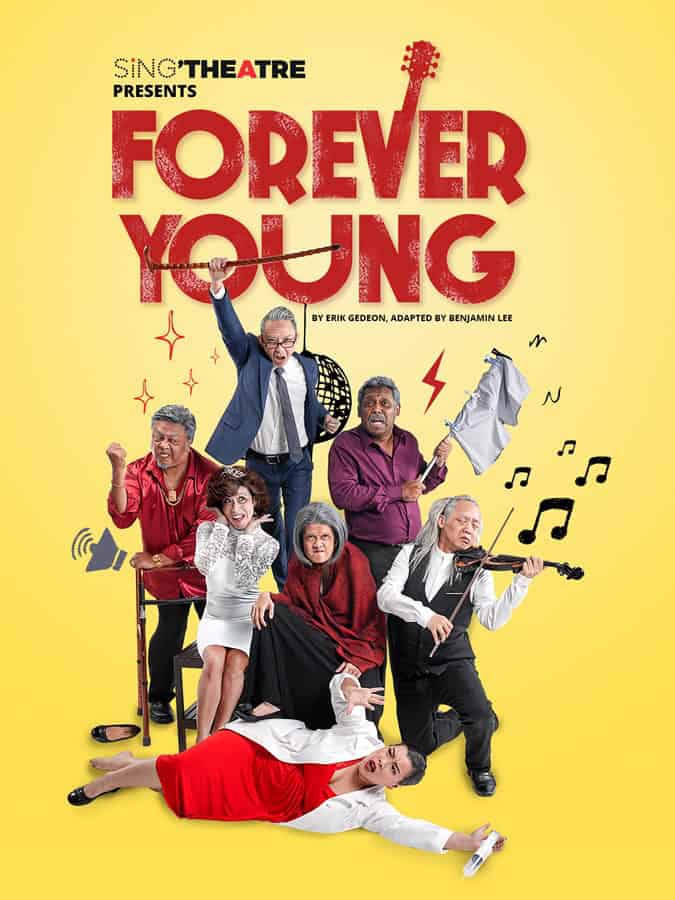 Get your tickets to watch Forever Young now! 
Forever Young – Advisory: 16 (some mature content and coarse language)
Show Dates and Time:
Wednesday, 11 – Saturday, 21 October 2017
Monday – Friday : 8pm
Saturday : 4pm & 8pm
Sunday : 4pm
Venue:
SOTA Drama Theatre
Ticket Pricing:
(Excludes Booking Fee)
Preview 11 October 2017, 8pm
Standard: S$50, S$45, S$40
Monday – Thursday / Saturday & Sunday matinees
Standard: S$64, S$54, S$44
Friday & Saturday evening
Standard: S$69, S$59, S$49
To find out more and to purchase the tickets at Sistic, please visit