Farm Fresh began in 2007 with the commitment to provide the freshest milk that is produced without any preservatives, colourings and stabilisers. Today, as Malaysia's No.1 fresh milk brand (based on AC Nielsen 2019 Data), Farm Fresh offers a range of fresh and flavoured milks and prides itself in bottling the freshest milk within 48 hours of milking, resulting in a taste that is 100% natural. 
With five world-class, purpose-built facilities across Malaysia, two of which just across the Causeway in Johor (Kota Tinggi and Desaru), all Farm Fresh milks are bottled and transported to Singapore daily, offering Singaporeans the freshest milk possible.
Founded by entrepreneur Mr Loi Tuan Ee, Farm Fresh, a subsidiary of The Holstein Milk Company Sdn Bhd, was born when he immersed himself in agriculture after 20 years in the corporate world. From starting with just 60 Australian Holstein Jersey cows, Mr Loi's herd now numbers a grand total of 6,000 cows that feed on grass grown at the farms, ensuring a naturally healthy and wholesome diet.
"We at Farm Fresh believe that the best dairy comes from fresh milk, milked from happy cows in a serene farm with the greenest pasture, to bring our consumers in Malaysia, Singapore and Brunei fresh and pure dairy that is both nutritious and delicious," said Mr Loi Tuan Ee, Founder and Managing Director of The Holstein Milk Company Sdn Bhd. 
Using all-natural processes that include milking twice daily for dairy tasting the best it can be, pasteurising to destroy pathogens, storing the milk below 4°C for optimal freshness and testing for its quality before being bottled and delivered to the nearest shelves, Farm Fresh offers the highest quality range of milks that are 100% natural, delicious and affordable.
Farm Fresh also adopts sustainable farming practices as the best way of ensuring long-term product quality alongside positive impacts on the environment. Farm Fresh places great focus on their carbon and ecological footprint by reducing emissions of greenhouse gases (GHG), harvesting rainwater, treating and recycling animal waste, and using sustainable packaging.
Farm Fresh's range of milk and yogurt products available in Singapore include its best-selling Farm Fresh Fresh Milk as well as a variety of fresh, flavoured and UHT milks, including Farm Fresh Chocolate Milk and Farm Fresh Kurma Milk.
Farm Fresh Fresh Milk 2L  (L), Farm Fresh Chocolate Milk 1L (M) and  Farm Fresh Kurma Milk 700g (R)
In celebration of the World Milk Day on 1st June 2021, Farm Fresh is offering the following special price promotion in the month of May in Singapore:
– Farm Fresh Fresh Milk 2L pack at a special price of S$5.15 (U.P. S$5.45)
– Farm Fresh Chocolate Milk 1L for only S$5.35 for 2 (U.P. 2 for S$5.90)
– Farm Fresh Kurma Milk 700g for only S$5.95 for 2 (U.P. 2 for S$7.10)
– Farm Fresh Yogurt Drinks 700g for only S$4.35 for 2 (U.P. 2 for S$4.70)
Farm Fresh products are available at all leading supermarkets and online via Amazon and Redmart. 
Follow Farm Fresh online and on social media:
Website: https://www.farmfresh.com.my/
Facebook: https://www.facebook.com/farmfreshdairyproduce/
Instagram: https://www.instagram.com/farmfreshmilkmalaysia/
Official Hashtag: #farmfreshsg  #thefreshestmilk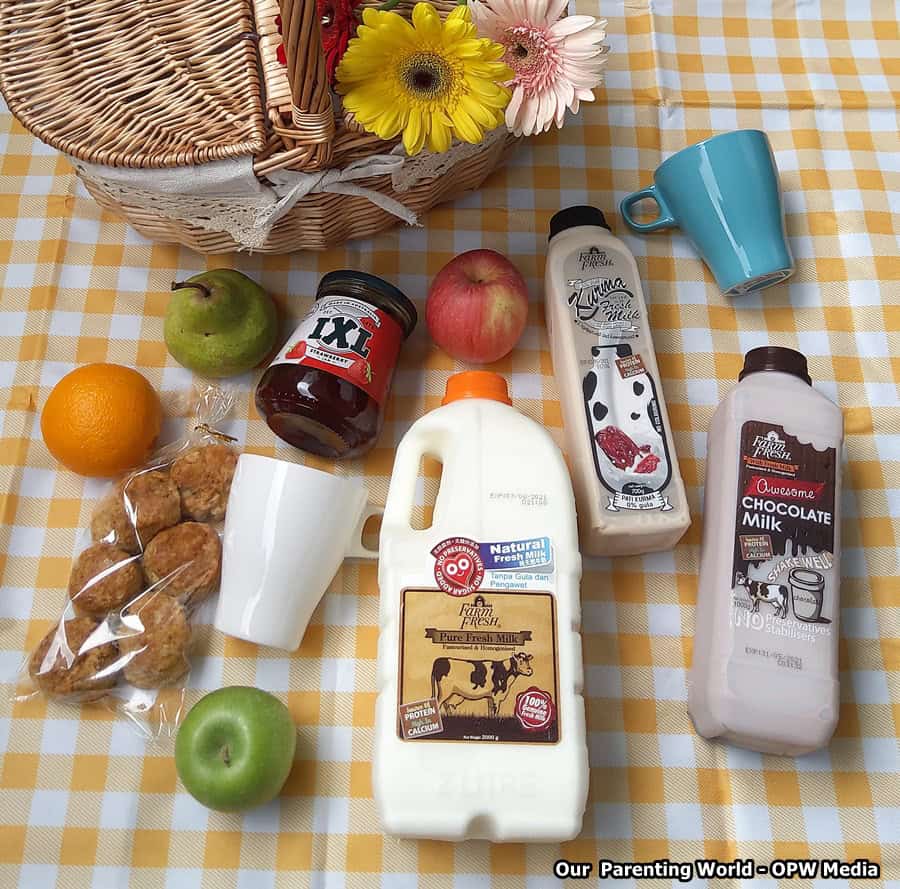 Thank you Farm Fresh for sending to us, the lovely special basket, comprising of fresh and flavoured milk products and some goodies, in celebration of World Milk Day that falls on 1 June 2021!