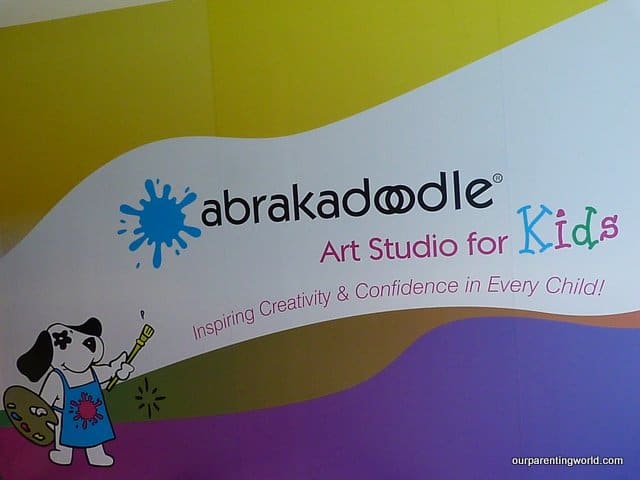 The Abrakadoodle art education program is one of the most popular creativity programs in the world. It provides innovative art classes, art camps and art parties for children, age 20 months to 12 years old.
From June to August 2014, Abrakadoodle at Rochester offers three interesting art camps for children. The camps are from 3 to 4 days. Each camp will include 6 Art Projects and a gift voucher! To find out more information, its three branches programs and for early bird/group discounts, please click HERE.

The description of the three art camps are as follows: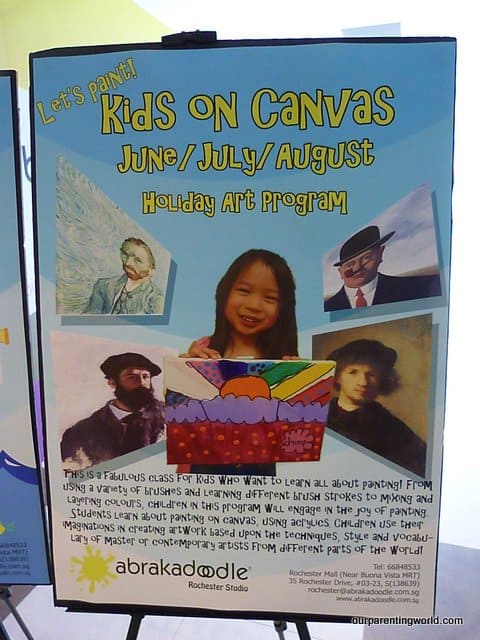 Kids On Canvas Camp! – This camp is good for children who want to learn everything about painting. They get to use various types of brushes and learn about different brush strokes to mix and layer colors. Using their imaginations to create artwork based upon the techniques, style and vocabulary of master or contemporary artists from different parts of the world!
The Sailor Went To Sea Camp! – Children learn to create their own map, sculpt a ship from clay, go on a treasure hunt to find buried treasure, paint a treasure chest, and many more.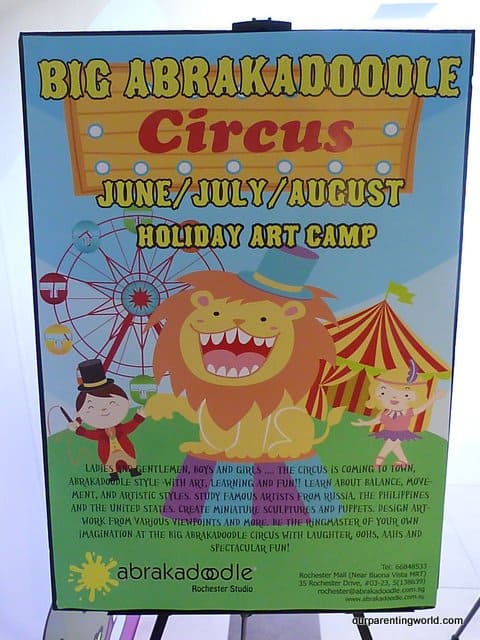 Big Abrakadoodle Circus Camp! – learn Abrakadoodle style with art, learning and fun! Learn about balance, movement, and artistic styles. Study famous artists from Russia, Philippines and the United States. Create miniature sculptures and puppets. 
Our Parenting World, Gor Gor and Di Di were at Abrakadoodle Art Studio for Kids at Rochester branch to attend the Big Abrakadoodle Circus Camp. They were so excited about it and looking forward to attend the camp!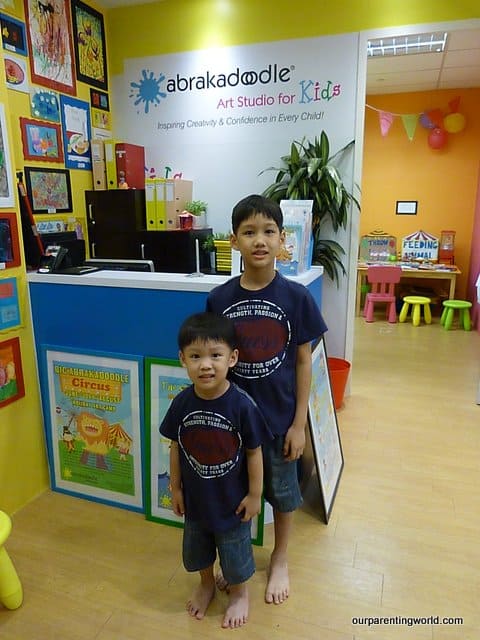 Both Gor Gor and Di Di like the colourful and cosy studio and they always wanted to settle down quickly to start doing their artwork.
The whole studio is decorated with art pieces from students. Through these artworks, you can see how talented the students are to be able to come up with these beautiful and creative art pieces. 
We are confident of Abrakadoodle art programs and as parents, we are looking forward to see our children's art pieces at the end of their circus camp.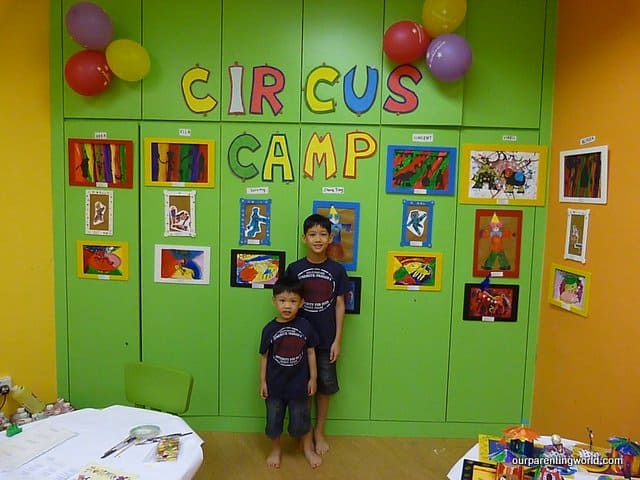 This is the cosy and colourful classroom of Gor Gor's and Di Di's Circus Camp.
Here's an inside peek into what the boys were doing in the classroom:
Gor Gor enjoyed his art classes and he is able unleash his creativity and come up with amazing art pieces.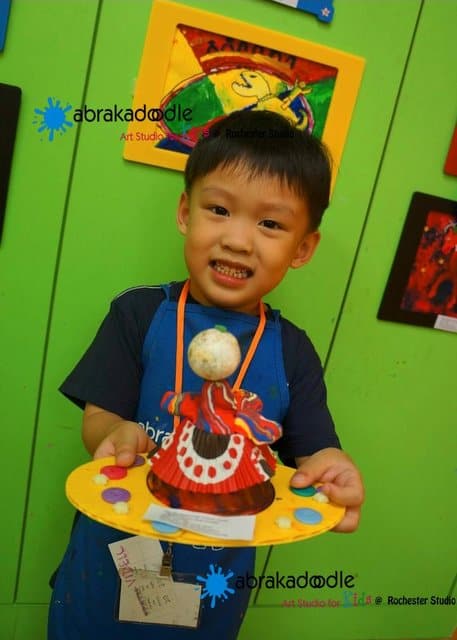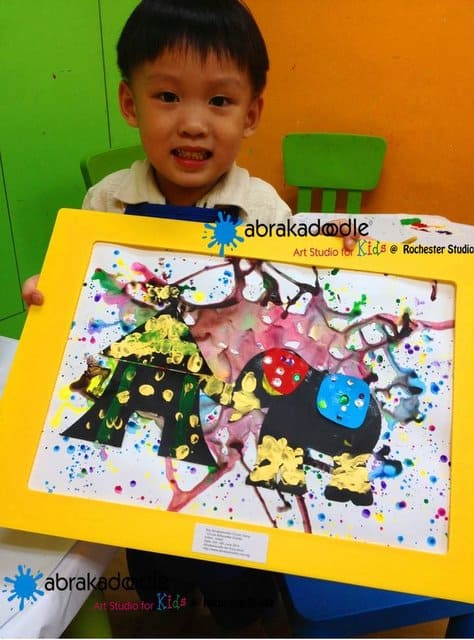 We are pleasantly surprise that our little Di Di can come up with such beautiful art pieces and he enjoyed the class tremendously.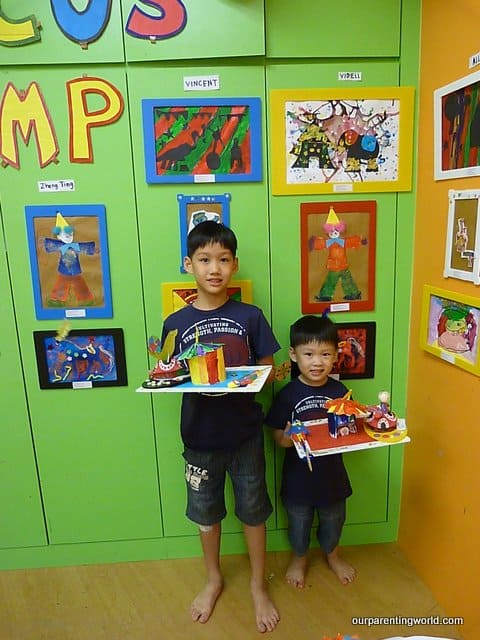 All the children will have their art pieces hung up on the wall. It looks like a wall of fame! The boys were so eager to show us their art pieces and we were amazed that the boys could come up with such elaborate art pieces that we couldn't help admiring their master pieces. The teachers did a great job in teaching the boys!
You can choose to attend a 3 or 4 days camp, at the last day of the camp, parents are invited to sit in the class for the last 15 minutes to see their children's graduation.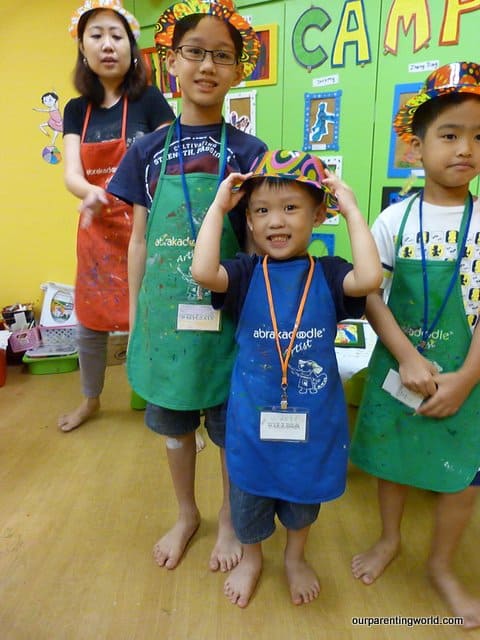 The boys and their classmates getting ready to showcase their performances as parents streamed into the classroom to witness their children's graduation ceremony and look at their completed art pieces.
The teachers and children put up a performances of songs and dances to delight and entertain the parents. The children all look so adorable!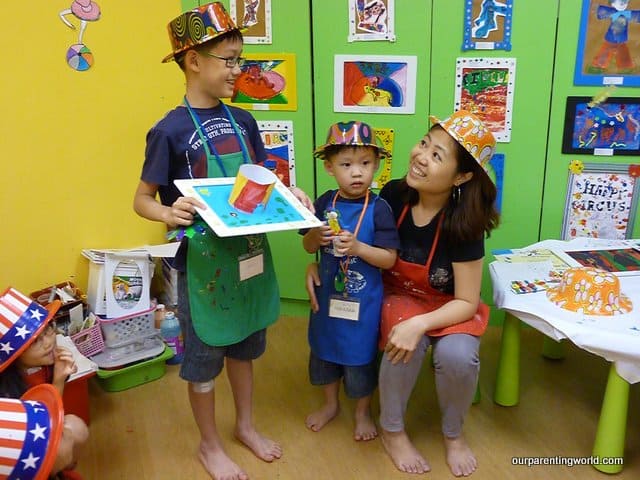 After the songs and dances, is the Show and Tell session where every child will have the opportunity to come up to showcase his/her art pieces, explain and talk about the ideology behind their art pieces. This helps to build up the child's confidence and ability to do storytelling in front of the audience especially for the younger children. Each child will also be presented with a certification and a personal note by the teachers. How thoughtful and sweet!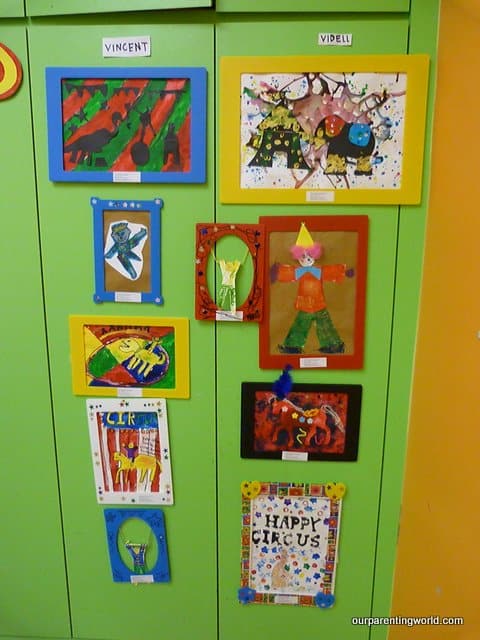 Abrakadoodle Art Camp manages to turn our boys into a fine artist, look at their completed works especially for our little boy who is only 3+ years old, we are so amazed with their art pieces!
At the end of the camp, each child will bring back 6 art projects and you can also bring back to hang in your own home. 
We find that the Abrakadoodle Art Camp teachers are dedicated and passionate in teaching the children, our boys love them and always look forward to go for class. The 4 days camp passed by so quickly, the boys are sad when the camp is over. The teachers are so talented and managed to teach our boys to draw so well. We have proudly displayed their art pieces at home and showcase to our friends.
Here we would like to thank Abrakadoodle Art Studio for having us and the teachers for teaching our boys so well! Thumbs up to Abrakadoodle Art Studio!
Abrakadoodle Art Studio for Kids at Rochester Mall
35 Rochester Drive, #03-23
Singapore 138639
Tel: 66848533
Additional Information:
Abrakadoodle Art Studio for Kids currently has three branches at Bukit Timah, Marine Parade and Rochester. It has a wide range of classes for children ages 20 to 36 months and all the way to ages 7 to 12 years old. Please click HERE for more information.