Gor Gor excitedly reviews:
Horray! The haze condition has improved tremendously, the sky has cleared so much over the past few days. Auntie Catherine brought all of us to Universal Studio. I have been looking forward to it. I have been to Universal Studio and each time, I enjoy myself as there are always new things to see, new experiences and great company, this time I am going with Mummy's friends.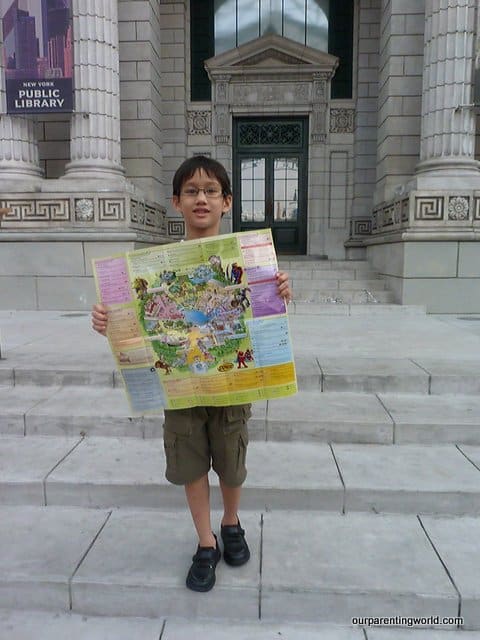 Hmm … where shall we start? Do remember to grab a copy of the guide which is easily available at the entrance and every shop to help plan for your trip. Gor Gor studying the guide and planning his visit.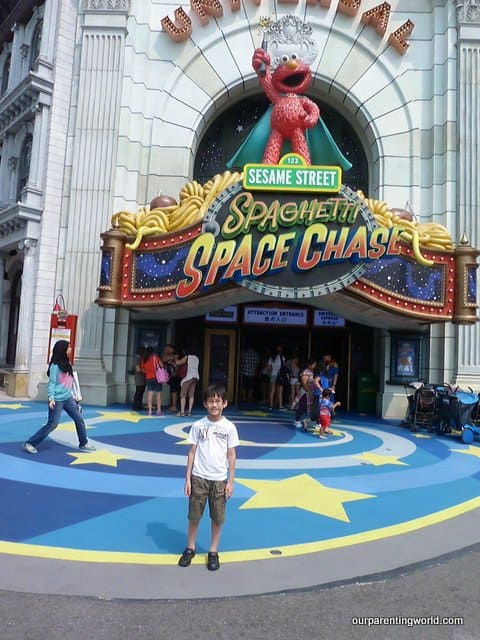 I am at one of the latest new attractions for 2013 which is the Sesame Street Spaghetti Space Chase.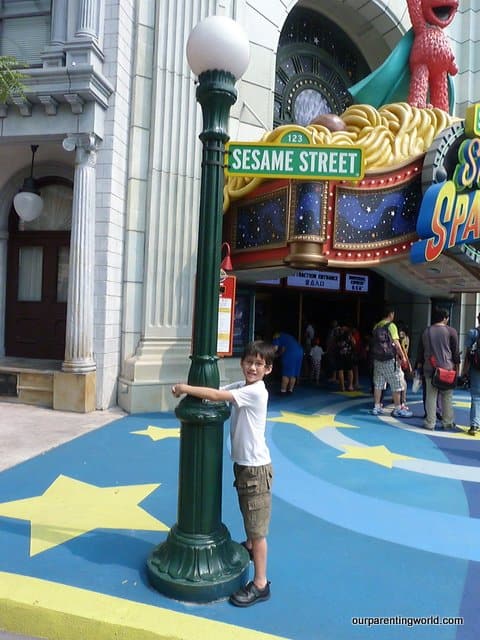 I love Sesame Street! I grew up watching Sesame Street and my favourite characters are Big Bird, Elmo, Bert and Ernie, Cookie Monster and many more …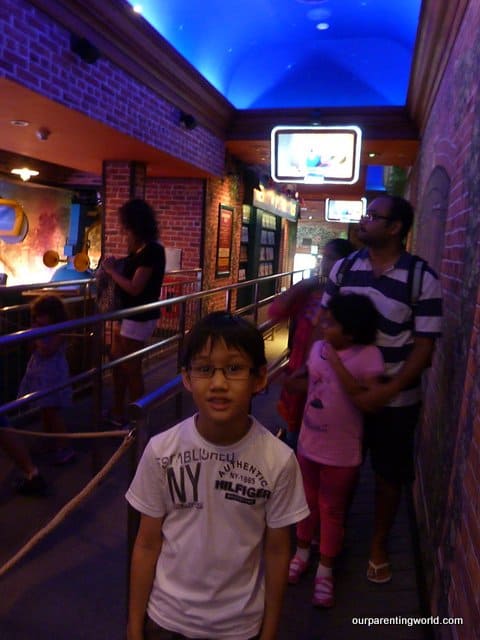 I am queuing up to take the ride and I am going to join Elmo on a mission with Sesame Street super heroes to stop Macaroni the Merciless in his plot to steal all the spaghetti from Earth. I get to zip through the space on a space ship and meet all my favourite Sesame Street characters. 
Fear Factor : 0 and Fun Factor: *****
This ride is suitable for the whole family and the height requirement for guests is at least 92cm. Children between 92cm to 122cm must be accompanied by an adult.
If you can't get enough of the ride besides going for another round. You can head straight to the gift shop and bring your favourite characters home. 
Hey, it's Cookie Monster and Ernie!!!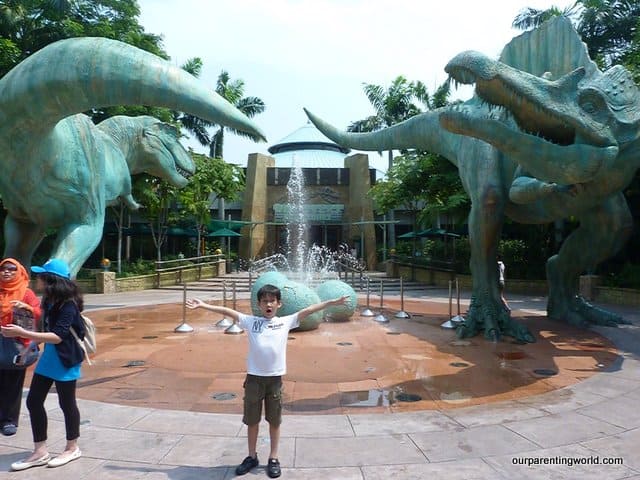 Look at the Dinosaurs, they look so fierce, can you guess where am I now?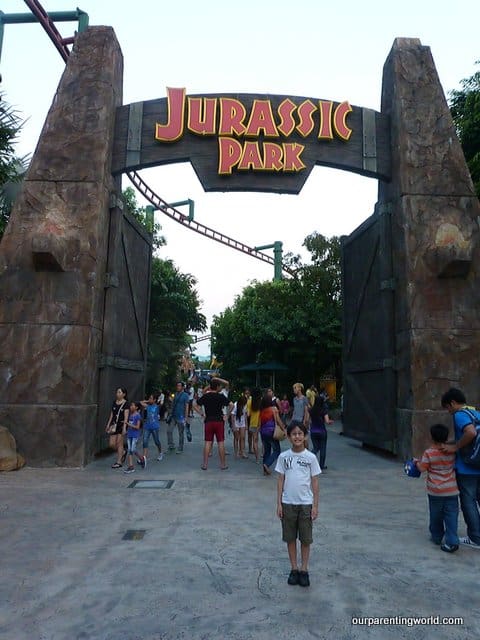 Yes, I am at Jurassic Park.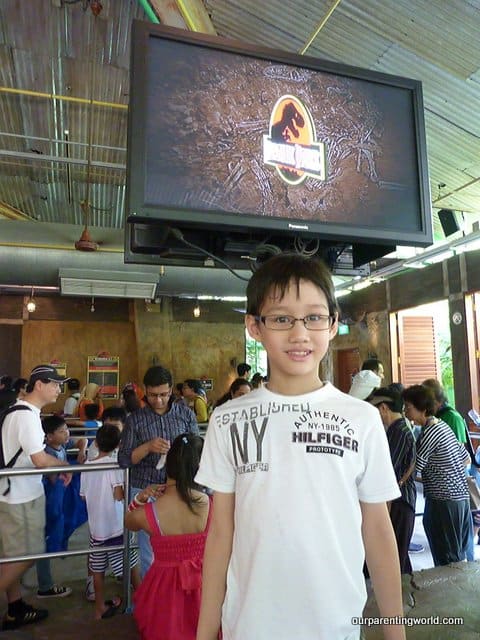 I have taken the ride before and I am looking forward to take it again!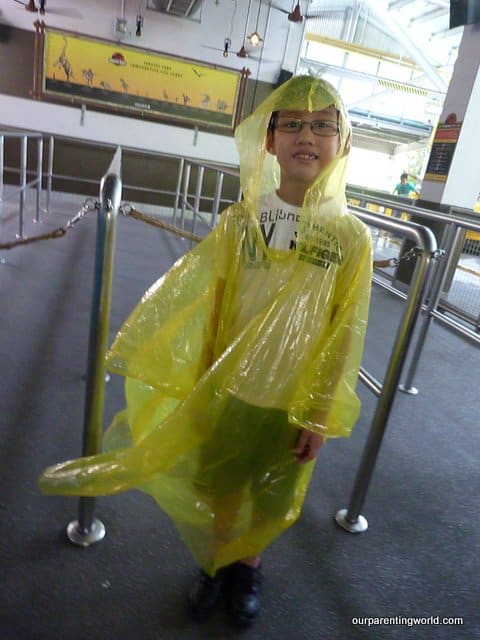 Do remember to bring a raincoat as you can get wet! Ladies and Gentlemen, please take care of your belongings and cover them well as water will be splashing at you at some part of the ride. If you did not bring a raincoat, no worries, there are raincoats for sale at the venue and vending machines. 
Fear Factor: *** and Fun Factor: *****
About the ride, it is outdoor and you get to sit in a circular river raft. You will travel and be tossed through waterways within Jurassic Park where Dinosaurs roam free. It is a thrilling ride and not forgetting the excitement of getting splashed by water. The height requirement applies for guests under 107cm may not ride. Children between 107cm and 122cm must be accompanied by an adult.
Look who's behind me, quick run, Dinosaur is on the loose!
Next stop, I am at the entrance of "Revenge of the Mummy" ride which is a high speed roller coaster. The previous time when I was here, I did not meet the height requirement so I couldn't take the ride. This time, my height is over the requirement and I am so excited to be able to take the ride.
Fear Factor: ***** and Fun Factor: *****
After taking the ride, it is pretty scary for me as I have not taken high speed roller coaster in the dark before. The ride is conducted indoor and in total darkness with sudden sharp turns and children, please hold onto the hand bars tightly. The adults are having fun as they keep saying they want to go for a second round. They commented me on my bravery on taking this ride. Overall, after going through the first round, I am more prepared to go for another round. It is fun! Height requirement for guests under 122cm may not ride. Children must be accompanied by adults and please keep your belongings in the lockers provided at the ride venue.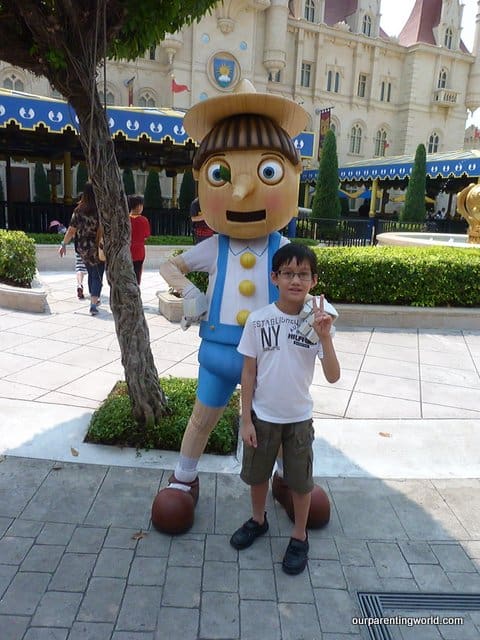 Hey, it is Pinocchio!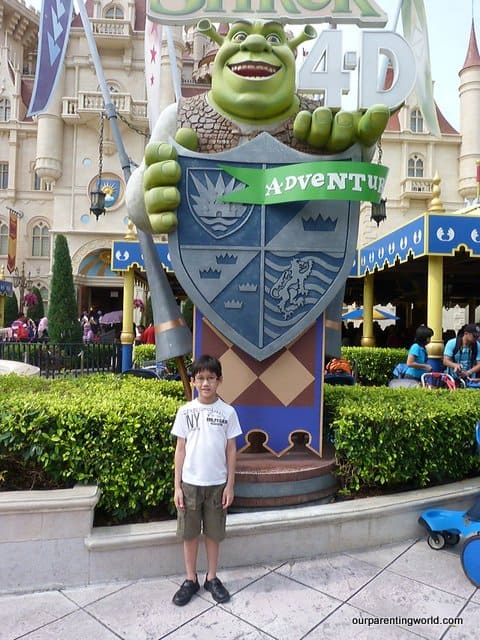 I am at Far Far Away Land and the highlight is to watch Shrek 4-D Adventure. Join Shrek and Donkey in their adventure to save Princess Fiona. I enjoy watching the show, the characters come alive with the OgreVision glasses that you wear when you watch a 3D movie and you get to feel the movement when the characters jump, bounce and even when Donkey sneezes, water will be splashing at you so be prepared! Overall, it is an interesting 4D experiences!
I am at Madagascar, A Crate Adventure! 
Look at that a blow fish! I can't wait to join the four heroes, Alex, Marty, Melman and Gloria who are the four heroes on a river ride adventure. There is no water splashing, it is quite a gentle and smooth ride.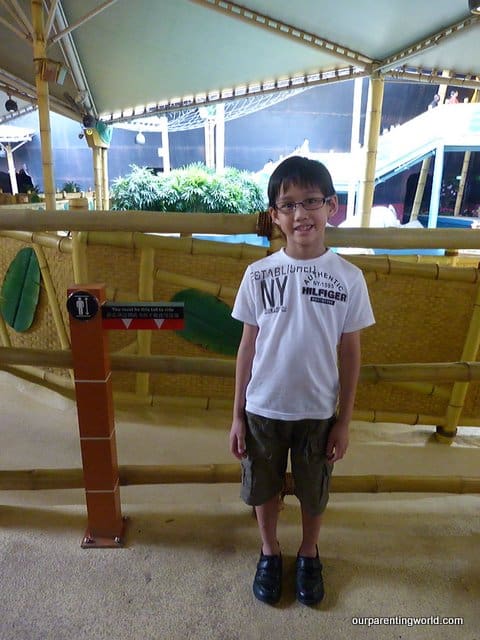 Height restriction for guests under 80cm may not ride. Children between 80cm and 122cm must be accompanied by an adult.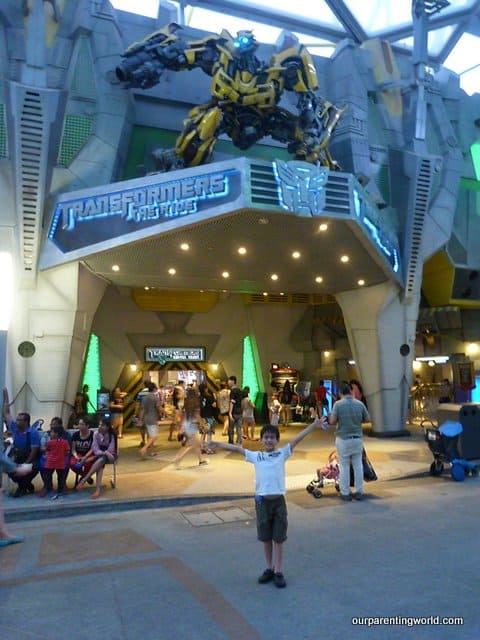 Now comes to the highlight of our trip, the Transformers Ride which is both Gor Gor's and Di Di's all time favourite toys! They are big fans of most of the Hasbro products which Transformers belong to. 
Ohhh … the wait time is about 40 minutes! It is okay, I will wait patiently for my turn to take this ride. 
There are videos and exhibits to keep us entertained while queuing for the ride.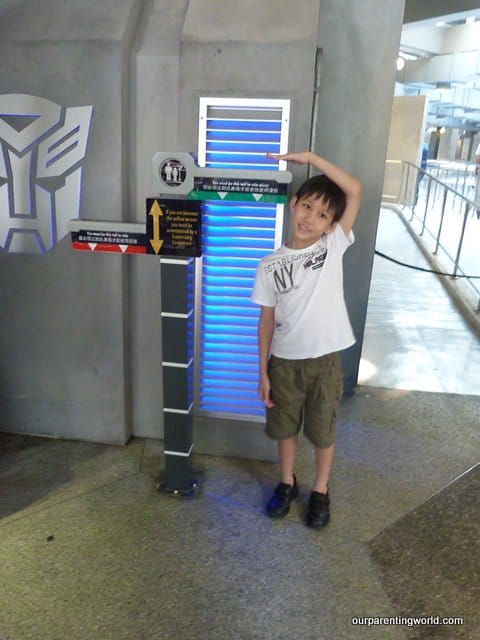 About the ride, join Optimus Prime who is the leader of Autobots, Bumble Bee and the Autobots team in this 3D thrilling indoor ride. You will be racing, zipping through subway tunnels, down the streets and across high-rise rooftops wearing 3D glasses to battle against the Deceptions.
Fear Factor: *** and Fun Factor: *****
Height restriction for guests must be at least 102cm to take the ride. Children 102cm to 122cm must be accompanied by an adult.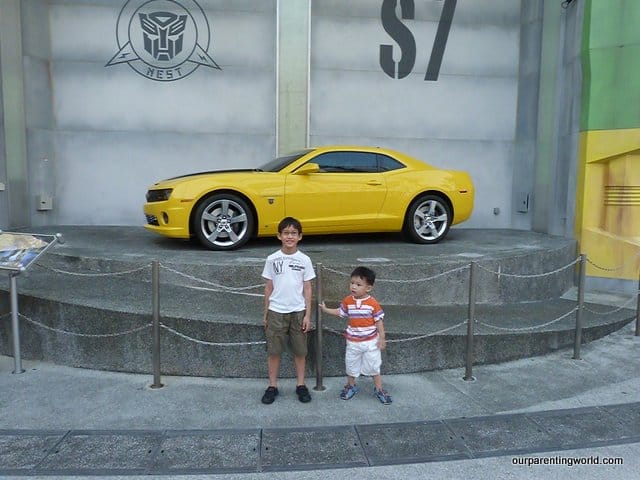 Di Di waits for Gor Gor while he finishes the ride and they both pose infront of their favourite Transformers character, Bumble Bee. 
"Gor Gor, how's the ride?"  
"It is exciting, Di Di! I hope you will grow up quickly and meet the height requirement so that both of us can go for the ride together!"
Di Di can't take the ride so he went to shop and get a Bumble Bee toy. Hee hee …
It is time to catch the firework show at Lake Hollywood Spectacular. Everyone in the theme park seems to be rushing there to watch the show and it is very crowded. It is advisable to go to Lake Hollywood earlier to get a good spot to watch the show.
The firework show is available on Saturdays and selected holidays. Please check show schedule for more information. On Saturdays, the show starts at 8pm. After the show, we made our way to the entrance.
It is time to go back home but we will be back at Universal Studio again and again.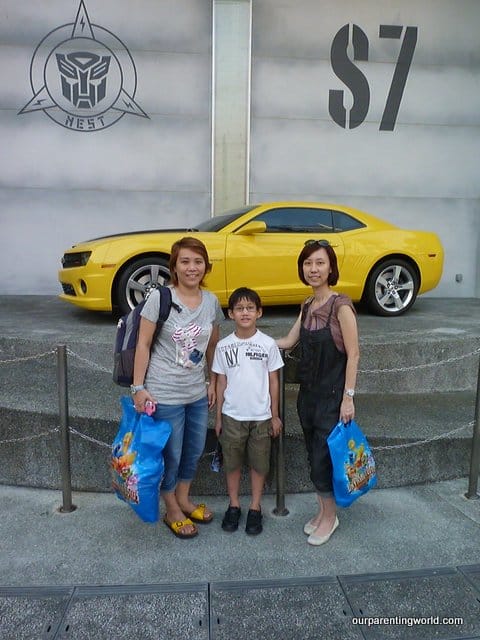 The lovely ladies in the picture with me are my Mummy's friends. Thank you so much for bringing us to Universal Studio!
For more information about Universal Studio, please click this link. 
For direction on how to get to Resorts World Sentosa and Universal Studio Singapore, please click this link.