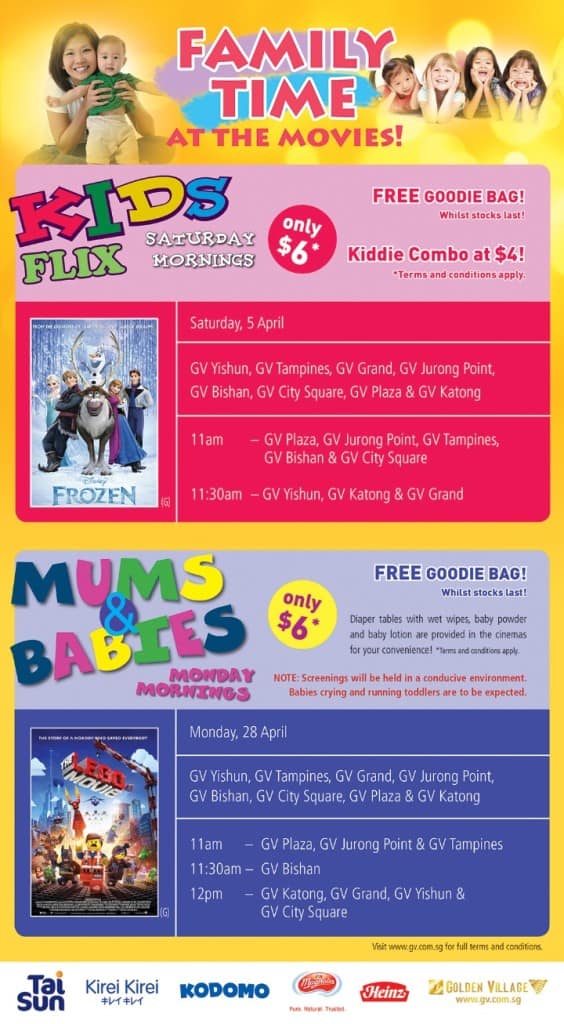 Our Parenting World is pleased to announce that this April, parents with toddlers will have their hands filled with not one, but two Golden Village goodies.
For Mums & Babies, parents can enjoy a film with their babies for only $6. All the baby-friendly conveniences such as diaper tables will be readily available as well.
For Kids Flix, parents and children who visit Golden Village will be able to catch the films at just $6 a ticket. In addition you can purchase a Kiddie Combo at $4. 
For both promotions, babies and children below the height of 90cm enter free.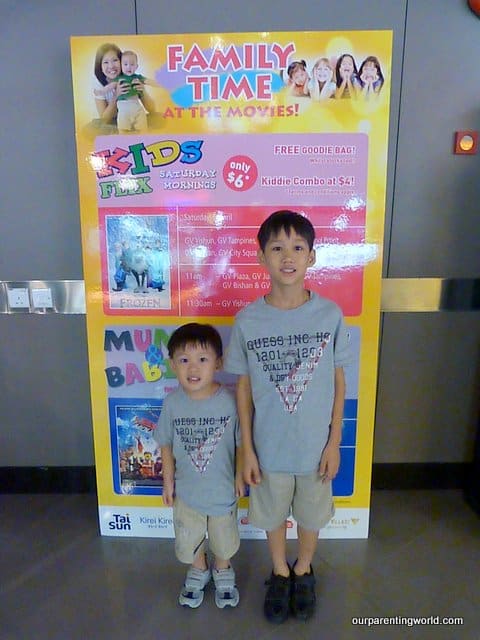 Our Parenting World, Gor Gor and Di Di were so excited to catch a movie at Golden Village (GV), Yishun on Saturday morning under its Kids Flix program. Golden Village, Yishun is Asia's First Green Cinema with 3D Digital Screen. Cinema goers can enjoy a comfortable and healthier experience at GV Yishun. 
Golden Village's Kids Flix program brought back the highly popular and award winning movie, Frozen. It has won many awards including 2 Academy Awards, one for Best Animated Feature Film of the Year and Best Achievement in Music Written for Motion Pictures, Original Song, "Let It Go".
Please click HERE to listen to the award winning song, "Let It Go".
The movie "Frozen" is a stunning big-screen comedy adventure. Fearless optimist Anna (voice of Kristen Bell) sets off on an epic journey, teaming up with rugged mountain man Kristoff (voice of Jonathan Groff) and his loyal reindeer Sven to find her sister Elsa (voice of Idina Menzel), whose icy powers have trapped the kingdom of Arendelle in eternal winter. Encountering Everest-like conditions, mystical trolls and a hilarious snowman named Olaf, Anna and Kristoff battle the elements in a race to save the kingdom.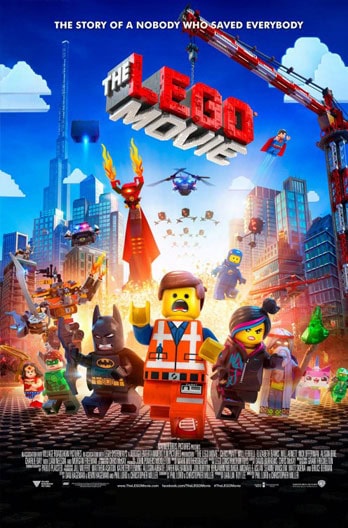 Golden Village, Mums & Babies program brought back the very popular Lego movie. This original 3D computer-animated story follows Emmet, an ordinary, rules-following, perfectly average LEGO minifigure who is mistakenly identified as the most extraordinary person and the key to saving the world. He is drafted into a fellowship of strangers on an epic quest to stop an evil tyrant, a journey for which Emmet is hopelessly and hilariously under prepared. 
Parents, kindly take note that screenings will be held in a conducive environment and the hall will be dim. Babies crying and running toddlers are to be expected. For your convenience, diaper tables with wet wipes, baby powder and baby lotion are provided in the cinemas.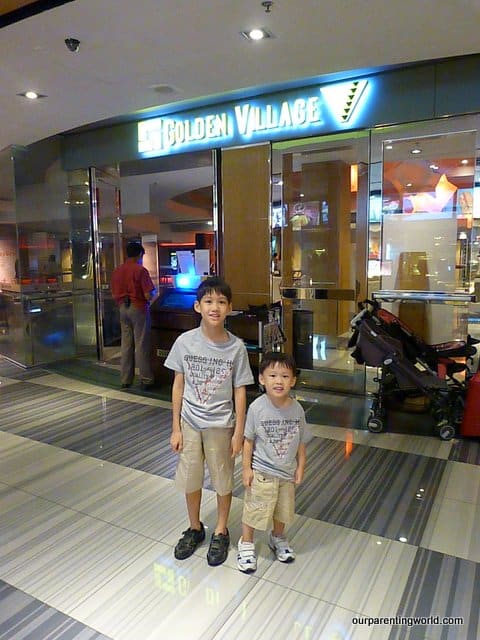 Our Parenting World, Gor Gor and Di Di would like to thank the kind and lovely organisers and Golden Village for inviting us. We love the movie and enjoy our experiences at Golden Village.
For more details of Golden Village's Kids Flix and Mums & Babies and other promotions, do visit http://www.gv.com.sg/promotions.jsp