Farrer Horse, the renowned restaurant and bar with an equestrian theme, is excited to introduce a remarkable menu transformation as it marks its one-year anniversary. Launched on September 2, 2022, this establishment pays tribute to the historical importance of Farrer Park Racecourse, Singapore's first horse-racing venue in the 1840s, by delivering an exceptional and unforgettable dining experience. With a Dining Room on the first floor and a uniquely named Stable on the second floor, Farrer Horse provides a distinctive atmosphere that seamlessly combines history, sophistication, and contemporary style.
The Unique Atmosphere
Spanning two meticulously designed floors, Farrer Horse presents an enchanting experience that combines journey through time and taste. On the ground floor, a captivating Dining Room, greets visitors with its elegant atmosphere, while the second floor, aptly named Stable, transforms into a charming bar reminiscent of the racecourse's golden era.

Indulge in Culinary Pleasures
At Farrer Horse, a delightful culinary journey awaits discerning diners. From delectable starters to sumptuous main courses and innovative cocktails, their menu offers a symphony of flavours. Embark on your gastronomic exploration on the first floor in the Dining Room, where their new menu presents a tantalising selection of appetisers. Take a dive into the Shrimp Cocktail, meticulously crafted using sustainably sourced jumbo shrimps, elegantly served with a signature zesty cocktail sauce. Alternatively, savour the Chukka Tenders, a mouthwatering creation of crispy, succulent chicken tenders, marinated in an exotic blend of spices and served with their exclusive Chukka sauce.
The Dining Room also presents a stunning array of fresh main courses. Among the highlights is the delectable Fish Tacos, a coastal-inspired treat that showcases grilled flaky fish fillets fillets topped with fresh slaw and a zingy mango citrus crema. Equally noteworthy is the Trackside Burger, a culinary masterpiece created entirely from scratch, boasting a 100% homemade beef patty and a specially concocted trackside sauce.
Stable: A Peerless Bar Experience
The second-floor Stable, renowned for its vibrant and sociable atmosphere, will not disappoint. Along with a new selection of cocktails inspired by racing destinations worldwide, Stable's bar menu introduces a tempting assortment of racecourse-inspired snacks and dishes. Savour the Racing Chickens, a standout dish featuring farm-fresh chicken, marinated in a rich blend of herbs and spices. Alternatively, relish the Jockey Steak Sandwiches, a harmonious combination of premium grilled steak and delicious sourdough bread.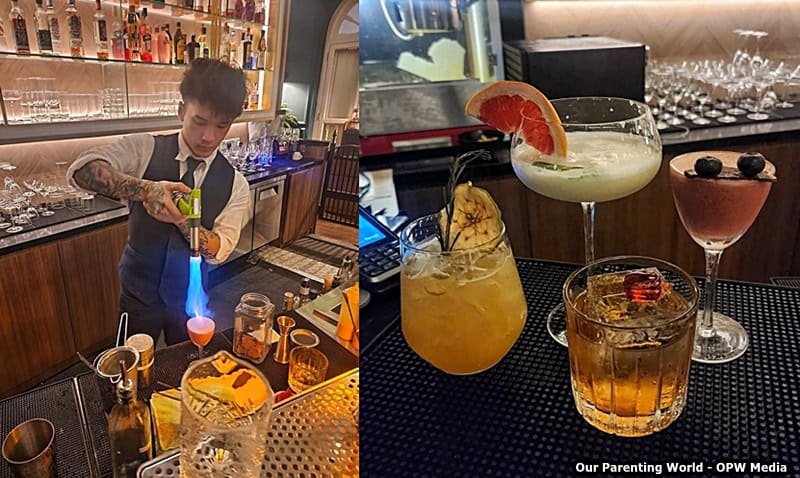 Cocktails That Spirit You Away
In perfect harmony with this culinary adventure, Farrer Horse is thrilled to present an assortment of new and globally-inspired cocktails and beverages such as Longfellow, Habibi, Come to Dubai and locally inspired by Singapore Turf Club, The Good Ol' Days.
In addition to these exciting culinary innovations, Farrer Horse will continue to please its patrons with beloved classics. These include the ever-popular Lamb Lollipops, a succulent lamb dish marinated for 24 hours and served with a zesty lemon herb sauce; the Chicken Chettinad Pizza, a culinary masterpiece crafted on homemade wheat dough and adorned with tender chicken cubes, an array of melted cheeses, and fresh vegetables; and the Surf & Turf Pie Tee, a delectable appetiser that features Pie Tee shells brimming with smoked duck, diced shrimp, coleslaw, rojak sauce, and mayonnaise.
Alongside the mouth-watering culinary additions, customers can also anticipate a fresh restaurant decor that enhances the unique equestrian ambiance. Furthermore, live entertainment from Rush Hour 2, a local evergreen acoustic band, will add an extra layer of enjoyment to the dining experience.
Farrer Horse continues its harmonious fusion of history, culinary delights, and entertainment, it extends a warm invitation to both long-time and first-time patrons to partake in the festivities marking this important milestone. Find out more about Farrer Horse at https://farrerhorse.com/
Farrer Horse is located at The Sultan Hotel, 101 Jalan Sultan, #01-02/#02-00, Singapore 199002
Tel: +65 8139 8109
Email: [email protected]
Instagram: @farrerhorsesg
Facebook: Farrer Horse
Hashtags: #FarrerHorseMenuLaunch #1YearOfFarrerHorse #FarrerHorseSG #FarrerHorse
Operating Hours:
Dining Room:
Mon to Sat, 4pm to 10:30pm (last order)
Stable
Mon & Tues 4pm to 10:30pm
Wed to Sat, 4pm to 12am