Experience an exciting adventure in a world of fun with Hasbro Gaming at Changi Airport Terminal 3 (T3) from 26 May to 16 July. The departure hall undergoes a remarkable transformation into a engaging Hall of Games, pulsating with larger-than-life "phygital" (physical and digital) versions of beloved games such as MONOPOLY,  Connect 4, Hungry Hungry Hippos, Twister, The Game of Life, and Guess Who?
Begin your adventure by striking a pose with Mr. Monopoly and your favourite tokens from the classic game. Next, embark on an immersive experience through the unpredictable path of existence with an invigorating adaptation of The Game of Life. Immerse yourself in an oversized rendition where visitors fasten themselves into colossal car game pieces and compete to amass the highest number of points on the screen, all while skillfully evading obstacles.
Engage your friends in an electrifying contest of Hungry Hungry Hippos, where the ultimate goal is to devour the greatest number of marbles to win. Unleash the hunger of your ravenous hippo by tapping on the screen with lightning speed! Delve deeper into the excitement with virtual renditions of Connect 4 and Guess Who?, or if you're craving a test of agility, dive into the free-to-play Twister game. Give the wheel a whirl to determine the placement of each player's limbs on the mat and prepare for a side-splitting entanglement of laughter. The victory goes to the last player left standing!
Ms Phau Hui Hoon, General Manager for Landside Concessions at Changi Airport Group shared that "We are thrilled to be partnering Hasbro Gaming to bring the wonder of board games into Changi Airport. Just as the airport is a place for friends, family, and people the world over to connect, board games bring everyone together and are precious opportunities to create fun and memorable experiences. We hope this June holiday event will not only rekindle the magic of games for those who grew up with them, but also introduce those who might be new to this world of fun."
To partake in the phygital experiences offered at the Hall of Games, you can obtain a complimentary Gamer Pass by making a minimum spend of S$50 (S$80 for supermarket) in a single receipt at participating outlets located in the public areas of Terminals 1 to 4 (excluding Jewel Changi Airport). Redeem an additional free pass with payment by Changi Pay or Mastercard®.  Alternatively, Gamer Passes can also be purchased at S$5 each.
Jump, slide, and dive right into the fun at Mega Bounce
Make your way to check-in row 11 at the departure hall of Terminal 3, where an enchanting realm of Chutes and Ladders and thrilling rounds of Hungry Hungry Hippos await. Brace yourself for an exhilarating experience at the Mega Bounce playground, where you can seize the opportunity to leap and bound on the inflatable terrain, slide down chutes, and plunge into a mesmerizing river of marbles or even dive into the gaping maw of a gigantic hippo!
For every S$50 (S$80 for supermarket) spent in a single transaction at participating establishments within the public areas of Terminals 1 to 4 (excluding Jewel Changi Airport), you can acquire a Mega Bounce pass for just S$5. This offer is limited to a maximum of three passes per receipt. Additionally, an extra pass can be obtained by making payment through Changi Pay or by using a Mastercard®. If preferred, passes can also be directly purchased at the price of S$15 each.
Take home a winning combination of Changi-exclusive Hasbro Gaming premiums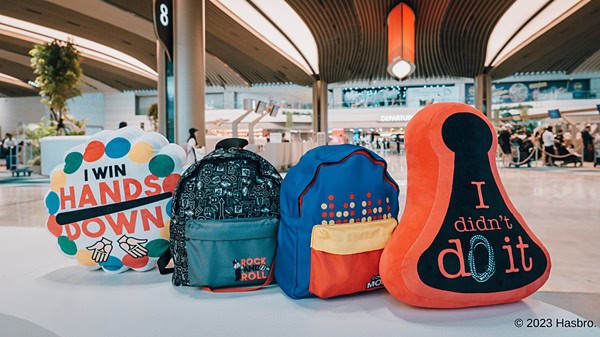 When you reached the qualifying spend for the Gamer Pass or Mega Bounce pass, you will also have the opportunity to purchase an exclusive Hasbro Gaming premium, available only at Changi, for S$11.90 each. With a single receipt, you can purchase up to three premiums, or if you opt to pay with Changi Pay or Mastercard®, you can extend the limit and bring home all four unique designs. Take your pick from either a Twister or Cluedo cushion, perfect for snuggling up while enjoying games with friends and family, or choose to grab the MONOPOLY or Connect 4 backpack, allowing you to carry your gaming essentials wherever your adventures take you.
To redeem passes and premiums, visitors can drop by the redemption booths located at the departure hall's Hall of Games and Hasbro pop-up store located at Basement 2 respectively. The Hasbro pop-up store will be any game enthusiast's dream, jam packed with familiar favourites like Twister, Jenga, and Connect 4. Not only will the classic MONOPOLY  be available, but a wide variety of variations as well, including the popular MONOPOLY Deal. You'll also find grab-and-go versions of well-loved games like Hungry Hungry Hippos, CLUE, Guess Who? and Battleship. Some intergalactic members of the Hasbro family will be there too! Transformers fans will be able to purchase toys, figurines, apparel, bags, and more ahead of the highly anticipated feature film Transformers: Rise of the Beasts, hitting theatres globally on 9 June 2023.
Marvel at the massive MONOPOLY board at ST3PS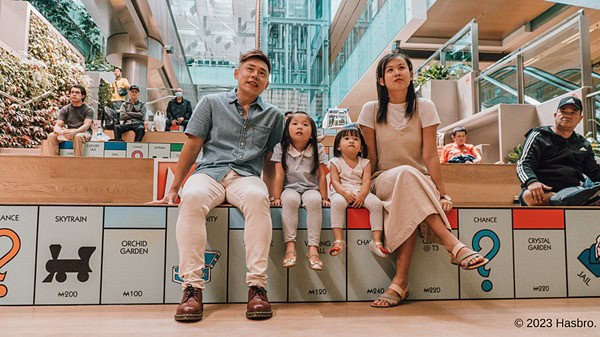 The Hasbro pop-up store is just a dice roll away where you can sit back and relax after a day of play. Prepare to unwind at the iconic ST3PS on Basement 2, fully immersed in the thrilling ambiance of Hasbro Gaming. The space will be adorned with a MONOPOLY-inspired theme, transforming into an enormous game board. Upon closer inspection, you'll discover that the familiar property names on each square have been replaced with renowned Changi landmarks. Seize the opportunity to become a living game piece at your preferred location, capturing unforgettable moments through delightful snapshots!
To find out more, please visit www.changiairport.com/hasbro 
Images credit to Changi Airport