Geneco, Singapore's No. 1 residential electricity retailer, celebrates its 5th anniversary with Geneco FiVesta. The campaign is set to kick off the #SeedTheFuture initiative on April 1st, aimed at supporting Singapore's Green Plan 2030 and promoting a sustainable environment for everyone. The initiative will focus on two strategic approaches to make it easier for more Singaporeans to adopt an eco-friendly lifestyle, emphasizing the following key areas.
Go Green Your Way: Power Eco Add-On 2.0
Following the introduction of Singapore's first and only customisable green add-on for electricity plans to new and re-contracting clients in 2021, Geneco has observed that ten times more customers have chosen the Power Eco Add-on compared to those who enrolled in a traditional green plan prior to its introduction.
Nearly 40% of customers who subscribed to the Power Eco Add-On opted to offset 100% of their carbon dioxide emissions in their plans, as compared to 25%, 50% and 75% options that are available. This is a promising statistic that indicates a shift in consumer attitudes towards prioritising environmental consciousness over price-consciousness.
Building on the success of the initial launch, Geneco will make the Power Eco Add-On available to all of its residential customers from April 1st onwards, with the aim of encouraging more customers to make environmentally-friendly choices for their homes. As part of this expansion, current Power Eco Add-On customers can easily upgrade their existing add-ons through Geneco's self-service portal and mobile app.
Mr Lim Han Kwang, Chief Executive Officer of Geneco said, "Geneco is committed to supporting The Singapore Green Plan 2030 in our shared mission to build a more sustainable future for the nation. With the innovative Power Eco Add-on now being offered to all customers, we are glad to provide an opportunity for more consumers to embrace a greener way of life and do their part for the environment."
A Creative Spin on the Topic of Sustainability: Geneco x Garden City Fund x Apiary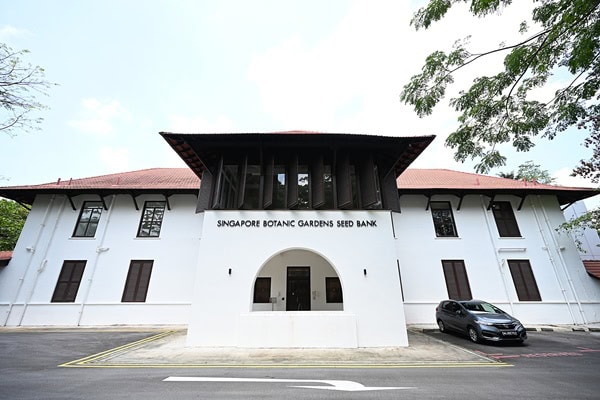 In conjunction with the launch of Power Eco Add-on 2.0 and the #SeedTheFuture initiative, Geneco has partnered with National Parks Board's (NParks) registered charity and IPC, Garden City Fund, and Apiary, a popular local ice cream brand to further reinforce and raise awareness about the Singapore Botanic Gardens Seed Bank's efforts to conserve seeds of threatened plant species in Southeast Asia due to climate change and habitat loss. 
As a long-term partner sharing the same sustainability-led vision, Geneco has collaborated with Garden City Fund in numerous campaigns, such as #GreenDiscoverSG, #GreenForProsperity and Plant-A-Tree events, to pledge support for NParks' City in Nature vision.
"Support from partners like Geneco allows us to continue in our efforts to conserve the seeds and germplasm of plants in Southeast Asia at the Singapore Botanic Gardens Seed Bank, and advance our research in the field of seed preservation and storage. We extend our appreciation to Geneco for their donation and hope it will inspire other individuals and organisations to contribute generously to Garden City Fund to support Singapore Botanic Gardens and its programmes," said Professor Leo Tan, Chairman of Garden City Fund.
Building on their previous collaborations, this new initiative with Garden City Fund aims to raise awareness about the importance of seed banking and promote the development of a greener future, aligning with Geneco's ongoing efforts to inspire the community and encourage eco-advocacy through impactful partnerships and public engagement. Geneco will also be contributing $10,000 to the Singapore Botanic Gardens Seed Bank via Garden City Fund to support their research on seed conservation.
In order to generate greater interest in the initiative among the wider community, Geneco has partnered with Apiary, a company that specializes in producing high-quality ice cream using fresh, natural ingredients without artificial coloring. Together, they have developed an exclusive ice cream that has been certified as carbon-neutral by purchasing carbon credits for the emissions produced during the production process.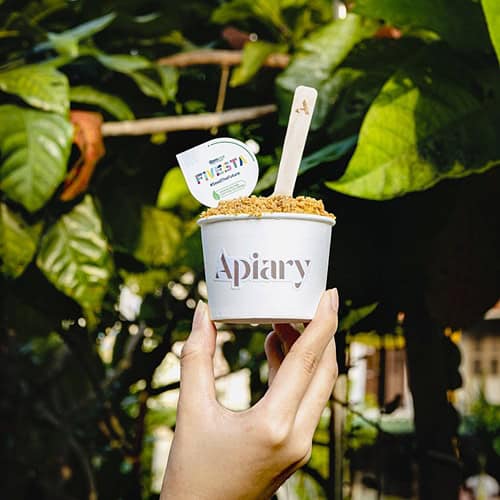 The ice cream's main flavor is a refreshing calamansi lime, accompanied by attap seeds – one of the seeds that is preserved at the Singapore Botanic Gardens Seed Bank – and made with locally-sourced fruits and seeds. The ice cream's presentation is also creatively designed to resemble the planting of seeds: attap seeds are placed in a concave dip in the ice cream, and then topped with golden cereal crumbles that have been baked with butter and sugar to represent the soil. The resulting flavor is a perfectly balanced blend of sweet and sour, with a zesty taste and enjoyable texture.
The limited edition flavour will be available from 1st – 30th April at all Apiary outlets and online store. Geneco customers will enjoy 10% off this exclusive ice cream pint at all Apiary outlets, which comes with separately packed attap seeds and cereal crumbles for the full experience (Usual Price $19).
"Sustainability is not a popular topic for everyday conversations and we hope to amplify the awareness on the importance of seed conservation, spark the right discussions, and turn them into green practices towards building a greener home for generations to come through this #SeedTheFuture initiative." Mr Alex Chan, Head of Brand, Communications and Marketing for Geneco shared. "We are glad to have the support of like-minded partners, Garden City Fund and Apiary, who have not only joined us to spotlight the message but also collaborate creatively for our #SeedTheFuture initiative."
For more information, please visit www.genecofivesta.sg