This August as we celebrate our Nation's 57th birthday and celebrate the social enterprises that are creating a better Singapore and world, DBS Foundation's Local For Good movement has put together from mouth-watering treats to urban farm tours, enabling you to discover all the good things Singapore has to offer! Through their curated recommendations and guides to help plan your itinerary around the island so that we can be More Impactful, Together.
About DBS Foundation, they are focused on creating impact and improving lives through championing social entrepreneurship and preparing communities for the future. Local For Good features enterprises that are improving lives and regenerating our planet through their businesses. Running from 1 August 2022, DBS Foundation is bringing 57% off selected offerings from these thoughtful and meaningful brands. These products and/or experiences are innovative, stylish, and provide real solutions to underserved communities and pressing environmental challenges, not only in Singapore but also wider Asia, for a better future for everyone.
Building on DBS Foundation's long-standing commitment to fostering a robust social enterprise ecosystem, Local For Good seeks to connect consumers to social enterprises, and encourage them to consume consciously. Since its establishment in 2014, DBS Foundation has helped close to 950 innovative social enterprises across the region to grow by providing them with holistic support measures such as grants, capacity-building programmes, and networking and business opportunities, among others. Since early this year, DBS Foundation has also gone beyond social enterprises to support society-at-large through the launch of a dedicated 'Community Impact' chapter that prepares communities for the future by equipping them with future-ready skills and reducing food waste.
Healthy planet, healthy you
Love food and love sustainable food even more? Grab CRUST Group's refreshing Community Brew, made with surplus bread and pineapple peels, and CITRAL beer brewed using lemon myrtle from Gardens by the Bay, or a bottle of Foreword Coffee's Gimme Malt Coffee, which is made with Bamnut Milk from WhatIF Foods.
For those who are pet-owners, you can now rope in your furkids on your sustainable living journey too with Ento Industries' ECOGRUB x Pawfoo Pet Treats, a snack that's nutritious, protein-packed, and also helps tackle the problem of food waste in Singapore.
When most people think about sustainable food, they think about the food itself. Is it organic? Local? Fair trade? According to these brands, sustainable food is so much more than that – It's about how food is produced, distributed, packaged, and consumed as well as the environmental, social, and economic impact of our food choices in the form of food miles, resource usage, and more.
Delicious, nutritious eating for all
Then, there are those who are not able to enjoy food as much as we can, due to reasons such as illness or old age. If you have family or friends who are suffering swallowing difficulties or at risk of type 2 diabetes, perhaps these products from GentleFoods and Alchemy Foodtech might be of interest to you.
The GentleFoods Special Kueh Platter features pureed and soft minced ingredients, transformed to look and taste exactly like traditional kueh, bringing back the simple joy of eating childhood favourites to those with swallowing difficulties; while the Springleaf Prata made with Alchemy Foodtech's Alchemy Fibre has increased dietary fibre, promotes better gut health, and aids in regulation of blood glucose – all without altering the taste, colour, and texture!
For those seeking a new, fun yet educational experience this National Day weekend, why not roll up those sleeves and spend a relaxing day in nature with Edible Garden City? Through their farm tour and gardening workshop, you'd get to learn more about urban farming and its role in tackling Singapore's food security challenges, as well as how you too can grow your own food.
Providing work and hope for a better future
Beyond respectively crafting tantalising coffee and treats, and beautifully designed jewellery creations, Bettr Group, BoxGreen and EDEN + ELIE also seek to touch the lives of those they're working with. Independence, security, and self-sufficiency are key values that these local enterprises hope to bring to their employees, in addition to imparting valuable skillsets with which to build stable livelihoods.
Grab the Coffee & Chocolate Taster Set from Bettr Coffee (under Bettr Group), a local enterprise founded out of passion for coffee and education, and the desire to do the right thing. Bettr Group trains marginalised women and youths at risk for the specialty coffee industry, and in developing personal resilience, and nurtures direct trade with farmers for sustainably grown coffee beans.
Boxgreen's Chocolate Bites come in three flavours – sea salt, fruit and nut, and coffee almond – and hit the spot for those seeking a snack that's both healthy and delicious. Boxgreen experiments with different flavours and textures to create great-tasting nutritious snacks, and employs ex-offenders and inmates in Singapore as part of its purpose-driven ethos.
EDEN + ELIE crafts jewellery with weaving techniques that are meticulously stitched and beaded by hand by individuals with autism. Inspired by the intricate art of Nyonya beadwork and floral motifs, the Peranakan stud earrings are an ode to Singapore's rich Peranakan heritage, and extremely fitting for celebrating the nation's birthday.
Enabling greener lifestyles
Make more conscious lifestyle choices by shopping with The Green Collective, which curates and offers an array of sustainable alternatives to all your daily needs, and The Social Space, which comprises a cafe, a retail area and a nail salon (The Nail Social), all of which seek to promote conscious living in Singapore.
If you've not had your nails done in a while, it's a good time to book a Signature Manicure online with The Nail Social, Singapore's first socially-conscious nail salon established to provide vocational training and employment to marginalized women with a higher barrier to employment.
Not sure what's the easiest way to get around? Rent a BlueSG car from any of its 381 stations island-wide – beyond providing the ease and convenience of travelling from point A to B with its electric car-sharing service, users are also minimising their carbon footprint by opting for a greener way to travel.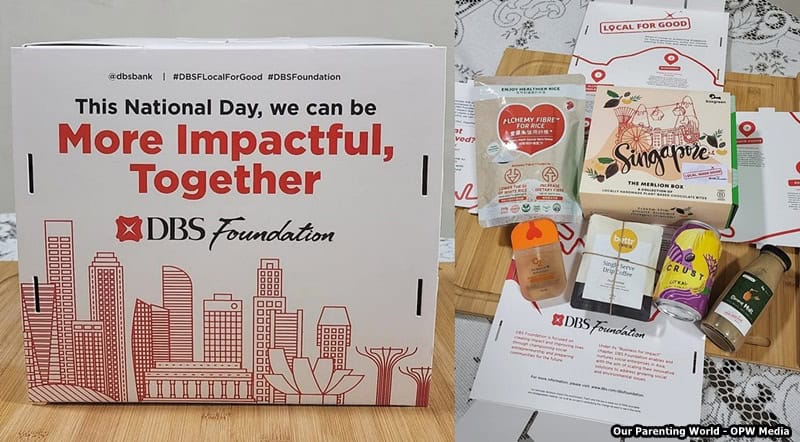 Thank you DBS Foundation for sending to us these amazing products that are being showcased on Local For Good, and a lovely nifty box filled with good things from our local, home-grown social enterprises! 
For the full list of products and experiences on offer at Local For Good with DBS Foundation, please visit: go.dbs.com/dbsflocalforgood
Do also tune in to 'The Wonder Shop' on meWATCH's livestreaming channel, LIVE+, at 9pm SGT on Tuesday, 9 August, and stand a chance to win surprise boxes from some of the Local For Good brands! Watch it here: https://www.mewatch.sg/thewondershop