This festive season, give your gut, skin and overall well-being a little extra TLC with Naked Blend! 
Naked Blend born with the aim to redefine health and wellness, helps to take health and wellness routines holistically inside out. Products by Naked Blend are all manufactured in Singapore and caters to multiple unique diets – be it plant-based, halal, gluten-free, refined-sugar-free, all while being pregnancy-friendly and nursing-friendly. 
FOR A HEALTHIER GUT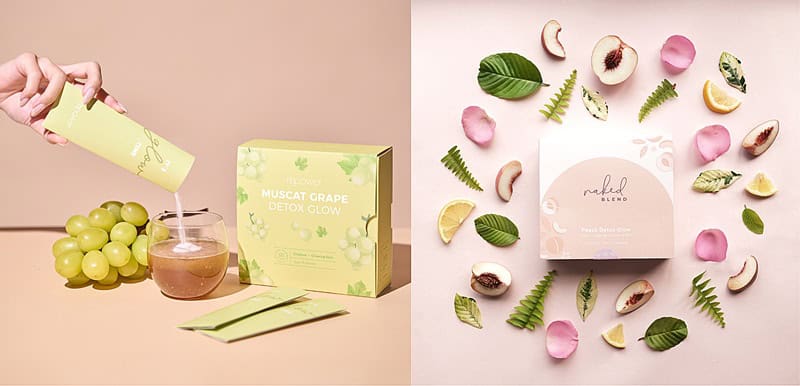 Naked Blend's Detox Glow range are made up of vegan-friendly, functional beverages packed with natural plant prebiotics, fibre, fruit enzymes as well as antioxidants.
The natural detox cleanse is an effective drink that can help with constipation and bloating. By encouraging a gentle intestinal flush and cultivating a healthy gut, it supports the body's natural detoxification process and enhances your well-being and skin. The formulation
promotes a healthy immune system

boosts natural collagen production 

aids in hormonal balance 

revives the skin's natural glow
The range features two tasty flavours: Muscat Grape and Peach. Each are retailing at $68 per box (15 sachets in a box). 
FOR ON-THE-GO DETOXIFICATION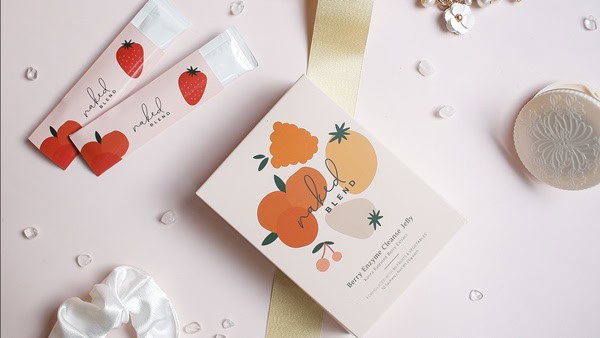 Naked Blend's Berry Enzyme Cleanse Jelly, or Enzyme Jelly in short, is here to help pick up the slack. Formulated with Korean patented ingredients, Enzyme Jelly is innovatively infused with the extracts of 80 fruits and vegetables.
This unique enzyme blend is fermented using a 3-level fermentation process over 1095 days, resulting in one of the highest quality and purest natural digestive enzymes in the world. Benefits of Berry Enzyme Cleanse Jelly includes improved digestion while reducing bloating, all while strengthening the immunity system and minimising inflammation. 
Perfect for on-the-go consumption especially during this festive period, the Berry Enzyme Cleanse Jelly is available for $58 per box (10 sachets in a box). 
FOR A FASTER METABOLISM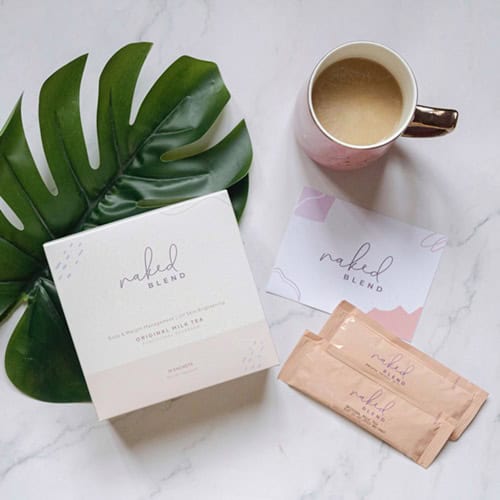 Naked Blend Original Milk Tea is Singapore's first plant-based, low-calorie diet milk tea with UV protection. 100% naturally derived, this delicious creamy blend helps you effectively manage your weight and rejuvenates you from inside out. 
With added Vitamin A, Vitamin C, Vitamin D, Curcumin, Ginkgo, and Glutathione for skin rejuvenation, our dairy-free milk tea helps to slow down signs of ageing and protects your skin from harmful UV rays in Singapore – so you can easily take on the day with confidence.
The vegan and healthy blend is available for $68 per box (15 sachets in a box).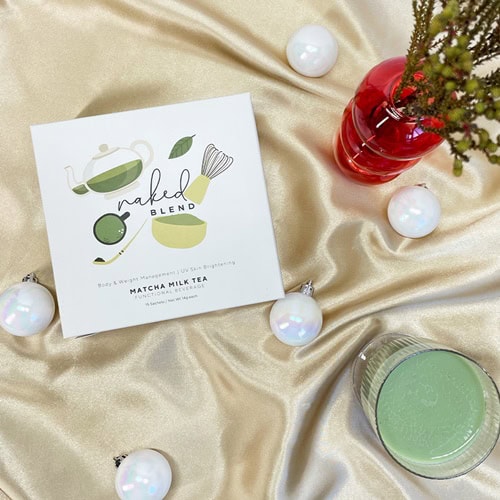 Supercharge your day with Naked Blend plant-based matcha low-calorie milk tea. Farmed from an organic pesticide-free garden in Kyoto, these Uji matcha leaves are sweet and vegetal but balanced by a bit of bitterness and that hit of umami. Matcha pumps you up without the jitters, and at the same time keeps you calm and focused due to the caffeine and L-Theanine. 
Perfect as your morning perk-me-up or pre-workout drink, this is the super-beverage to take on the day. Jam-packed with plant-based goodness, matcha milk tea is your weight-management and anti-ageing hero.
Pump up your mornings with Matcha Milk Tea for $68 per box (15 sachets in a box). 
FOR RADIANT SKIN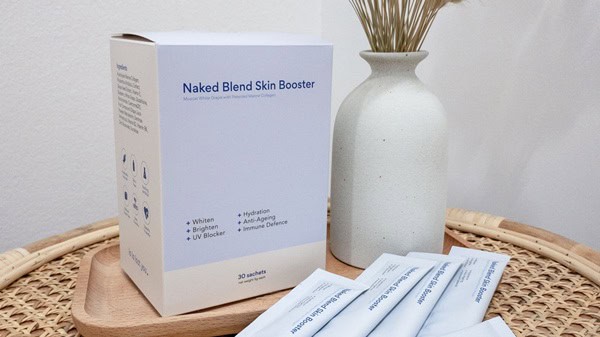 Get the most radiant complexion you'll ever have with Naked Blend's Muscat White Grape with Patented Marine Collagen Skin Booster Drink, a premium blend of natural ingredients in one handy pack. This potent blend is enriched with science-backed, patented ingredients that redefine beauty, health, and well-being from within.
Fighting the effects of environmental aggressors and premature ageing, the collagen skin booster drink slows down signs of ageing and helps you enhance your beauty effortlessly. This premium skin supplement is all you ever need to get healthy skin.
Kickstart a new beauty regimen with Skin Booster for $68 per box (30 sachets in a box)
Note: Skin Booster is non-vegan.
Please visit the official Naked Blend website to learn more about their exciting full range of products and to purchase the products at https://nakedblend.co/