Are you tired of endless skincare routines that doesn't seem to work for you? Introducing the NEW Nuceuticals Skinergy™ Collagen Shot, bringing new life to your skin with the first-to-market, clinically-proven collagen supplement. 
Nuceuticals is the team that is inspired by an evidence-based approach, a world-class team of the best scientists, formulators and engineers have come together to create an authentic solution to your aging skin of premium quality that is extremely results driven.
Our skin is exposed to numerous stressors such as ultraviolet rays, pollution, blue light, and radiation daily. These can lead to undesired outcomes such as premature skin-ageing and dullness. Formulated with 450mg of Polypodium Leucotomos (Fernblock), it defends the skin against 4 types of radiation (UVA and UVB, blue light and Infrared hazards) and free radicals created by external environmental stressors. Skinergy™ Collagen Shot effectively boosts the collagen production in the skin to reduce unwanted lines and wrinkles. This 100% drug-free, dermatologist-approved and highly effective skincare supplement rejuvenates and strengthens skin cells for healthier, more youthful skin.
Nuceuticals Skinergy™ Collagen Shot is backed by years of intense clinical research effectively boosts the collagen production in the skin to reduce lines and wrinkles producing results in just 4 weeks. Its potent blend consists of the proprietary Bio-Optimised Marine Collagen (BMC) peptide, Vitamin C, Rosemary, Fern and Micro Algae Extract.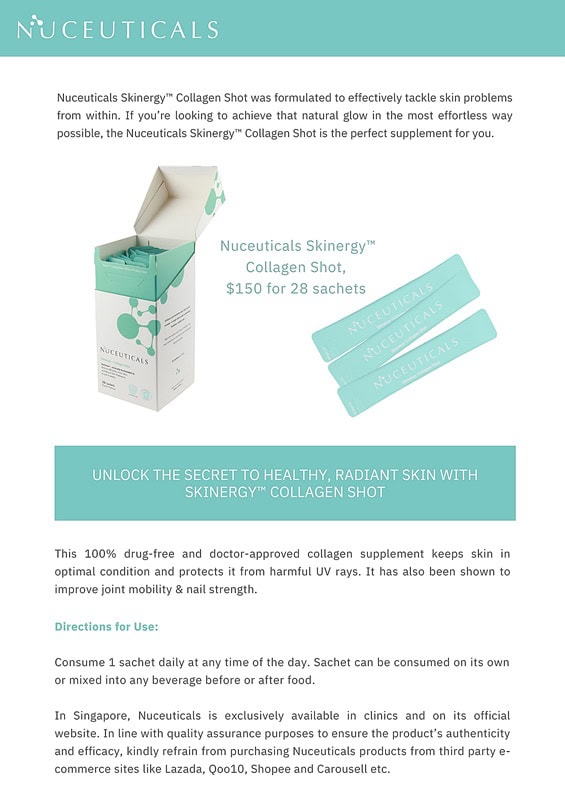 Nuceuticals Skinergy Collagen Shot available online at its official website www.nuceuticals.com
All images credit to Nuceuticals