Remescar is a brand from Belgium and it offers a range of clinically proven treatments to help those suffering from eye bags & dark circles, spider veins and scars. If you are suffering from eye bags and dark circles, Remescar has launched its Remescar Eye Bags & Dark Circles in Singapore to help address these problems. It is an instant and effective cream which helps to diminish eye bags and the appearance of dark circles up to 75% instantly with just one single application per day. 
Benefits of Remescar Eye Bags & Dark Circles:
Erases the appearance of eye bags and dark circles in just a few minutes!

INSTANT visible results

Effective from 1st application

Clinically proven
How does Remescar Eye Bags & Dark Circles work? 
A combination of clay minerals and bi-peptide complex helps with the following:
Skin tightening: As the serum is absorbed into the skin, clay minerals attach themselves directly to skin cells to help form a strong network, giving a visible skin-tightening effect
A decrease in water accumulation: A specialised tetrapeptide has an effect on the permeability of blood vessels around the eyes, preventing an accumulation of fluid.
Micromuscular-pause: Fine lines are a result of an overstimulation of facial muscles under the eyes. The product has a specific multipeptide that blocks muscular triggers, decreasing muscular contractions for a Botox-like effect.
To be used after your usual skincare regime and before makeup, just a small amount of the product, the size of a grain of rice is required for it to work its magic. Use a gentle tapping motion to apply the product, and wait for two minutes for the product to be absorbed.
Effective from the very first application, Remescar Eye Bags and Dark Circles promises clinically proven, instant and visible results.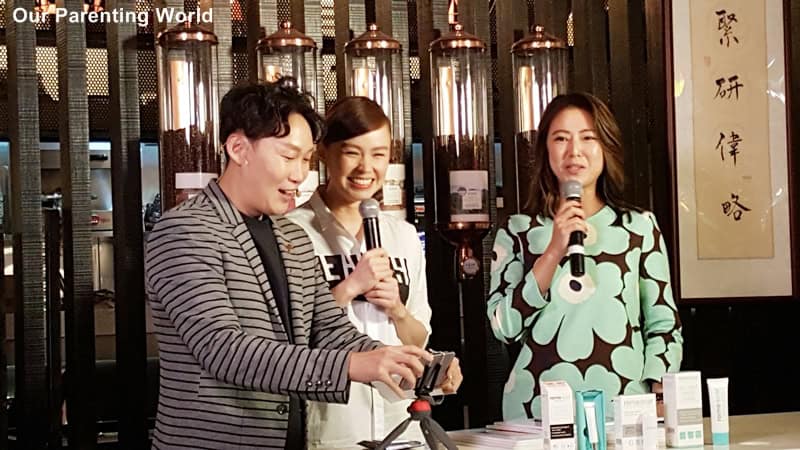 Keith Png (L), Candyce Toh (M) and Cynthia Koh (R) at Remescar #trulynofilter Exclusive Workshop
Remescar has conducted a #trulynofilter exclusive workshop where local celebrity guru, Keith Png and guest appearances by local celebrity artistes, Candyce Toh and Cynthia Koh shared with participants how we can use Remescar products to achieve #trulynofilter skin and more about Remescar's Eye Bags & Dark Circles cream.
Here's a snippet of the video of the Remescar #trulynofilter Exclusive Workshop and participants shared how the product has worked for them.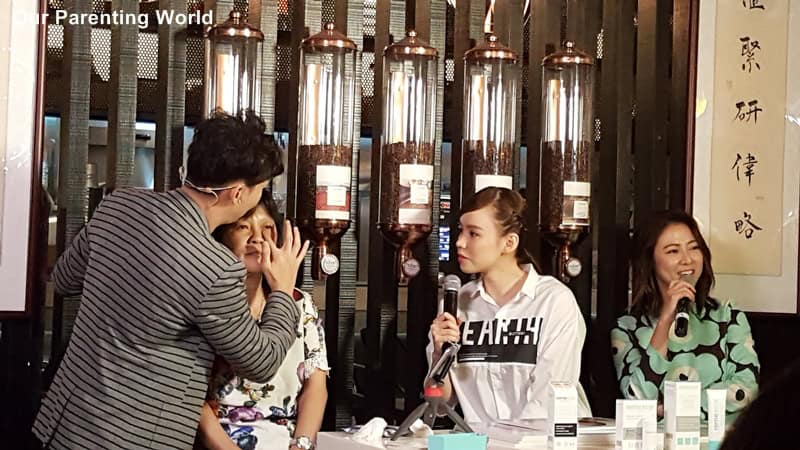 Celebrity guru, Keith Png did a live demonstration on a member of the audience to show how Remescar Eye Bags & Dark Circles will work instantly to help you reduce the appearance of eye bags and dark circles.
Just apply a small amount around the size of a grain of rice on the under-eye area. Upon application, wait 2 to 3 minutes for the cream to dry and the results is obvious, lines and dark circles around the eye area are instantly reduced! 
Audience were also given an opportunity to try out the product at the workshop. We must say, we are certainly impressed to see how the product works upon application so quickly! 
Remescar Eye Bags & Dark Circles
Remescar Eye Bags & Dark Circles is priced at $52 and is available at all Sa Sa stores, www.myhealthscoop.com, Redmart and beautiful.me.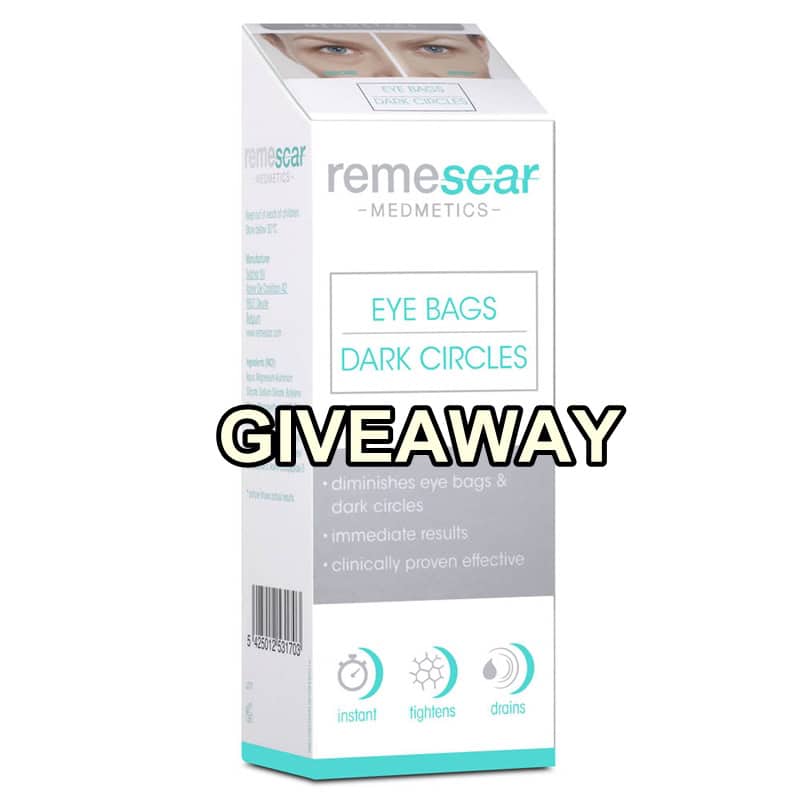 Good News!  
Thanks to Remescar! Now you will have the opportunity to try out Remescar Eye Bags & Dark Circles and see how it works for yourself! Remescar Eye Bags & Dark Circles cream is not just for women, it works equally well on men too!
Remescar is giving away FIVE units of Remescar Eye Bags & Dark Circles worth $52 each to 5 lucky readers to try out this innovative and amazing eye product!
Here's how to enter the giveaway:
1) LIKE Our Parenting World Facebook Page and LIKE Remescar Facebook Page
2) LIKE and SHARE Our Parenting World Facebook Post on Remescar Eye Bags & Dark Circles and Giveaway!
3) SHARE and TAG at least 5 family and friends at Our Parenting World Facebook Post on Remescar Eye Bags & Dark Circles and Giveaway!
4) COMMENT on this Website Post at the Comment Box Below "Please share with us why you would like to get Remescar Eye Bags & Dark Circles?"
Hurry, giveaway will close on 4 July 2017 at 23:59Hr. 5 Lucky Winners will be announced through Website and Facebook.
Please ensure that Step 1, 2, 3 and 4 are completed in order to qualify for the giveaway. 
Winners please kindly confirm your prize within 48 hours of announcement of your winning on our Website and Facebook page or another winner will have to be chosen. 
Thank you and Good Luck! 🙂
Giveaway Closed and Winners Announcement updated on 12 July 2017
Dear Valued Readers and Friends,
Thank you so much for your participation in the giveaway!
The lucky readers have been randomly chosen to win Remescar Eye Bags & Dark Circles worth $52 each and we are pleased to announce the lucky winners:
1) Ernelly Kho
2) Catherine Neo
3) Grace Lee
4) Pang Caiwei
5) Riana Lim
Congratulations! Please also refer to Our Parenting World Facebook announcement. We will be contacting you for your prize collection.
Thank you to our kind sponsor, Remescar for the fabulous prizes to our readers and friends.
Thank you to each and every one of you, please stay tuned to our coming giveaways! 🙂
Terms and Conditions 
Entry into the giveaway contest will be deemed as acceptance of these terms and conditions. The rules of the giveaway contest and how to enter are as follows:
1) The prize is as stated, subject to change and fulfillment by the sponsors. Winners are not allowed to change the prizes. The prize will be non-transferable, non-refundable and non-exchangeable for other products/dates/times. The sponsors reserve the right to amend the giveaway contest, substitute any prize or with another of equivalent value without giving notice.
2) All participants have the opportunity to win as long as you have completed and fulfilled all the steps/requirements specified on the giveaway contest. Please make sure your likes and shares are set to public for verification purposes. Incomplete entries and fake accounts will be disqualified at the discretion of the organisers.
3) Winners of past giveaways in the last one month will not qualify for this giveaway, please wait till after one month from the date that you have won to participate in the current giveaways. 
4) Giveaway contest is open to all Singapore residents with a valid Singapore mailing address
5) The organiser (ourparentingworld.com) is not responsible for inaccurate prize details supplied to any entrant by any third party connected with the giveaway contest and by the sponsors.
6) Winners will be notified by email /Facebook/Instagram after the contest has ended. If the winner cannot be contacted or do not claim the prize, we reserve the right to withdraw the prize from the winner and or pick a replacement winner. 
7) The organiser reserves the right to cancel the contest if circumstances arise outside of its control.
8) The sponsor's and the organiser's decision in respect of all matters to do with the giveaway contest will be final and no correspondence will be entered into.
9) Other terms & conditions apply.