XM, the acclaimed Singapore-based global design studio has collaborated with Warner Bros. Consumer Products and DC, is thrilled to celebrate the legacy of everyone's favourite crime-fighting vigilante in the month of September. Beginning 3rd September 2022 till 2nd October 2022, visitors can visit their flagship store at Kitchener Complex to admire the countless collectibles designed and produced in-house and activities lined up for the event.
Participate in family-friendly activities at the Batman themed event and enjoy a truly immersive experience with XM's long awaited, newly launched Batcave, newly released statues, DC-inspired Batman Samurai Merchandise, lucky draws, a workshop, and fun in-store promotions. This is the perfect opportunity to immerse the entire family in the world of Super Heroes and Super-Villains, with activities and attractions catered for each and every member of the family.
Ben Ang, CEO and Co-Founder of XM, said, "While XM is constantly pushing the boundaries in the collectibles arena, we are also proud to provide a complete and wholesome experience to all of our guests, and to allow everyone to enjoy their time here".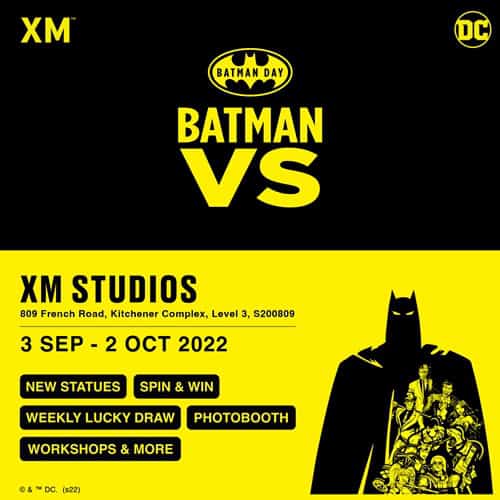 New Releases at XM This September
Batcave @ XM
Experience a retail adventure like no other with the unveiling of XM's highly anticipated Batcave, featuring a life-sized version of XM's 1:30 scale Batcave, including the Bat Armory, Bat Computer, Trophy Room and more. Be astonished at these highly detailed pieces painstakingly designed and produced by XM. Collectors will be able to pre-order these items in store ahead of a worldwide release.
Exclusive New Statues
Visitors can look forward to seeing exclusive new statues from the XM's Classic, White Knight, Death Metal, and Samurai series including the Classic Batman in ¼ and ⅙ scale, as well as Harley Quinn (Batman: White Knight Series) in two colour variants, and various others. Other Batman series statues will also be displayed this month.
Interactive Programmes
Inspire the next generation of heroes with fun activities being conducted at XM for the entire month of September. Perfect for a family of aspiring Super Heroes, spend time in XM's interactive space, filled with toys and collectibles from DC!
Photo Opportunities @ XM
Be dressed to impress for photo opportunities at XM. Visitors are invited to channel their favourite characters from DC and become the hero that their city needs, while taking photographs with the backdrops provided by XM.
Get Your DC Fix
What better way to pay homage to everyone's favourite crime-fighting billionaire than by letting loose the purse strings! Visitors will be able to browse and purchase exclusive DC merchandise in partnership with vendors including but not limited to:
● Secret Lab
● Royal Selangor
● Action City
● Simply Toys
● Sophie and Toffee
● Enchante
● Nature Collections
Resin Crafts Workshop with Sophie & Toffee
From 3rd September till 11th September, visitors are encouraged to participate in the Resin Crafts Workshops conducted by the ever-popular Sophie & Toffee (@sophieandtoffee).
Suitable for all ages, these workshops are bound to be popular with the young ones! For just $56, visitors can participate in an hour-long workshop to create their very own Resin Bezel Charm and 1 PollyPop Super Hero of choice or purchase a kit to take home with them with instructions included.
Feeling Lucky?
Weekly Lucky Draws
Visitors stand a chance at winning amazing prizes with a minimum spend of $40 at XM this September! Prizes up for grabs every week include:
● 2 sets of Enchante Family Apparel
● 2 sets of 2D1N Discovery Package staycation at Village Hotel
● 2 Secret Lab Dark Night Chairs
● 2 sets of XM DC statues
In-Store Promotions
Last but definitely not least, visitors stand to win exclusive prizes with XM's Spin and Win Promotion! With a minimum spend of $60 in a single receipt, shoppers can spin the wheel and get a chance to win prizes from DC such as:
● Spinmaster Blindbox
● Lego Polybags
● XM Merchandise
● XM Vouchers
The XM Store is located at Kitchener Complex, 809 French Rd, Singapore 200809, Level 3.
Opening Hours:
Monday to Sunday, 11am – 8pm
Contact Number: 67972800
Facebook: https://www.facebook.com/xmstudios
Instagram: https://www.instagram.com/xmstudios
Instagram: https://www.instagram.com/xmlife_/
Hashtags: #xmstore, #dcsamurai, #xmstudios, #xmlife, #kitchenercomplex, #dc, #batman,
#batmansamurai, #joker, #jokerorochi