Do you know what is glowing underwater? Visit Glowing Ocean at S.E.A. Aquarium from now till 1 January 2020 where you will discover the science behind the signs and signals given off by the vibrant tints of the ocean. 
Find out the hidden truth and why is the ocean glowing, they could be signalling the adverse effects of climate change.
Embark on the journey to the interactive installations put together by various artists at the 4 zones at S.E.A. Aquarium to find out more about the brilliant colours of the ocean and bleached corals that act as warning signs on the adverse effects of global warming, especially on marine life. Immerse yourself in these installations and learn how you can do your part to make a positive difference to marine life.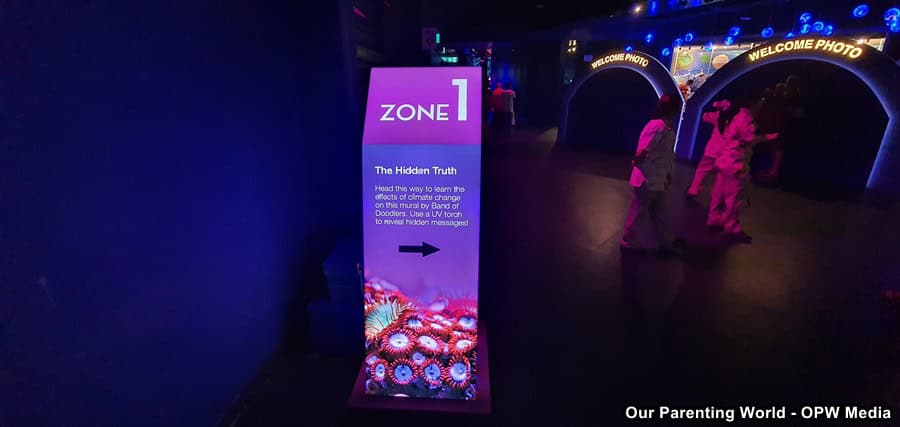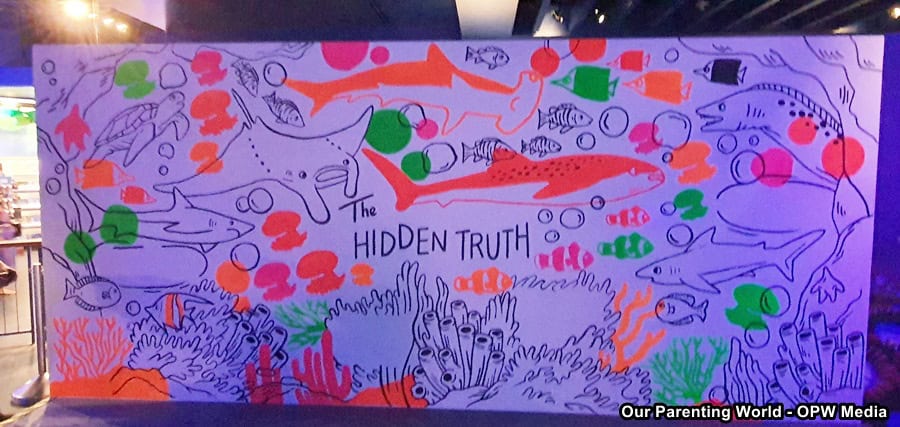 The Hidden Truth at Zone 1 – At this zone, you will reveal the hidden messages using a UV torch. Learn the effects of climate change on this mural by Band of Doodlers.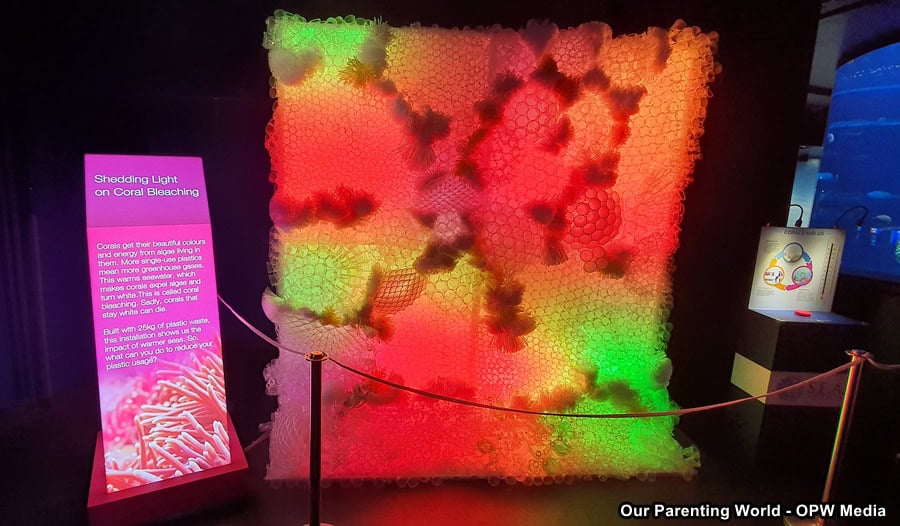 When Corals Fade at Zone 2 – Healthy corals are vibrant, watch what happened when rising temperatures cause colourful corals to bleach and eventually die at this special installation. 
Kelp Me! at Zone 3 – Kelp is important as they are like underwater trees providing shelter and food to the marine animals. Experience how the dying kelp forests can no longer protect marine life from harsh conditions at this surreal forest of dying "ghost" kelp which is designed and created by artist Kelly Limerick and hand-crocheted together with 20 volunteers.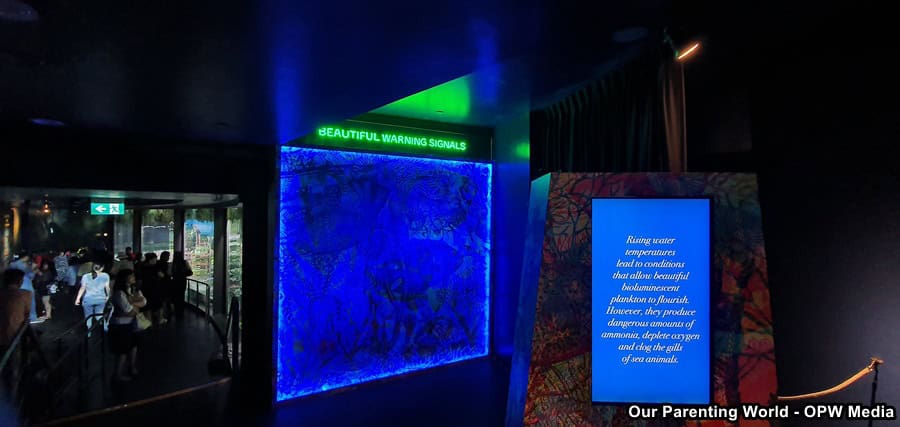 Beautiful Warning Signals at Zone 4 – Discover how harmful when glowing plankton and brilliant red algae thrive when temperatures increase through this special artwork that interacts with light in a special collaboration by Milan-based art/design duo, Carnovsky (Francesco Rugi and Silvia Quintanilla) and Singapore's Kult.
In addition, there are many other interesting activities including free shows happening daily all around the S.E.A. Aquarium. Some of the activities that we managed to catch during our visit are as follows:
Meet the Mantas
Catch Mika, Mako and Manja, the magnificent Manta Rays of the Open Ocean Habitat as they swim gracefully through the water and interact with the divers! 
Timing: 11am daily
Venue: Open Ocean Habitat
Note: Meet the Mantas is not available on 18, 20, 22, 24, 26, 28, 30 Dec 2019 & 1, 3, 5 Jan 2020
Dive Feeding @ Open Ocean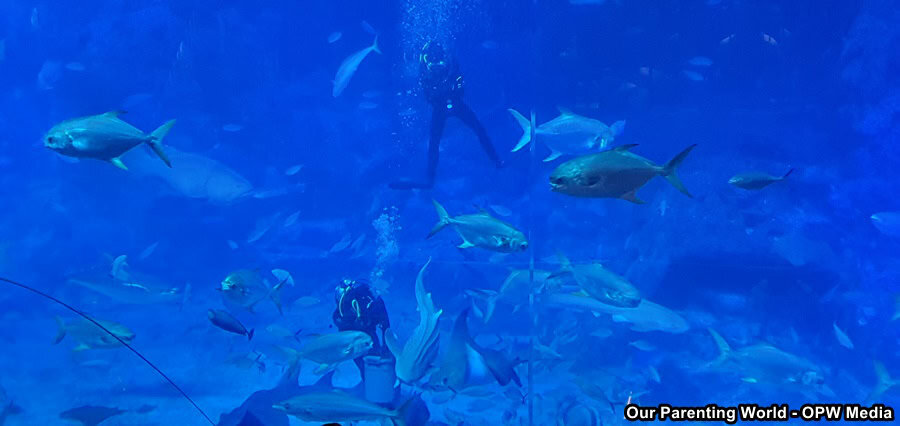 Discover the wonders of the sweeping ocean scenery as you watch the drivers feed the plethora of marine animals living here. Don't miss this spectacular moment!
Timing: Tuesdays – Sundays at 4pm
Venue: Open Ocean Habitat
Note: Dive Feeding @ Open Ocean is not available on 18, 20, 22, 24, 26, 28, 30 Dec 2019 & 1, 3, 5 Jan 2020.
Say Cheese with Sam the Shark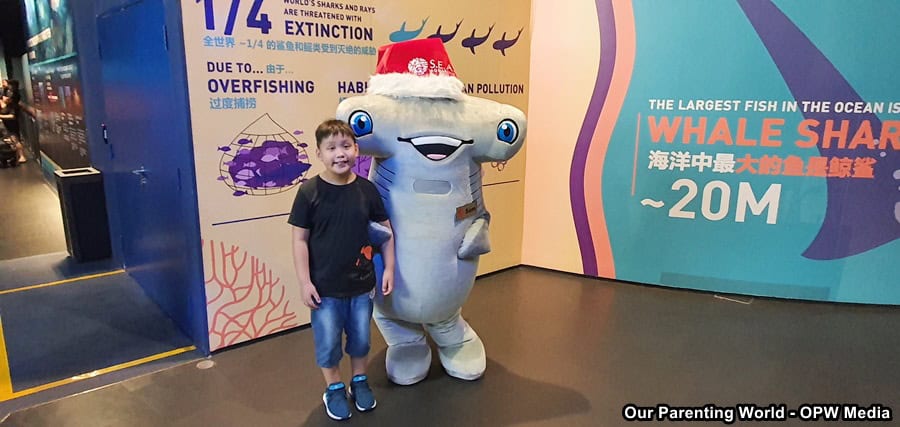 Come and meet the adorable Sam the Hammerhead Shark mascot. Take sharky selfie with Sam!
Timing: 10am, 5pm daily
Venue: Shark Seas
Bring your family and friends to Glowing Ocean at S.E.A. Aquarium to spend a fun-filled and meaningful festive season together! 
To find out more about S.E.A. Aquarium Daily Shows and to stay updated, please visit its website at https://www.rwsentosa.com/en/attractions/sea-aquarium/daily-shows
Glowing Ocean at S.E.A. Aquarium
Location:
Sentosa Island
8 Sentosa Gateway
Singapore 098269
Additional Information 
Singapore Residents and families enjoy an online promotion of S$78 (U.P. S$98) for a Glowing Ocean Family Bundle, which includes two adult and one child one-day tickets from 11 Nov 2019 – 1 Jan 2020.
To find out more about Glowing Ocean at S.E.A. Aquarium, please visit https://www.rwsentosa.com/en/attractions/sea-aquarium/promotions-and-events/glowing-ocean-2019