The newly-revamped Great World previously known as Great World City welcomes more than 70 new F&B tenants. With such a wide selection of F&B offerings, there is something for everyone. Whatever your dining needs and food preferences are, you will be able to find your preferred dining place to satisfy all your cravings at Great World.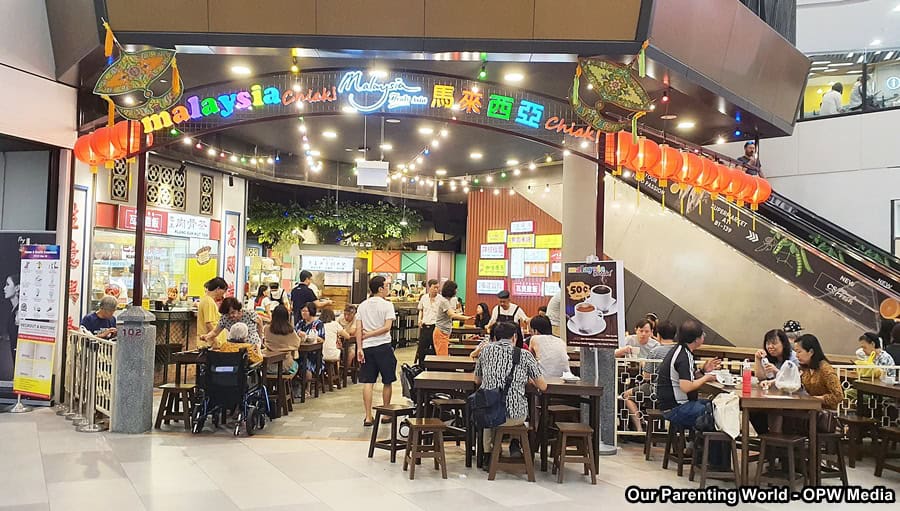 Recently, we went on a Media Food Trail at Great World where we were introduced to the  different family-friendly eateries that are perfect for gatherings and celebrations for families and friends.
First stop, we visited Malaysia Chiak! located at Basement 1, #B1-102/103, with stalls offering authentic traditional Malaysian street hawker fare. It is a one-stop destination that houses the best of hawker food options from different states in Malaysia, prepared with original secret recipes of top-rated street hawkers. Malaysia Chiak! is created by Fei Siong Group to cater to Singaporeans'  cravings for authentic Malaysian street hawker food. The first Malaysia Chiak! outlet opened in 2016 at The Centrepoint, as a smaller sister brand of the widely popular Malaysia Boleh! 
Malaysia Chiak! makes you feel like stepping into the streets of Malaysia where you can find your favourite Malaysian hawker delights and indulge in its signature dishes like Penang Char Kway Teow, Petaling Street Claypot Chicken Rice, Klang Bak Kut Teh, Fried Fish Soup (exclusive to Great World outlet), Penang Chendol and many more.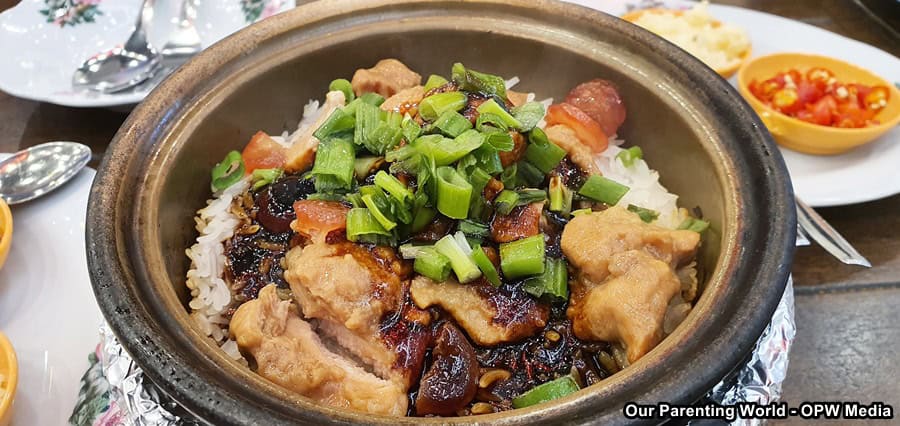 Petaling Street Claypot Chicken Rice 
We tried out the Petaling Street Claypot Chicken Rice, this is one of the most popular hawker fares in Kuala Lumpur's Chinatown. The rice is topped with marinated chicken chunks, chinese sausage, chinese mushroom and salted fish, and finished with a sprinkling of fresh spring onion. Mixed well with dark soy sauce and sesame oil.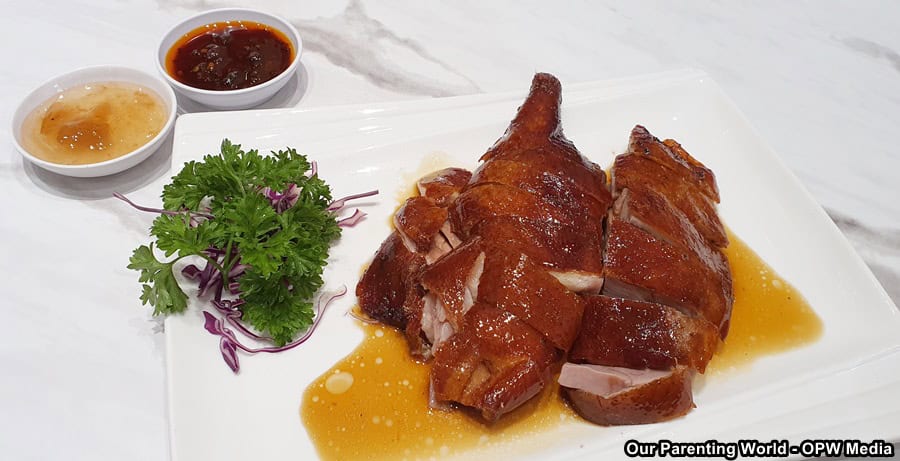 London Duck's Signature Roast Duck
London Fat Duck located at Basement 1, #B1-105, is a Hong Kong-style restaurant that serves delicious roast duck inspired by Four Seasons and Gold Mine at Bayswater London. The brand is established by Singapore-based Gei Siong and Akashi groups. It uses a special breed of duck, Irish Duck which is famous for its quality and is known as the "wagyu of ducks". The ducks are from Ireland – free roaming, grain-fed, natural diet, hand plucked feathers. 
Its London Duck's Signature Roast Duck is served using secret duck roasting technique and heritage recipe by its Hong Kong chef. It also offers a wide variety of Hong Kong comfort food like Dim Sum, Hong Kong style Wanton Noodles and more.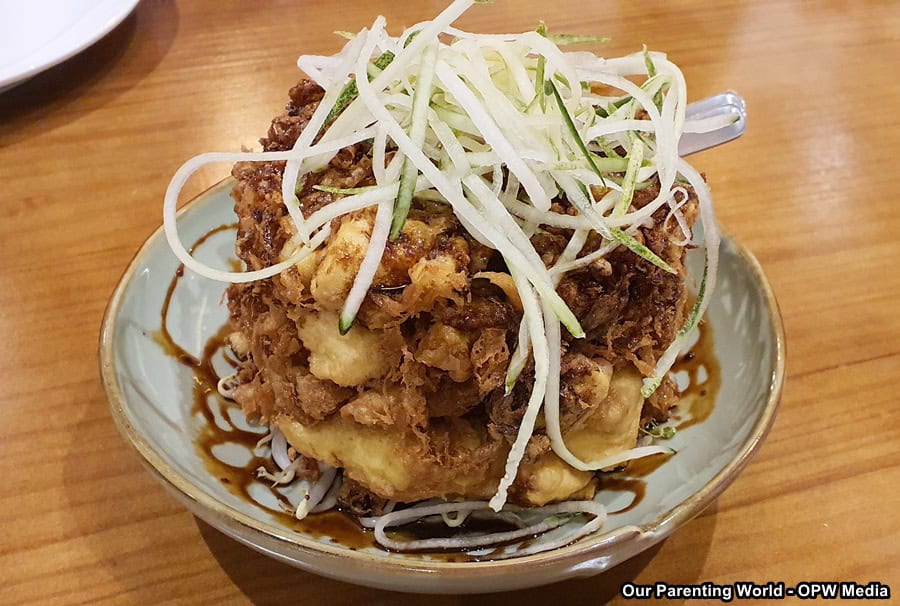 Tahu Telor 
Tambuah Mas Indonesian Restaurant located at Basement 1, #B1-110/111, it serves traditional Indonesian Homestyle cuisine from Padang, Sulawesi and Java since 1981. It is one of the oldest Indonesian restaurants in Singapore and its signature dishes follow closely from closely guarded family recipes handed down from generations.
Must-try items at Tambuah Mas include ​Tahu Telor, this is a traditional Indonesian street food featuring crispy, fried cubed beancurd in battered egg, served in a tall tower drizzled all over with its homemade spicy-sweet dark sauce.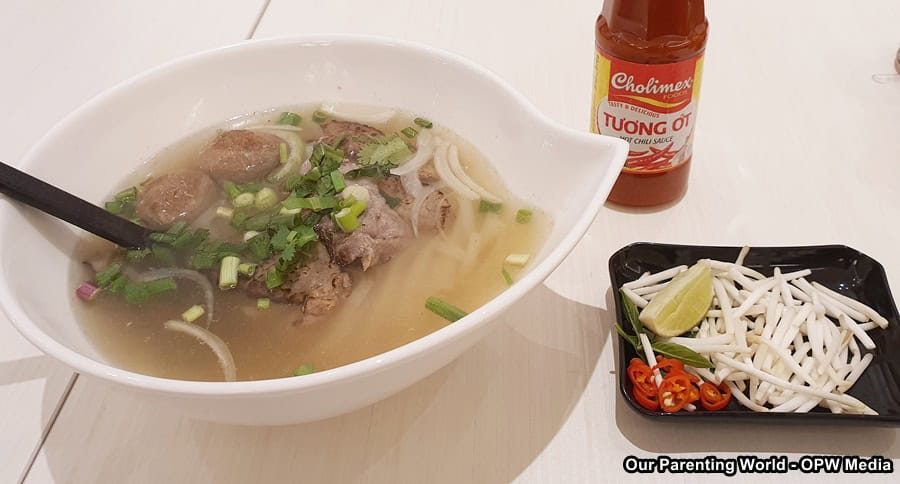 So Pho Special Flame Seared Marbled Sirloin Beef with Beef Balls
So Pho Vietnamese Restaurant located at Basement 1, #B1-112 offers authentic Vietnamese dishes at reasonable prices in a casual and contemporary environment. The word "Pho" means noodle soup in Vietnamese and is a famous street food in Vietnam. Must-try dishes include So Pho Special Flame Seared Marbled Sirloin Beef with Beef Balls Noodle Soup featuring silky smooth Vietnamese rice noodle with herbs and beef in flavourful soup.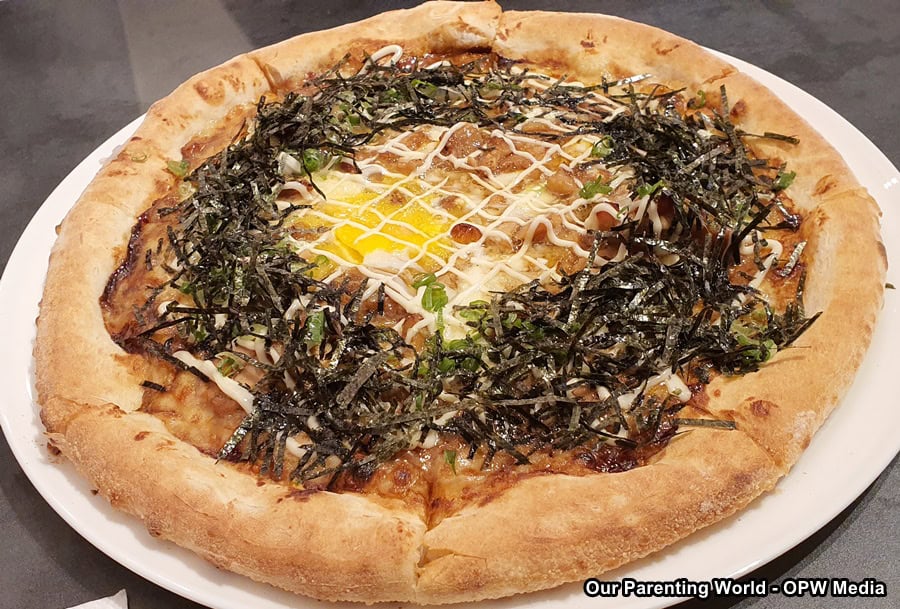 Pittarino's Teriyaki Chicken Pizza
If you love Japanese food, &Joy Dining Hall located at Basement 1, #B1-132 offers unique Japanese specialty cuisines at affordable price. It was first opened in October 2019 in Jurong Point. Its partner brands in Osaka, Japan include Ramen KIOU and Roman.Tei.
We tried out the mouth-watering freshly-baked Pittarino's Teriyaki Chicken Pizza, Pittarino in Japanese stands for "just right". The recipe is created by consulting Japanese chef and this delicious Japanese-Italian pizza is suitable for kids and adults.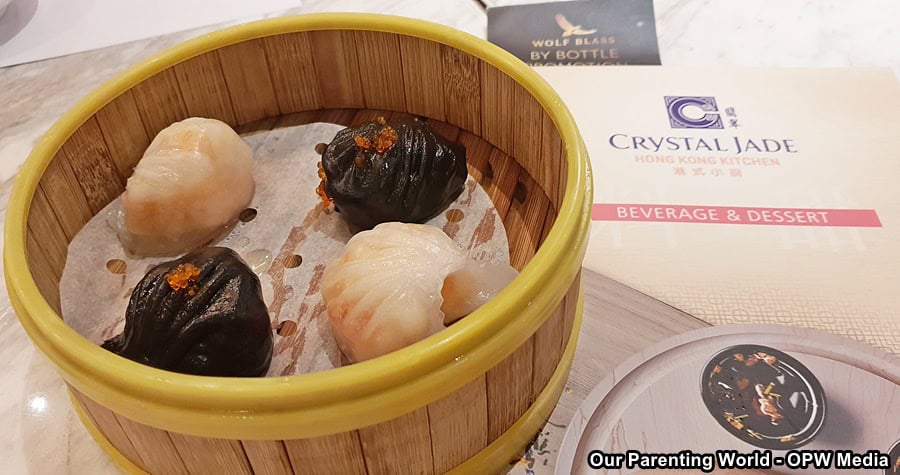 Black and White Hargaw
Crystal Jade Hong Kong Kitchen located at #03-127, is the first Crystal Jade Hong Kong Kitchen to have the updated contemporary interiors and the new logo. This Singapore-based culinary brand received one Michelin star and multiple Michelin Bib Gourmand awards, with over 100 outlets across 25 major cities.
We tried out the Black and White Hargaw, this is a famous signature hargaw of Crystal Jade Hong Kong Kitchen with its black hargaw made out of squid ink and topped with flying fish roe. The Crystal Jade Hong Kong Kitchen serves comforting and flavourful Cantonese cuisine that will satisfy your cravings for timeless Cantonese favourite with signature twists like Dim Sum, Signature Roast Bowl, Soups, Noodles and Rice Dishes.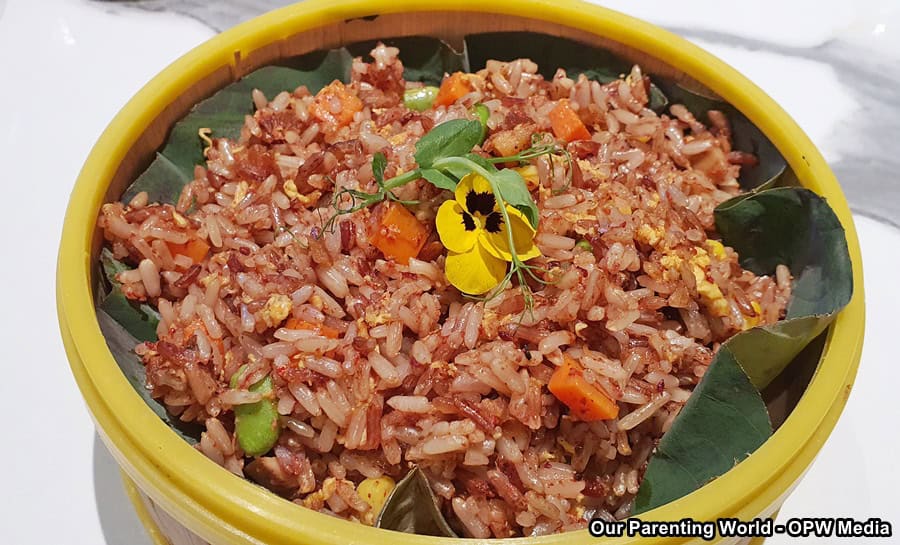 Stir-fried brown rice with preserved beancurd 
Elemen located at #01-122 features the first elemen Classic concept at Great World. Elemen Classic is the elevated premium concept of the brand. It offers natural and meatless cuisine that is dedicated to promote the well-being and to nourish the body and mind of its diners with a modern twist. Its serves impressive healthy, natural food, without compromising the sustainability of the environment and the taste. The menu offers a variety of options from classic Chinese fare, to Japanese sushi  rolls and Italian pizza.
We tried out the stir-fried brown rice with preserved beancurd that comes with fluffy brown rice mixed with fermented red beancurd, king oyster mushroom, and asparagus. This aromatic dish has loads of hearty texture and is so tasty.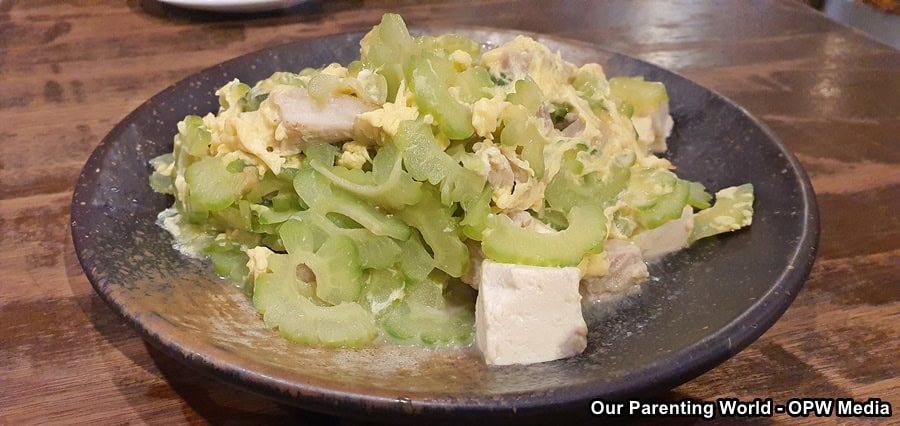 Stir-fried bittergourd 
Okinawan Diner Nirai Kirai located at #01-107/108 specialises in authentic cuisine from Okinawa, Japan. Okinawa is an island with the diet of its people consists of fish, tofu, seaweed, and  fresh produce. Okinawans are famous to live longer than most and their cuisine have influences from Chinese and Southeast Asian cuisine. 
The menu at Okinawan Diner Nirai Kirai is curated and offers Okinawan specialties such as the simmered pork belly and stir-fried bittergourd. The Stir-fried bittergourd uses Japanese bitter gourd that is well-braised and simmered in flavourful miso sauce. It is less bitter and more crunchy that other bitter gourds.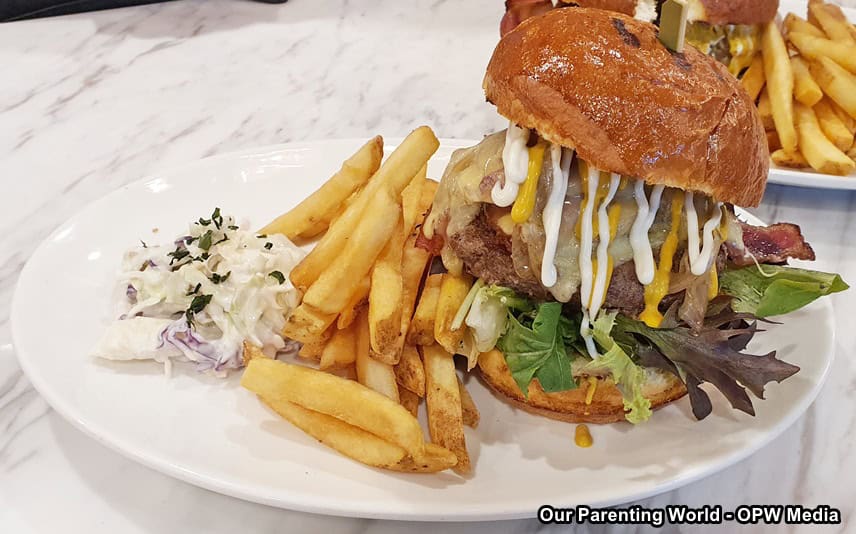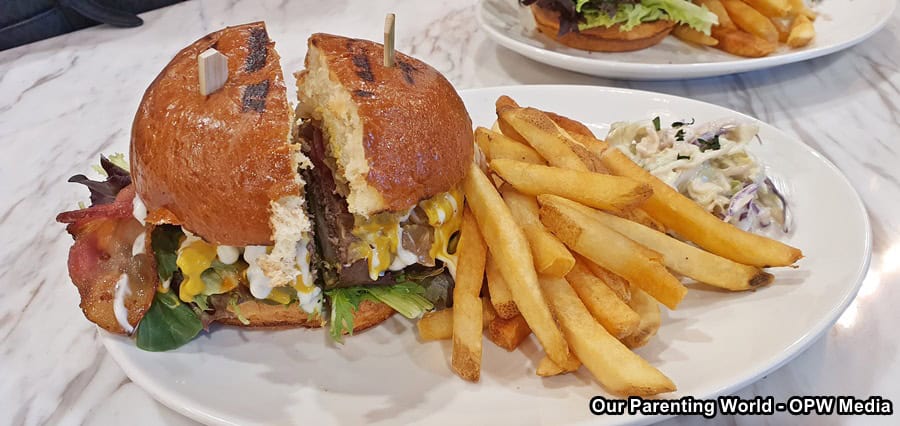 Jones Signature Wagyu Burger
Jones The Grocer located at #01-66/67, originated from Woolahra, Sydney in 1996. Jones The Grocer was Sydney's first walk-in cheese room and cafe that serves fresh world cuisine with an Aussie twist.  It is a contemporary artisan cafe and its first Singapore outlet is at Demsey Hill.
It is not just a grocery store, it offers a wide variety of delectable pastries, burgers, sandwiches and many more. Its Jones Signature Wagyu Burger consists of freshly minced and marinated wagyu beef, smoked beef bacon, cheddar in a brioche bun served with bois boudran sauce. The wagyu beef is so succulent and it is a delight to bite into this juicy burger! Jones The Grocery is a good place to hang out with families, friends over good food and relaxing environment.
The newly revamped Great World has lots to offer and it is a one-stop retail and lifestyle destination with anchor tenants such as Best Denki, Cold Storage, Food Junction, GV Grand cineplex, Meidi-Ya Japanese supermarket, Toys"R"Us, True Fitness, Uniqlo and Zara. A great place to satisfy your shopping and dining needs!
To find out more about Great World, please visit its website at ​https://www.shop.greatworld.com.sg/